Bedside Table VS Nightstand: What's Difference?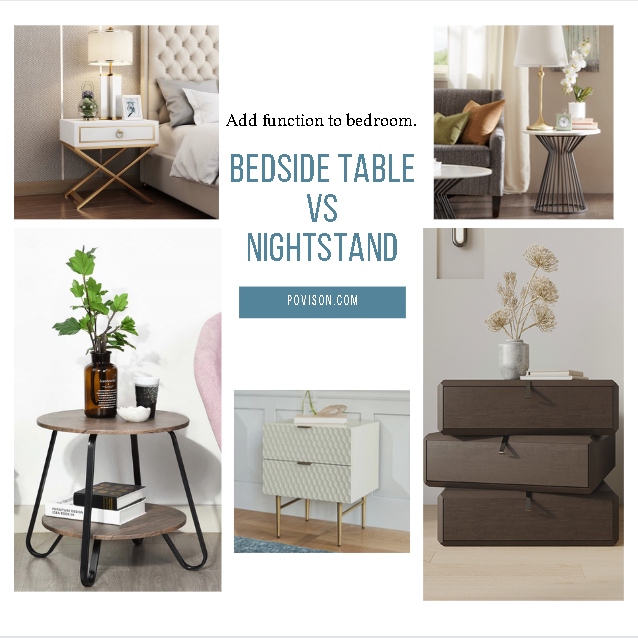 "What is the difference between a nightstand and a bedside table?" –from Quora 
Are you also wondering the difference between bedside table vs nightstand and which one is right for your bedroom? Both of them can add function to rooms but based on their different names, they own individual features.
1. What is bedside table?
A bedside table is a small table without drawers beside the bed, which is for holding medicines, book, clock, cup or table lamp.
2. What is nightstand?
A nightstand is typically used at night, and placed near or beside the bed. It usually comes with drawers to store the things, e.g.: tissues, books, mobile phone, table lights and more.
3. Bedside table vs nightstand
At this time, we can conclude that the main difference is nightstand has at least one drawer or cabinet while bedside table has none. According to Wikipedia, nightstand, is now also called night table, bedside table or daystand. That is to say, in some extents, nightstand can be the same as bedside table to hold the same things when standing beside the bed. Additionally, they both can add style and practicability to the sleeping space. Thus, don't hesitate more when picking up one of them, except for the storage requirement.
4. Best 10 Versatile Bedside Tables for Nightstand 2022
Bedside table and nightstand will match well for your bed or bedroom style, only if you select the right color and design of them. Generally, people will pick up 2 pieces of nightstand or bedside table for bedroom, especially for the queen or king size bed. Besides, the style of bedroom will determine the look of the nightstand table. Read on and pick up the best bedside tables for every style.
Modern Bedside Table/Nightstand
Here comes a modern bedside nightstand for bedroom with white wall or neutral wall. The PU leather upholstered nightstand is made of sintered stone tabletop, pine wood drawers and gold-plated stainless steel legs. The tabletop is wrapped up as a tray top so that the gadgets, like pen and medicines, would not fall down. Actually it is not only perfect for modern style, but also right for contemporary, light-luxury interior design.
What a well-designed bedside nightstand! This brown rotatable nightstand, requiring minimal assembly, gives an eye-catching appeal and the three drawers can be swiveled flexibly to create different looks for different bedroom designs. The copper handles match well with the brown plated surface to fit perfectly for modern and industrial interior style.
Minimalist Bedside Table/Nightstand
Without apparent legs and protruding handles, this sleek and simple nightstand table is suitable for minimalist room style, especially the bed frame with simple headboard. Its surface is shiny as a mirror. Both gray and black are the popular colors for bedroom night stand since they are easy-matching. The 2 drawers and tabletop offer ample space to store your daily items at night.
Industrial Bedside Table/Nightstand
Compared with the single tired bedside table, this brown solid wood beside table with black metal frame add storage function and industrial style to your bedroom, which is also versatile as an end table for small living room. The tabletop and open shelf provide spacious space to place books, plants, drinks, glasses, etc. The formal brown color can fit for wall, gray, light yellow wall color.
Vintage Bedside Table/Nightstand
Four tapered wooden legs with antiskid pads ensure the stability and firmness as well as match to the 2-drawer cabinet. The light golden pulls also go well with the light wood color to expose the vintage vibe. Its 23'' width will not take up too much floor space but the drawers and tabletop can contain plenty of gadgets in your vintage bedroom.
Rustic Bedside Table/Nightstand
The wood and black metal side table is multi-use for bedside or sofa side to hold books and table lamps, which is right for both farmhouse, rustic, industrial home style. The sustainable material ensures long lifespan and this side table can easily be moved anywhere if you need.
Mid-century Modern Bedside Table/Nightstand
This small triangle bedside table is popular among small living spaces and bedroom. With 21'' width and height, this side table is easily paired with loveseat, accent chair, bed and rug. This natural elm wood finished table fits for mid century modern bedroom design and modern farmhouse style.
Luxury Bedside Table/Nightstand
This shiny black nightstand with golden knobs, frame and legs adds a luxury charm to your bedroom. The inside drawers, made of pinewood, and metal legs make itself eco-friendly and durable. Its 20.87'' height fits for the general standard, so it suits for most mattress height.
Small Bedside Table/Nightstand
For a small bedroom, this chic and attractive pick with only 12 inches long, is featured with sintered stone top and PU leather upholstery, and golden stainless steel legs. Its elegant and stylish look is appropriate for modern and luxury bedroom. Besides, the space-saving straight legs are proper to a cramped room and become the decorative items in the bedroom.
The classic taupe bedside cabinet with silver metal pulls brings aesthetics and function together to your narrow bedroom, which only comes with 16'' wide. Besides, the 25-inch-high night stand can match extremely to numerous mattress, which is the finishing touch in your warm bedroom.
FAQ:
What's the best height of bedside table or nightstand?
Generally, the bedside table or night stand should sit on the same level as the top of your mattress. Then it is easy to reach the items on the tabletop. If you cannot find the right dimension, you are able to opt for those with about 2 inches to 4 inches taller.
What are the main types of nightstand?
Now you might know how to distinguish the bedside table and nightstand. Don't care too much to opt for the category but focus on your own needs and styles. If you still persist in subdividing the types of nightstand, there are 3 kinds:
Bedside table: generally a side table without drawers.
Bedside cabinet: generally the inside is split by drawers or compartments.
Bedside chest: generally a night stand with 2 or 3 drawers by layers.