Single/Double/Triple Dorm Room Arrangement Ideas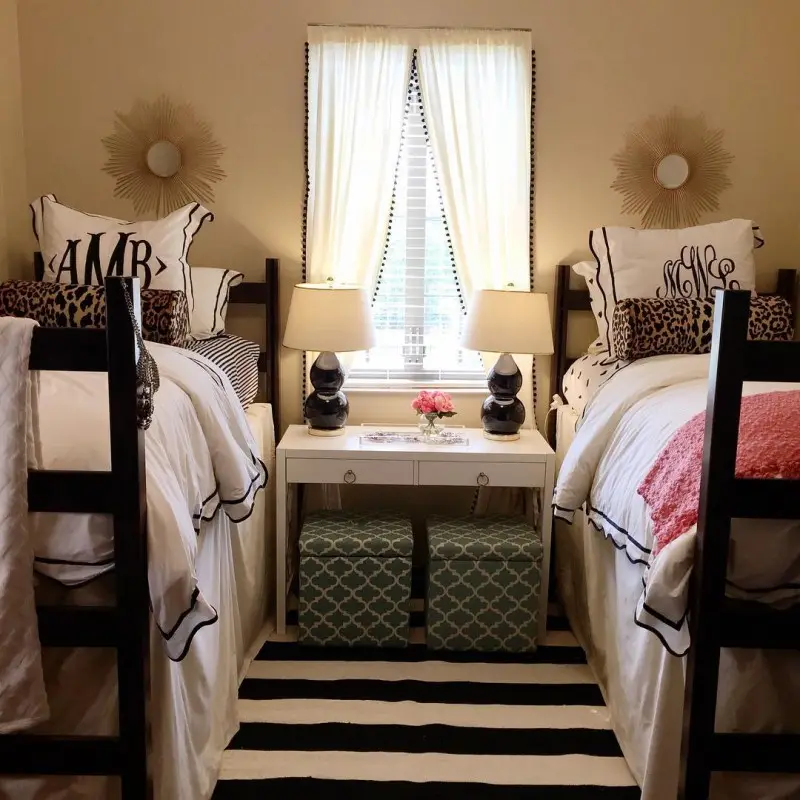 It is exciting to prepare for the college life after graduating form high school. However, as new term comes, many students are facing the tough task of adapting to the dorm life for the first time. Dorm room is the most important to make you a happy life and quickly into the university. Let's brainstorm some dorm room arrangement ideas to style your new dorm a home away from home.
1. What is A Single Dorm Room, Double Dorm Room, Triple Dorm Room?
Single person dorm room layout
A single dorm room means that you will live alone and you can arrange the interior layout freely. A typical layout comes with a bed, a desk and a closet for storage. If it is big enough, you can furnish with more furniture pieces. Generally, the number of this room type in a college is limited and students should apply for it.
2 person dorm room layout
A 2-person dorm room, which is commonly seen, means that you will live with only one roommate and you two will share the public areas during the college life.
Two beds, two desks and two dressers must be included in the room but the layout depends on you and your roommate: single bed with independent desk or bunk bed with built-in desk underneath. Some girls would bring a large and shared makeup table into the dormitory for dressing up.
3 person dorm room layout
It is easy to define triple dorm room as the former two types. You will live with two roommate in it. The dorm room furniture always involves three beds (usually bunk beds or lofting beds), desks and dressers. Some 3-person dorm rooms can contain a small sofa or coffee table for leisure and entertainment.
Images Source: https://www.american.edu/ 
2. How to Decorate a Dorm Room
Dorm room decorating is a long-term and sustained job since you may decorate it when you conceive a new thought or catch up with a trend. We have summed up 10 dorm room arrangement ideas to style a freshman's dorm room feel homey.
Make sure layout and the essentials of the dorm room.
In generally, your new dorm room has been equipped with basic elements, including bed, desk, closet, bathroom facilities. In some universities, students can re-arrange the interior layout without destroying the essentials. Thus, it is time to brainstorm with your roommate to decorate your common home if you live in double or triple room. Make sure the furniture layout and decide which items need to be remodeled and which additional pieces you need.
Decorate and upgrade the existing furniture
Based on the look of your dorm room and your need, update the existing items to improve your living experience. Add a headboard to your bed so that you can rest against the headboard to read or play games. Moreover, you can DIY the headboard patterns or opt for the stylish one. In the other hand, if there is no enough study space, why not try to loft the bed to create a nook underneath the bed. Once you have option to replace the old computer chairs or desks, focus on the multi-task furniture in the dorm.
In the restricted and shared room, every inch is valuable so it is necessary to make full use of every furniture piece to maximize the storage space. The vertical space on the door and closet, wall area, space above or under the bed are the best option to organize your package and article of everyday use. Floating shelves or racks on the wall can tidy up the sundries and show your attitude and style of life.
Room improvement with storage boxes or containers
For keeping your closet or dresser neat, use the storage boxes, shoe racks, cosmetic case, collecting containers inside to place the articles by category. It is especially beneficial for the girls who have plenty of clothes and cosmetics. Additionally, those cubby containers and baskets are also great for tidying up your books on or under the desk. In this case, all things can be hidden to pass the inspections and leave clean common space for roommates.
Use family photo as wall art
In the college dorm room, it is hard to change the wall color with painting but a removable wallpaper is available. Alternatively, decorate the wall with wall arts or photos to solve the homesick troubles. If you have mounted the floating shelves onto the wall, there is less space for photos or arts, so please pick up a few small pieces or functional items, like a mirror or clock.
Keep the room vibrant with greenery
Plants, a necessity of dorm room setup, can add green color to the indoor and give fresh and vigorous vibe to your dormitory. Place the plants on the desk and they will be your great partner to prepare for exams.
Light up your room with lamps and twinkle lights
To create a warm and homey atmosphere, the twinkle light is the nice choice, which also work as the wall decoration. The advanced color-changing twinkle lights are perfect for dorm room Halloween decorations and for Christmas. A bedside lamp also can light up your room for reading., including a table lamp or space-saving floor lamp.
Throw pillows are the suggestion of cozy and comfort. They can be placed for the beds, floor rugs, dorm sofa, accent chairs to let you relax, also as the decorative items to highlight your interior color scheme.
A rug can change the flooring color to match with your bedding, wallpaper, curtains, especially in a room with frozen cement floor. For instance, a pink rug is appropriate for a girls' stylish dorm to strengthen your style.
Consider to add leisure space or furniture
After everything has done, start to enjoy your college dorm life with schoolmates. You don't need to set up all decorations at the same period. Go stepwise refinement after you live in. As there is spared space for leisure, consider a chic accent chair, storage ottoman, double makeup vanity, stylish coffee table, etc. to improve your life. At this time, turn to multi-use furniture, e.g.: movable side table (also as nightstand, small coffee table); storage bed.
Not all dorm room arrangement ideas are suitable for you. Just pick up the right one for yourself and share your interesting dorm layout ideas in the comment area.