Every corner space may be tempting to play an important role in your house, especially a tiny room. We cannot immediately change the fact that we own a limited space but we can take every space-making opportunity to decorate the house to be better.
There are many interesting ideas to utilize the corner space in Pinterest, for example, DIY corner shelves or place a fully-assembled corner cabinet to the right position. For bedrooms, how to make full of the corner space to satisfy the daily need (sleeping, leisure, makeup, etc.) This post will collect the clever corner makeup vanity ideas, which are not only for a cozy bedroom but also for a roomy bedroom.
People Also Read:
Why Choose a Corner Makeup Vanity?
A makeup vanity is more than just a piece of furniture; it's a sanctuary where you can transform yourself into your best self. When it comes to optimizing space in your bedroom while maintaining functionality and aesthetics, a corner makeup vanity shines as a splendid choice. In this article, we'll delve into why choosing a corner makeup vanity is a brilliant decision, considering both practical and aesthetic aspects.
Maximizing Space Efficiency
One of the most compelling reasons to opt for a corner makeup vanity is its space-saving prowess. Bedrooms, especially in urban homes, often struggle with limited space. By utilizing a corner, you make the most of every square inch available. This efficiency not only provides you with a dedicated space for your beauty routine but also keeps your bedroom uncluttered and cozy.
Enhancing Bedroom Aesthetics
The aesthetics of your bedroom play a pivotal role in creating a serene and inviting atmosphere. A corner makeup vanity can be seamlessly integrated into your bedroom's design, adding a touch of elegance. Its placement in a corner can contribute to better flow within the room, making it visually appealing. With various styles and finishes to choose from, you can effortlessly match your corner vanity to your bedroom decor.
Ensuring Better Lighting
Lighting is crucial for makeup application. Corner makeup vanities can be strategically placed to take advantage of natural light from windows, allowing you to achieve flawless makeup. Moreover, you can install additional lighting fixtures around the vanity area to ensure optimal illumination. The corner placement also reduces shadows, creating a well-lit and conducive environment for your beauty routine.
Creating a Personal Oasis
Your makeup routine is a personal and often meditative ritual. Having a dedicated corner for this purpose can elevate your experience. It provides a private sanctuary where you can focus on self-care and self-expression without interruptions. The corner makeup vanity becomes your oasis, allowing you to indulge in the art of makeup in a tranquil setting.
Customization Options
Corner makeup vanities come in a plethora of styles, materials, and sizes. This wide variety allows you to customize your vanity to match your preferences and needs perfectly. Whether you prefer a classic, modern, vintage, or minimalist design, there's a corner makeup vanity that suits your taste. Additionally, you can choose from various materials and finishes to complement your bedroom's aesthetic.
7 Best Bedroom Corner Makeup Vanities 2023
Now that you understand the benefits of choosing a corner makeup vanity for cozy bedroom, let's explore some of the best options available in 2023. These corner makeup vanities combine functionality, style, and quality, ensuring you have an enjoyable and practical space for your beauty routine.
TOP 1. Wood Corner Make up Vanity Set with LED Mirror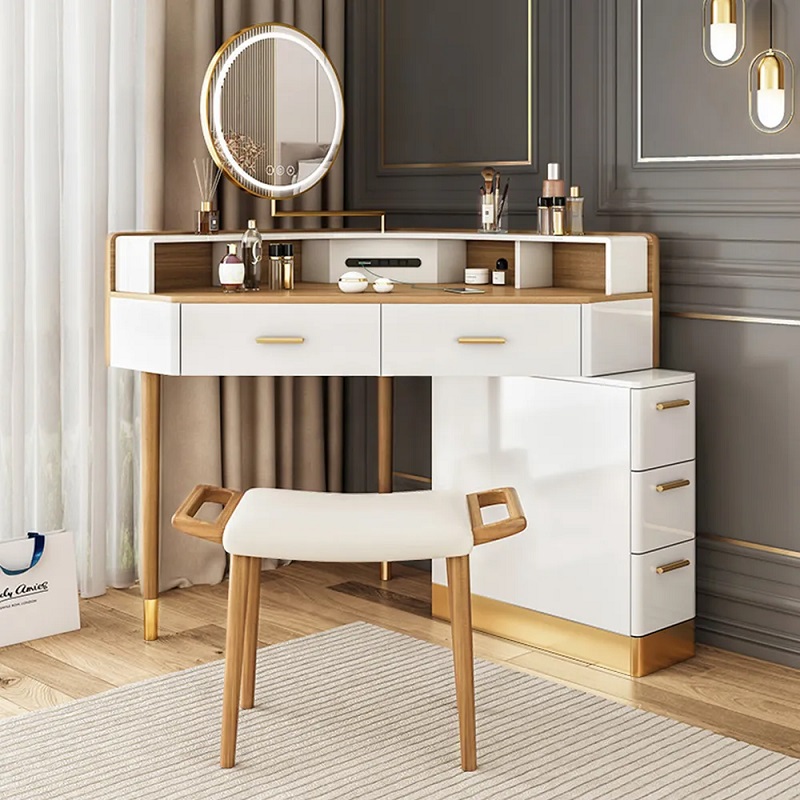 Don't miss such a small but functional vanity table! This chic wood corner makeup table with mirror is suitable for most home designs, including modern, contemporary, farmhouse, etc. The space-saving vanity desk with side cabinet offers 5 drawers to store the skin care products and cosmetics. Additionally, you are able to organize some frequently-used items on the triangle tabletop, which is equipped with USB ports and sockets for charging. One highlight of such a corner dressing desk is its movable 3-hue lighted mirror which will improve your makeup experience.
Dimension
29.5″L x 29.5″W x 29.5″H
Weight
151 lbs
Color
Light Walnut, Dark Walnut
Material
Solid E1-grade Ashwood Frame, Walnut Veneer, Solid Pine Wood Drawer, Solid Wood Legs, Gold-plated Stainless Steel Foot Caps, Piano Finish, Microfiber Leather Upholstery
What You Will Get

Makeup Vanity
3-Hue LED Lighted Mirror
USB Plug and Socket
Stool

Pros & Cons
Pro:

Fit for most bedroom style;
Completely configured;
Adjustable LED lighted mirror boots your enjoyment of dressing up.
Combine beauty and functionality together.

Con:

It is only perfect for the position against the wall so it is not advised to place it on the normal area where both sides are empty.
TOP 2. 29-inch Modern White Makeup Vanity Set for Corner Space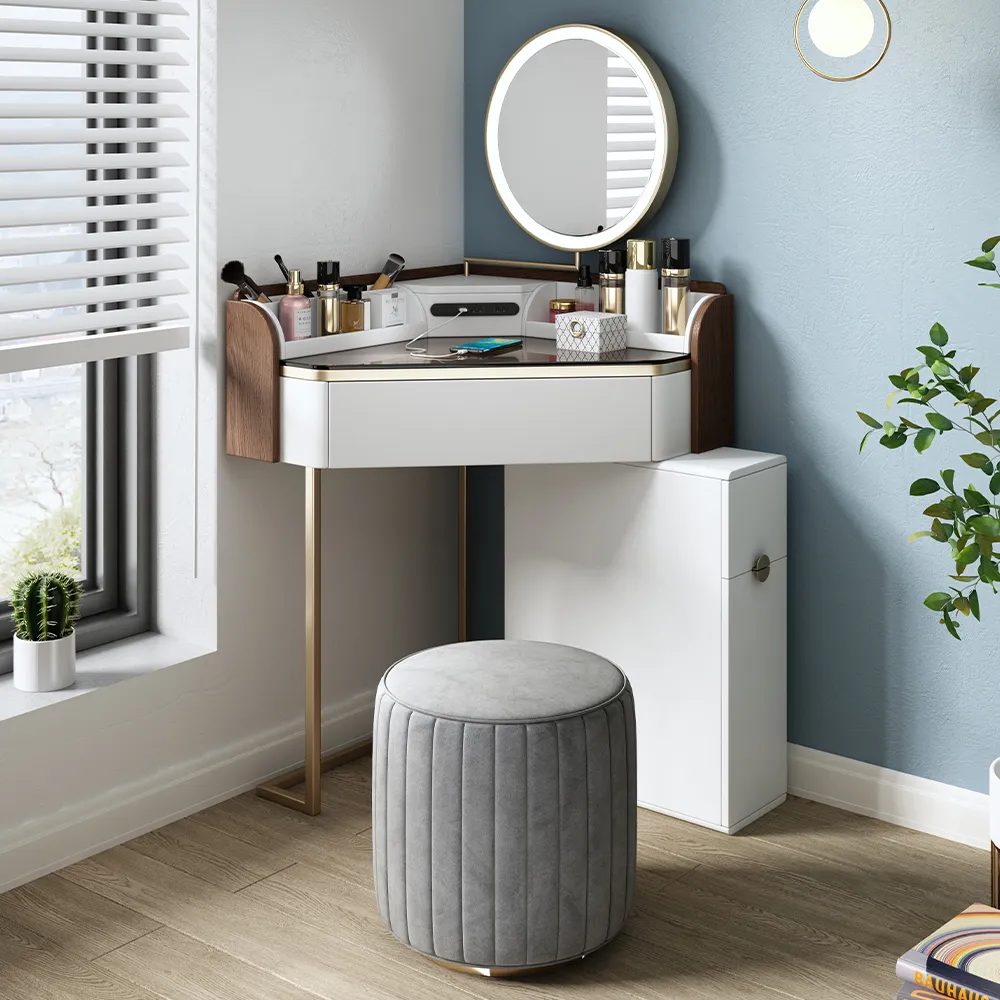 Compared with the former one, this white corner makeup vanity set provides two colors of the surrounding: wood or gray; and it is higher than the top 1. The minimalist design and amber-toned glass tabletop match perfectly for the tiny but comfortable bedroom. You are able to tidy up your perfumes, creams, lotions, lipsticks, and more skin-caring products using the big drawer with several separated compartments; sliding cabinet with 3-layer shelves; and organizing grid on the tabletop. Although the color temperature of the mirror cannot be adjusted, the mirror can be rotated by 360 degrees so that you are able to make up with it flexibly.
Dimension
29.5″L x 29.5″W x 35.43″H
Weight
79 lbs
Color
Wood, White
Material

Cabinet: Eco-friendly Manufactured Wood
Drawer: Solid Wood
Mirror: LED Lighted+Metal Frame
Legs: Titanium-plated Stainless Steel
Stool: High-resilience Foam+ Velvet Upholstery+Metal

What You Will Get

Makeup Vanity
Touched Lighted Mirror
USB Plug and Socket
Stool

Pros & Cons
Pro:

Perfect for modern and bright bedroom design;
Nesting stool for saving space;
360-degree rotatable LED mirror and built-in sockets are convenient for makeup and using beauty appliances.

Con:

The built-in separated compartments make itself only to work as makeup table or mini writing desk.
TOP 3. Mid Century Modern Corner Makeup Table with Storage
Similar to the first one, this wooden corner desk makeup vanity also comes with side cabinet but it features more. However, this make up desk provides two more compartments with doors. Its ample storing space works well in organizing the cosmetics and jewelries, even other daily goods. This classic and elegant corner vanity set features a sleek white finish that complements any bedroom decor. The removable HD mirror and compact design ensures it fits snugly into any corner.
Dimension
Makeup Vanity:

43.30''W x 23.62''D x 34.64''H

Mirror:

17.12''D x 21.25''H

Weight
123 LBS
Color
Walnut
Material
What You Will Get

Makeup Vanity
Removable HD Mirror

Pros & Cons
Pro:

Classic wood color makes it fit for most home style: MCM, modern, boho, farmouse, etc.
The storage drawers provide ample space for your makeup essentials

Con:
TOP 4. Elegant Compact Corner Vanity for Small Bedrooms
If you have a petite bedroom, a compact corner vanity is the way to go. And if you're looking for a corner dressing table with mirror for vintage/retro style? This stunning makeup vanity idea must satisfy your need. This dressing table set is designed to fit snugly into tight corners without sacrificing functionality. It typically comes with a movable lighted mirror, a small tabletop, thin side cabinet, slim metal legs and minimal storage. Their minimalist design ensures they don't overpower the room.
Note: This elegant makeup table is one of the DESIGN FUNDING PROJECT.
Dimension
29.92''W x 31.50''D x 30.47''H
Weight
unknown
Color
Walnut
Material

Cabinet: Solid Wood Board With Walnut Veneer
Legs: Stainless Steel
Drawers: Solid Wood
Stool: Microfiber Leather

What You Will Get

Makeup Vanity
Swivel Lighted Mirror
Stool

Pros & Cons
Pro:

Fits for both stylish and retro home style;
Chic design with golden metal legs.
Nesting stool can save lots of space.

Con:

Partial Assembly Required
Top 5. Space-Saving White Corner Vanity Table Set
Transform your bedroom into a haven of elegance with a white corner makeup vanity. This meticulously crafted piece features a round side cabinet and two gleaming golden metal legs, exuding opulence and charm. As you sit on the comfortable gray stool, bask in the glow of the swivel lighted mirror, ensuring every detail of your makeup routine is illuminated flawlessly. This vanity seamlessly combines functionality and style, making it a must-have addition to your bedroom.
Dimension
Makeup Vanity: 31.50 x 31.50 x 29.53 inch

Side Cabinet: 13.39″L x 13.39″W x 22.83″H

Stool: 14.96″L x 14.96″W x 16.14″H

Mirror: 15.75″L x 15.75″H

Weight
200 LBS
Color
White
Material
What You Will Get

Makeup Vanity
Lighted Mirror
Stool
Side cabinet

Pros & Cons
Pro:

Perfect color match of white and golden to showcase luxe vibe.
Chic and decent curved design;
Large storage space of the side cabinet with 3 drawers.

Con:

The vanity desk and side chest cannot be used separately.
TOP 6. Modern Retractable Makeup Vanity Table Set With TV Cabinet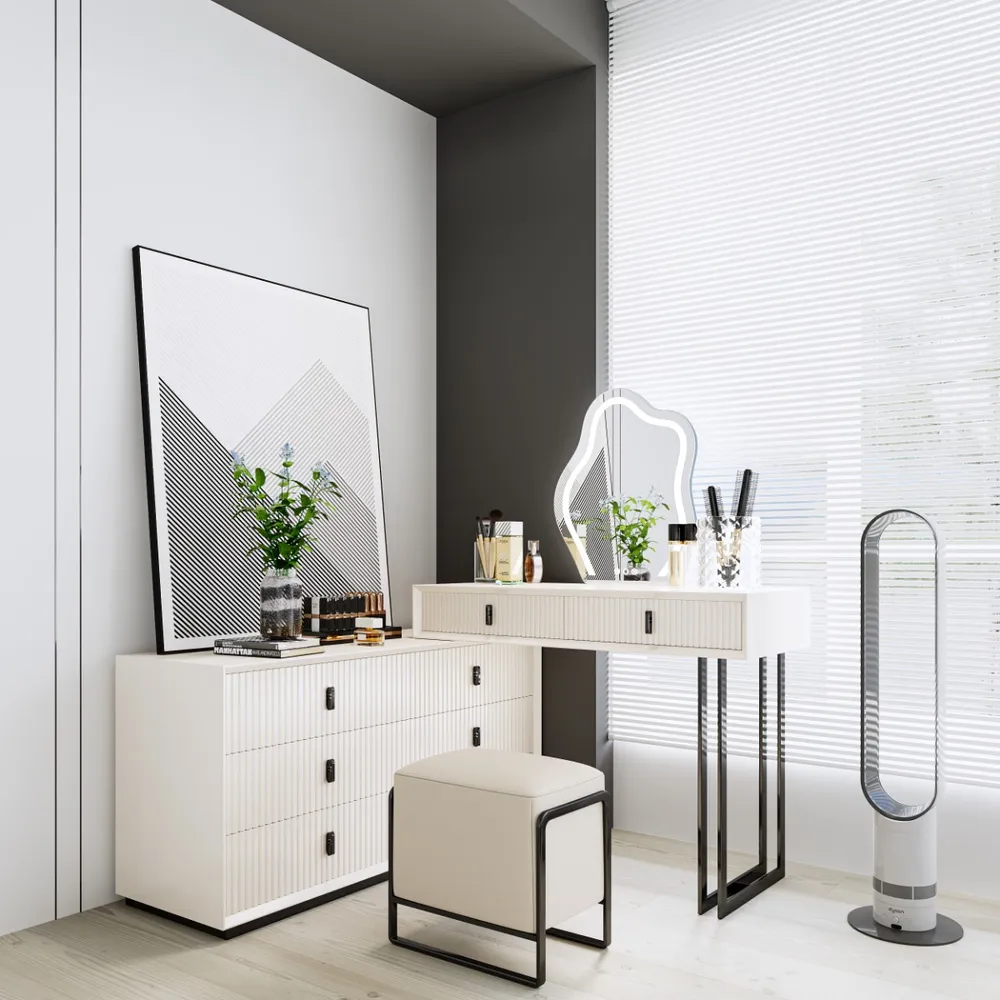 If you own a large bedroom or dressing room, such a modern retractable make up table is right for you. It can be adjusted according to your bedroom layout and there are three sizes of the vanity table for selection. This can stand as a normal vanity desk with a side chest or a l-shaped dressing table for the corner area. The chest can be used as side cabinet of the makeup vanity, or a closet, or even a TV stand, which provides spacious space for storing articles for your daily use. Its elegant design attracts various users, the ribbed pattern of the drawers and cloud-shaped lighted mirror included.
Dimension
Makeup Vanity:

S: 31.49″L x 15.74″W x 30.71″H

M: 39.37″L x 15.74″W x 30.71″H

L: 47.24″L x 15.74″W x 30.71″H

Side Cabinet: 66.54″L x 20.47″W x 19.69″H

Weight
S: 59.85 lbs / M:65.95 lbs / L: 78.65 lbs
Color
White
Material

Tabletop: Sintered Stone
Legs: Gold-Plated Stainless Steel

What You Will Get

Makeup Vanity
Touched Lighted Mirror
Stool
Chest Of Drawers

Pros & Cons
Pro:

Retractable flexibly based on the layout;
Chic and decent design;
Versatile: makeup vanity, writing desk, TV cabinet for wall-mounted TV.

Con:

It suits for a large bedroom;
The vanity desk and side chest cannot be used separately.
TOP 7. Modern Corner L-Shaped Vanity Table with Hairpin Legs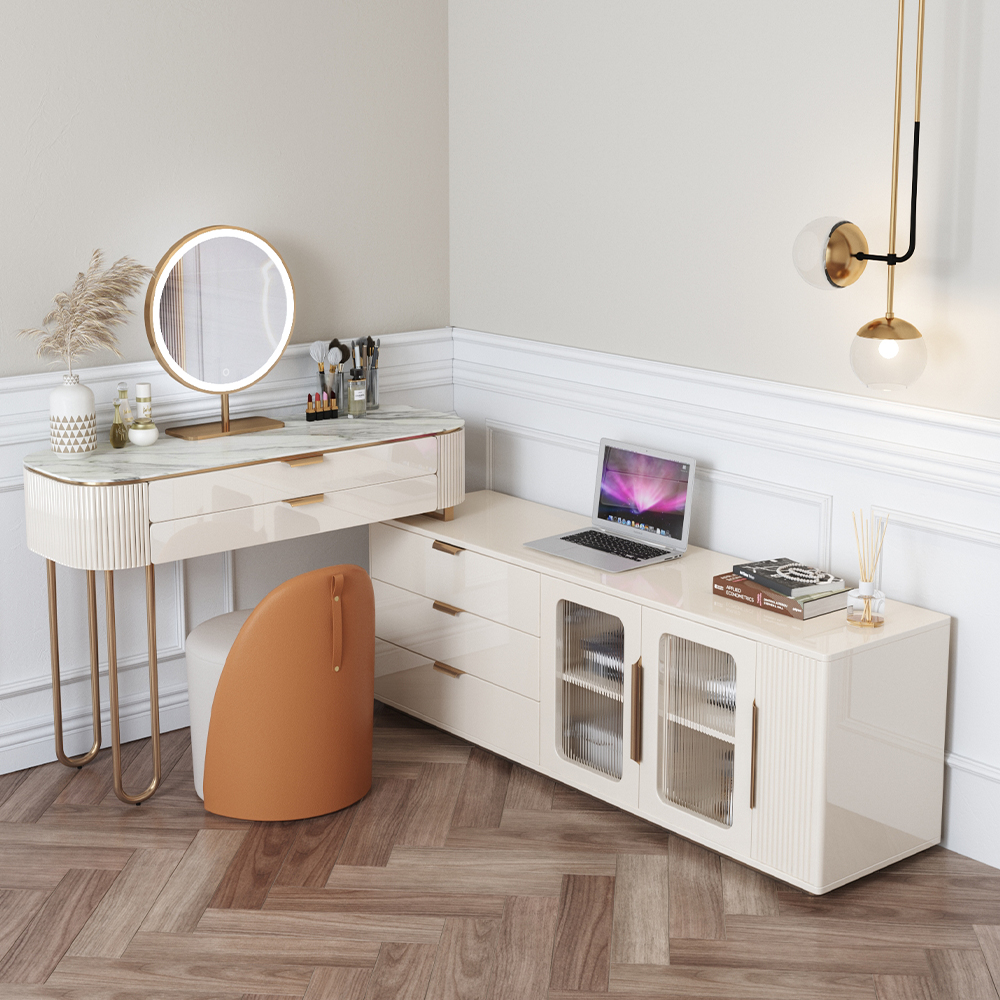 In order to suit for different bedroom layouts, this chic corner dressing desk is designed with a makeup vanity table, a side chest, a mirror and a stool. The vanity table and side chest can be combined agilely, which can be placed abreast or formed a right angle. Besides, when they are positioned side by side, you can expand the side chest for a longer size, which ranges from 70 inches to 102 inches. The ribbed design of the glass doors and edges of the table make the whole dressing vanity set more integrated. To save space, nest the stool under the table if it isn't in use.
Dimension
Makeup Vanity:

S: 35.43″L x 15.75″W × 30.71″H

L: 43.31″L x 15.75″W × 30.71″H

Side cabinet: 63.58″L x 20.28″W × 26.18″H

Weight
 176 lbs
Color
White
Material

Tabletop: Sintered Stone
Legs: Gold-Plated Stainless Steel
Drawers: Solid Pine Wood
Stool: Microfiber Leather

What You Will Get

Makeup Vanity
Touched Lighted Mirror
Stool
Chest Of Drawers

Pros & Cons
Pro:

Assemble Flexibly: place the vanity table on the left or right; l-shaped table set.
Sintered stone tabletop is easy to clean, stain-resistant, scratch-resistant.
The beige and orange color combo is right for modern and light-luxury bedroom style.

Con:

Not suitable for a narrow bedroom.