Drum coffee tables have become a popular choice for homeowners and designers alike due to their unique shape and versatile functionality. These tables offer a contemporary and stylish look to any living space and can be used as a statement piece or as a functional surface. With so many options available on the market, it can be difficult to choose the best one for your home. That's why we've compiled a list of the top 10 drum style coffee table reviews to help you make an informed decision. From rustic wooden designs to sleek metal options, our list has something for everyone. So, grab a cup of coffee and let's dive into the world of drum coffee tables.
People Also Read:

10 Best Coffee Tables for Small Spaces

Best Lift Top Coffee Tables with Storage to Maximize Your Space
Contents:
10 Best Drum Style Coffee Tables for Living Room
FAQs about the Drum Coffee Tables
What is A Drum Coffee Table?
Shaped like a drum or cylinder, a drum coffee table is featured with a circular shaped tabletop and a stable support in the center. But now some drum shaped tables are shaped with the integrative tabletop and support.
The name "drum" comes from the fact that the table's shape resembles that of a drum, and often it is also designed with features that give it a drum-like appearance, such as decorative metal rings or straps around the circumference of the table.
Drum shaped coffee tables can come in different sizes, styles, and finishes to fit a variety of interior design themes. Some may have intricate patterns or carvings on their surface, while others have a minimalist, modern design. They can also come in a range of colors, including natural wood tones, black, white, or metallic shades.
If you are styling your living room with a drum coffee table, check the trending of drum tables in 2023 in this post firstly. Here are 10 best table options for living room that vary in price and design.
10 Best Drum Style Coffee Tables for Living Room
Features:
Materials: White Marble With Veins and with natural effects
Colors: Black, White
Size:
S: 31.50″W x 31.50″D x 13.77″H
L: 39.37″W x 39.37″D x 13.77″H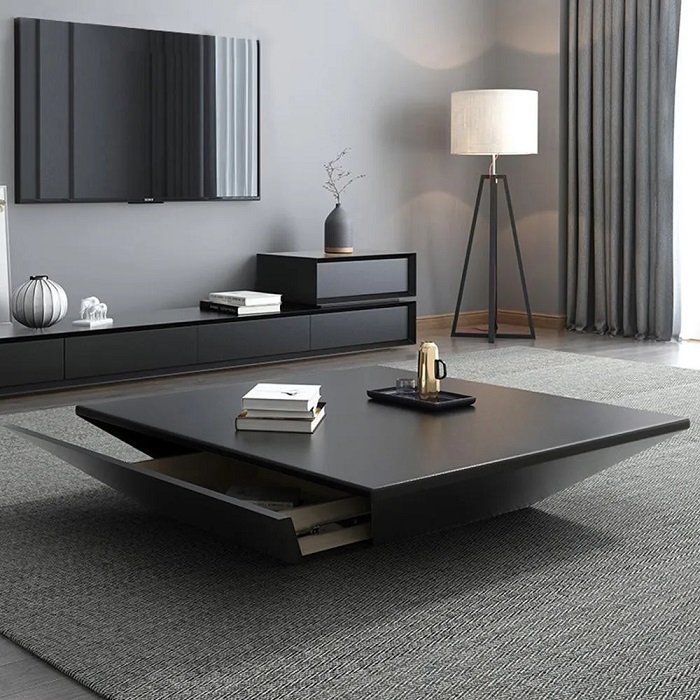 There are three colors of this square wood drum coffee table for selection, which brings a modern and stylish look to the living room. One large solid pinewood drawer inside ensures users easily tidying up daily accessories. It really combines functionality and aesthetic together to our lives.
Features:
Materials: Oak Lacquered Ash Veneered MDF Board, Pinewood
Colors: Black, White, Dark Gray
Size: 39.37″L x 39.37″W x 14.17″H
Pricing: $899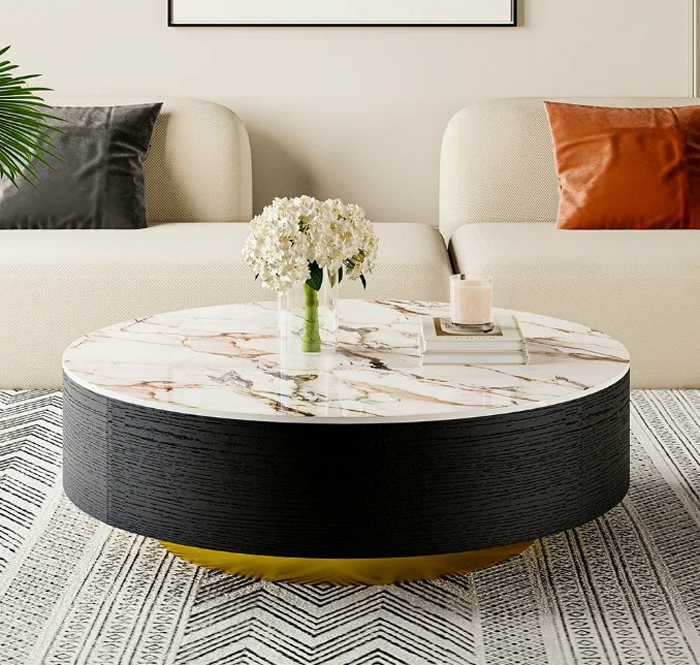 Similar to the first one, this drum shaped coffee table is featured with sintered stone top and 2 solid wood drawers. The difference between these two tables is that the tabletop of this modern table comes with clearer veining patterns. The carbon steel pedestal makes the table sturdy.
Features:
Materials: Sintered Stone, Oak Veneer, Solid Wood Drawer, Gold-plated Stainless Steel Base
Colors: White
Size:
S: 35.43″Diameter x 14.17″H
L: 39.37″Diameter x 14.17″H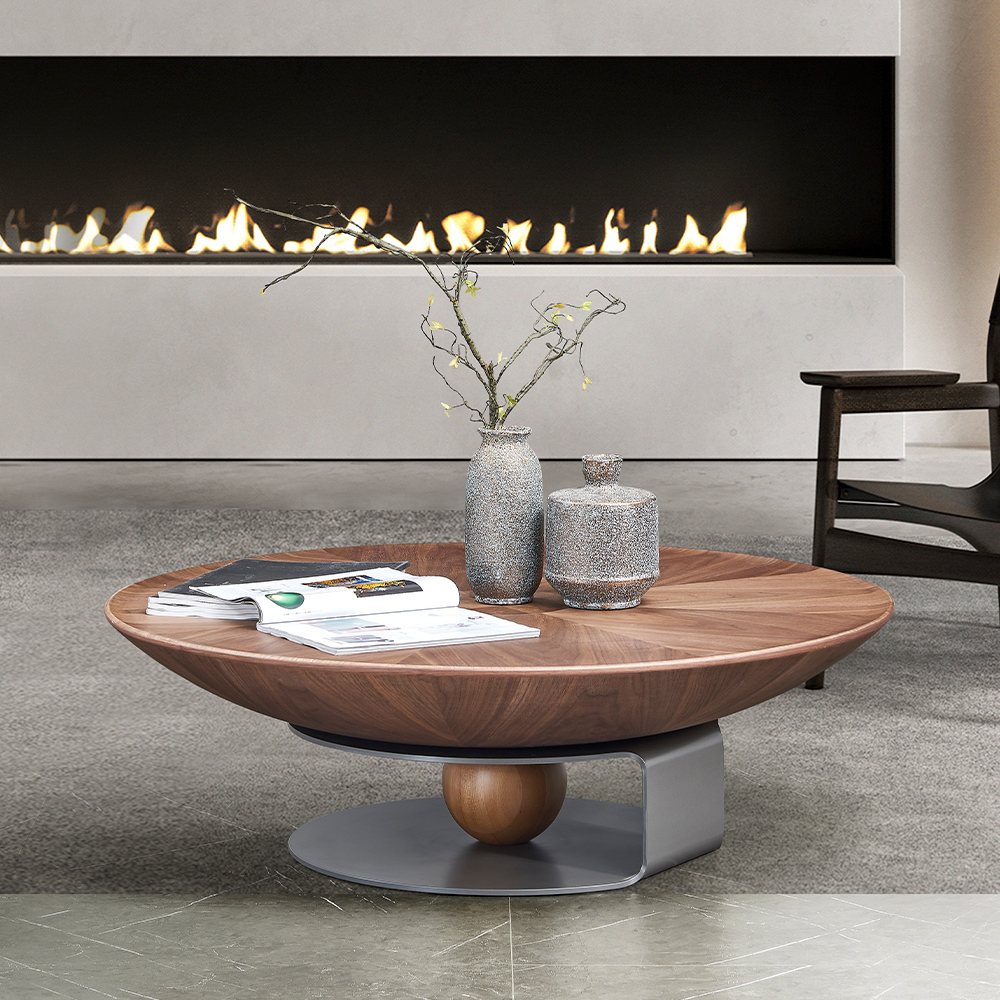 Fitting for various trending home styles, including modern, MCM, industrial, boho and contemporary, this pedestal coffee table features a walnut drum style table and a u-shaped carbon steel base with a walnut ball. It will be the attractive part in your living room and won't make you feel cluttered, even though without any drawers and open shelves. You will enjoy your coffee time or tea time with it.
Features:
Materials: Multi-ply solid wood+Walnut Venner; Carbon Steel
Colors: Walnut
Size: 39.27''Diameter x 14.17'' Inch
Pricing: $999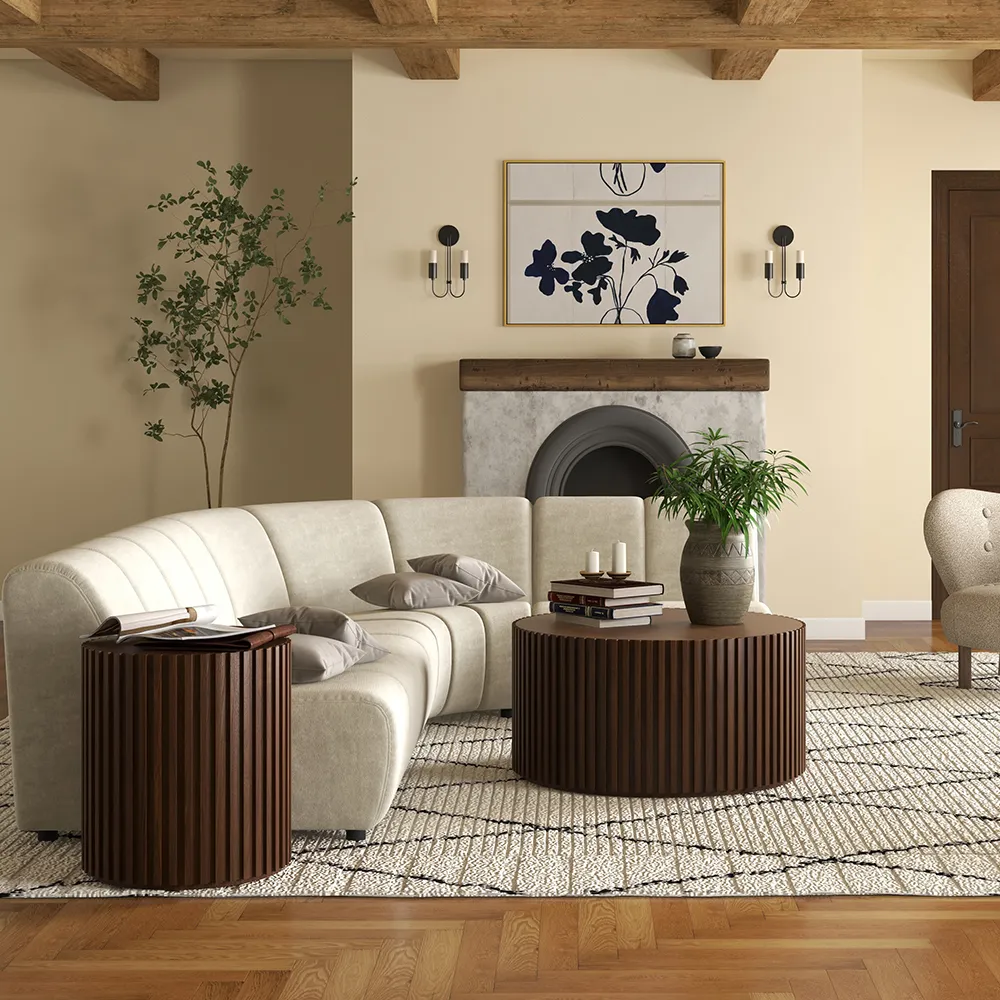 This drum coffee table is featured with slated-design surrounding, which makes it a great addition to living room. The premium MDF shows durability and resistance to deformation. This exquisite circular coffee table combines the elements of mid-century modern style and minimalist design, resulting in an eye-catching circular appearance.
Materials: MDF
Colors: Walnut Color
Size: 31.5 x 31.5 x 15.75 inch
Pricing: $549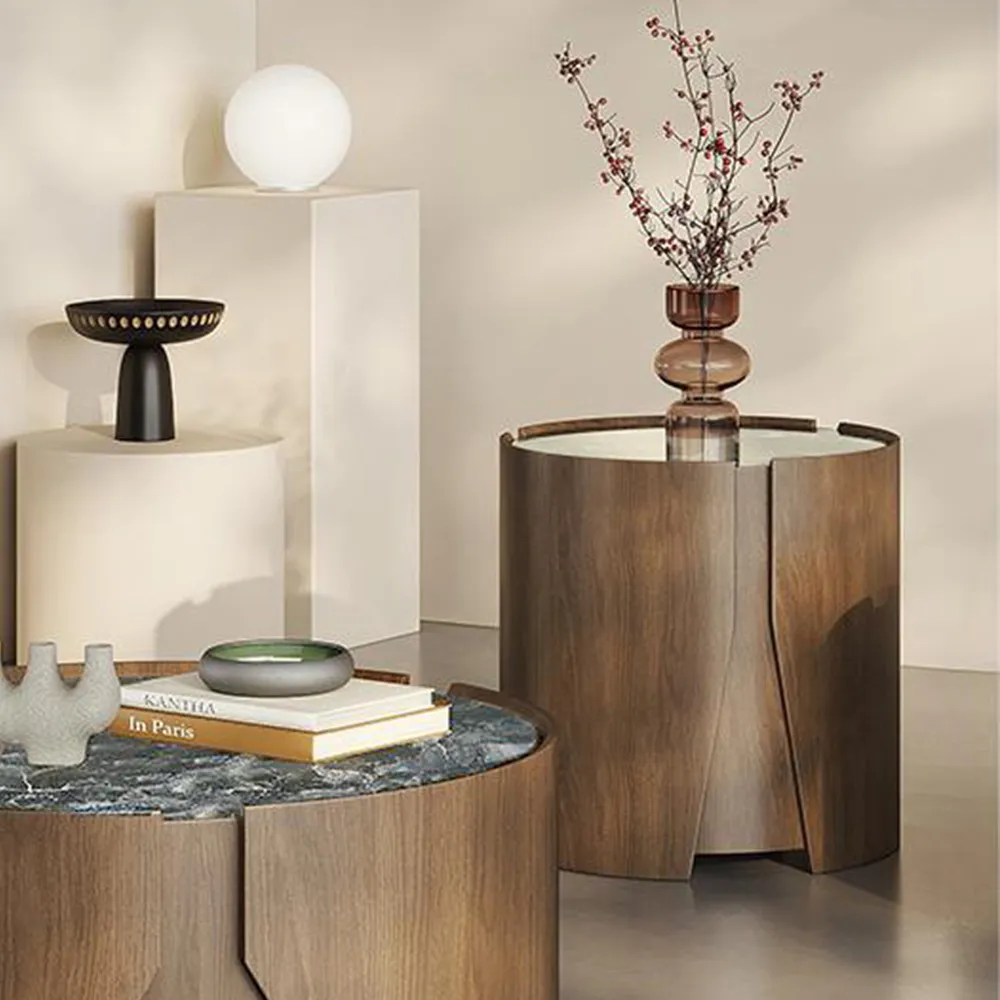 This wood veneer drum coffee table is made of sintered stone top and MDF, which ensures durability and stability. The drum style end table would make your living room unique and balance with other retro, industrial and vintage furniture. If you are finding an oversized round coffee table, this one will be the right pick for your large living space.
Features:
Materials: Sintered Stone; MDF
Colors: Wood color
Size:
S: 19.69 x 19.69 x 19.69 inch
M: 27.56 x 27.56 x 15.75 inch
L: 35.43 x 35.43 x 12.2 inch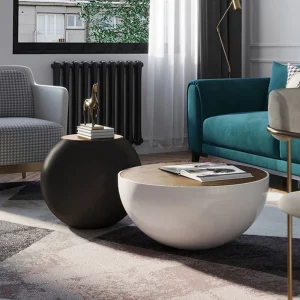 This drum and bowl style coffee table for living room, made of brushed gold titanium-plated stainless steel, ensures the stability and visually appeal. It is in balance with modern and luxury sofa or rugs, which is perfect for reading, coffee and tea time.
Features:
Materials: Brushed Gold Titanium-plated Stainless Steel, ABS plastic, FRP
Colors: Black & White
Size:
White : 31.49″Diameter x 13.77″H
Black :19.68″Diameter x 18.89″H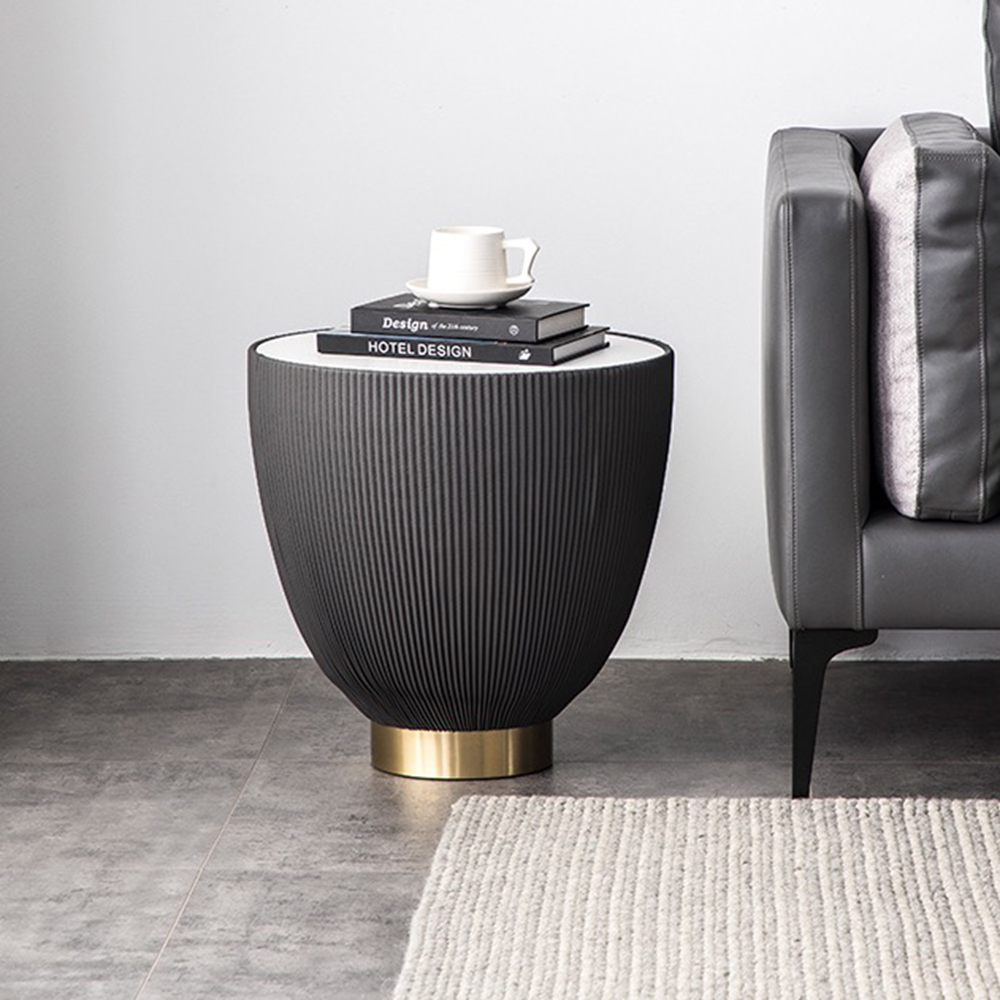 This versatile coffee table with PU leather upholstery and ribbed patterns, makes it a great addition to living room. The premium sintered stone and Aluminum alloy base show great resistance to stain and abrasion and maintains the durability. With only 18.5 inches, it can be used separately as end table for coffee table for small spaces.
Features:
Materials: Sintered Stone, PU Leather, Aluminum Alloy
Colors: Gray
Size: 18.5″Diameter x 17.72″H
Pricing: $389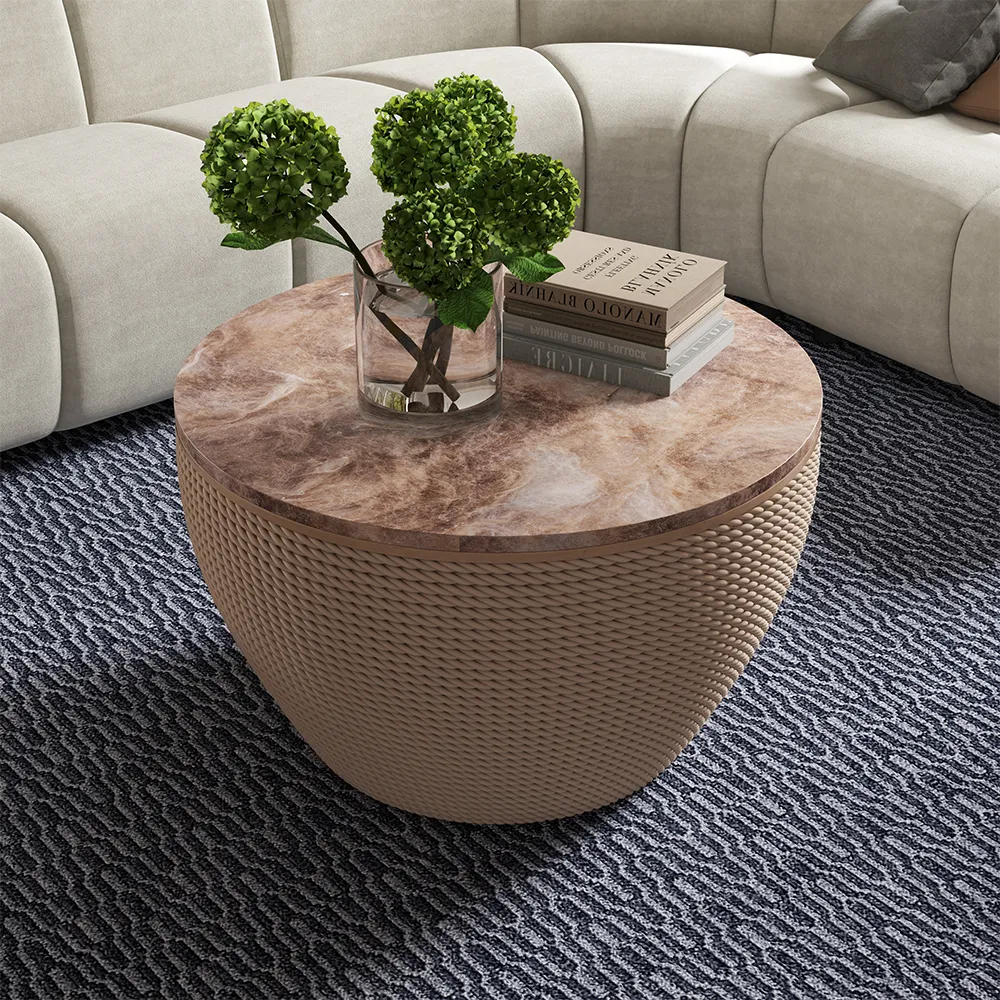 The drum shaped coffee table with square top is right for mid century modern, boho and retro room. The rubber-wood body makes the table durable while the tabletop with stone patterns and hemp-rope design showcases its unique charms. With such a delicate table, your living room would be completed and elegant.
Feature:
Materials: Wood
Colors: Walnut Color
Size: 30.71 x 30.71 x 18.9 inch
Pricing: $599
This modular coffee table set with sintered stone tabletop is featured with 2 semi-circular tables. The sintered stone patterns and black color make it suitable for mid century modern, contemporary, industrial and even retro living room. What's more, it can be used flexibly as you can place it together as a circle, interlace or two side tables in different positions . It is the masterpiece combing design and functionality.
Features:
Materials: Sintered Stone
Colors: White & Black
Size: 39.37 x 39.37 x 13.19 inch
Pricing: $899
FAQs about the Drum Coffee Tables
Why you may need a drum-like table for enjoying coffee and tea?
Whether you need a drum shaped coffee table depends on your living room home decor style and living habits. A drum coffee or tea table generally is suitable for tropical, retro, modern decoration style, but anyway the drum-like end table would add stylish and fancy vibe to your home.
What's the difference between a drum style table and the common one?
Actually, both of them can work evenly with sofas & loveseats, rugs, TV stands. The main difference between them is the design idea. The antique drum table, introduced in late 18 century, was originally equipped with a round table and a central support for the rent collector to keep the accounts of rent money due and paid.
A drum coffee table always now comes without legs, and the tabletop, body and base of the table are integrated. In addition, it is usually round and sometimes square, e.g.: Tirsoo Square Coffee Table with Storage Drum Drawer, while the normal coffee tables can be designed in any shapes and styles.
How to select a drum-style coffee/tea table?
It is similar to selecting a common coffee table for parlour room and the elements below should be considered:
Budget: any shopping decision must be based on your budget.
Available size: it should match with sofa, rug, TV stand and other living room furniture.
Material: concrete, MDF board, solid wood or sintered stone, etc.
Functionality: with or without storage; hidden storage or open shelves.