There are more and more sundries due to the long residence time. Thus, it is necessary to create extra storage to keep the daily items organized, especially if your current storage space is limited. Here are some rules for home improvement storage ideas.
Ways to Improve Home Storage Capacity
1. Select the furniture combining aesthetic and functionality.
When selecting the furnishing items for home, don't only focus on the beauty. Considering your daily need, purchase the furniture and decors that are pretty and functional (easy to clean; create hidden storage, multi-scenario usage).
2. Consider the multi-functions of the home furniture.
Think of the multitask feature of the furniture that you tend to buy. Some pieces like mirrored cabinet, storage ottoman, storage bed, can provide both its original function and storing feature together.
3. Try to customize home furnishing.
Customizing is the best for you since everything is designed by expert interior designers, based on your home space. However, it is not suitable for all homes, especially for the slightly-remodeling, replacing just a piece of furniture.
4. Make full use of the corner space.
Some spaces seem wasteful, e.g.: corner space, the back of the door, hallway, the space under beds/sofas, while those space can well add extra storage in home. Therefore, try these ways: use the organizers and hooks to improve the storage capacity behind doors; install corner cabinet; purchase storage sofa or beds.
5. Mount the furniture to the wall.
The above-cabinet storage is the wonderful home improvement storage idea. Try to hang the furniture items on the wall to save the floor space and it would let you easily clean.
6. Choose the decorative items with storing function.
Generally, every family would place some albums, small ornaments to decorate the interior space. It is suggested to find a decorative item with storing function. For example, magazine storage rack, album storage with stylish design, etc.
The Best Furniture Ideas to Create More Storage in Your Home
Modern Floating Wooden Wall Cabinets with Open Shelves
This wall-hung TV cabinet set is featured with three pieces, including (a). a storage cabinet with 2 open shelves, (b.) a rectangular closed cabinet, and (c.) 3 open shelves. It can tidily store plenty of books, magazines, albums and more. Don't miss such useful cabinets to create more storage in your modern living room, especially a small living room. If you had installed the lowline TV stand before, it also can be mounted since you can flexibly adjust it to fit the installed TV unit.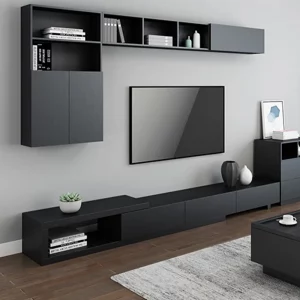 Modern Wall-Mount Makeup Vanity with Mirror
This featured wood makeup vanity is also hung onto the wall in the bedroom or one side of bay window. It comes with built-in movable mirror, four compartments and one drawer, which is space-saving and satisfies females' makeup needs. Users can flip down the versatile cover as a tabletop for making up, reading or even temporarily working. Its wall mounting won't influence the layout and use of other furniture.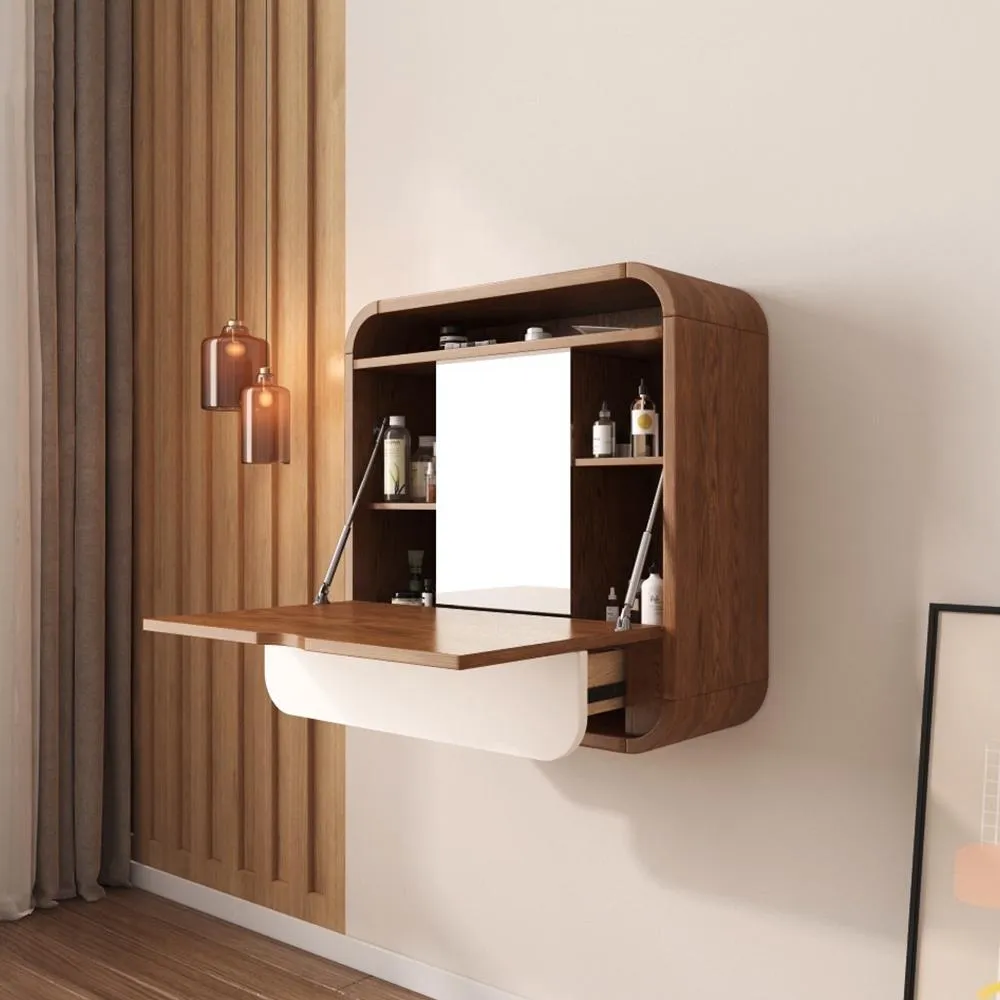 Modern Rectangular Floating Cabinet Wall Shelves
The floating cabinet with open shelves and one door can be installed anywhere, which is made of premium MDF. It can be singly used as a bookshelf, a glove compartment in living room, bedroom, study and even bathroom, or available as a part of a TV stand set. It is just easily hung on the wall so it saves lots of space and leaves the floor space for kids' playing.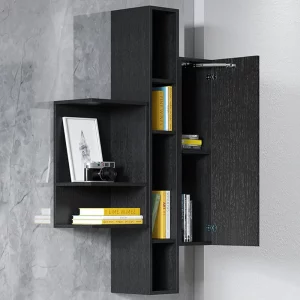 Jewelry Armoires with Mirror
The mirrored jewelry armoire, made of MDF, provides large storage capacity without taking up too much space. You can organize the rings, earbobs, necklaces and cosmetics in the full-length armoire, and the mirror is equipped on the upper side of the cabinet, which is perfect for dressing up. This mirrored cabinet can be mounted on the wall or hang on the door.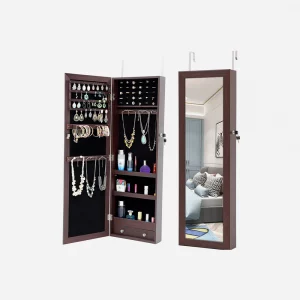 Multifunctional Corner Makeup Vanity
The corner space seems useless but it can well add extra storage to your home. This corner dressing table with sliding side cabinet and one drawer makes beauty and functionality together, so as to achieve the maximum utilization rate of bedroom space. Its wood look and rattan door make itself perfect for modern and retro style.
Pink Velvet Upholstered Vanity With Mirror
Girls always want to have makeup vanities in their bedrooms. An easy way to satisfy that need is installing this bay window dressing table. The velvet upholstery dressing table with sintered stone tabletop is right for light-luxury bedroom design and placed on the bay window, which well resolves conflict between a small space and storage requirements.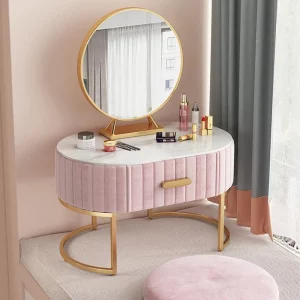 Bathroom Mirror Cabinet with Storage
There is no easier way to add abundant storage in bathroom than installing a mirror cabinet. The mirror cover does well for ablutions and makeup while the interior storage provides ample space to keep the bath item, make-up items, and medicines tidy. This aluminium mirrored bathroom cabinet can fit several bathroom design styles.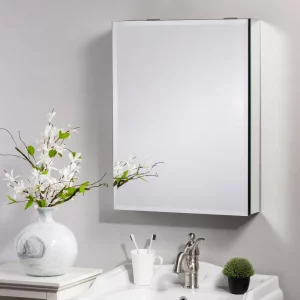 Twin Size Storage Bed
For improving home storage, storage bed is a smart idea. The hidden drawers under the mattress can contain lots of pillows, clothes, toys, and other bedding items but does not take a toll for sleeping in the bed. Compared with the common beds, it can create more storage space in your home and tidy up the bedding.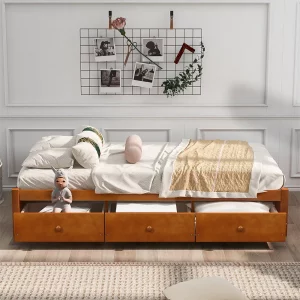 Ottoman with Flip Top Storage
The storage ottoman is one of the best home storage ideas for small spaces. As for the narrow living space, it is very cramped to place many chairs but it would be embarrassing if without seats for guests. Ottoman with hidden storage can perfectly resolve the problem. It well offers seating and stores some less-than-attractive things, so you don't have to worry about the messy layout.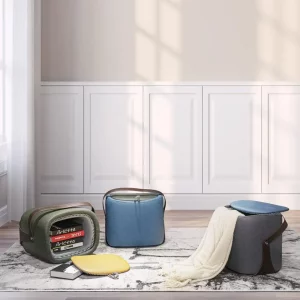 Are you inspired after browsing those tips to create more storage in your home? If you have any other ideas, please leave your comments below.