The average bedroom in a home measures 219 square feet, according to creditdonkey.com. However, some bedrooms only measure 7′ x 10′ and even smaller. It is difficult to add all bedroom furniture sets in such a small bedroom, especially a makeup vanity, but anyway, there are still some clever design ideas for resolving the problem.
For a narrow room, the dead space must be used practically to add extra storage for more furniture in it. Corner position, wall space, vertical space, the area behind the door, bay window and more are included. Check the smart dressing tables for a small bedroom.
People Also Read:

The Best Small Sectional Sofas for Small Living Room
The fantastic idea of small makeup vanity design is to utilize the dead space, especially the corner space. To make the most of the room corner, corner vanity table with storage blends well with the small bedroom. According to your corner area, select the right size of makeup table for the bedroom, which generally would be installed on the cornering position between end of the bed and wall, or the closet and the wall.
This wood make vanity set provides 2 divided drawers of the table and 3 solid wood sliding drawers on the side cabinet for storing. Moreover, the built-in USB charge pot can keep your devices charged at ease. For better fitting the corner space, rotatable LED mirror will perfectly improve your makeup experience.
Color
Wood, White
Conclusion – Why to Buy
Material

Cabinet: Eco-friendly Manufactured Wood
Drawer: Solid Wood
Mirror: LED Lighted, Metal Frame
Legs: Titanium-plated Stainless Steel
Stool: High-resilience Foam,
Velvet Upholstery, Metal

Right for corner space;
A complete set of dressing table;
Equipped with premium LED movable mirror;
Ample storage space;
Suitable for modern and light-luxury decor style.

Dimensions
29.5″L x 29.5″W x 35.43″H
WEIGHT (LBS)
79
Package
1 x Table, 1x Cabinet, 1 x Mirror, 1 x Stool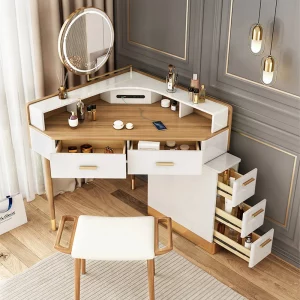 Similar to the former one, this minimal corner dressing desk also exploits fully the dead space. This makeup vanity is highly recommended by a female customer, who is a fresh graduate and planned to install a small make vanity for the corner space at the end of the bed in her apartment. The built-in USB port and 2 built-in outlets can keep all your devices fully charged. This mini makeup vanity table with one drawer and a mirror is designed to provide the optimum collocation with the area by the window in bedroom. In addition, the color combo design with glass tabletop and dedicated metal legs add the stylish and elegant flair to a girl's cosy bedroom.

Color
White and Gray
Conclusion – Why to Buy
Material
Glass, MDF, Titanium-plated Stainless Steel

Right for corner space, or position by the window;
Perfect for stylish female bedroom;
Versatile as a small reading desk.
Affordable.

Dimensions
29.13″L x 29.13″W x 35.43″H
WEIGHT(LBS)
79
Package
1 x Table, 1x Cabinet, 1 x Mirror, 1 x Stool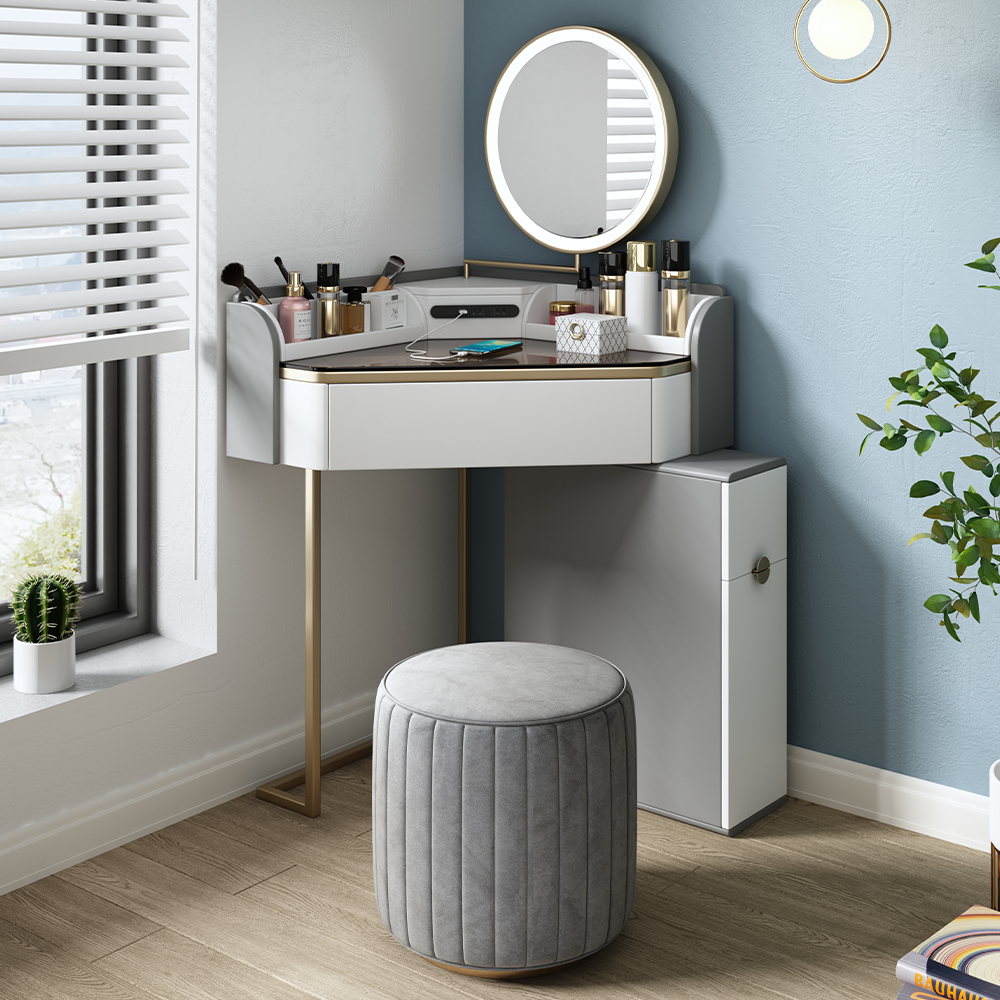 Idea 3. Wall-Mount Floating Dressing Table
There is another excellent design can make full use of the bay window area and that is a wall-mounted dressing table. The floating vanity desk with storage can be hung onto the wall above the bay window, or anywhere in the bedroom, only if it won't get in the way of your walking. The tabletop can be flipped up and down flexibly while the built-in mirror is movable or even removable.
Color
Wood
Conclusion – Why to Buy
Material
MDF, Metal, Glass

Right for bay window and vertical wall space.
Fit well for modern, minimalist, wooden style;
Easy to install;
Affordable.

Dimensions
23.64″W x 9.84″D x 25.59″H
WEIGHT(LBS)
59.4
Package
1 x Dressing Table, 1x Mirror (built-in, removable)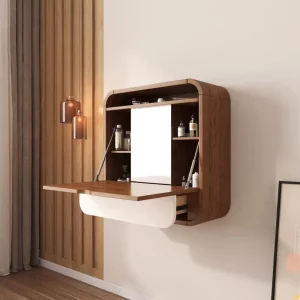 Idea 4. Solid Wood Small Bedroom Vanity with Drawers
What you see is what you get. This small bedroom vanity table in brown is really minimalist but stands out with sleek and refreshing appearance. The clean line and curved corner of the tabletop bring out a neatness and refinement to your bedroom. The dark wood color of tabletop, mirror frame, stool frame and table legs makes itself minimalist, integrated and decent. It only takes 35.43″ long x 17.71″wide flooring space and the stool can be pushed underneath the tabletop, so if your bedroom owns enough length for holding it, it must become your new favorite.
Color
Walnut & White
Conclusion – Why to Buy
Material
E1-Grade Walnut Veneered Tabletop; Solid Ash Wood Legs

Utilize reasonably the floor space;
Work for both vanity table and desk;
Suite for mid century modern, boho and vintage style.

Dimensions
35.43 x 17.71 × 30.70 inch
WEIGHT(LBS)
44
Package
1 x Dressing Table, 1x Mirror, 1x Stool
Idea 5. Movable Flip-top Dressing Table with Nesting Stool
Want a simple makeup table? This seemingly simple dressing table is featured with a small vanity table, a flip-top mirror, 1 drawer, a stool. Such an elegant green makeup desk suits well for modern home style. It is very flexible since it can be used as both a dressing table and a nightstand, which is perfect for mini bedroom. Moreover, such small makeup vanity is movable so people can pull it to the right position to dress up when lifting the tabletop or use it as a mini writing desk. As uncovering the tabletop, there are several compartments inside to categorize the cosmetics, and a built-in mirror for making up.
Color
Green
Conclusion – Why to Buy
Material
MDF, Stainless Steel, Velvet Jewelry Drawer Organizer

Hidden flip-top mirror design;
Movable anywhere;
Versatile: work as a nightstand, thin writing desk and mini dressing desk.

Dimensions
15.75″L x 18.90″W x 31.50″H
WEIGHT(LBS)
110
Package
1 x Dressing Table; 1 x Mirror; 1 x Ottoman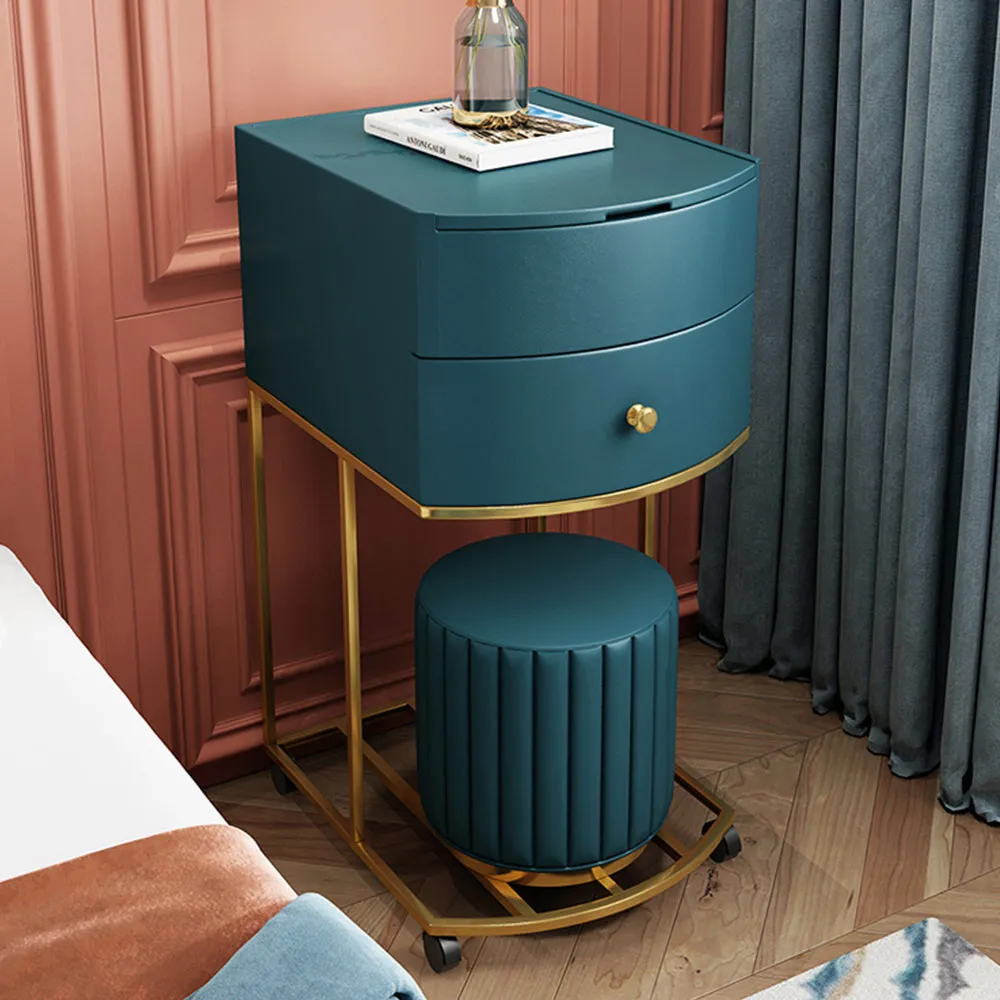 Idea 6. Mini Retractable Makeup Vanity Table Set
Note: This dressing desk is unavailable now, please see more gorgeous makeup desks here.
This space saving dressing table can be adjusted by moving the side cabinet so the whole floor area is changeable from 26.40 x 17.70 inch to 36.20 x 17.70 inch. When you retract the side cabinet underneath the table, the coverage space is the smallest while it is possible to pull part of the cabinet out and leave some top space for a mini nightstand purpose, both of which are perfect for a narrow space. Moreover, the smoky color and tawny tempered glass tabletop demonstrates the luxury and industrial vibe of your bedroom.
Color
Smoky
Conclusion – Why to Buy
Material
MDF, Tempered Glass,

Gold-Plated Stainless Steel

Retractable and adjustable;
Elegant design;
Perfect for modern and luxury home style.

Dimensions
Table : 26.40 x 17.70 x 29.90 inch

Side Cabinet : 9.80 x 17.70 x 24.40 inch

Mirror : 15.70″Dia

WEIGHT(LBS)
121
Package
1 x Dressing Table with Side Cabinet,

1 x Mirror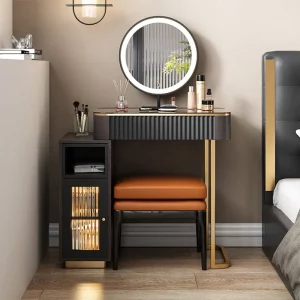 Compared with the dressing tables above, the size of this vanity table can be retracted flexibly from 35.43" to 59". Thus it is a money-saving option since it can be used in rooms with different areas even though you move to new home. The two large drawers and a side cabinet offer spacious storing space for your cosmetics, jewelry, books and more. You don't need to worry about the cleaning and maintenance of the sintered stone tabletop, which is resistant to stain and heat. What appeals most is its ribbed design, hairpin shaped legs and color combo stool.
Color
Amber & Gold & White
Conclusion – Why to Buy
Material
Sintered Stone, MDF Piano Paint, Stainless Steel Edging, Stainless Steel Brushed Sealing Glaze, Pine Wood

Minimalist but delicate design;
Adjustable size with retracting;
Easy to clean: sintered stone tabletop and piano finished surface.
Modern white and golden legs for chic and luxury style.

Dimensions
35.43″L x 17.72″W × 30.71″H
WEIGHT(LBS)
143
Package
1 x Dressing Table with Side Cabinet,

1 x Mirror,

1 x Stool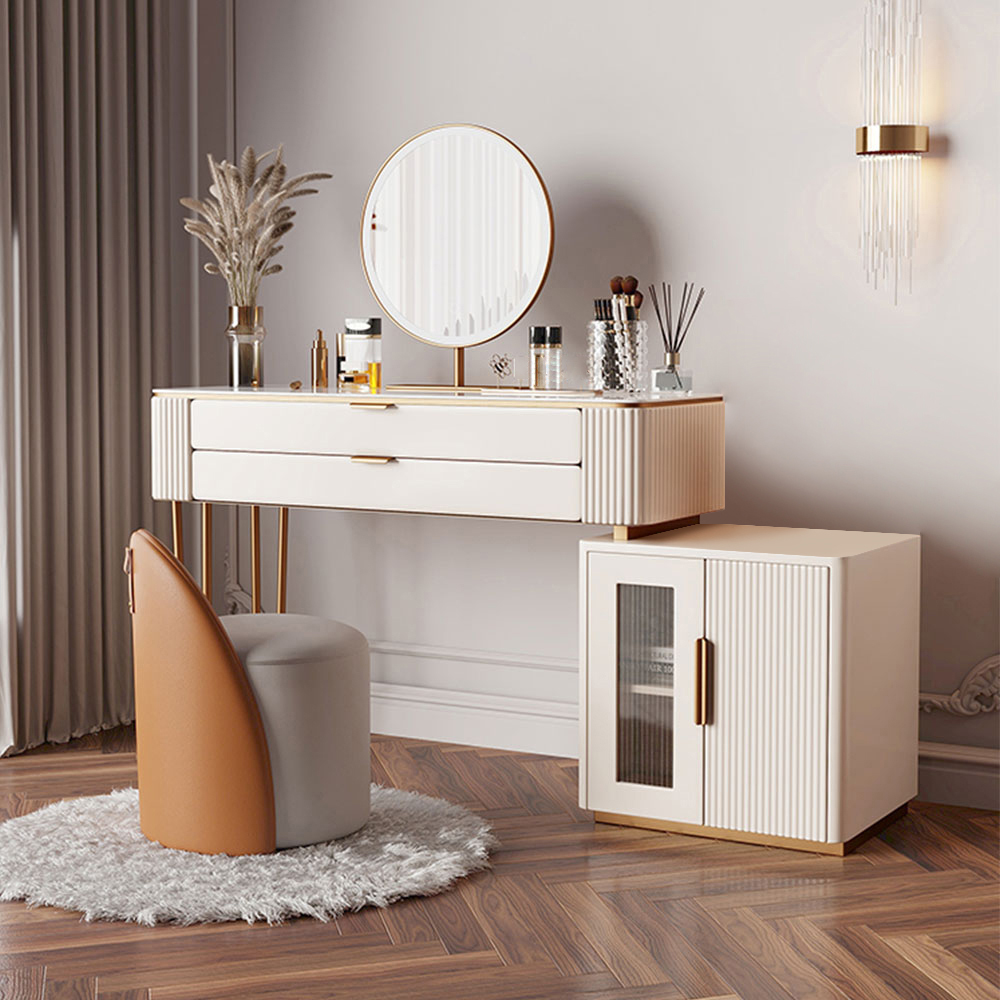 Which compact dressing table above will suit for your narrow bedroom? Some of them will not take up any flooring space but make full use of the inconspicuous area, such the floating vanity table, corner wall makeup vanity, bay window vanity. Share your choice to your friends if you find the ideal makeup vanity table.