Are you dealing with the challenge of decorating a cozy living room with limited space? In the realm of interior design, the right sectional sofa can be a game-changer, especially when it comes to small living rooms. In this comprehensive guide, we'll explore the world of small sectional sofas and help you navigate the nuances of finding the perfect sectional sofa for small spaces. Whether you're seeking comfort, style, or clever space-saving solutions, we've got you covered. Discover the top options that blend seamlessly into your small living room, maximizing both your square footage and your home's overall appeal.
What is a sectional sofa?
Before delving into the world of the best small sectional sofas for your compact living room, let's start with the basics: What exactly is a sectional sofa?
A sectional sofa, often referred to simply as a "sectional," is a versatile piece of furniture designed to provide ample seating and comfort while adapting to various room layouts. Sometimes, people would call it as modular sofa. What sets sectionals apart from traditional sofas is their modular design, which allows them to be split into multiple sections or arranged in different configurations.
These sofas typically consist of two or more pieces, including a combination of seats, chaise lounges, and corner units that can be connected or separated according to your preferences and space constraints. This flexibility makes sectionals an ideal choice for homeowners with small living rooms or a larger house, as they can be customized to fit snugly anywhere, including corners, along walls, or as room dividers.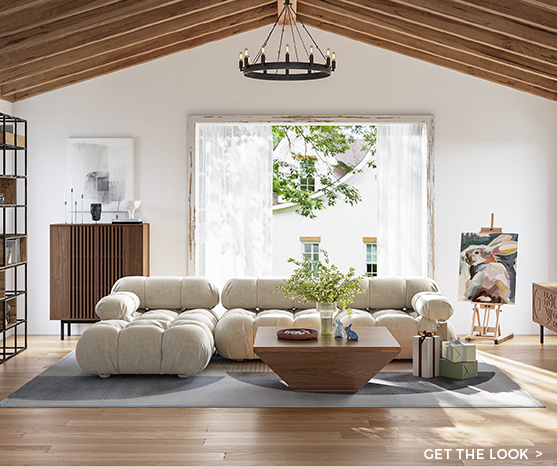 Why are the small sectional couches a good choice for small spaces?
Choosing the right furniture for a small living room can be a daunting task, but small sectional couches emerge as a top choice for several compelling reasons. In this section, we'll explore why these versatile pieces are an excellent fit for compact living spaces like yours.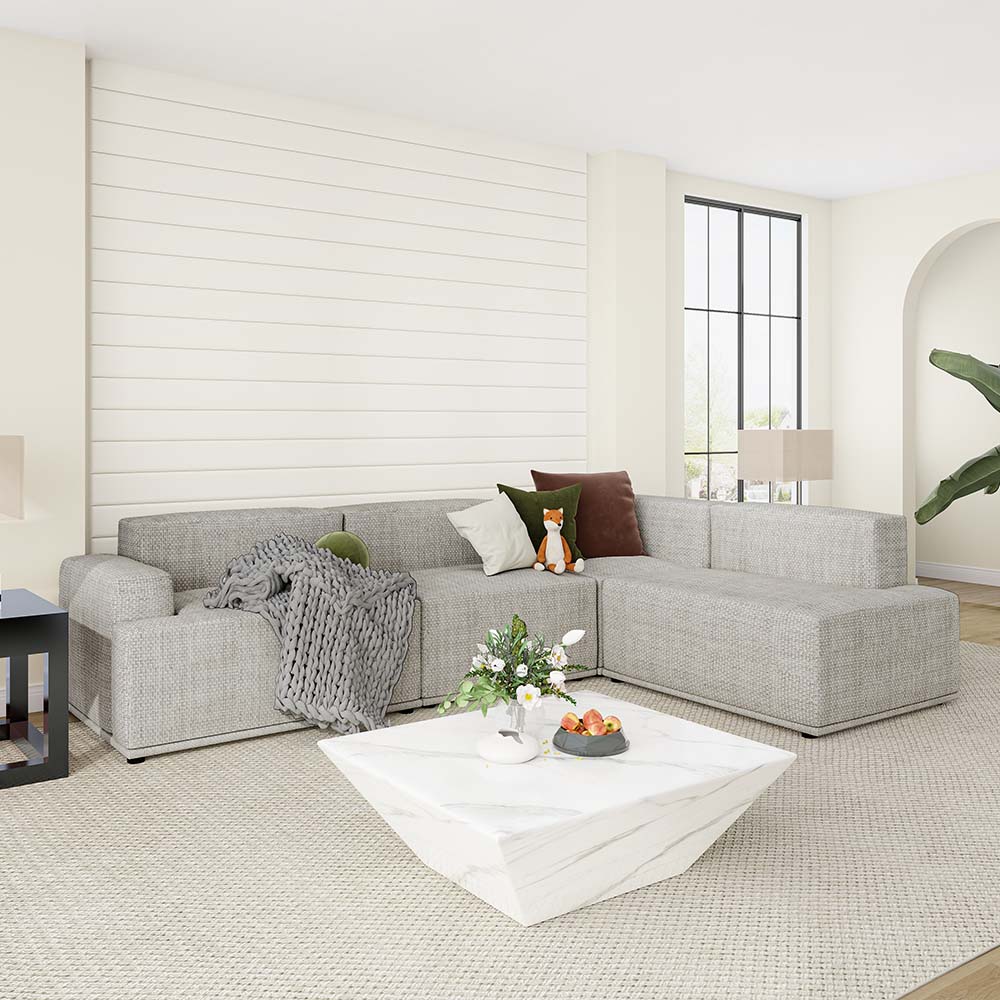 Space Maximization: Small sectional couches are designed with space optimization in mind. Their modular components can be arranged to make the most of your room's layout, fitting neatly into corners or along walls. This adaptability is a game-changer for small spaces, allowing you to utilize every nook and cranny efficiently.
Customizable Configurations: One of the standout features of small modular couch is their flexibility in configuration. You can select the arrangement that suits your needs, whether it's an L-shaped design to define a seating area or a symmetrical setup for a balanced look. This customization ensures your couch complements your room's layout and functionality.
Multi-Functional Use: Small corner sectional sofas, or those compact sectional sofas with chaise are more than just seating; they can be multi-functional. Some models come with built-in storage compartments or sofa beds, adding value to your investment by providing additional storage or a guest sleeping space without taking up extra room.
Comfort without Compromise: Despite their compact size, small sectionals don't compromise on comfort. Many are equipped with plush cushions and ergonomic designs, ensuring a cozy and inviting seating experience. Some even offer features like adjustable headrests or built-in recliners for added relaxation.
Visual Appeal: These couches come in a variety of styles, materials, and colors, allowing you to find the perfect match for your decor. Whether your taste leans towards contemporary, traditional, or mid-century modern, there's a small sectional that will enhance the visual appeal of your living room.
Zoning Your Space: In an open-concept living area, small sectional couches can act as room dividers, creating distinct zones for dining, lounging, or entertainment. This zoning effect helps define different areas without the need for additional walls or furniture.
Entertainment and Social Hub: A small sectional sofa can become the heart of your living room, serving as a central hub for entertainment and social gatherings. Its ample seating capacity ensures everyone has a comfortable spot to enjoy movie nights or engage in lively conversations.
Ease of Maintenance: Keeping a small sectional clean and well-maintained is generally easier than managing multiple pieces of furniture. Vacuuming and spot cleaning are straightforward tasks, and many sectional sofas come with removable, washable covers for added convenience.
What to consider when choosing a small sectional sofa?
While you are selecting the perfect small space sectional sofa for your living room, several crucial factors should guide your decision. Here's a comprehensive list of considerations to ensure you make the right choice:
Room Size and Layout:
Measure your living room's dimensions to determine how much space you have available.
Consider the layout of the room, including the placement of doors, windows, and other furniture.
Configuration:
Decide on the sectional's shape: L-shaped, U-shaped, or a simple loveseat with a chaise.
Choose a configuration that complements your room's layout and serves your specific needs.
Size of the Sofa:
Ensure the sofa's dimensions are proportionate to your room. Thus the sofa size depends on the room area but generally small space sectional couch should be less than 100 inches. It should fit comfortably without overwhelming the space.
Material and Upholstery:
Select a material that suits your lifestyle and aesthetic preferences. Common options include fabric, leather, and microfiber.
Consider the durability and ease of cleaning for the chosen upholstery material.
Comfort and Support:
Test the cushions and seating to ensure they provide the level of comfort and support you desire.
Pay attention to features like adjustable headrests, built-in recliners, and the overall ergonomic design.
Frame Construction:
Examine the frame of the sectional to ensure it's sturdy and durable. Kiln-dried hardwood is often a sign of quality construction.
Style and Design:
Choose a design that matches your room's decor, whether it's contemporary, traditional, or a specific theme.
Consider the color and pattern of the upholstery to harmonize with your existing color scheme.
Color Options:
Small sectional sofas come in various colors, so select one that complements your room's palette and enhances its visual appeal.
Additional Features:
Determine if you need extra features such as built-in storage compartments or a sofa bed for guest accommodations.
Some sectionals also come with USB charging ports, cup holders, or LED lighting.
Budget:
Set a budget range before shopping to help narrow down your options and prevent overspending.
Keep in mind that quality should be a priority, as a well-made sectional sofa can provide long-lasting comfort and style.
Delivery and Assembly:
Inquire about the delivery process and any assembly requirements for the sectional. Ensure it can be easily maneuvered into your space.
Warranty and Return Policy:
Check the manufacturer's warranty for the sectional, and understand the coverage it provides.
Familiarize yourself with the store's return policy in case you encounter any issues with the sofa.
Reviews and Recommendations:
Read customer reviews and seek recommendations from friends or family who have purchased sectional sofas. Real-life experiences can provide valuable insights.
Testing In-Store:
Whenever possible, visit a furniture store to test the sectional in person. Sit on it, recline if applicable, and evaluate its comfort and fit.
Space Planning:
Use design software or consult with a professional if necessary to visualize how the sectional will fit into your room and create a balanced layout.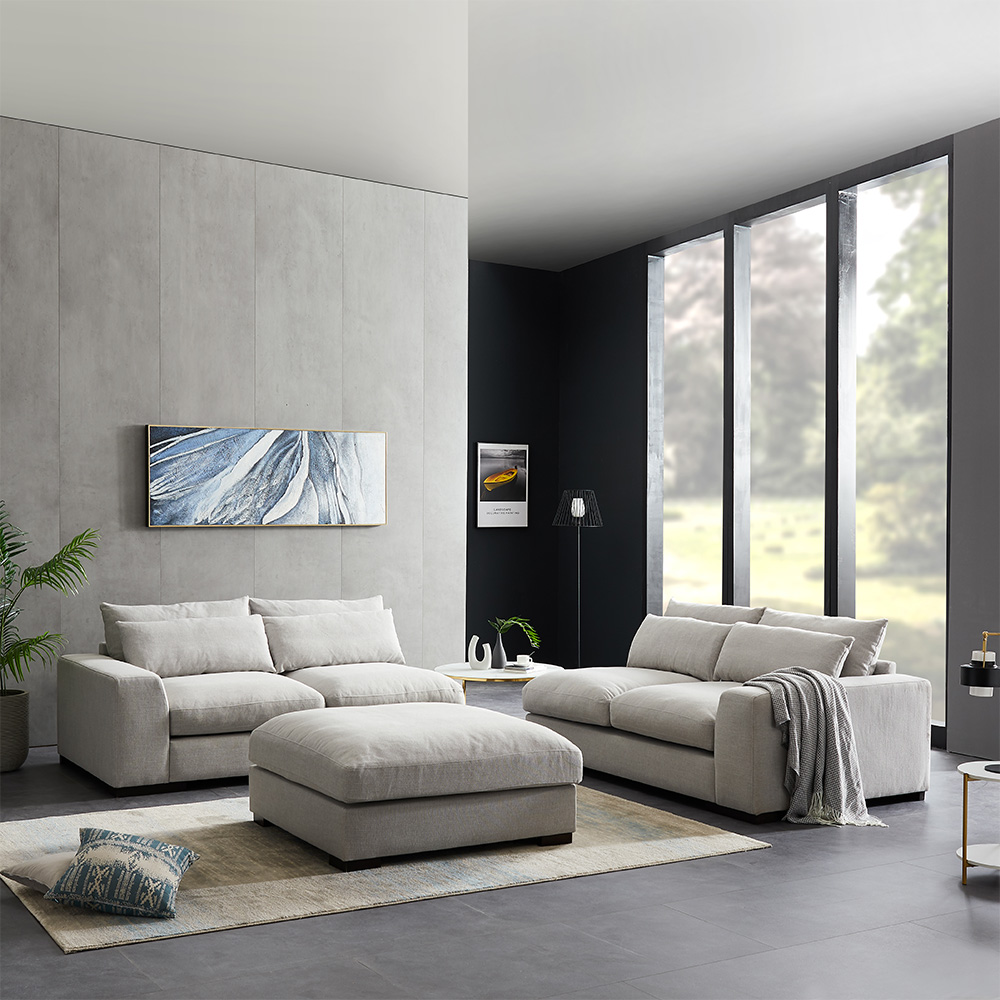 By considering these factors, you'll be well-equipped to choose the best small sectional sofa that not only fits your space but also complements your lifestyle and enhances your living room's overall ambiance.
The Best Small Spaces Sectional Sofa
Small L-shaped Sectional Sofa with Track Arms
Immerse yourself in the luxury of a 75.9-inch L-shaped sectional couch with track arms, an exquisite addition to any modern small living space. This sectional combines elegance and functionality in a harmonious design that promises both comfort and style.
Measuring at precisely 75.9 inches in length, this L-shaped sectional sofa fits seamlessly into a variety of room sizes. The sleek, contemporary design features clean lines and a timeless L-shape that not only maximizes seating but also enhances the visual appeal of your living area.
The defining feature of this sectional is its track arms. These arms are not only stylish but also serve a practical purpose by providing a clean and linear silhouette. They add a touch of sophistication to the overall design while maintaining a sense of simplicity that complements modern decor.
Sink into a world of comfort with the plush cushions that adorn this sectional couch. The generously padded seat and back cushions invite you to relax and unwind, providing the perfect balance of support and coziness. Whether you're hosting a gathering or enjoying a quiet evening, this sectional ensures comfort is never compromised.
Crafted with durability in mind, this L-shaped sofa features high-quality cotton and linen upholstery that not only adds to its visual appeal but also guarantees longevity. The upholstery is for withstanding daily use, making it an ideal choice for both families and individuals who value both style and resilience.
The L-shape of this sectional allows for versatile configuration options. You can effortlessly adapt it to fit the layout of your room, whether it's hugging a corner, defining a seating area, or serving as a room divider in an open-concept space. This adaptability ensures it can seamlessly integrate into your unique living environment.
To accommodate a wide range of interior design preferences, this sectional couch is available in a selection of neutral colors. Whether you prefer a calming beige, a sophisticated gray, or a classic navy, there's a shade that will effortlessly blend with your existing decor.
Beneath its inviting cushions and elegant upholstery, this sectional boasts a sturdy wood frame constructed to provide exceptional stability and support. The kiln-dried hardwood frame ensures that your investment is built to last.
Assembly and Maintenance:
Assembling this sectional is a hassle-free process, and maintenance is equally straightforward. Regular vacuuming and spot cleaning are all it takes to keep this exquisite piece looking its best.
This 75.9-inch L-shaped sectional couch with track arms is a testament to the fusion of comfort and style. Its sleek design, plush cushions, durable upholstery, and versatile configuration options make it a standout choice for any living room, promising years of relaxation and refinement. Elevate your living space with this sectional, where form meets function in perfect harmony.
Tips for making the most of a small sectional sofa in your living room
Don't miss those valuable tips to help you maximize both the functionality and aesthetics of your small sectionals.
Place it against a wall or corner. This can free up floor space and make the room feel more open.And it can also create a cozy nook for reading or relaxing.
Face it toward the TV or fireplace, which will open up the room and maximize seating. Thus people can have more space to move around.
Use accent chairs. To create a cozy conversation nook, place an accent chair beside or opposite the sectionals.
Use a rug. A stylish rug can anchor the furniture and create a defined seating area with the sofa.
Use a light mattress. The extra mattress can make you sit comfortably and even allows your guests sleep overnight in a small apartment.
Use a chic cover. If your small sectional sofa is outdated or you tend to transform your interior style, a chic couch cover would change your home a lot.
Keep the lines clean and simple. When decorating around a small sectional sofa, it's important to keep the lines clean and simple. This will help to make the space feel larger and more open. Avoid using too many bulky or cluttered pieces, and opt for furniture and accessories with a minimalist design.
Add storage space. If available, pick up the sectional couch with storage so that you are able to hide your bedding, books, and some sundries inside.