Labor Day is the perfect time to refresh your home with new furniture. Many retailers offer great deals on furniture during Labor Day sales, including POVISON, so you can save big on the Labor Day furniture picks you've been eyeing.
If you're moving into a new house or tend to upgrade your living room, dining room and bedroom, those Labor Day furniture picks are the best choices for you, especially for a modern, contemporary, mid century modern home styles. They will inspire you for easy living. During the Labor Day sales, enjoy up to $400 off and the best flash deals.

Top 10 Furniture Picks on Labor Day
Labor Day Furniture Picks For living room
If you are decorating your living room with great comfort and durability, here are the best picks for your modern or MCM living room.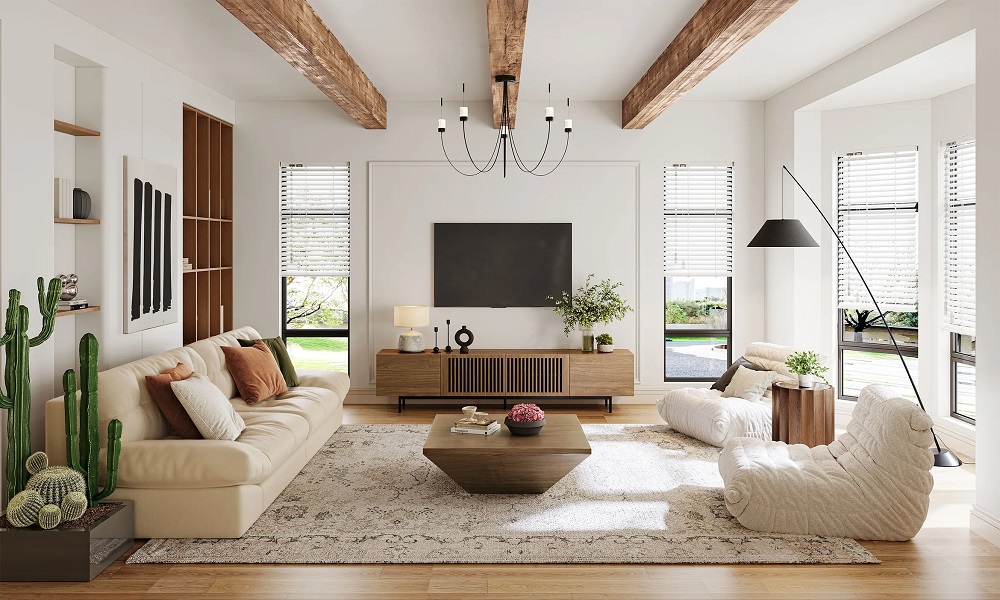 This minimalist wooden TV stand with metal legs exudes timeless elegance with a sleek design and slatted detailing on its doors. Crafted with a focus on simplicity, it seamlessly blends into any modern or traditional living space, offering both functionality and style. The slatted doors add a touch of texture and visual intrigue, elevating the overall aesthetic of this versatile furniture piece.
Embodying chic sophistication, this stylish wooden drum coffee table captures attention with its unique and eye-catching design. This stylish drum coffee table is the perfect place to set down drinks, snacks and remote controls. The rich wood finish enhances its natural beauty, making it a functional and artistic centerpiece that complements a variety of interior styles.
Beige Sectional Sofa with Arms
This modern sectional sofa with arms embodies both comfort and contemporary aesthetics, featuring a sleek design and luxurious suede fabric upholstery. Its clean lines and well-defined arms create a sophisticated focal point in any living space, while the plush suede fabric offers a soft and inviting touch. With ample seating and a stylish demeanor, it's the perfect addition to elevate your home's modern decor and provide exceptional relaxation.
How special the end table is! It is perfect for holding books, magazines and other small items. It's made from a sturdy wood, tempered glass top and features a simple striped design. The subtle striped pattern and scalloped edge design add a touch of understated elegance to any room, enhancing its visual appeal. This side table seamlessly marries simplicity and sophistication, making it a versatile and chic addition to your home decor.
Labor Day Furniture Picks For dining room
To enjoy a meal with your family and friends, a comfortable dining room set is a must. The top dining room furniture picks are recommended during the Labor Day sales.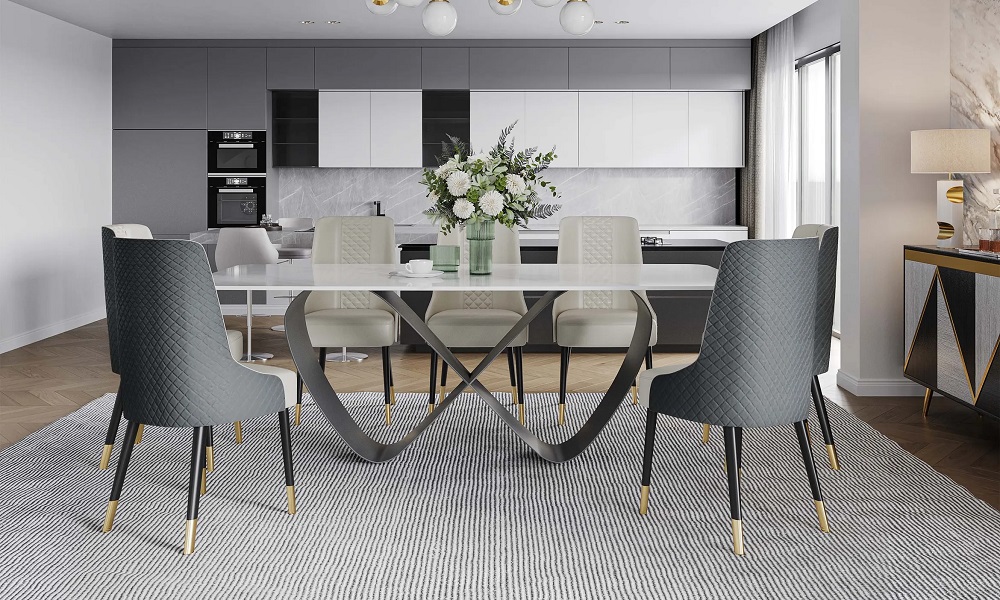 White Dining Table with Stylish Pedestal
Elegance meets modern design in this white dining table with a stylish pedestal base. The white minimalist white dining table is made from a durable sintered stone top and stainless steel base. The eye-catching butterfly-shaped pedestal base not only provides stability but also adds a contemporary flair, making this table a perfect centerpiece for both casual family dinners and formal gatherings.
High Back Dining Chair with Diamond Patterns
They're upholstered in a soft faux leather and feature a classic diamond pattern on the high back, which offers a blend of comfort and sophistication. This chair adds a touch of contemporary elegance while providing optimal support for long, comfortable meals.
Light Luxury Sideboard with Golden Legs
Exuding opulence and sophistication, this light luxury sideboard with its gleaming golden legs adds a touch of glamour to any room. Its clean lines and minimalist design are complemented by the lustrous finish, creating a timeless piece that blends seamlessly with various interior styles. Whether used for storage or as a statement piece, this sideboard exudes an air of affluence and refinement, making it a stunning addition to your living space.
Labor Day Furniture Picks For bedroom
The coziest place at home must be the bedroom which can let us relax and recharge. Bring the most comfortable and stylish pieces to update your bedroom right now.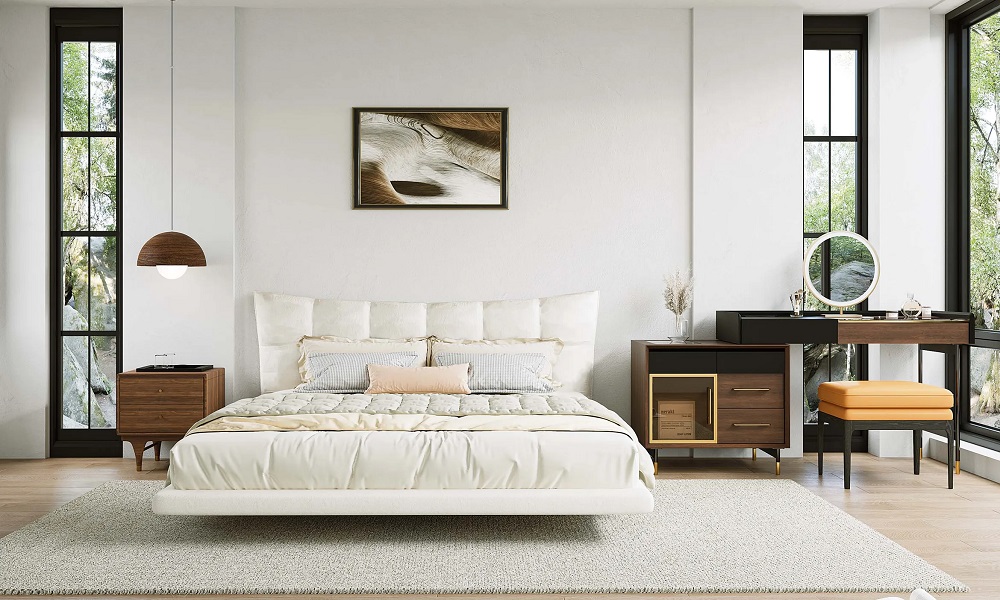 Elegant Beige Bed Frame with Upholstered Headboard
The beige bed frame with an upholstered headboard exudes timeless charm and sophistication. Its neutral beige color palette complements a wide range of bedroom decor styles, creating a serene and inviting atmosphere. The meticulously crafted upholstered headboard not only adds a touch of luxury but also offers comfortable support for restful nights, making this bed frame a perfect blend of style and comfort.
Wooden Bedside Nightstand with Drawers
This wooden bedside nightstand is a functional and stylish addition to your bedroom decor. Crafted from durable wood, it features a classic design with multiple drawers that provide ample storage space for your essentials. The natural wood finish adds warmth and a touch of rustic charm, making it a versatile and timeless piece that complements a variety of bedroom styles.
Color Combo Makeup Vanity with Side Cabinet
This color combo makeup vanity with an accompanying side cabinet is the ultimate beauty station for any makeup enthusiast. Its cleverly designed combination of colors adds a playful yet sophisticated touch to your makeup routine. With ample storage in the side cabinet for cosmetics and accessories, along with a stylish and functional vanity space, it strikes the perfect balance between form and function in your bedroom or dressing area.
Labor day is the one of the best time to shop furniture. Don't miss such a big discount to re-style your home to welcome the Fall season.