2023 Makeup Vanity Table Buying Guide: Styles, Sizes, and Features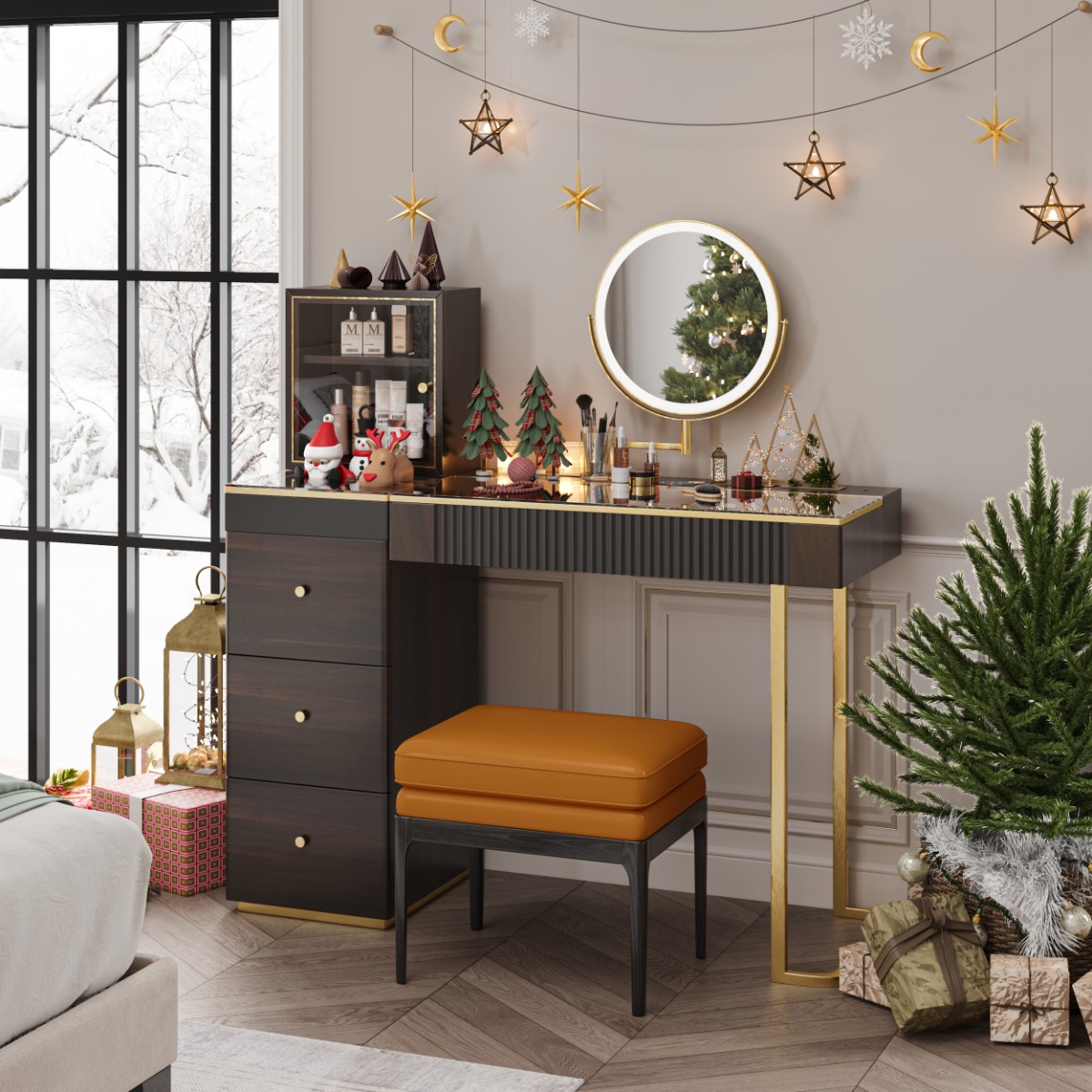 Are you tired of digging through a cluttered makeup bag every morning to find your favorite lipstick or mascara? A makeup vanity table could be the solution to provide a designated space to store and organize your makeup products and tools, making it easier to get ready in the morning. However, with so many options available, it can be overwhelming to choose the right one. That's why we've put together this makeup vanity table buying guide for 2023, to help you find the perfect table for your needs.
People Also Read:
Where is the best place to put a makeup vanity?
The best place to put a makeup vanity is in a well-lit and quiet area of your home, where you can have some privacy and space to get ready. Ideally, it should locate near a natural light source, such as a window, to provide the best lighting for applying makeup.
Additionally, it's best to avoid placing your makeup vanity in a high-traffic area to prevent interruptions or distractions while you're getting ready.
The frequently-seen place to put the makeup vanities are the bedroom, bathroom, walk-in closet, or a dedicated dressing room. Ultimately, the best place to put your makeup vanity will depend on your personal preferences and the layout of your home.
What to consider to buy a makeup vanity for bedroom?
Explore the key factors you should consider before making your purchase:
Before you start shopping for a makeup vanity table, consider the available space in your room. Measure the area where you plan to place the table and ensure that the size of the table you choose fits comfortably in the space. You should also consider the size of the table in relation to your own height. Ensure that the table is at the right height for you to sit and apply makeup comfortably.
One of the most important factors to consider when purchasing a makeup vanity table is storage. You'll need enough space to store all of your makeup products and tools, as well as any other items you may use while getting ready. Look for tables with drawers, shelves, or cabinets that can accommodate your storage needs. Some vanity tables even come with built-in organizers to help keep your makeup products and tools neatly organized.
Good lighting is essential for applying makeup, so it's important to choose a makeup vanity table with good lighting. Look for tables with built-in lights or ones that allow you to add your own lighting. Consider the brightness and color temperature of the lights as well, as this can affect the way your makeup looks.
The vanity tables come in a wide range of styles and designs, so it's important to choose one that complements your personal style and the overall decor of your room. You can choose from traditional, modern, or even rustic styles, depending on your preferences. Consider the materials used, such as wood, metal, or glass, and the finish of the table.
Makeup vanity tables can range in price from a few hundred to several thousand dollars. Set a budget for yourself before you start shopping and look for options that fit within your budget. Keep in mind that higher-priced tables may come with more features and higher-quality materials, but you can still find great options at more affordable price points.
The top rated modern makeup vanity table for you
Types of makeup vanity tables
There are several types of makeup vanity tables available on the market, each with its own unique features and design. Some of the most common types of makeup vanity tables include:
Traditional Vanity Tables: These are classic-style vanities with a large mirror and a set of drawers or cabinets for storage. They often come with a matching stool or chair and may have additional features like a built-in light or a flip-top mirror.
Modern Vanity Tables: These vanities feature sleek, minimalist designs with clean lines and geometric shapes. They often have simple, unadorned mirrors and may be made of materials like glass or metal.
Wall-Mounted Vanity Tables: These are space-saving vanities that are attached to the wall and don't take up any floor space. They usually have a small, fold-down shelf or drawer for storage and may include a mirror that can be tilted or adjusted.
Portable Vanity Tables: These are lightweight and easy-to-move vanities that can be set up anywhere in your home. They often come with a compact mirror and a small storage compartment for your makeup products and tools.
DIY Vanity Tables: These are customizable vanities that you can create yourself using a combination of materials like a desk or table, mirror, and storage units. They offer a lot of flexibility in terms of size, design, and functionality, but may require some DIY skills to put together.
The best modern makeup vanity tables 2023
The smoky wood vanity table with lighted mirror is a stunning piece of furniture that combines vintage and modern styles to create a unique look. Made with high-quality smoky wood, this vanity table features a spacious tabletop, three side drawers, a mini tabletop cabinet, and a center storage compartment for all your makeup and beauty essentials. The sleek design, tempered glass tabletop and elegant golden legs make it a perfect addition to any modern home.
The modern white makeup vanity table with cloud-shaped mirror is a chic and stylish addition to any bedroom or dressing room. The cloud-shaped mirror adds a touch of whimsy and playfulness to the sleek, modern design. The spacious tabletop with 2 drawers provides ample space for all your makeup and beauty essentials, while the 3 side drawers offer additional storage. The crisp white finish gives it a clean and fresh look, making it as a perfect choice from other picks.
This vanity table set is a pretty and practical addition to any modern bedroom or dressing room. The set includes a lighted mirror, a stool, a glass tabletop, 3 center visible drawers, and 3 side drawers with grid patterns, providing ample space for all your makeup and beauty essentials. The elegant design and beautiful white finish give it a sophisticated look, while the sturdy construction ensures durability and longevity. It's the perfect choice for those who want a functional and stylish makeup vanity set.
How space-saving the makeup table is! It is a solution for those who want a functional and stylish makeup vanity in a compact size. This vanity table fits perfectly in the corner of any room, maximizing space and providing ample storage for all your makeup and beauty essentials. It features five drawers with elegant handles, providing easy access to your makeup products and tools. The built-in USB ports and movable mirror make itself practical and meet your multi-angle makeup needs.
It is a stylish and functional piece of furniture that combines modern design with practical features. The movable tray top provides a convenient and flexible workspace for applying makeup or doing hair, while the round side cabinet offers additional storage space for all your beauty essentials. The color combination of white, wood and green, gives it a timeless appeal to contemporary bedroom or dressing room.
The beige makeup vanity table with lights is a versatile and practical piece of furniture that combines style and functionality. This set includes a spacious tabletop with a retractable feature that can be used as a vanity or a workspace, which also can work as a built-in TV stand for bedroom. The elegant beige finish and the clean lines give it a chic and sophisticated look, making it a great choice for large bedroom.
FAQ:
What to Keep Inside a Makeup Table?
Makeup Products: This includes your favorite foundation, concealer, blush, eyeshadow, lipstick, and mascara, among others. Keep them organized in drawers or compartments based on product type or color.
Makeup Brushes and Tools: Store your brushes, sponges, tweezers, eyelash curlers, and other tools in designated compartments or holders.
Skincare Products: This includes your cleanser, toner, moisturizer, and other skincare products that you use regularly. Keep them in a separate drawer or container, so they don't mix with your makeup.
Hair Accessories: If you often style your hair at your makeup vanity, it's a good idea to keep your hairbrush, hair ties, and other hair accessories nearby.
Jewelry: A makeup vanity can also be a great place to store your favorite jewelry pieces, such as earrings, necklaces, and bracelets. Keep them in a designated compartment or jewelry box.
What is the Difference Between a Bathroom Vanity and a Makeup Vanity?
A bathroom vanity and a makeup vanity are two different types of furniture with distinct functions and features.
A bathroom vanity is a piece of furniture that typically includes a sink or basin, countertop, and storage space, such as cabinets or drawers. It may not own a seat. It's designed to be functional and practical, providing a space for daily grooming routines like brushing teeth, washing hands, and applying skincare products. Bathroom vanities are usually installed in bathrooms. They are available in various sizes, styles, and materials to suit different design preferences and budgets.
A makeup vanity table, on the other hand, is a piece of furniture designed specifically for applying makeup and storing makeup products and tools. It typically includes a mirror, drawers, and a seating area. Makeup vanities are designed to be comfortable and stylish, providing a dedicated space for getting ready in the morning or preparing for a night out. They are usually placed in bedrooms, dressing rooms, or other private areas of the home.
Both bathroom vanities and makeup vanities offer storage space for personal care items. The main difference lies in their primary function and design. Bathroom vanities prioritize functionality and durability, while makeup vanities prioritize comfort and style.
You are able to pick up the right one for yourself or add both of them when designing your home.