According to Lindström, human body is most impressed by sight (37%) > smell (23%) > sound (20%) >  taste (15%) > touch (5%). (Brand Sense: Build Powerful Brands Through Touch, Taste, Smell, Sight, and Sound. Martin Lindstrom, Philip Kotler 2005) When the 5 senses are inspired, our experiences are enormously graded. Enlightened by the Five Senses theory, we are tapping into festive decorating ideas for Christmas. If you're looking for the fabulous Christmas decoration guides, you've come to the right place.
People Also Read:

Ultimate Tips for Hosting A Christmas Party at Home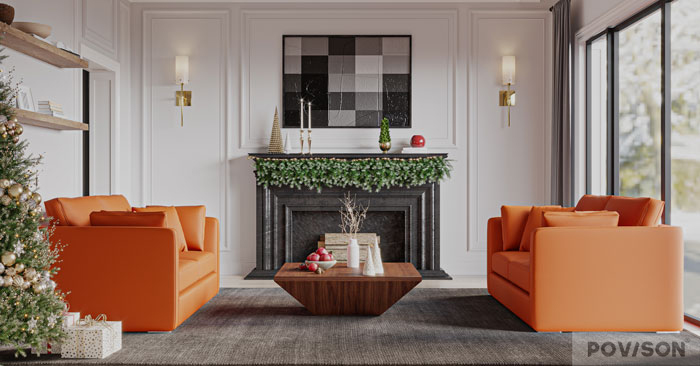 Product and Alternative List:
Modern Arm Modular Loveseat, Orange Nappa Leather
Modern Loveseat, Pink Cotton Linen
Alley Modular Loveseat
Note: Those products are unavailable now, but you can browse more awesome sofa furniture here>>.
Sight: the Charm of the Color and Spacial Aesthetics
When walking into a new space, we are more likely to judge it first from its appearance. Have you ever noticed that, stylish scenes are decorated to endowed with a fairly uniform hue and the art of "less is more"? Povison is in the same pursuit of minimal art with serial TV stands, coffee tables and sideboards, which help to keep an elegant home with well-organized storage. While in the cheerful Christmas, Povison suggests that some festive elements are preferred. You can simply add a natural touch of magic to your fireplace or wall with garlands and wreaths. The easiest way to embellish your sofas or chairs is to wrap them with red covers!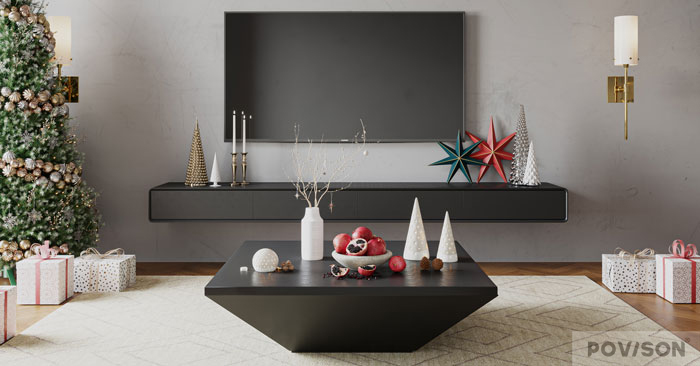 Product and Alternative List:
Tirsoo Square Coffee Table with Drum Storage
Smell: Enrichment of the Mood
When entering and staying in a room for quite a while, you might feel visual fatigue a little bit. Five Senses Design was initiated by Industrial Designer Jinsop Lee who believes that great design ticks all five senses over his TED Talk in 2013. In the video, he declared that his friend's solar-powered sunflower clock with scented oil design (sight + smell) won over his sunflower that merely turns toward the sun(sight). What an ingenious design! And he had spent ten years to uncover this mystery.
It's not hard to figure out that in a 5-star hotel or Grade-A office, scents linger on in the lobby or a room. The guests and office workers revel in the aura and resonate with a certain scene. This is a delightful way of raising a hotel or office building's awareness and the method can be adopted in your Christmas home decoration plan. If you are not an avid lover of rich scents, add scented candles to your list.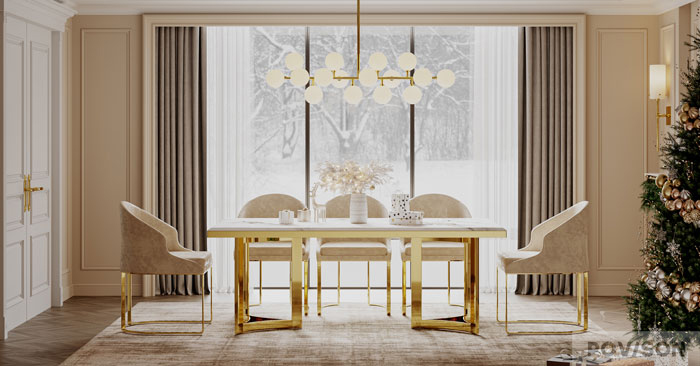 Product and Alternative List:
Durham Scented Wax Melt Candle
Modern Frosted Glass Globe Chandelier
Minimalist White Marble Dining Table
Modern Leather Upholstered Dining Chair
Note: Some products are unavailable now, but you can browse more awesome furniture here>>.
Sound: the Rhythm of Your Mood
When you close your eyes and listen to different songs or sounds (such as the birds singing, the sound of the waves), does the same sea salt caramel cake taste sweeter or saltier to you? Yes, it depends. Tempo and volume make all the difference. The soft and mellow song will increase guests' satisfaction and enable them to consume more food at Christmas. Apart from music, will the haunting sound of the wind chimes and copper bells remind you of Santa Claus' arrival?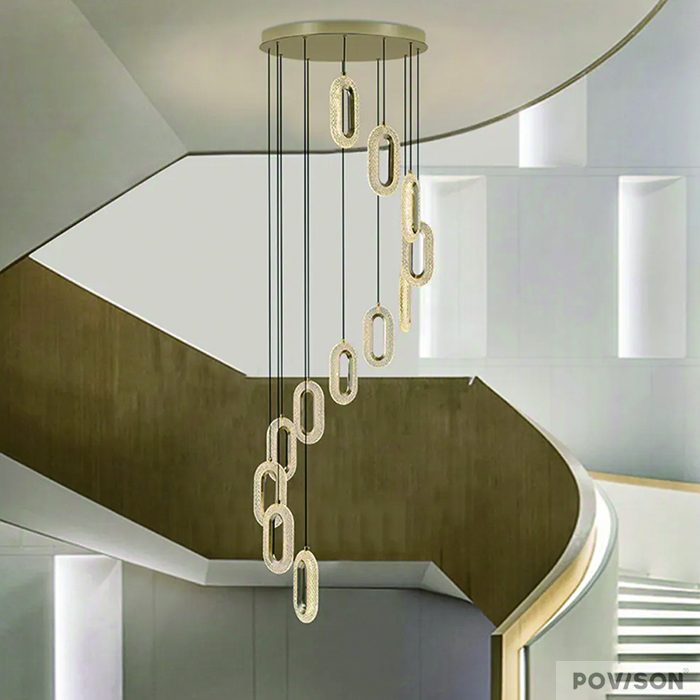 Product and Alternative List:
Tiered LED Wind Chimes Chandelier
Staircase LED Integrated Chandelier
Note: Some products are unavailable now, but you can browse more awesome furniture here>>.
Taste: Fulfill Your Taste Buds
Can you withstand the lures of gourmet food? Christmas is a perfect time that your taste buds are fulfilled with juicy and delicious food. Consuming fabulous food is a way of satisfying your mental and physical needs. If you are a steak enthusiast, you know what I mean. Planning a variety of the main courses at home may get you strained. Let's try another way. Besides main courses, such as pizza and steak, you can prepare an assortment of desserts and fruits: the kids will love you badly.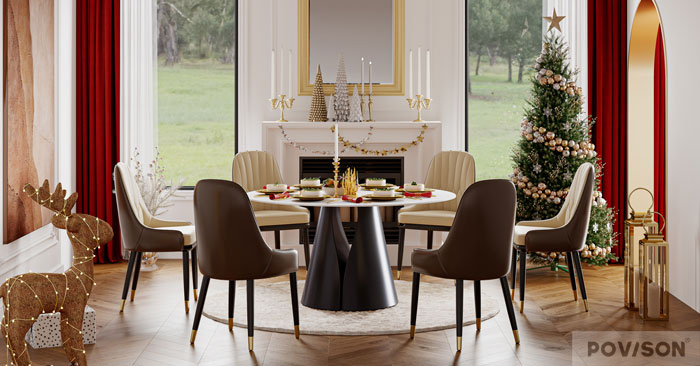 Products and Alternative List:
Modern Round White Sintered Stone Dining Table
Serapion Leather Upholstered Dining Chair
Touch: A Connection Between Inner and Outer World
When we get access to a new object, we might discuss its texture. Texture, in terms of the five senses, is what we say, touch. Soft articles give a sense of warmth and coziness. The cotton fabric delivers a skin-friendly and breathable feel. The sleek piece showcases smooth and premium touch to the hand. Why not lay out a huge and fluffy area rug between the sofa and accent chairs? Everyone, including little kids, can walk around barefoot or sit on the soft rug. The plush sofa and accent chair are the hits in a festive party, get some in advance!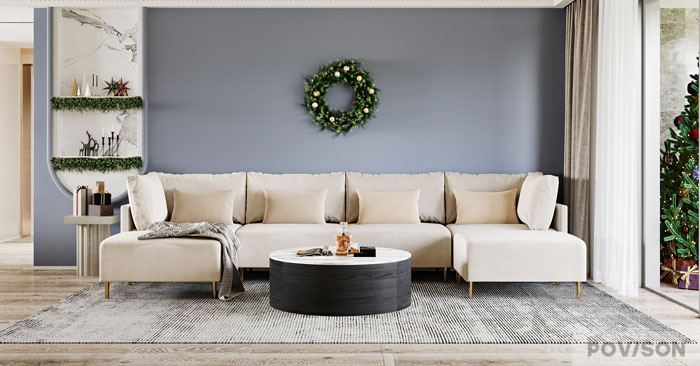 Product and Alternative List:
Gray Modular Sofa with Chaises
The five-sense design helps to guide Christmas decoration ideas and create better spiritual and physical experiences. One can shape an environment that combines sight, smell, sound, taste and touch. Povison hopes that every reader gets inspired in their next home decoration plan. Your guests will revel in your space unconsciously and resonate with your scenes and their moods will be a strong connection of memory and reminisce about the Christmas party spent at your home for the many years to come.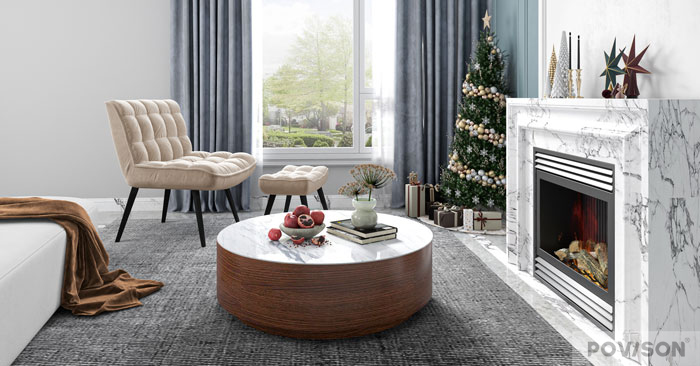 Product and Alternative List:
Sepherino Velvet Rocking Chair with Ottoman
Modern Drum Stone Coffee Table with Storage
Reference:
Lindström Martin. (2005). Brand sense: Build powerful brands through touch, taste, smell, sight, and sound. Free Press.