As we have mentioned how to clean the velvet furniture, now you may not worry about the maintainment of the velvet chairs and feel free to pick up the best velvet accent chairs for home. Velvet chairs will create a vintage or stylish look based on the design, and help you realize your unique vision at home. Additionally, velvet accent chairs are practical to provide softness and comfort to the sitters.
How do you judge the best velvet accent chair?
According to plenty of customers' opinions, the best velvet accent chair should:
Strike the perfect balance between the function and style;
Offer comfortable sitting experience;
Elevate your home's aesthetic;
Be easy to clean and remove the creases.
We've rounded up the top 7 velvet chairs from Povison here.
Top Velvet Accent Chairs for Style and Comfort
The chic velvet accent chair is featured with classical tufted design on the back and the flower patterns on both sides. It is made of velvet fabric upholstery, plywood frame, metal tapered legs and high density foam, which makes a statement at home and adds comfort and style to the spaces. When it comes with a minimalist side table in the cozy corner, you will enjoy reading and gaming on it for the whole day.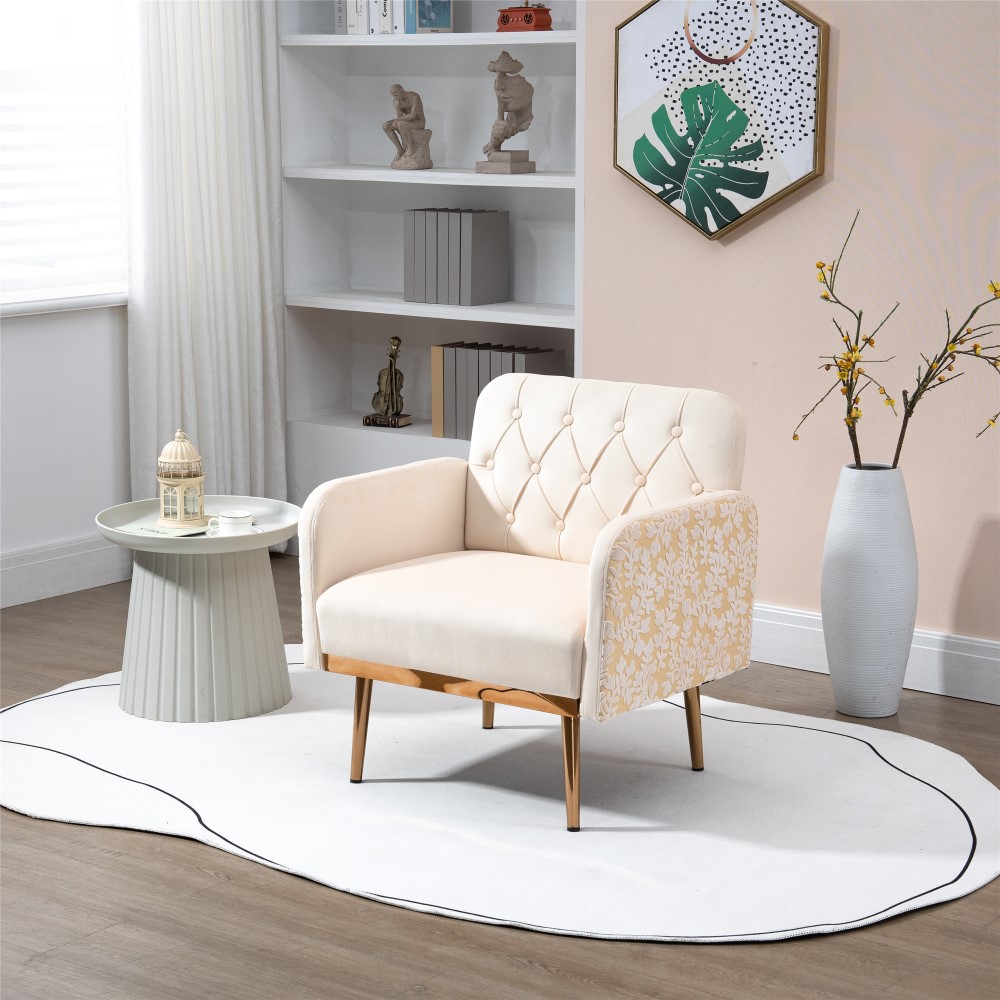 This gorgeous velvet barrel accent chair with a dramatic silhouette features four golden tapered legs and solid wood frame, so it can ensure stability and large weight capacity of 250 lbs. The shell shape comes with three colors for option, which can fit for different home styles. The cream is right for modern design; green is for mid century modern and vintage home; yellow fits for chic and MCM style. Grab it now as it's on sale, like Black Friday, Cyber Week, Christmas and more.
Pick up the white or gray color of this velvet upholstered armchair for the cozy space in your house. The curved backrest and armrests make itself a fabulous focal point at home. The soft touch and sitting experience attract lots of customers to bring it to home. This streamlined chair will add sophistication and a touch of elegance to your living room, bedroom and even office.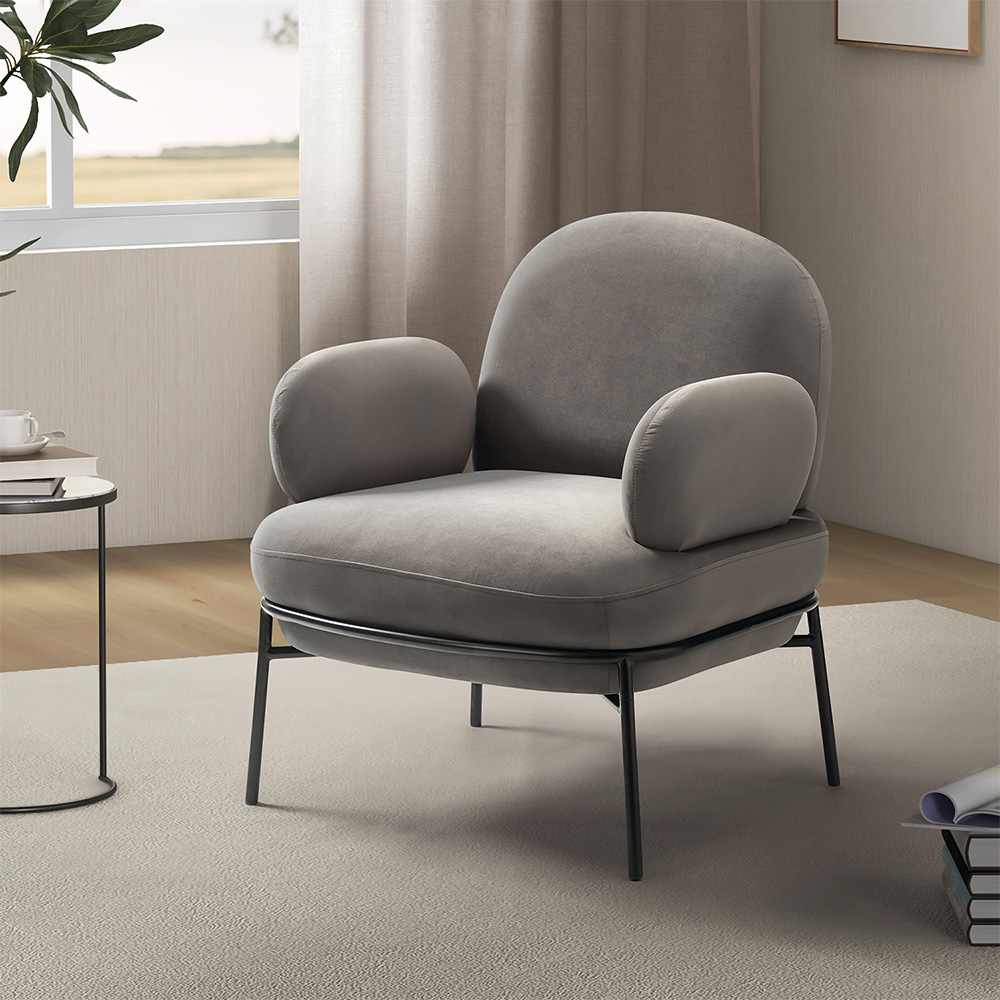 With almost 30 inch depth, this cream velvet accent chair with slender wingback and slim golden legs adds snug, charms and modernity to the living spaces. This chair is filled with high resilient density sponge, which provides enough support and distribute pressure evenly, when you sit or lean on it. Bring it to the indoors to style your house that looks like a designer's work.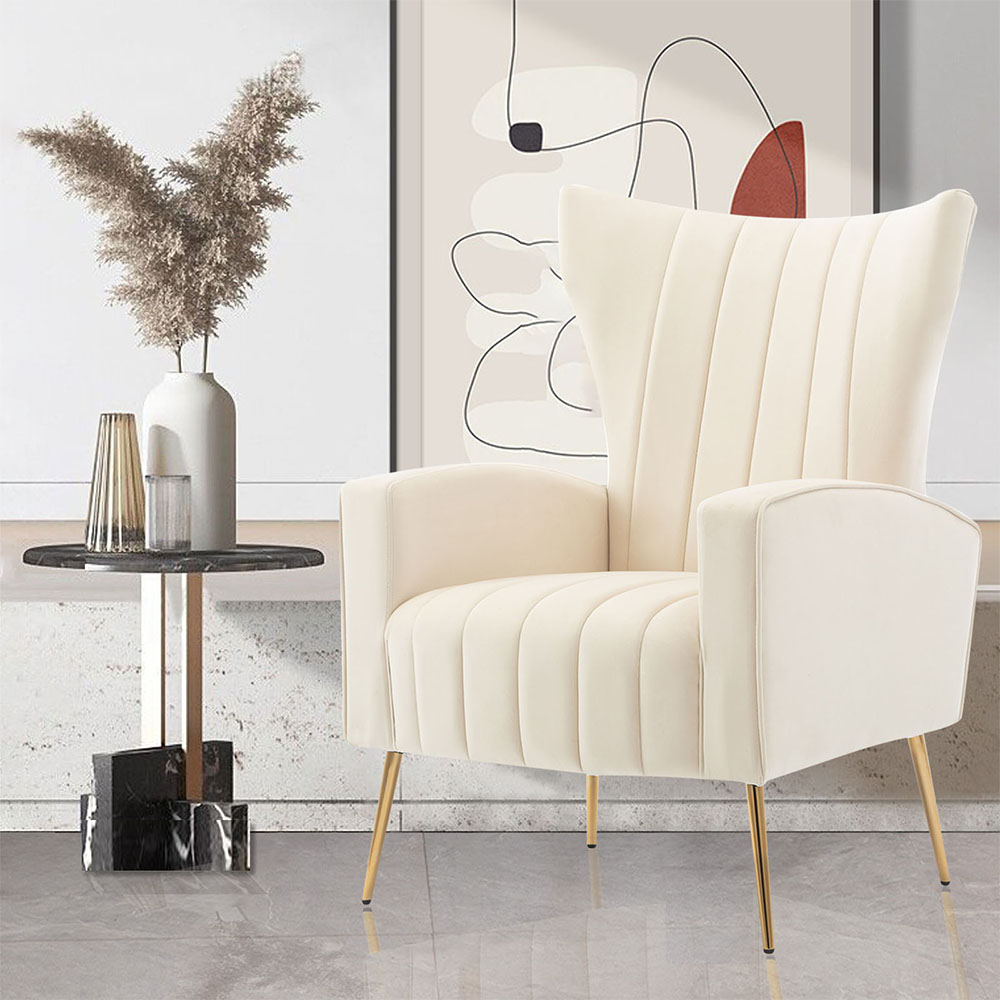 Perfect for living room space, home study or dining room, this single side chair blends white and golden color to showcase a chic look. The velvet fabric, processed as wear-proof fabric, the metal legs and X-structured base can well ensure the durability. Complete your living room decor with this chic seating option with streamlined silhouette.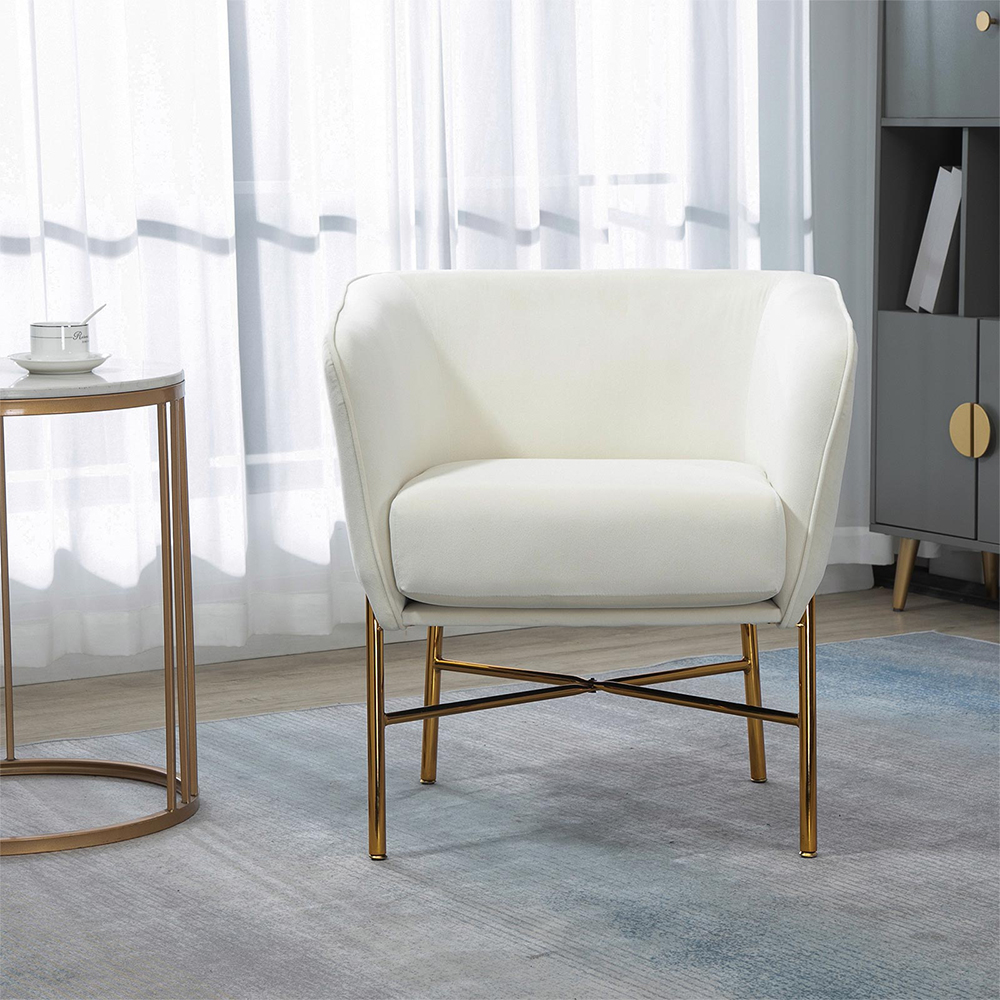 The sophisticated accent chair with unique semi-enveloping design and four splayed gold-finished legs to add a luxurious look and a casual feel to the space. It is not only a seating option, but also a awesome artwork in the house, which can update the look of your home and add a ton of personality to the living room or resting room.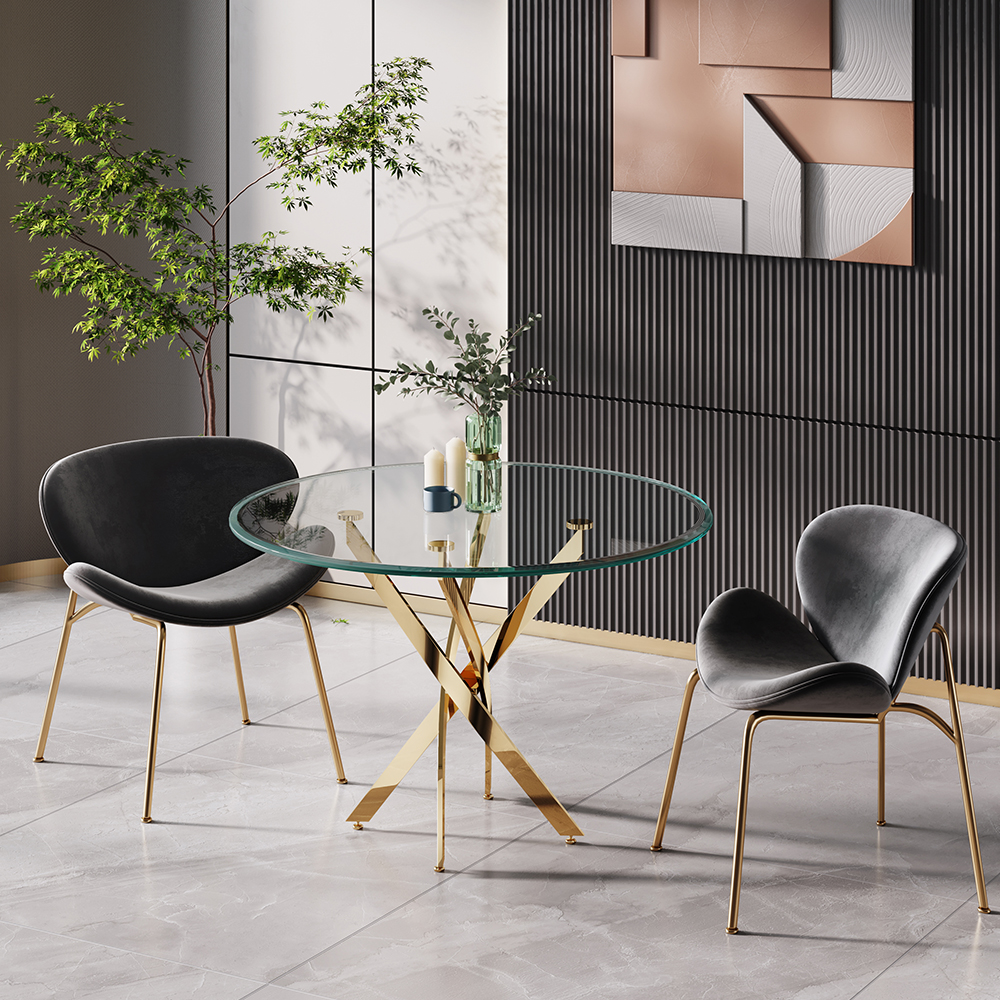 This small velvet ottoman also can be used an accent chair for coffee table or makeup table. The unique design, premium velvet and foam can ensure the comfort and aesthetic. Don't need to hesitate to choose the white one or pink one, because both of them must make a luxe and lovely addition to the bedroom.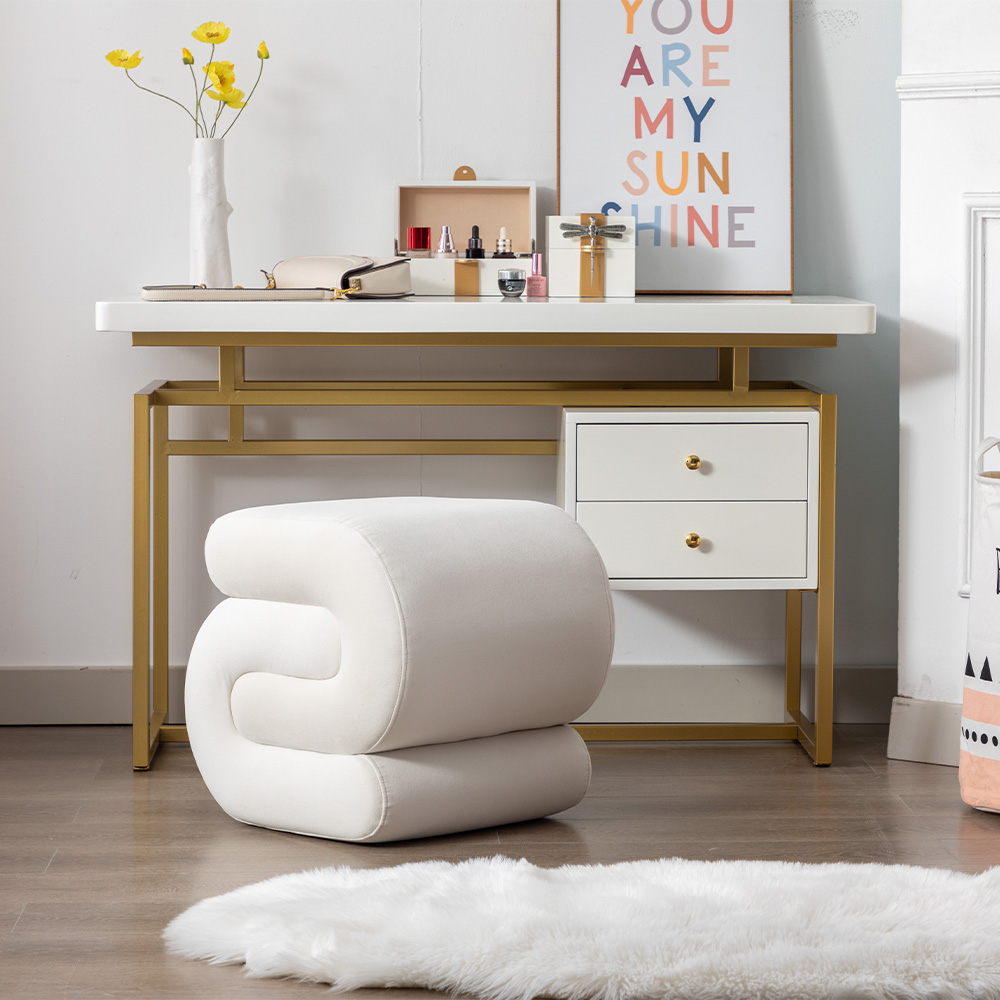 Select the right velvet accent chair which you'll relax in comfort and style with. Velvet material can perfectly match with the barrel, shell, wingback or other designs of the chairs, and it would be the ultimate style statement for the home