The Best Dining Room Tables for Small Spaces and Alternatives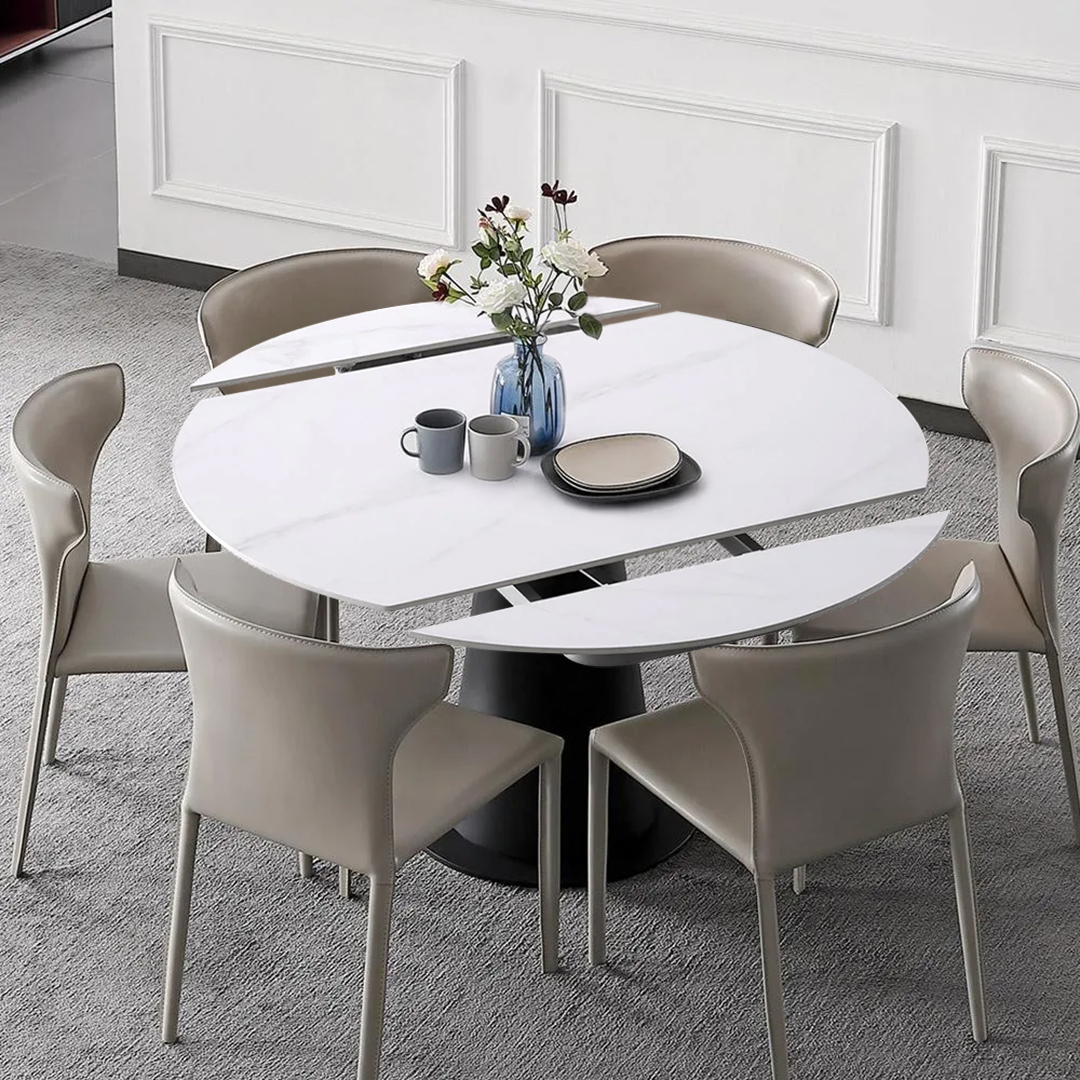 A dining table would closely link your family members or friends together and provide a comfortable environment for dining. It seems indispensable. However, does every house own a dining room and how large it a general room? According to Home Stratosphere, the average dining room size is 14* 16 feet in US. If you own a larger dining room, you can design a spacious dining space for more people. If your dining room is just smaller than 11*11 feet or even your home does not have an eating space, it is a big headache to pick a dining room table for small spaces.
It is vital to create an enjoyable dining experience for your guests, even in a compact room. Thus learn more table types and picks of small spaces in this article and hope those awesome dining tables could fit your need.
What type of table is best for small spaces?
Square and round table are the best choices for small dining room, since the distance between each edge of the table and the center point are the same. People on each side can reach the dishes on tabletop easily.
A square table is better for the compact square shaped room and the round one can fit for any small room. As there are less than 5 members in a family but they sometimes may invite friends to dine, a round table with leaves is the best option in a small kitchen and dining room.
The best 3 dining room tables for small spaces
Here list the best small sized dining tables at Povison store
Size:
Extendable: 53.15″Diameter x 29.53″H
Folding: 35.43″Diameter x 29.53″H
Material:
Table Top: Sintered Stone
Base: Carbon Steel
Color: White and Black
Pro:
It is a space-saving dining table and can be expandable to hold more people if necessary.
The firm pedestal support the tabletop and leave plenty of leg room.
The white sinetered stone tabletop suits for modern minimalist style and is stain-resistant, heat-resistant and easy to clean.
Cons: It will be a little trouble to pull the leaves out.
Size: 47.24″Diameter x 29.53″H
Material: Sintered Stone, Pine Wood Frame, Leather Trim, Stainless Steel Base
Color: White
Pro:
The white leather trim of the pinewood pedestal and golden rim of the base add chic and light-luxury vibe to your room.
It is great for housewife due to its resistance to heat, stain, scratch.
Available for 4 to 6 persons.
Cons: It is not easy to move.
Size: 47.24″Diameter x 29.53″H
Material: Sintered Stone Tabletop, HDF, Gold-Plated Stainless Steel
Color: White
Pro:
The lazy susan on the tabletop can be rotated by 360 degrees noiselessly, making it ideal for both upscale dinner parties and casual morning meals. Or you are able decorate your dining table with putting some plants on it.
The gorgeous patterns are printed on the tabletop to make the dinner table modern and elegant.
Cons: It needs 2+ people to move and assemble.
Alternatives to dining room tables for small spaces
If those dining tables are not suitable for your narrow dining space, or you don't have a independent dining room, some versatile tables are the best alternatives.
Coffee Tables
Round Pedestal Sintered Stone Coffee Table
The round low table can be used as a coffee table and dining table in a compact living space, especially for a small apartment. There are two soft-close drawers can store your daily dinnerware and cups. Moreover, the space around the pedestal provides leg room for you when sitting on the rug. The easy-to-clean sintered stone tabletop is convenient for everyone.
Square Pedestal Wood Veneer Coffee Table
The square lowline table is great for gaming, dining and coffee time. The wood veneered table combines rustic appeal with a contemporary design. The inside drawers provide spacious storing space. It fits well for 4-people dining in a narrow house.
I think most people would pick up this nesting set due to its versatility. When you live on your own, this table can work as a dining table or tea table, reading table when nesting the low table in. When you hold a gathering, it is extendable for accommodate more people. Furthermore, the two tables can be used separately in different positions.
Console tables
Luxury Rectangular Marble Hall Table
If the dining table is too wide for your room and you don't tend to dine on the low table, the console table also can be utilized as the narrow dinner table. This freestanding console table with 47 inches long and 15 inches wide, is made of marble tabletop and golden stainless steel base, which makes your room magnificent. It looks like a harvest table in some extents.
Entryway Console Table with 3-circle Base
Similar to the former one, here comes a white marble table with golden 3-circle pedestal. Place it in the open kitchen or dining room and use it as a narrow bar counter for meals. Your space will be refreshed and this dining room table must be eye-catching in the small spaces.
How do you think of those dining room tables for small spaces and alternative ideas? Share your option with us in the comment area below.