Compared with the traditional TV stands, the extendable tv stand can be adjusted to various dimensions to fit for different TV sizes in the living space. There are more and more retractable TV stands and media consoles designed in chic and luxury style. And they now combine aesthetic and functionality to suit for modern living room.
The Best Extendable TV Units You Should Browse Before Purchase
This modern media console is designed by Povison Donicy. Its reversible pedestal is possible to be installed in both the left and right sides. The whole TV unit is retractable from 78.74″ to 149.60″, large enough to match the up to 85-inch TV. The 3 large drawers can well organize your daily items, such as books, DVDs and more, and the press-out drawer design lets you open the drawer smoothly and quietly. Coming without handles, it is very kid-friendly to prevent bumping.
dimensions
78.74″W x15.75″D x11.02″H;

78.74″/(Retracted), 141.73″/(Extendable)

weight
121 lbs
colors
Black & Wood/Black & White/White & Wood/Gray
material
MDF Density Board,Solid Wood, Pinewood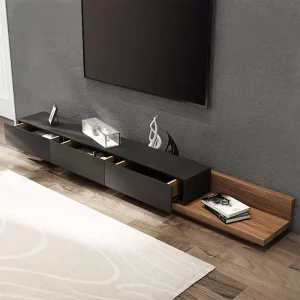 Also from Povison Donicy, this extendable TV console looks similar to the first one, which is designed with two colors combination and blends the chic style of the living room. Its size ranges from about 78.8 inches to 110 inches, which perfectly matches with large and small living room or bedroom. The 2 drawers and open shelf offer spacious space to save items. Moreover, the drawers with silent slides and hidden handles with unique design provide perfect user experience.
dimensions
78.74″W x 15.75″D x 10.62″H;

78.74″/(Retracted), 110″/(Extendable)

weight
136.21 lbs
colors
White & Black, White & Wood, Walnut & Black, Black & Gray
material
MDF Density Board,Solid Wood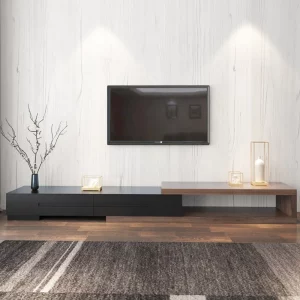 This TV stand is similar to the former one but the three drawers of this unit comes without handles, designed in minimalist style. It is a little smaller than the former two retractable TV units. Its body is made of eco-friendly MDF and the baseboard is made of quality solid wood, which can well ensure the stability and firmness. The natural walnut veneer and color blocking add elegant vibe to your living room.
dimensions
70.86 x 15.74 x 13.38 inch

70.86″/(Retracted), 106.29″/(Extendable)

weight
61.6 lbs
colors
Wood,White,Black
material
Eco-Friendly Density Boards, Pinewood,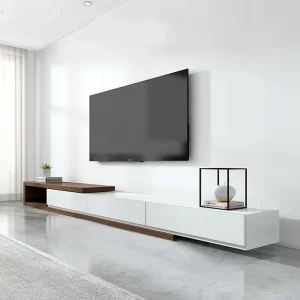 The expandable TV console comes with 3 large drawers and 1 door to offer roomy storage for your books, DVD players, etc. The two-layer open shelves and tabletop are perfect for placing the decorative items to enhance your living room style and tone. Made of eco-friendly paint MDF and sturdy pinewood drawers, the extendable unit provides a formaldehyde-free and secure user experience.
dimensions
78.74″W x 15.75″D x 15.75″H

78.74″/(Retracted), 110.24″/(Extendable)

weight
70.4lbs
colors
Walnut, White & Black, White & Walnut
material
MDF, Pinewood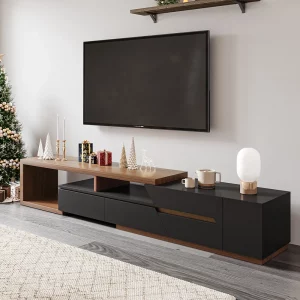 The contemporary TV stand can be expandable from 68.9 inches to 118.11 inches. Users can slide the unit from the left to right or from right to the left to fit your actual need. Furthermore, its sintered stone tabletop is scratch-resistant, and easy to clean, so it is right for the lazy or busy people who don't have enough time to do some cleaning. It is lighter than other expandable TV stands but the carbon steel base perfectly ensures the sturdiness and long lifespan.
DIMENSIONS
70.87″W x 15.75″D x 14.17″H

68.90″/(Retracted), 118.11″/(Extendable)

weight
77 lbs
colors
Gray
material
Sintered Stone-topped, MDF Board, Carbon Steel Frame
The simple gray retractable TV stand also combines sintered stone tabletop and MDF board, pinewood together. The invisible handles of the three drawers make it more integrated and minimalist. The 2-layer pedestal made of E1-level wood keeps it stable and durable. Retract it to suit your room dimensions, even for a cozy room. The smaller floor space of TV unit you set, the larger space of the open shelf you have, so you can place some books, accessories, albums on it.
dimensions
70.86″W x16.53″D x12.59″H

70.86″/(Retracted), 137.79″/(Extendable)

weight
143 lbs
colors
Gray
material
Sintered Stone Tabletop, Soild Wood Veneered MDF Board, Pine Wooden Drawer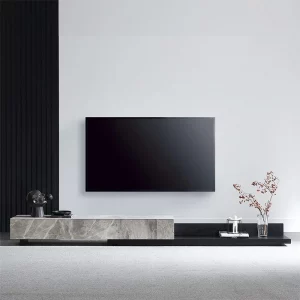 Those six retractable TV stands are high-rated by the customers due to their minimalist and elegant design as well as the versatility. And some of them are affordable so you can freely select the ideal one on your own budget. For more TV stand options, browse the modern media console here.