Farmhouse is old-school? Someone may think farmhouse design is out of style but actually it is not fading away and developed with other decoration designs to fit for various styles. No matter you own a real farmhouse or just tend to decorate a common house in farmhouse style, discover the popular designs of farmhouse before refreshing your farmhouse living room.
What is farmhouse and farmhouse style?
Farmhouse is a building that serves as the primary quarters in a rural setting and always comes with housebarn, Wikipedia.org explained.
Farmhouse style is one of most homey styles of interior design and reflects the rural aesthetic, which is generally combined or constructed with natural and rustic elements. It is usually cozy, casual and relaxed. Nowadays, it combines modern appeal together to create an unconventional farmhouse home style. Especially the modern farmhouse style is very popular in the recent years.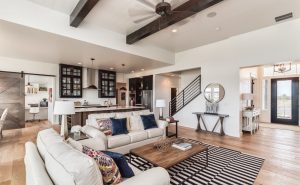 The Popular Styles of Farmhouse Living Room
No matter it is expressed as classic, rustic, vintage or traditional, this farmhouse living room is very typical and shows minimalist and comfortable tone. Traditionally, the farmers need to monitor their farmlands, so this classic farmhouse comes with long and wide french windows in order to give an open feel and vision. Also, the furniture always brings light or neutral colors, like white, beige or gray. This type of farmhouse exposes the natural wood accents everywhere, e.g.: the ceiling, the furniture or the fireplace.
Modern farmhouse living room will reflect its warmth and simplicity, which is also called farmhouse chic living room decor in some extents. The TV stand, coffee table, sofa and other living room furniture are characterized with sleek clean lines and cozy aesthetic. Based on the traditional one, it creates a rustic but contemporary vibe to the living room.  Modern farmhouse design is more sophisticated and emphatic on texture than the classic farmhouse living room decor.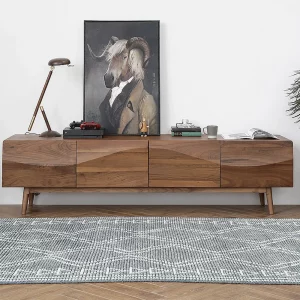 Compared with traditional farmhouse style, industrial farmhouse is coordinated with the concept of living in a factory or warehouse setting but it won't send out the harsh and uncomfortable feeling. It combines the natural wood and metal accents together to establish a unique, simple and factory-toned living room. The black steel and iron are necessary for the industrial farmhouse and they often work as table base, windows and lighting. That is the vital element to make the difference from the classic farmhouse style.
Farmhouse Living Room Decor Ideas
For the modern farmhouse living room, all the furniture bring the rustic and contemporary charm to your home. Natural wood is the must-have element but it is now designed with delicate pattern and craftsmanship. For example the traditional wood coffee table would often stand in front of the white sofa with a simple look but now, the wood coffee table would be developed with chic design, such as the drum-like coffee table.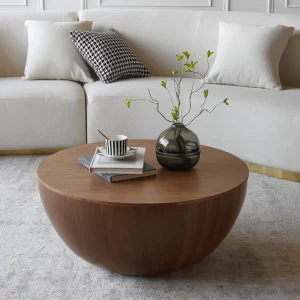 If you have designed your living room in farmhouse style, the dining room should strike balance with the living room when you select the chic farmhouse dining table or antique style dining table.
It is typical to install a beige couch or gray sectional sofa in the farmhouse living room. It will give you a minimalist look and all-in-one color. Moreover, cotton or linen slipcovers, the farmhouse sofa decor,  are generally selected for the living room to protect the couch or sofa.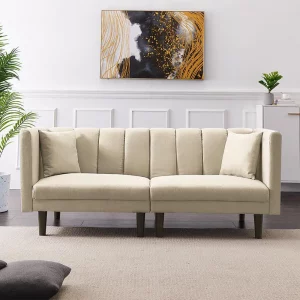 In addition to the colors of sofas, the classic tufted button design of a couch or sofa with is prevailing in the farmhouse living room and establishes the style of the living space. And the tufted ottoman or accent chair also can enhance the vintage flair of space.
The hanging lighting fixture must match with the living room furniture and the wagon wheel chandelier and industrial lighting style are very common. Ceiling fan and linear pendant light with metal frame, which come with simplicity, are perfect for industrial farmhouse-style living room.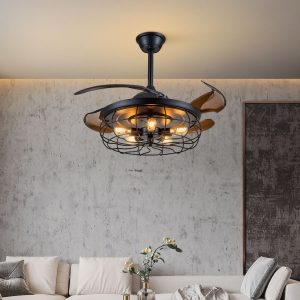 To emphasize the tone of your living space, the farmhouse living room wall decors are good at enhancing your space. Such as the industrial wall clock, full of metal element and with sophisticated craftsmanship, creates industrial farmhouse tone of a living room.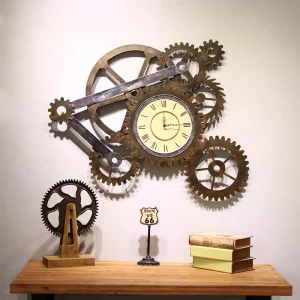 Barn Doors for Farmhouse Living Room Decor
To well cut off the living room and other space and decorate a farmhouse living room, sliding barn door is the best choice. The white and gray barn doors with black tracking rail are popular and bring out the farmhouse and modern charm.
Add the wood beams to the ceiling to strengthen the farmhouse flair to your home, including the living room, dining room and even bedroom. It perfectly adapts the white ceiling board to create a cozy and bright farmhouse.
It is challenging to decorate a farmhouse to be stylish but this article may inspire you to keep up. Follow the tips to decorate your large or minimal farmhouse living room and make your home appealing. Share your fantastic farmhouse living room decor ideas if you have more.