Despite the various design trends come and go, mid-century modern is ingrained and many people are obsessed with mid-century modern furniture for their living spaces. Thus, the mid century modern living room design is everywhere. Do you really comprehend this popular MCM style?
People Also Read:
1. What is Mid Century Modern Design?
Mid century modern (MCM) is originated by Cara Greenberg, which is born in the middle of the 20th century in Northern Europe. It became popular in US after WWII. The In fact, the exact year of the birth of MCM is unclear, since some said the it was in 1945, while some argued it was during 1947 to 1957 and there were other views. Therefore, most sources concluded it was prominent in mid-20th century. With the minimalist concepts, classic forms and retro sentiments, MCM became a highlight in architectural, interior design and furniture industry.
Mid century modern design is developed by the technology and it fade in a shot period. However, it evolved by the eras but still keeps the modest and stable sense. It can perfectly combine with the modern style to fit for current home design.
MCM is one of the modern styles but has unique sparkles since mid-century modern style owns retro tone and combines the bright and bold colors. It emphasizes function over appearance. To make your living room with MCM tone, mid-century modern furniture is the most important element. Generally, mid century modern living room design combines clean lines, natural material, polytropic colors.
2. Characteristics of Mid Century Modern Furniture Design
You are able to define a living room in MCM style based on these characteristics:
Minimalist Design: MCM interior design is always simple and neat. It is more inclined on functionality than appearance. The whole feeling is uncluttered and comfortable.
Color: Mid-century color palette is inspired by nature, so it would use bright colors and not only focus on white, black ,gray. Such as sea-like blues, clay browns, earthy greens, bright fall yellows, wooden.
Natural and Synthetic Materials: Blend natural and manmade materials together, for example, mixing wood and plastic, fusion of marble, metal and fiberglass, etc.
Lines:Due to the minimalism, mid century modern furniture pieces are featured with clean lines, smooth surface and gentle curves.
Use Outdoor Element: For the home decorating, MCM often bring plants or plant-shaped elements. Place the greenery on the windows or hang onto the wall to liven up the living room. Otherwise, apply the wall decors with botanical and floral patterns.
3. Mid Century Modern Living Room Furniture Pieces
TV Stands:
Mid-Century Lowline Media Console for up to 80 Inch TV
The wooden media console is made of solid wood veneered MDF board, pinewood drawers and stainless steel soft-close slides, which ensures environmental protection, durable using experience. It offers 4 colors and 2 dimensions for selection. Its neutral color combination design, sleek lines and curved corners make itself typical for a mid-century modern living room. For fitting for MCM living style, it doesn't compromise in storage space and there are four drawers, one compartment with door, two open shelves for storing your daily items. The 78-inch TV console can support up to TV in 80 inches while the 94-inch mid century modern TV stand suits for up to 90-inch TV.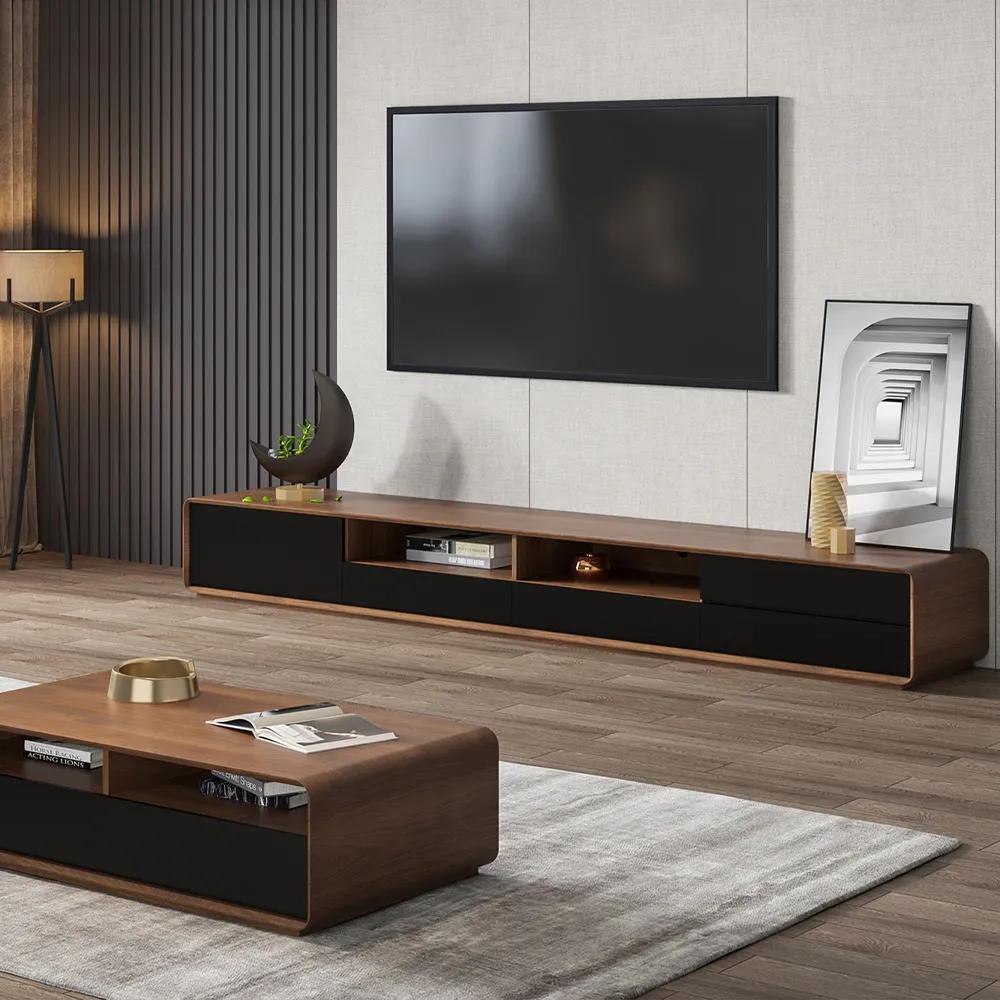 Mid-Century Solid Wood TV Stand with Louvered Doors
It is a canonical mid-century modern living room furniture piece. The sturdy ash body and metal legs ensure long lifespan. The walnut upholstery and finishing also present smooth surface, clean lines, hollow-out design to complete your living space to be MCM. The solid wood drawers and louvered doors can strike a great balance of style and functionality. Select the right size for your mid-century modern living room to support up to 80 inch TV.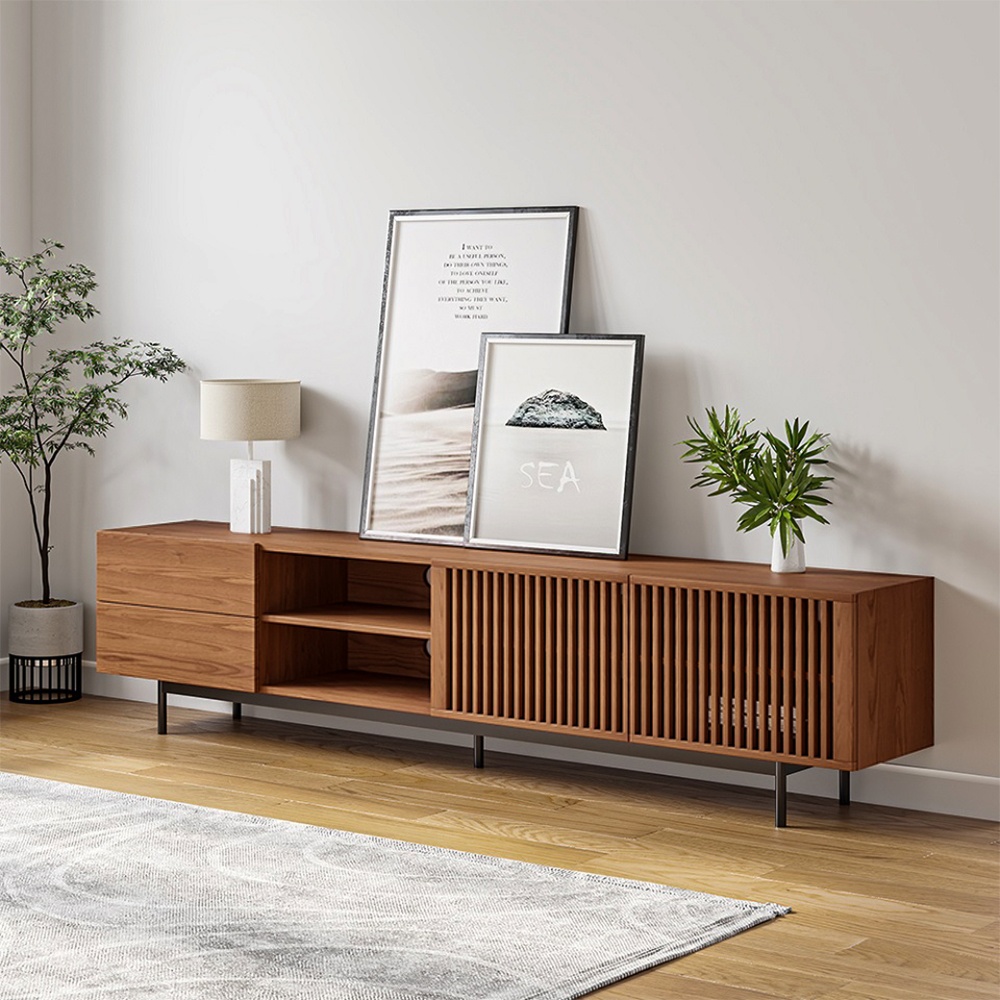 Minimalist Linear Bar Lowline TV Stand
Featured with linear bar grille style, the walnut TV stand accentuates a minimalist profile. The special but minimalist design of this solid wood TV stand enriches the mid century modern living space. The flip-down door with embedded tempered glass can well prevent the dust floating into the cabinet. The quiet guide rail guarantees the drawers' opening and closing silently, which greatly optimizes the using experience. Such a MCM TV stand will reflect the uniqueness of your living room.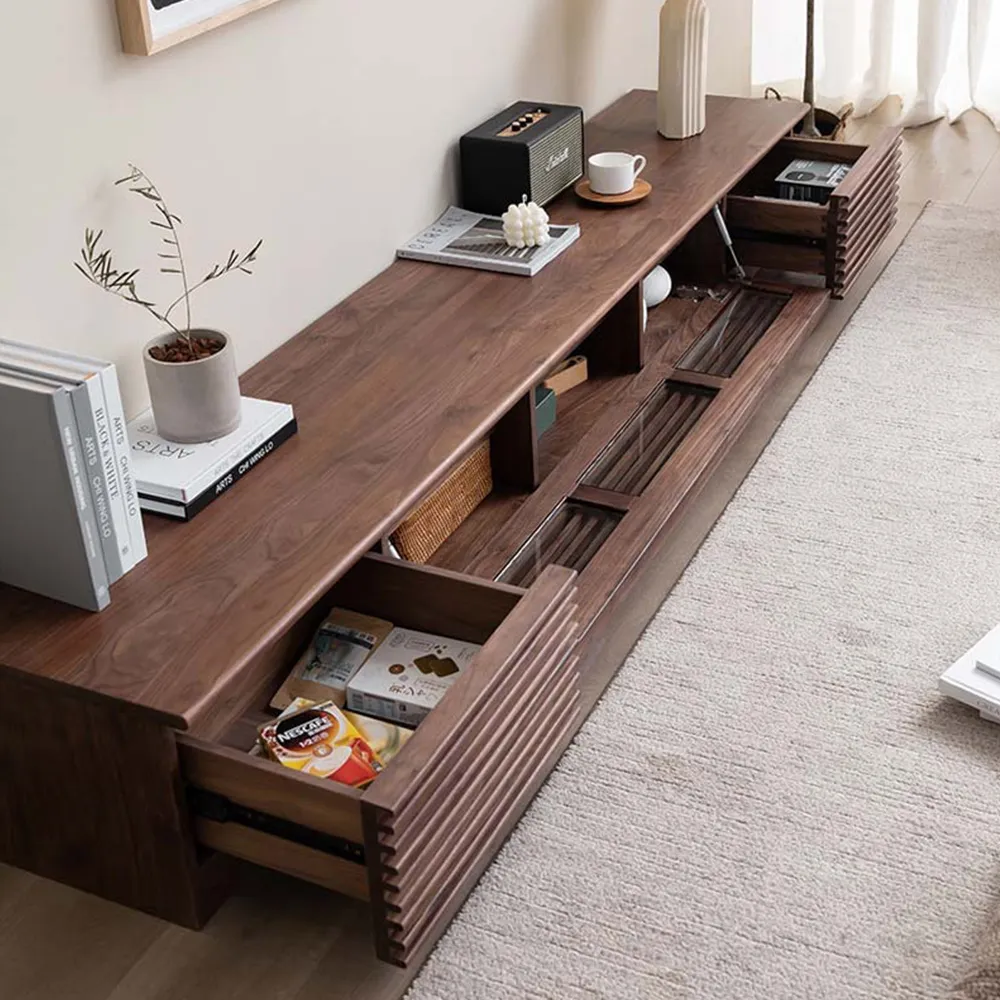 Coffee Table & Side Table:
Mid-Century Modern Coffee Table with Large Storage
The natural wood coffee table can match well with the MCM furniture pieces above. Square tabletop with right angles and the solid wood pedestal are all in walnut, bringing in an element of mid century modern and keeping the wholeness. The two drawers offer ample space to organize your daily sundries.
Mid century modern design tends to use raw materials and bring wood furniture to home. This whole ash wood side table comes with three legs in unique shape. Simple but extraordinary side table is appropriate for a MCM living room or bedroom. It is multifunctional as a side table, a cocktail table, a small coffee table, even a simple nightstand. The mortise-tenon connection structure ensures stability.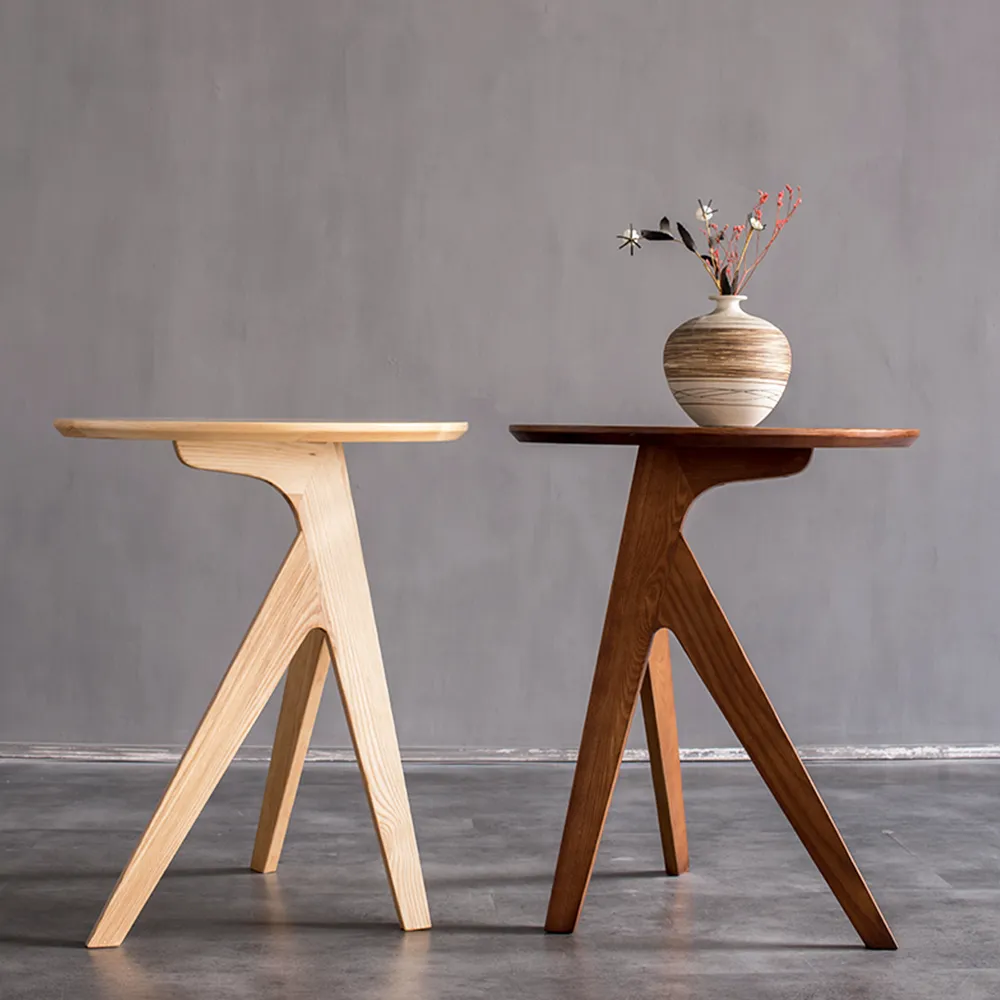 Sofa or Accent Chair
Beige Mid-century Accent Armchair
Similar to Nodic design, MCM sofa is simple and attaches importance to basic function. Usually, the mid century sofas or accent chairs are featured with tapered legs, wood frames and square balustrade, but not all will meet with those conditions. Without always choosing a neutral color, this MCM furniture will also go for patterns and punchy colors to expose the vitality. A mid century modern accent chair in yellow may add elegance and charm to your house while this MCM beige accent armchair with smooth lines and subtle curves also exposes the mid century and modern vibe. The cushion with high-density sponge and thick backrest provide comfortable sitting experience.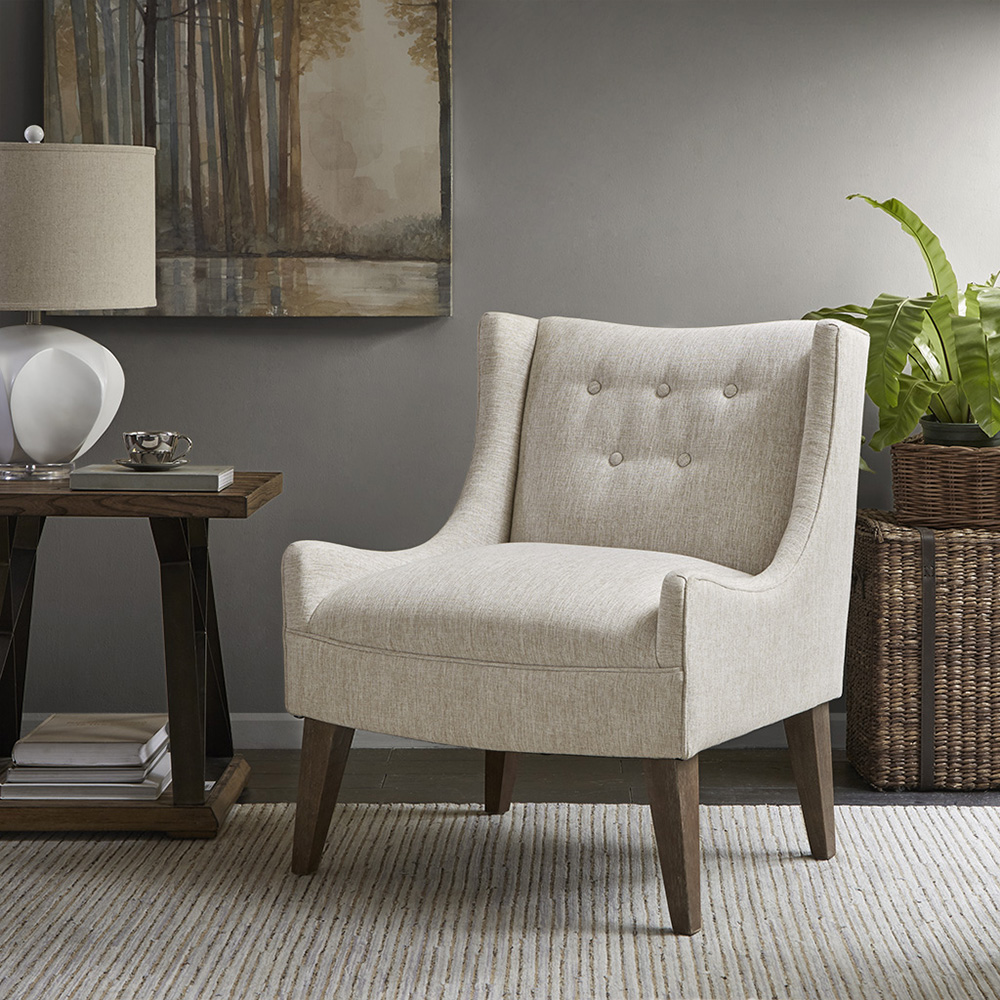 Green Lounge Chair with Solid Wood Frame
Mid century modern interior design often brings natural elements to indoors. Except for the green plantings, the green color is usual to express the nature. Natural green chair with solid ash wood frame will elevate your living space. The high density sponge cushion lets you sit comfortably and supports up to 441 Lb./200kg. It is the best match with the minimalist 3-legged side table for reading or drinking in the MCM living room.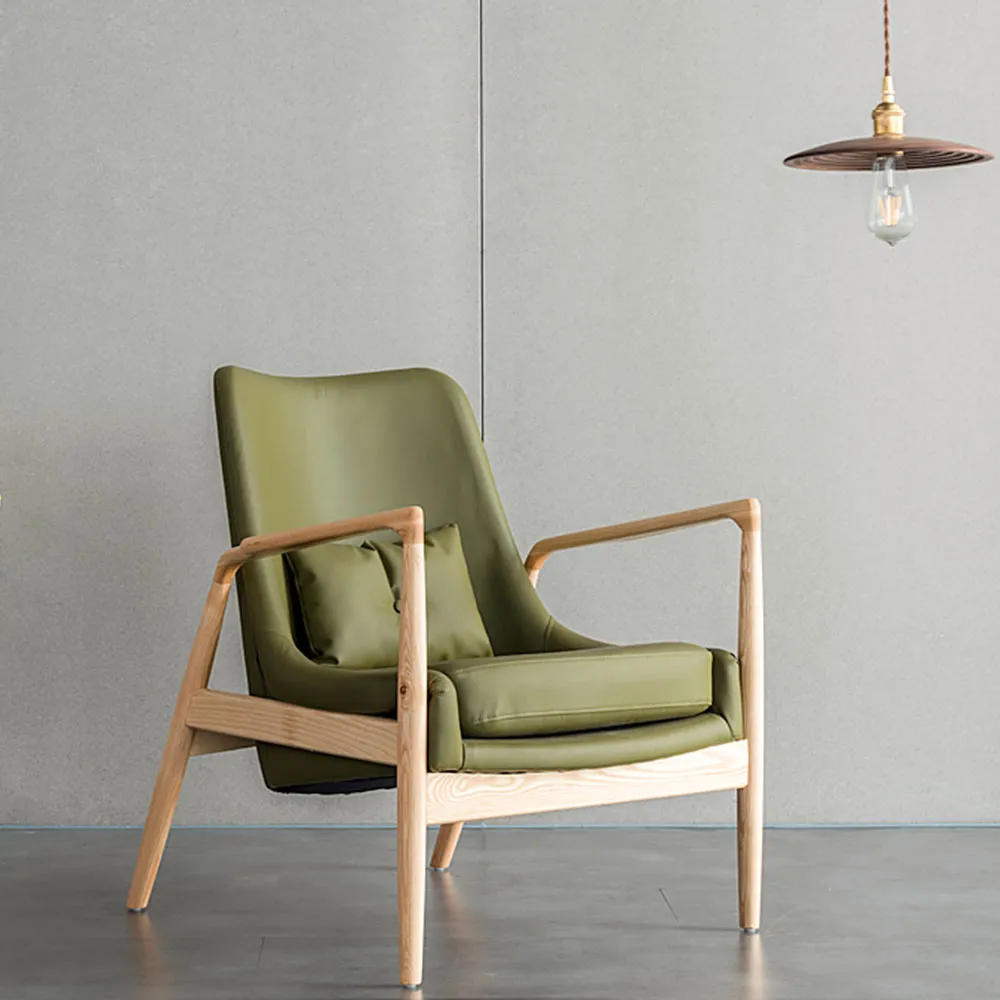 Note: This green lounge chair is unavailable now, please turn to browse this unique accent chair.
Get the mid century modern living room inspiration from the furniture pieces above, so you can try to design your large or small mid century modern living room by yourself now. Share your decoration scheme in the following comment.