"What furniture should I buy first?" an user asked in Quora. Most people recommend sofa as the first furniture in the living spaces, which might be the biggest investment of your living room. But how to choose sofa color for living room? It is a big problem that needs people to take some time to do researches and learn the color palettes ideas.
People Also Read:

Difference Between Couch and Sofa, Settee, Loveseat

Try These 8 Comfortable Deep Seat Sofas for Your Cozy Spaces
Part 1. What You Should Consider While Choosing Sofa Color?
1. Check other furniture and decoration items in the living room. It is vital to pick up a sofa suitable for the existing pieces for the interior space. Sofa must go well with the color of wall and floor. Generally, we select coffee table for a sectional sofa but if you owned a coffee table at first, you need to match the sofa color with the coffee table. Use the color swatches to test whether it is great for the wall color or try to match different colors on your paper to narrow the perception gap.
2. Don't only pursue the fashion and trends. Please considering the service time of the sofas, which mostly can be used for 10 years or longer. If the trending colors will continue for a long time, you can select the relatively safe option of them. Once the trends fade away, can your sofa still match with other decorative items that are usually changed for the fashion?
If you are a person pursuit of fashion, don't only focus on the couch and please turn your focal point to the accent pieces. Accent pillows and the decorative items over the sectional or loveseat can be picked up for the present trends.
3. Whether you have pets or kids. If yes, the dark color is better to protect and clean. Or rather, the dark colors will not clearly display the stains, dust, pet dander and scratches. As you still would like to bring the light colored sectionals into your living room, apply the slipcovers to protect the sofa but you need to wash them regularly.
4. Consider your living room area. If your living room is narrow, try monocolour matching which will make the small living room look larger. As for the larger living room, use more than one color for the interior to highlight your focal point and visual contrasts. However, don't apply over 4 colors in a room, since it may make your space complicated and dizzy.
5. Combine with the upholstery and texture. The color of couch should depend on the materials of texture and upholstery. For example, leather is a typical and premium material for sofa upholstery as it is easy to clean and provide great sitting experience. It tends generally to be brown, black, green, which may not be you ideal choices so will you give up the leather sofa? There are more color options for a velvet sofa, so it would add colorfulness and vitality to your space.
6. Think about the color psychology, which includes that color is vital to the human experience. Through color, we feel; we communicate; we heal. The interior style and layout are always based on your desired feeling in the living room. Sofa, as the vital piece in your living room, will also communicate with your feeling and aesthetic preference.
E.g.: Green represents natural and forestial environments while those people loving green tend to be nature lovers, modest, generous. Thus, if you want a living room with freshness and nature, green sofa or settee must fit your need.
7. Still hesitate? Neutral color is an always right choice when you cannot make a decision on how to choose sofa color. Gray, white, brown, black are the easy-to-match options and perfect for most home styles.
Part 2. Try Those 10 Popular Sofa Color Options for Your Living Room
Gray undoubtedly stands at the top of the best 10 popular sofa colors, which is easy to match with other colors and still makes the sofa as the focal point in the living room. Let's browse the other prevalent colors for living room couches, which must be helpful on how to choose sofa color for living room: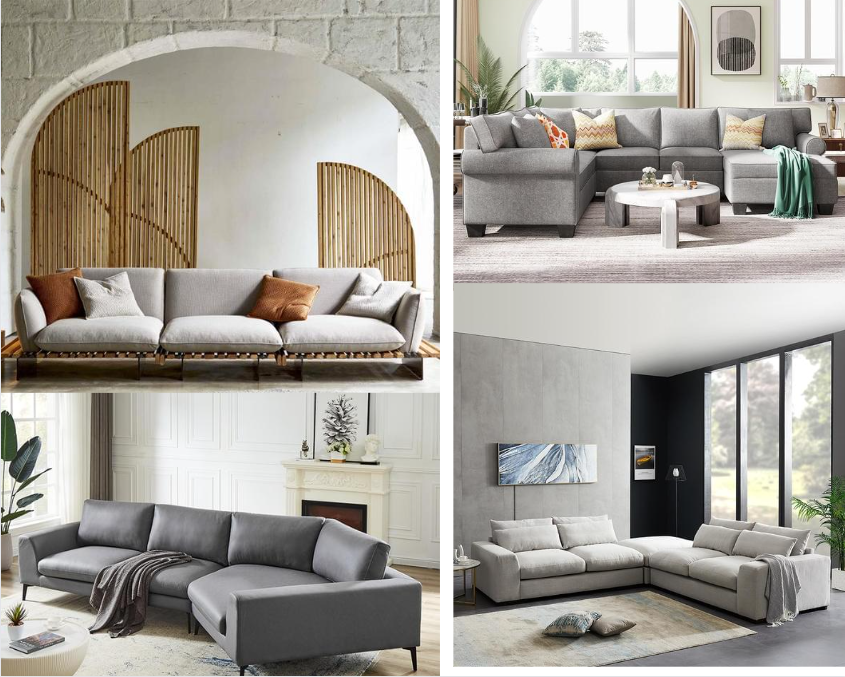 Gray
Green
Blue
Pink
Cream
Navy
White
Black
Teal
Orange
Part 3. Round Up 5 Gorgeous Sofas in Different Colors
Why you should choose this couch:
Gray and wood color combo is perfect for most styles and wall colors.
The solid wood platform with slatted design between the cushions and base adds unique aesthetics and natural vibe, which must be the focal point of the living room.
Premium cotton and linen fabric upholstery comes with high-density sponge provide comfortable sitting experience.
Deep seat cushions with 39.37 inches is right for most people, including fat sitters.
It comes with 2 pillows to improve sitting experience and style the sofa to be modern.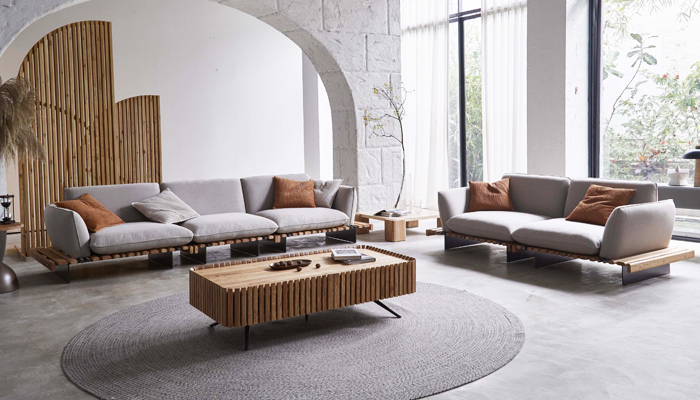 Why you should pick it up:
The pine wood frame can well ensure the weight capacity and durability.
People would feel comfortable due to its ultra-elastic spring and high-density foam of the backrest and cushion.
The leathaire upholstery is easy to clean and washable.
What appeals people most is its color combination. The white and orange color of the surface and golden metal legs suit for modern, contemporary living spaces.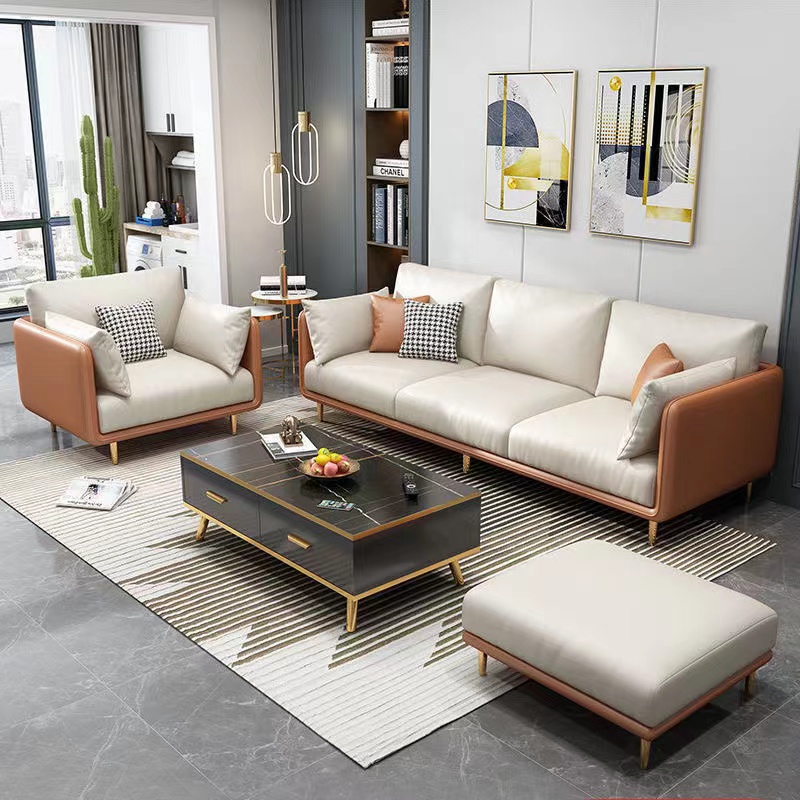 Why you should opt for this sectionals:
Breathable and soft linen fabrics.
Seatings with high resilience sponge and soft goose feathers.
The package includes two pieces of 2-seater settees one ottoman and four back cushions. Thus you are able to change the layout flexibly, l-shape or straight-line-shape with ottoman coffee table.
Removable seats and backrests make cleaning hassle-free.
Why you should opt for this sectionals:
It comes with the same high density sponge of the cushion and backrest.
Changeable for different needs. Get the backrests down to change it as a bed for accommodate a guest for a night.
Affordable sofa with multi-functionality.
The material of the fabric and legs were also approved by EPA, NSF and CARB, so it is eco-friendly.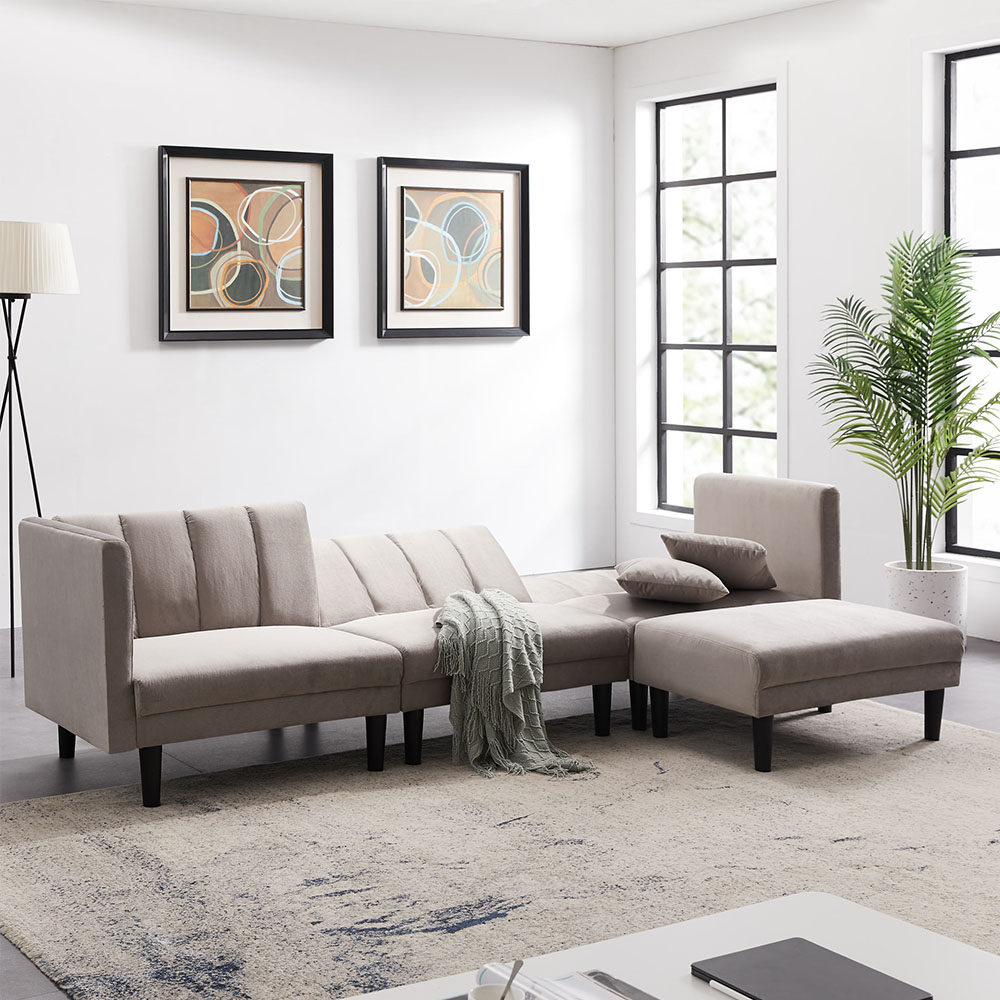 Why you should opt for this sectionals:
Elegant pink color will add stylish and gentle vibe to the spaces.
Soft velvet texture brings pleasant appearance and great sitting experience.
Unique design of the backrests: high backrests with tufted patterns on both sides while lower in the middle.
The solid wood frame and metal legs ensure stability and long lifespan.