White, one of the natural colors, is the most popular choice for painting the walls and ceilings due to its easy-to-match property. It can make the space brighter and fit well for modern, rustic, midcentury modern and classic home style. Before designing the furniture layout and color in your living space, explore the following suggestions firstly to resolve what color furniture goes with white walls.
People also read:
What color furniture is best for white walls?
Classic matching of white and black is the first consideration for interior design. Keep your living room or bedroom simple, genteel and modest with black furniture items for white walls. Black and white combination (e.g.: black media console for white background) looks crisp and clean, which will not compromise the chic quality but even give out modern vibe.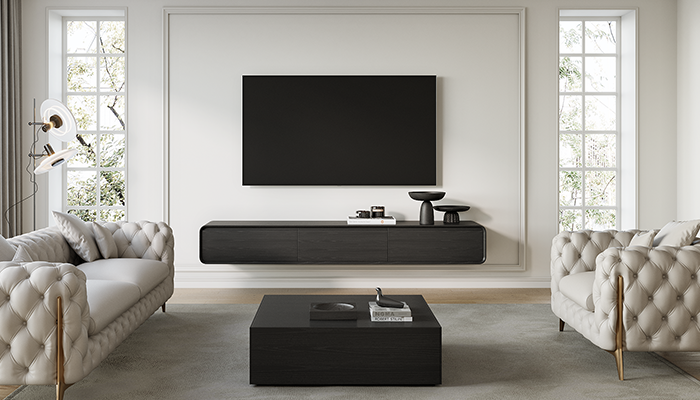 As the white walls establish the elementary tone for your spaces, the neutral colors, like brown, Khaki and gray perfectly blend with the white surrounding. Here the simplicity, neatness and warmth will come. Especially when the furniture in these colors go with the metal materials, your house will be refreshed and even added with the luxury temperament, which will not be awkward.
Both gray wall with white furniture and white wall with gray furniture are people's top picks. Set gray-colored TV stand or gray couch in front of the white walls to suit for modern, rustic, farmhouse, rural interior design.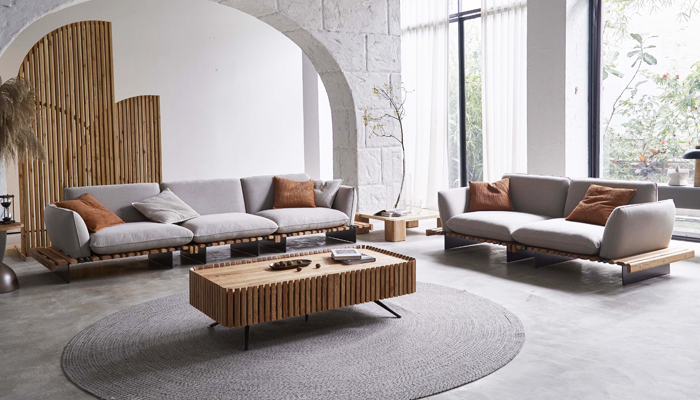 Wood: When the pure white walls stand with wood furniture, the clean and streamlined look will come to your room. The wooden patterns on the furniture pieces expose the natural texture and the simple color combination gives you the concise but stylish feel.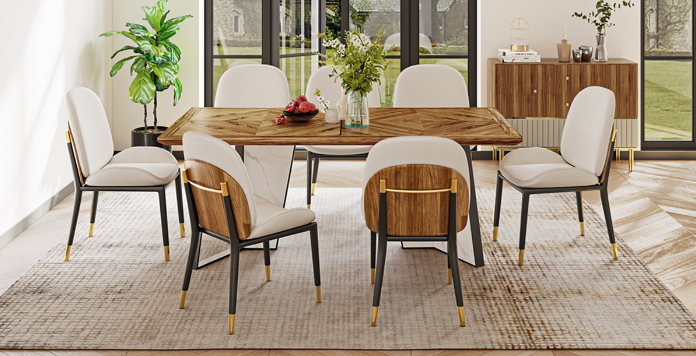 Dark colored solid wood furniture will also go well with white walls, which will be the visual focal point for your living room, dining room, bedroom, etc. With dark pieces for white walls, but don't apply over 3 colors, your living spaces will be open and vast and present the modern industrial aesthetics.
It is a safe but bold trial to use white couch for white walls, because when all white furniture pieces come together, any furniture option will be easy but you need to spend more time in cleaning and maintenance. The all white design will create a clean and elegant home atmosphere, making the interior look very pure and bright. In doing so, you can select different shades of white color but pay attention to the transition. Generally, we will follow the rule: light for the upper part while dark for the lower part.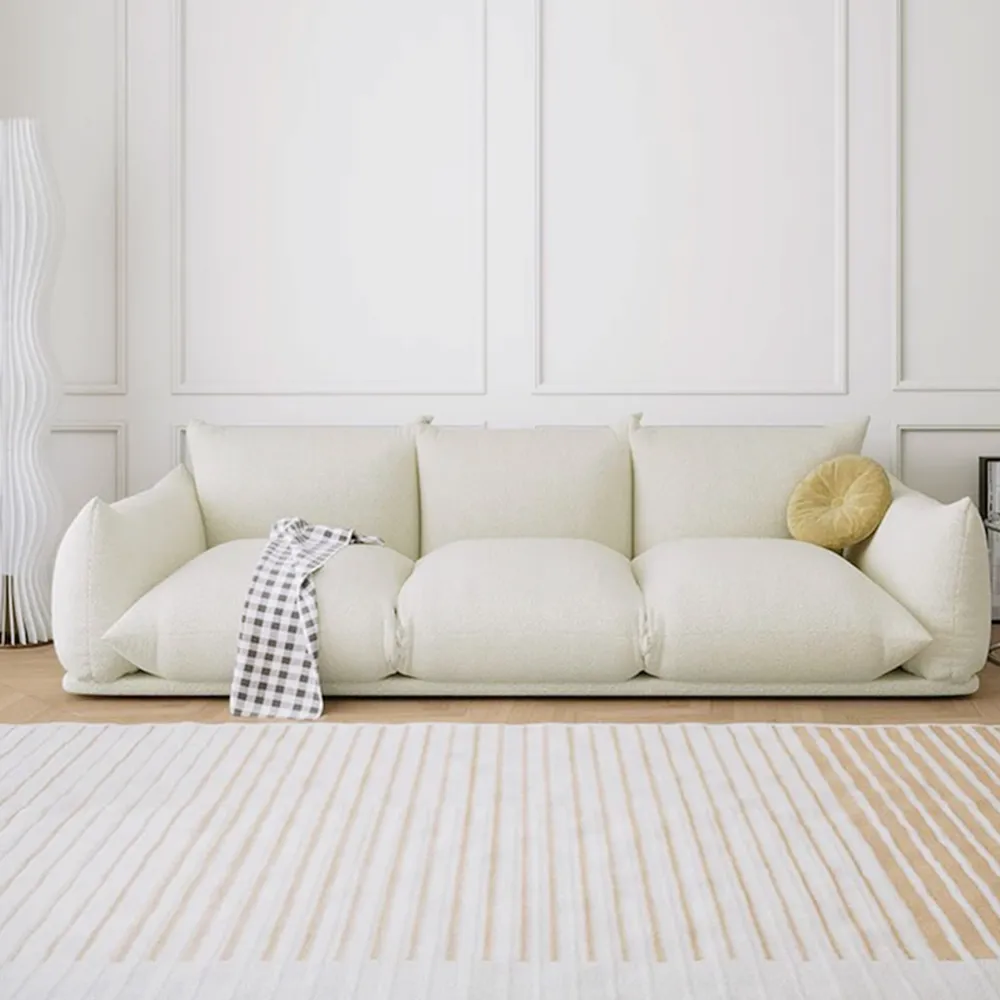 Does dark furniture go with the white walls?
Yes. As it is mentioned in part one, black and dark colored solid wood furniture are appropriate for white walls in living room and dining room. Dark floor/furniture and white walls/ceilings are the classic collocation and constitute a clear contrast.
For example, the black marble dining table is suitable for dining room with white walls and adds light-luxury and modern vibe to the spaces.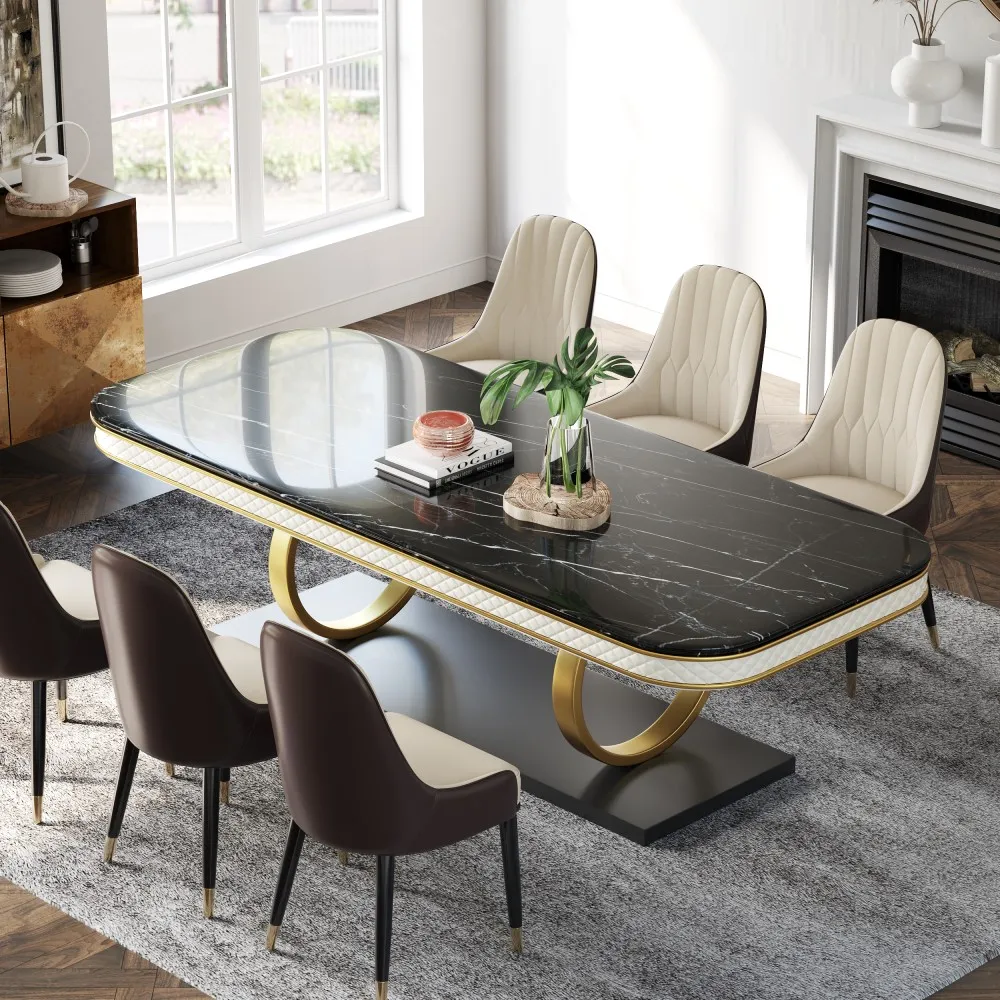 Methods for indoor color matching
1. Neutral colors always bring out peace and harmony to the spaces. The four most common neutrals are black, white, brown and grey, and are created by mixing two complementary colors. Thus, they are usually opted as background colors.
2. Light shade for upper part while dark shade for lower part. Apply the gradual transition to design your indoor layout. As for the walls, it is relatively safe to use the neutral colors, as those are convenient to blend with other dark or light color shades. If you apply dark color for the walls, the furniture items should be more darker so that the whole space will be more harmonious.
3. Pay attention to your house's orientations and sunlight condition for coloring. For instance, use the bright and light color for the room with less sunshine.
4. Select the colors by functional areas. For living room, the neutral colors, including white, beige, cream and gray are popular-choice. For the bedroom, excessively bright red and yellow are not recommended since they would influence sleep quality. It is depressing to use too dark and cool colors in the sleeping room. As for the kitchen and washroom, the bright colored painting or tiles will have people feel clean. Yellow and orange are colors that stimulate appetite so you are able to to use them for the dining spaces.
5. Based on the area and height of the room, use different color systems. Cold colors are for visually expanding the space while warm colors are for sensuously compacting the space.
6. Don't adopt too many colors in a singe room. Try to design with 3 or less colors and then add one or two afterwards if there is no problem. The method – from point to area is great for those who are beginners of interior design. For instance, find a wall painting or a piece of furniture as the central point. Then, pair it with different colors to find the right one.