Top Rated Swivel Counter Stools with Backs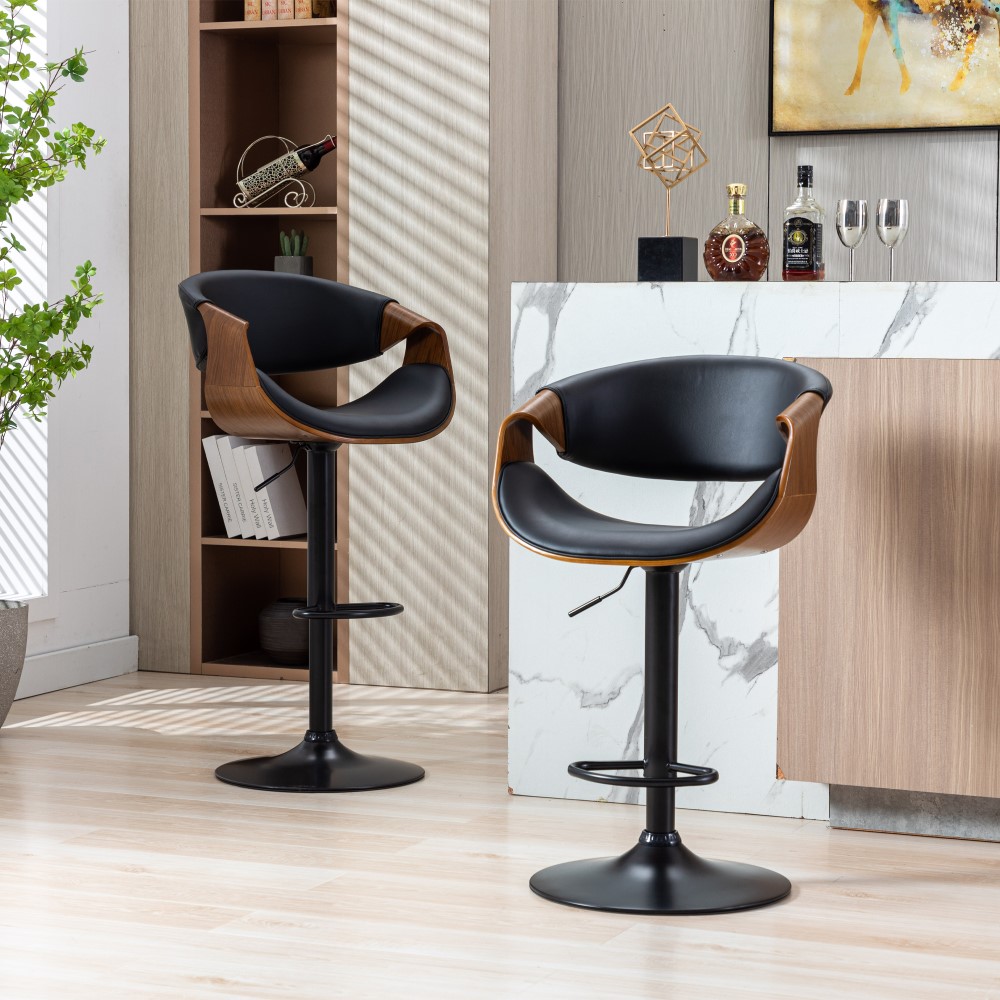 Counter stool chairs would be more popular when the big holidays are coming, since people tend to add extra seats or renew the seating for the holiday gathering. As we have discussed about how to choose a kitchen counter stool before, now let's explore the popular type of counter stools. These are swivel counter stools with backs! Such stools can be adjusted flexibly for different needs as well as provide great sitting experience when drinking or eating.
What is a stool with a back called?
A stool always features three or four legs, while the armrest and backrest are optional. A stool with a back is called a "backed stool" or a "bar stool (counter stool) with a back."
Are stools with backs better?
Counter stools with backs may be more comfortable for some people, as they provide support for the lower back. However, it depends on the individual's needs and preferences. Some people may prefer stools without backs because they provide more freedom of movement or are more compact. It's always better to try it out before making a decision.
What difference between bar stools and counter stools?
Bar stools and counter stools are similar in that they are both types of seating designed for use at a bar or kitchen counter. However, there are some key differences between the two stools.
The height:
Bar stools are typically taller than counter stools, with seat heights around 28-36 inches. This makes them a good choice for use at a bar or counter that is 42-47 inches tall.
Counter stools, on the other hand, are typically shorter, with seat heights around 24-26 inches. They are designed to be used at counters or surfaces that are around 34-39 inches tall.
The traditional design:
Another difference is that bar stools are often swivel and have backs while counter stools are not.
Nowadays, we can use them to describe the same things, such as the stools with rotating features could be called as swivel bar stools or swivel counter stools.
The top rated swivel counter stools with backs
If you are looking for some swivel counter stools with backrests for your kitchen and dining room, don't miss those top rated kitchen counter stools at Povison store. Povison offers a wide variety of bar stools to suit any decor or design style.
One popular option is this beige bar stool set of 2. They feature sleek, modern design with curved tufted backrests for added comfort. The stools are made of durable velvet, firm foam sponge, and comes in a variety of finishes to match any home or commercial setting. The height can also be adjusted and the chairs can be rotated for any direction, making it versatile and perfect for any kitchen counter or bar. The stool also have footrests and golden metal legs for added comfort and stability.
Also coming with beige color, this swivel bar chairs with golden frame fits well for the chic home style, which is made of unique velvet and high-density foam. The stylish knot shaped backrests do not only give out the elegant vibe, but also provide comfortable support for the sitters. The adjustable function is easy to handle so that you are able to change any direction and height as you like.
Here comes four colors for selection, so these classic counter stools with minimalist look can match to any home style, such as traditional, modern, mid century and more. The curved backs with foam can offer great comfort and sense of safety. The operation of height and direction adjustment is the same as other swivel back stools. This stool can be decorated easily for the holiday party.
This counter chairs with black PU leather, walnut wood back support, black metal base, can be perfect for an industrial-style room. Moreover, the curved backrest and cushion add a contemporary touch to your space. They are also flexible for different needs and heights.
Similar to the former curved bar counter chairs, such swivel bar stool also comes with black PU upholstery and bent wood back support, black metal base. What's stylish is its hollow-out design of the back rest. Its backs and armrest are integrated for stronger wrapping for the sitters. The materials and design make itself easy to clean so that you don't worry about the maintenance.
Which swivel counter stool is the best for your kitchen counter? For preparing the holiday party, these counter stools with backs should be the great choices since the backs cannot only offer comforts, but also can be decorated with name cards, ribbons, cute stickers, etc. for added festive vibe. Share your choices in the comment area.