The Best Modern Bar Stools and Counter Stools for 2023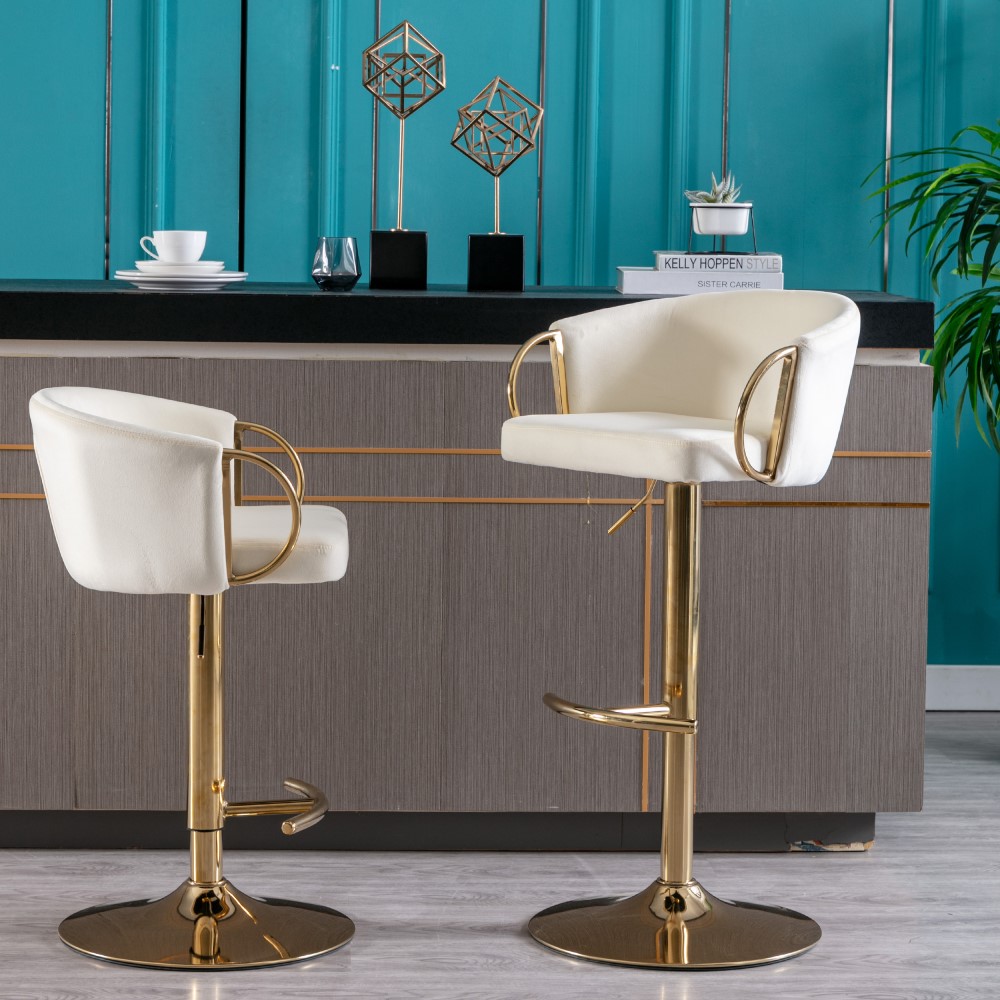 Will you choose bar stools for your home kitchen or dining spaces? Bar stools are used for seating at a bar or counter. They are typically taller than regular chairs and can be used in a variety of settings, such as home kitchens, bars, and restaurants. They can also be used as additional seating in other areas of the home, such as living rooms or game rooms. Some bar stools also have features such as adjustable height and swiveling seats.
How do you choose kitchen counter stools?
As choosing kitchen counter stools, there are several factors to consider.
The height of the stool in relation to the counter. The stool should be approximately 9-12 inches lower than the counter top to ensure comfortable use.
The style and design of the stool. The stool should complement the overall aesthetic of the kitchen, whether it be modern, traditional, or something in between. There are a variety of materials to choose from, including wood, metal, and upholstered options, each with its own unique look and feel.
Consider the function and usage of the stools. If the stools will be used frequently and for long periods of time, it's important to choose a model with a comfortable seat and backrest. Additionally, stools with footrests can provide additional comfort and support.
The number of people.It's a good idea to choose a set of stools that allows for at least one stool per person to sit comfortably at the counter. So, if you have a counter that seats four people, four stools would be a good choice.
Here comes the size of the stool, in relation to the space you have for it. If you have a small kitchen or limited space, it's best to choose stools that can be tucked under the counter when not in use. Bar stools with swivel seats are also a great option for small spaces as they allow for easy movement.
Lastly, it's important to consider durability. We must pick up the stools with long lifespan, instead of the one-time chairs, which can save our money and give you confidence to use for a long time.
The ease of maintenance will also influence your choice when buying kitchen counter stools. Stools made from durable materials that are easy to clean, such as metal or wipe-clean upholstery, can be a great choice for heavy-use kitchens.
By taking all of these factors into account, you can choose a set of stools that not only look great but are also comfortable and practical to use in your kitchen.
Which counter stools are most comfortable?
Actually, comfort is a subjective sense, and what is comfortable for one person may not be comfortable for another. However, generally, counter stools with a padded seat and backrest tend to be more comfortable than those without padding. Stools with adjustable heights and footrests may also be more comfortable, as they allow you to find the most cozy position.
The materials and designs will make difference to the sense of comfort. The padded, upholstered or leather stools will be comfortable in addition to other factors like the height, swivel feature and back support. You might want to visit a furniture store or try out some different models in person to see which ones feel most comfortable to you.
Are low back counter stools comfortable?
Low-back counter stools can be comfortable, but it depends on the design and construction of the stool, as well as the individual user's preference. Some low back stools have a padded backrest that provides support and comfort, while others may have no backrest at all. They can be a great option for those looking for a less formal look and tend to take up less space and are easier to move around. Those stools are also often less expensive than high back stools.
That being said, if you're looking for support for your back and lumbar region, a low back stool may not provide the same level of comfort as a high back stool with good lumbar support. Additionally, if you're looking for a stool to use for extended periods of time, a low back stool may not be the best choice, as it may not provide the support you need to maintain good posture.
Please try out different types of stools in person to see which ones feel most comfortable to you.
The Top Bar Stools with Different Designs for Your Kitchen Island
This velvet bar stools for kitchen comes with high backs, sturdy golden legs and base. They can be positioned in the kitchen, dining room or even living room for extra comfortable seating, made of high-quality fabric, filled with firm foam sponge. Don't worry about the maintenance since such velvet bar stools can be cleaned with wet soft cloth. The beige and golden color combination is right for both modern and retro home styles.
Looking for the elegant counter stools for your kitchen island? This gorgeous bar stool set of 2 should the right one for your home, made of velvet upholstery and metal legs. The knot shape of the curved backs bring modernity and extra seats to your space. The height can be adjusted for personal needs and it can be swiveled so it can work for different situations.
Black is a classic and versatile color that can complement a wide range of kitchen styles and designs. Besides, this black PU leather and walnut bentwood back are easy to clean and also less likely to show wear and tear as compared to lighter colored furniture. The black swivel bar stools are great for a kitchen island because they allow you to easily turn and face different directions, making it convenient for conversation, cooking, and other activities.
This gray and golden colored bar counter stools are easy to match with different kitchen color schemes. Such low-backed stools can provide a sleek and modern look, and they may also be more comfortable to sit on for longer periods of time. The bar stool chairs are featured with a metal frame with a metal horizontal rod to put your feet when sitting.
Generally the counter stools without backs take up less space visually and physically, making them a good choice for small kitchens or those with narrow space. Additionally, they can be stored or even nested under the tabletop easily. The backless stools often comes with a clean and minimalist look to complete the kitchen decor.
Featured with heavy-duty iron, upholstered fabric seat and leatherette backrest, these bar stool chairs are designed for long run. The trapeziform footrest and ergonomic backrest, non-slip foot pads make itself stable and cozy. Such bar stool offers several colors for selection, which can fit for contemporary, boho, vintage and urban modern space.