Complete Buying Guide of Sintered Stone Dining Table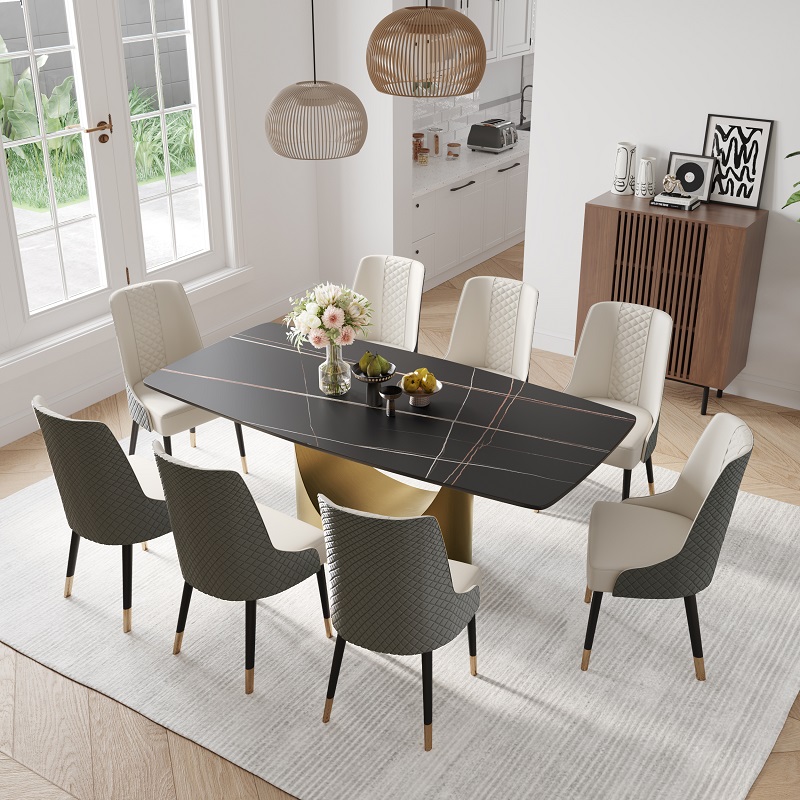 The dining table is a major investment in furniture decoration, and it is also a piece of furniture that is applied frequently, so when buying, you need to carefully make the right choice. Marble and wood tables are the traditionally popular choices but in the recent years, sintered stone dining table becomes widely-accepted. People who choose sintered stone dining table for home, always focus on those advantages:
Highly durable;
Easy or even no need to maintain;
Resistant to stains, scratch, heat;
Relatively
If you are wondering why sintered stone would own such benefits but be less expensive, read on the next part. Once you knew what it is, just directly move to the buying guide part.
What is sintered stone?
Sintered stone is a kind of engineered stone that is made by compacting powdered stone using high pressure and heat. The result is a durable, non-porous material that is resistant to stains, scratches, and heat. The patterns on the top are printed by the machine so some products may be the same, which is different from marble material.
Sintered stone is often used as a surface material for countertops, flooring, and wall cladding. It is also known as ultra-compact stone or porcelain slab.
What can sintered stone do?
Countertops: Sintered stone is a popular choice for kitchen and bathroom countertops because it is durable, non-porous, and resistant to staining and scratching.
Flooring: It can be applied for flooring in both residential and commercial settings. It is often used in high-traffic areas because of its durability and resistance to wear and tear.
Cladding: Sintered stone could be used as a cladding material for exterior and interior walls. It is a popular choice for both residential and commercial buildings because of its durability and aesthetic appeal.For example: the TV background.
Furniture: We can see various furniture pieces are made of sintered stone, like TV stand, dining tables, benches, cabinet and other items.
Outdoor: Sintered stone is also used for outdoor applications such as cladding, flooring, and countertops for outdoor kitchens and barbecues. It is resistant to weathering and UV rays.
Custom Applications: Such engineered stone can be used to create custom architectural elements, such as fireplaces, mantels, and staircases.
Things to consider when buying a sintered stone dining table
Now, you may get familiar with sintered stone furniture, and you will notice what such pieces might already exist around you. Sintered stone dining tables are the most common sintered stone items at home. When selecting a sintered stone dining table for your home, you may need to consider:
Measurement: Measurement must come at first.The size of the table will depend on the area of your dining room and the number of people you want to seat. Measure the space where you plan to put the table to ensure that it will fit comfortably in the room.
Shape: Sintered stone dining tables come in a variety of shapes, including round, rectangular, square, and oval. Depending on the shape of your dining room and the size of your family, pick up the suitable table. A round or oval table is a great choice for smaller spaces, while a rectangular or square table is a better option for larger families.
Style, color and finishes: Color and finish often showcase the style of the furniture. Sintered stone dining tables come in a wide range of colors and finishes. Consider the color scheme of your dining room and opt fora table that complements your existing style and décor. Some popular finishes include matte, glossy, and textured. Besides, don't forget the table legs which also can make some differences to the space and enhance your interior style.
Durability: Sintered stone is a durable material, but it is important to choose a table with a high-quality finish to ensure that it will last for long time. Look for tables with thick and scratch-resistant finishes.
Maintenance: As the post mentioned above, sintered stone is easy to clean. Thus, people just need to clean it up with soft cloth and water or some cleaners, when it gets dirty. It does not need to be sealed or checked regularly.
Pricing: Dining table is one of the big investments for home. Sintered stone dining tables can be quite expensive, so it's important to set a budget before you start shopping. Compare prices from different online of offline storesto ensure that you are getting the best deal.
Brand review: No matter for the price or the quality, most people would do some researches on buying a dining table, including searching on Google, offline-store experiencing, asking friends, etc. Anyway, make sure to research the brand of the sintered stone dining table you're considering. Look into their reputation in the market and customer reviews to ensure you're getting a high-quality product.
Here are some modern sintered stone dining tables with high rating. Will you pick up one of them for home? Share your thoughts with us.