An entertainment center is able to organize your media devices, e.g.: DVDs, Blu-ray discs, game controllers, remote controllers as well as a TV. Some entertainment centers even will resolve the mess problems and reveal the aesthetic tone of your living room. You can opt for a freestanding media console or a floating entertainment center for your living room, which depends on the living room area and your preference. A floating TV stand is the best space-saving choice to make full use of the vertical space in the living room or bedroom. There are some buying tips and wall-mounted entertainment consoles right for you.
How high do you mount a floating entertainment center?
The advised height of the TV stand depends on the height of the sofas and the distance between the sofa and the TV. Thus, generally, the standard height of the floating TV stand above the floor is 36 to 42 inches. You can check the details here.
The elements to consider before purchasing a floating entertainment center 
The size of your TV.  Every entertainment center should accommodate your TV and it must be larger than the TV to ensure the aesthetics.
How weigh the TV cabinet should support. You must consider that which kinds of stuff will be placed on the TV self. Even though most floating TV consoles can bear over 50 lbs, it is necessary to follow the official specification to use.
Whether it is easy to mount to the wall and safe. Most products are sent with a installation manual, so just follow the guide to mount or contact the support center for help.
The material of the floating cabinet. Solid wood, MDF, stainless steel, sintered stone and marble are the frequently-seen tabletop materials.
Best Floating Entertainment Center Ideas
This wall-mounted TV stand id featured with minimalist design so it can fit perfectly for any home style. There are four colors for selection to match your home design: all black, all wood, black & wood, white & wood. For example, the black color suits for modern living room while the wood one matches well with the farmhouse or rustic decoration style. It owns three compartments to save your daily varia, which come with flip-down doors (push-to-open design) and injury-prevented round corners.
The two optional dimensions of the black floating entertainment center: S: 78.74″L x 14.57″W x 9.84″H and L: 94.49″L x 14.57″W x 9.84″H are suitable for both apartments and mansions.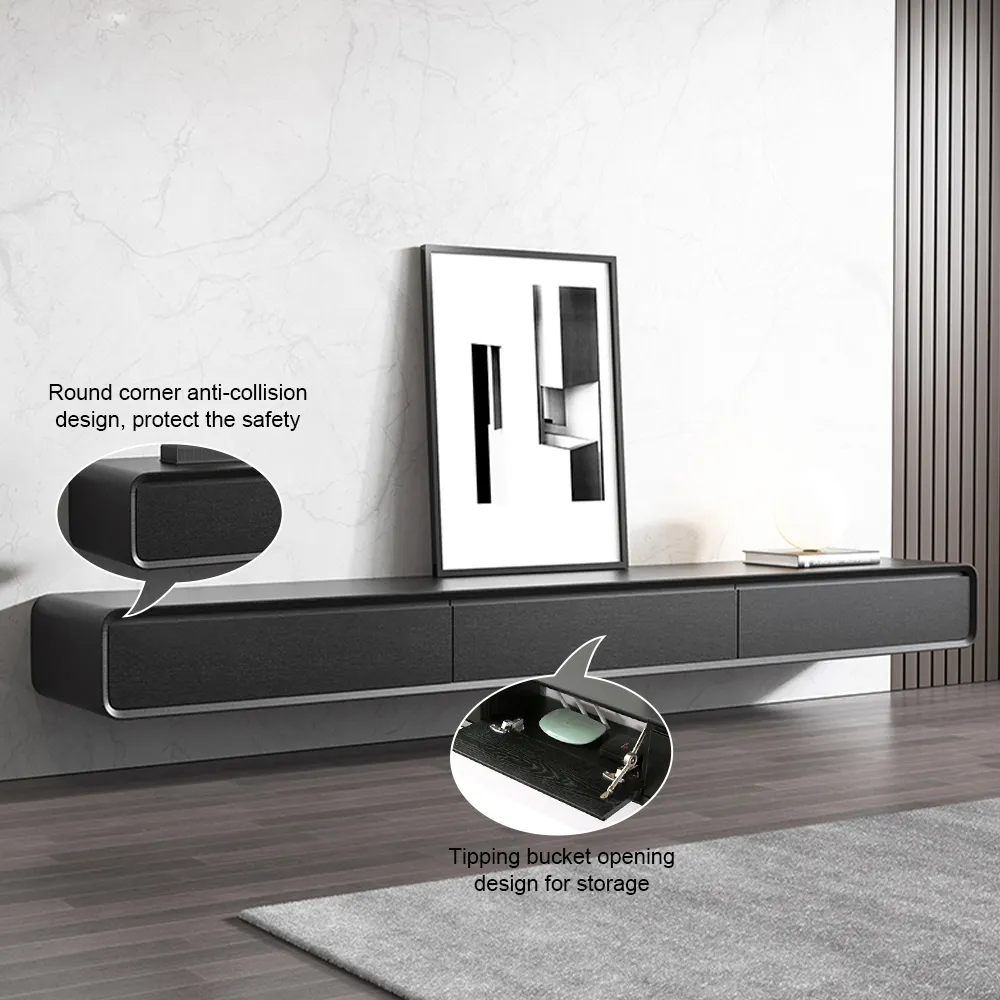 Customer A: This piece is stunning, stylish and well-made. I can't say enough about the quality and attention to detail regarding this tv credenza. It surpassed my expectations and left me completely surprised and extremely pleased that I bought such a lovely piece. I'm in love with this piece and everyone that stops by comments on how awesome it is. Well worth the $$! If you're thinking of buying it, don't think twice, just click yes!

Customer B: Beautiful tv floating stand. Good quality, nice looking, minimal assembly needed, just awesome. I see myself having this piece for many many years. The size and color were perfect for our space. Simple and clean looking. Would definitely purchase from POVISON again.
This long TV stand, with 110.24″L x12.99″W x 9.84″H, offers 6 compartments to store the books, DVDs, remote controllers and more. Four of them come with flip-down doors, made of sintered stone top, while two of them are equipped with tempered glass doors and motion sensor LED lights inside. The embedded LED light is not only for lightening but also can upgrade the appearance of the entertainment center to make your home classy.
If your living room is not large enough, turn to the smaller one, which is 86.61″L x 12.99″W x 9.84″H and shorten than the larger one. It just brings 4 compartments: 2 flip-down doors and 2 tempered glass doors. The simple but elegant appearance attracts many customers and gain the positive reviews.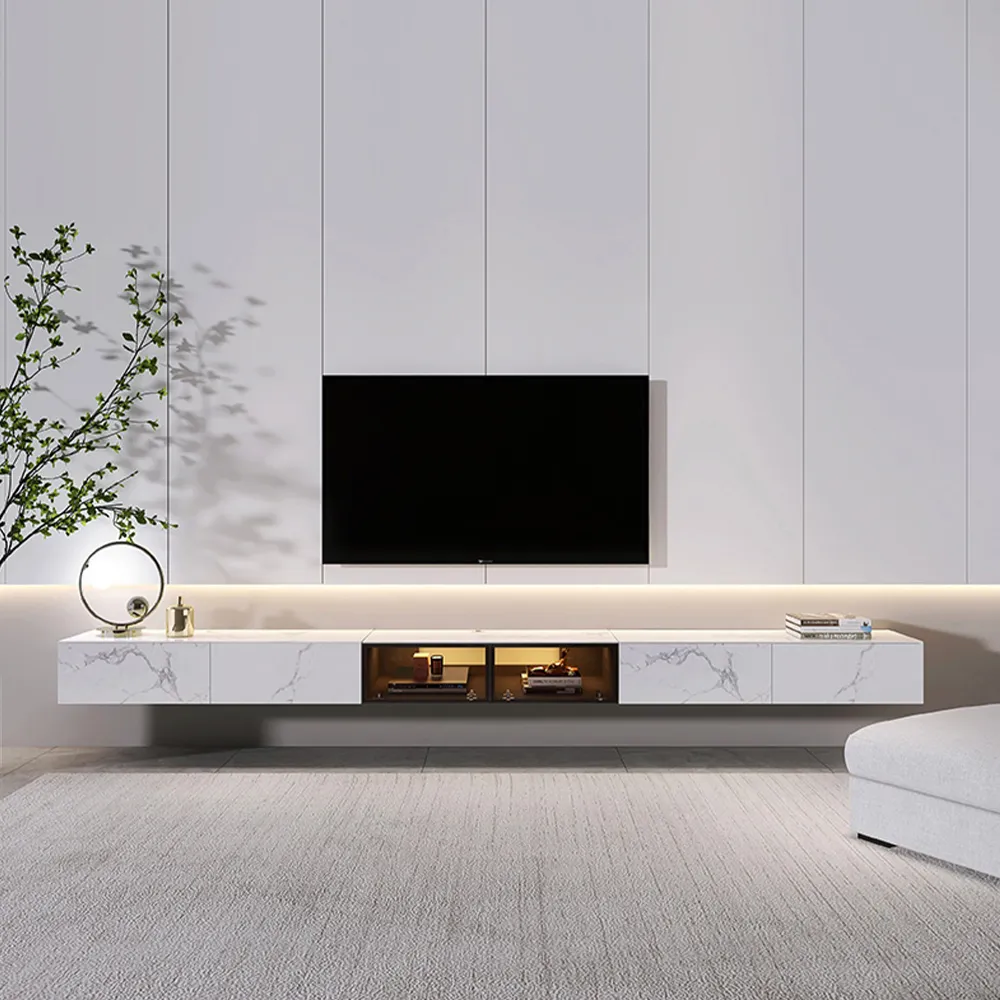 Customer Shika Sar**: Cable collection on the table top, it is easy to make table clean. it also have the led lamp,when the door open, it will on light, i love it

Customer Howa**: it is really easy to install,maybe due to it is full-assembled, i love its lighting effect,it is beauty at night, everyone be loved by all our friend.
It looks like the second one since their tabletops are made of sintered stone but it does not furnish with the tempered glass doors and built-in LED light. The pinewood frame ensures the long lifespan. The considerate details of this floating TV self are very user-friendly. The pattern on the surface is printed by the machine and the tabletop is hear-resistant, stain-resistant and scratch-resistant. Besides, the soft-close hinge lets you open or close the doors smoothly and silently. The available dimensions of this TV cabinet are the same as the second one.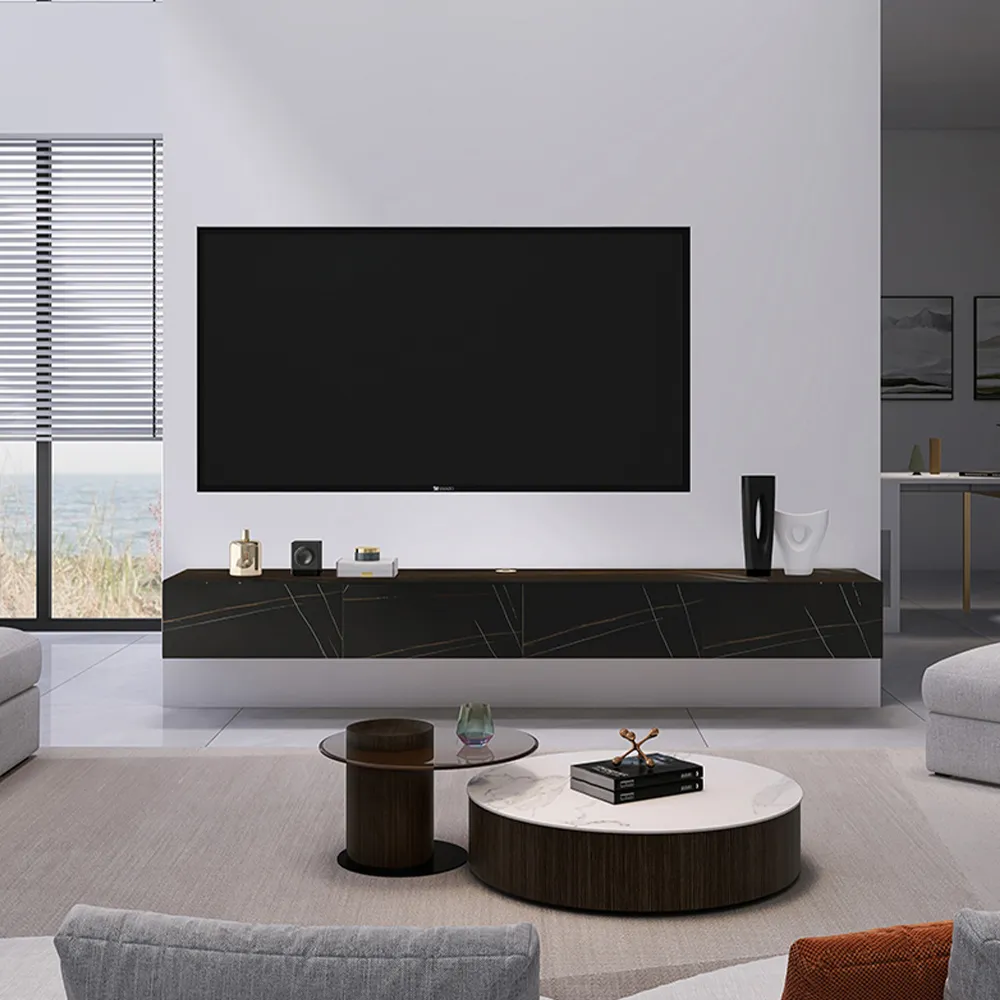 Customer Kevin Dist**:

Press to open the door, it pops up automatically, very good design,the marble looks great too.

Customer Gra**:

The material of the rock slab is really easy to clean, and the cable collection can be collected neatly, generous and beautiful.
4. Modern Walnut Solid Wood Hanging Entertainment Center
Note: This TV furniture is not available now, but you can still browse more chic entertainment centers here.
Don't miss this new wall-mounted TV self for your modern or farmhouse living room. Its small dimension of 70.86 x 13.77 x 15.74 inch is perfect for narrow living spaces, living room and bedroom included. The 4 open selves can tidy up your books, magazines and decorative items while the two-door compartments can store some items that you tend to hide, for instance, the cables of DVD player, TV or other devices. In addition, there is a cable hole on the tabletop to hide the wires and keep all cables neat. The walnut color is suitable for modern and farmhouse living room.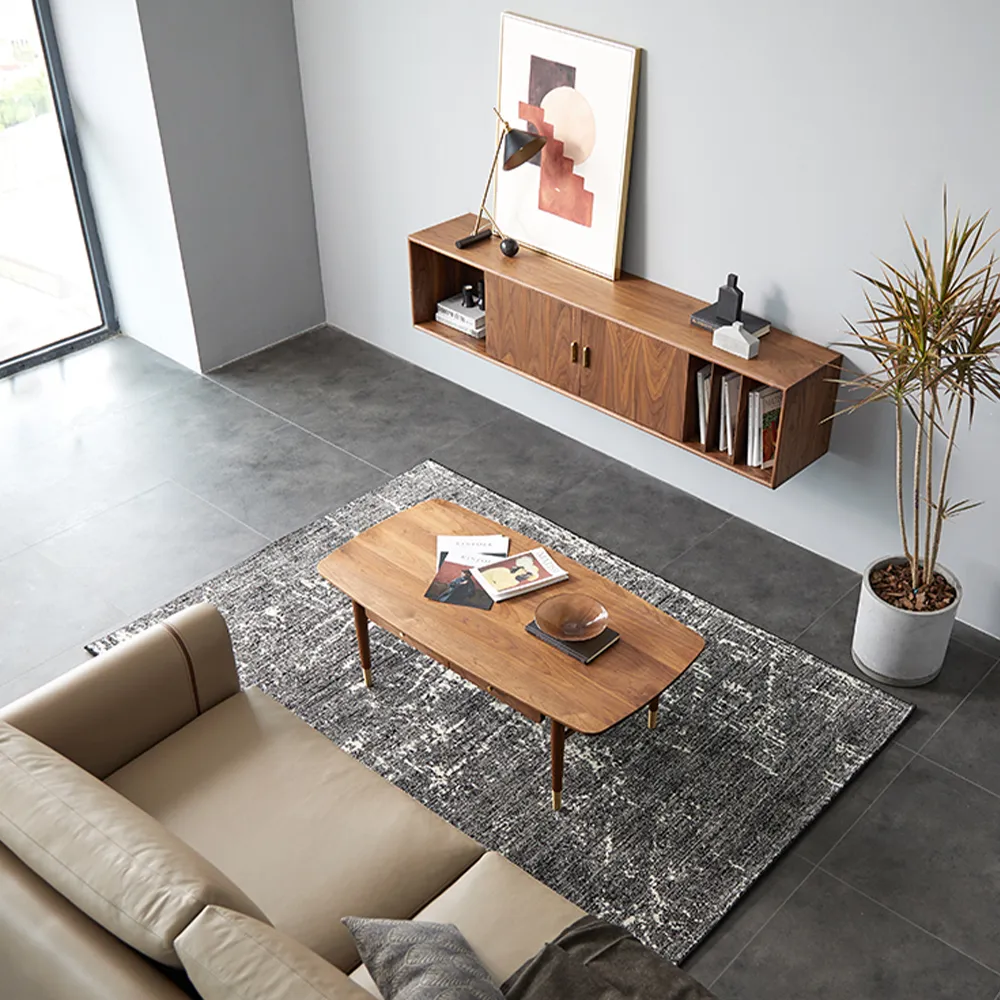 Customer Kevin Dist**:

I was looking for a wood modern floating TV self for my renting apartment life for a long time. This wall-mounted entertainment center with smaller dimension fits perfectly. Thx.