When it comes to setting up a home entertainment system, finding the right TV stand can make a big difference in the overall look and feel of the room. A slatted TV stand is a popular choice for many homeowners as it not only provides a sturdy base for your TV, but also adds a touch of style and elegance to your living space.
In this post, we'll be reviewing the top 5 slatted TV stands at Povison store, highlighting their unique features and benefits to help you make an informed decision when choosing the perfect stand for your home. Whether you're looking for a rustic, farmhouse-style stand or a sleek and modern design, we've got you covered.
So without further ado, let's dive into our top picks for slatted TV stands!
What is a slatted TV stand and why it is popular?
A slatted TV stand is a type of TV stand that features slats or horizontal bars as a design element in its construction. The slats are often made of wood or metal and are arranged parallel to one another with gaps in between to allow for ventilation and to prevent overheating of electronic components.
Slatted TV stands have become popular for a few reasons:
They offer a stylish and modern look that can complement a variety of decor styles. The slatted design also adds texture and interest to the piece, making it a focal point in a room.
The slats provide practical benefits. The gaps between the slats allow for better airflow around electronic devices, helping to prevent overheating and prolong the lifespan of the devices. Additionally, slatted TV stands often have open shelves or compartments, providing plenty of storage space for other devices, such as gaming consoles or soundbars.
Generally, slatted TV consoles are often more affordable than other types of TV stands, such as those with solid wood or glass construction, making them an attractive option for those on a budget.
If you preliminarily decide to buy a slatted media console for your home, this post must be helpful to pick up the best slatted TV stands on the market.
Factors to Consider When Choosing a Slatted TV Stand
As you are wondering how to pick up a slatted TV stand, there are several factors to consider to ensure that it meets your needs and preferences. Some of these factors include:
Size: The size of the stand should be appropriate for the size of your TV(generally wider than the TV). You should also consider the available space in the room where the stand will be placed.
Material: Slatted TV stands can be made from a variety of materials, including wood, metal, and glass. Consider which material would best complement the decor of your room.
Style: Slatted TV stands come in a variety of styles, from modern to traditional. Consider the overall style of your room and choose a stand that complements it.
Storage: Consider the amount of storage you need for your TV accessories, such as DVD players, cable boxes, and gaming consoles. Look for a stand with enough shelves or cabinets to accommodate your needs.
Durability: Make sure the stand is made from high-quality materials that can withstand the weight of your TV and accessories.
Cable management: Look for a stand that has built-in cable management to keep cords and cables organized and out of sight.
Mobility: If you plan to move the stand frequently, consider a stand with wheels or casters for easy mobility.
Price: Set a budget and look for a slatted TV stand that fits within your price range while also meeting your needs and preferences.
Reviews of Top 5 Slatted TV Stands
Pros:
Combine style and functionality together to furnishing your living space.
Sturdy MDF veneer and high-quality metal feetto ensure stability and long lifespan.
Accommodates large TVs up to 100inches, which offers 4 sizes for selection.
The wood and black colors are great for most home styles: modern, MCM, rustic, and boho.
The tambour design of the doors does not only add the style to the cabinet, but also facilitate heat dissipation.
Cons:
The slatted design can allow dust and debris to accumulate inside the console, which may require frequent cleaning.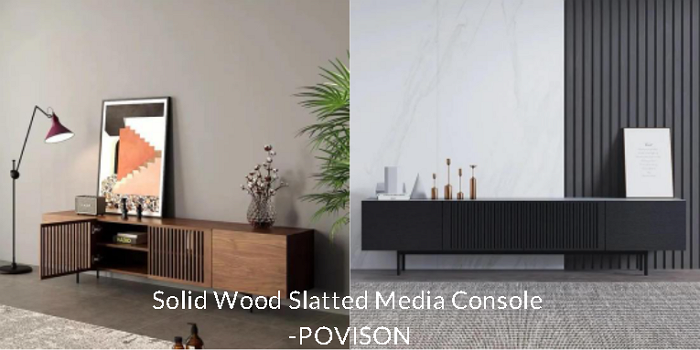 Pros:
A lowline wood slatted entertainment center can enhance the appearance of a living room, especially if it complements other wood furniture in the room.
It is a space-saving option to take up minimal floor space, making them ideal for smaller living rooms or apartments.
The slatted doors allow for better air circulation around electronic components, which helps prevent overheating and extends their lifespan.
The low height of the entertainment center makes it easier to access the components and adjust cables and connections.
Cons:
The slats need to be cleaned from time to time.
Its minimalist design with single color may not fit to colorful and luxury home style.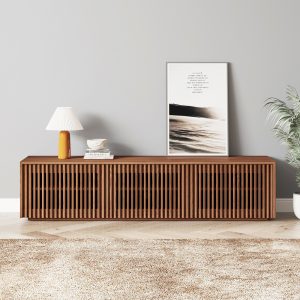 Pros:
Increased ventilation: The slatted design of the media console can help increase ventilation, allowing for better airflow and temperature regulation for electronic devices.
Easy access to items: The open shelves and drawers can make it easy to access items stored in the console, allowing you to quickly retrieve items you need.
Aesthetically pleasing: The whole design can add a modern, stylish look to your living space, while the open shelves allow you to display decorative items.
Cons:
You need to do some cleaning frequently due to the open shelves and the slats doors.
With open shelves, items stored in the console are easily visible to guests, which may not be ideal for personal items or clutter.
Pros:
The rustic slatted media console adds a unique charm and character to any room with its natural and distressed look.
With 4 cabinets, you'll have plenty of space to store your media devices and other items such as books, magazines, and remotes.
Made from solid wood or other sturdy materials, a rustic slatted media console can withstand the wear and tear of daily use.
The tapered metal legs make itself stable and also add modernity to the space.
Cons:
May be bulky: Depending on the size and design, a rustic slatted media console with 4 cabinets can take up a lot of space in your room.
Expensive: Solid wood or high-quality materials used in rustic slatted media consoles can make them more expensive compared to other types of media consoles.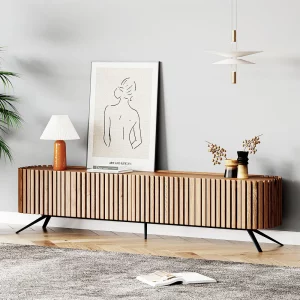 Pros:
A minimalist black slatted media console with drawers can add a sleek and modern touch to your living room or entertainment space. The simple design can complement a variety of decor styles.
The drawers and compartments provide additional storage for media devices, games, and other items, helping to keep your space organized.
A well-made media console can last for years, making it a wise investment in the long run.
Cons:
Minimalist design with whole black color may not be for everyone.
Similar to the other slatted media consoles, it is a must to clean regularly.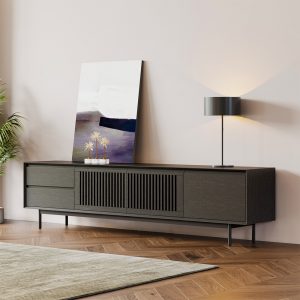 Comparison of the Stands
Here are the common points of the best 5 media console with slatted doors:
Mid-century modern design with slatted doors.
Ample storage space for media accessories.
Cable management system keeps cords organized.
Easy to assemble and maintain.
Sleek black finish complements any decor.
Minimalist style fits small and large spaces.
Affordable price without sacrificing quality.
Fast and free shipping from Povison.
Based on the features above, the first slatted TV stand is the best one for your modern living room, since it offers 4 sizes and 2 colors for various living room spaces. Additionally, the pricing is affordable from $799 to $1169, so you can pick up the right media console for your home. The minimalist design can be easily styled with other decorative items to update the look of space.