Sideboards can be seen in every house during different generations. As a storage cabinet of kitchen and dinning room, sideboard usually tends to feature low design with storage compartments. It is not limited to be used in dining room. We are able to use it in living room ass a TV credenza, side cabinet; in the entryway as a console table; in the bedroom as a dresser. There are different names of the sideboard, so let's have a look at the differences and how to pick up the modern sideboard for your home.
What is Sideboard & Buffet?
Sideboard
Sideboard, a low-to-floor and long cabinet furniture or with short legs, is traditionally used for holding items of table service in the kitchen and dining spaces. It originated from 18th century and became popular in the 1960s. But now, to fit for modern styles, some sideboards may be featured with carvings and longer legs than the traditional ones. Due to its spacious storage capacity, it can be placed in different rooms for multiple purposes.
Buffet
Almost the same as sideboard, buffet is also a low storage furniture but with longer dimension. Compared to traditional sideboards, it would come with shorter legs but ensure the height leveling with the countertop or tabletop to easily serve food and drinks when having meals or parties. In the dining room, buffet also can be called as sideboard.
Hutch
Hutch is also considered as the sideboard to serve food, tea, coffee, fruits and more but it often works for displaying the decors or artistic dishware, featured with glass doors, sliding covers or even no doors.
The Top 5 Modern Sideboards & Buffets for Kitchen and Dining Room
We've picked up some highly-rated sideboards at Povison store. Explore the right one for your home.
It is not only a storage furniture for dining room, but also a piece of artwork of the living spaces. The navy blue color of the doors with vertical patterns add modernity and personality to the spaces, which blend with eucalyptus veneer and Pandora sintered stone texture to fit for neutral walls and make the space look bigger.
The premium sintered stone tabletop, stainless steel legs and MDF body ensure durability and large weight capacity, up to 150 lbs. Additionally, the modern blue sideboard is per-assembled so you just need easy installation of the legs manually.
User Review:
Melissa:
Very heavy. It takes 2 people to move this box! Beautiful sideboard though and worth the effort to move it around the house.
This 55 inch sideboard blends medieval and modern styles, which can be adapted to a variety of home styles. The fusion of walnut and black reflects a sense of calm and traditional design. And the golden metal feet and frames make the entire sideboard fashionable, even a little extravagant. It owns open shelves and glass doors to display the dinnerware or china, so it also can be called a hutch. It will also be fantastic and compelling if placing it in the living room as a TV credenza.
Note: If you don't like the open shelves design, check the similar mid century modern sideboard here.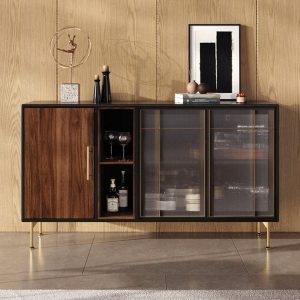 User Review:
Andrea:
I LOVE IT !!! Exactly what I wanted. Very nice color, perfect accent to an empty wall in dining area. So easy to build took no time especially if you can build ikea furniture. Holds a good amount of items inside and the shelf's seem sturdy.
Black will bring mystery and sedateness to the interior space, so does this marble sideboard. The marble tabletop with unique patterns and the ribbed design on the surface of the cabinet add stylish and luxury vibe to your spaces. The curved edges of the cabinet prevent bumps and continue the trending design to 2023. The solid pine wood drawers give off the natural woody fragrance. The gold-plated stainless steel legs ensure a stylish look and great durability for the construction. With 47.2 inch width, it is also perfect for hallway to leave a great impression of the guests.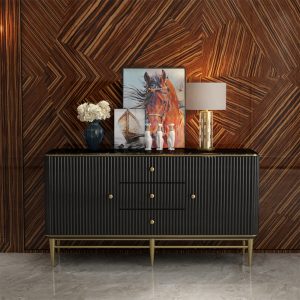 User Review:
Laday
I bought this sideboard in the black& gold color, and I love it! It was fairly simple to assemble, but there were a lot of pieces. Overall, it's very aesthetic and has plenty of storage. The black & gold also give off a vintage vibe but can be modern as well.
As one of the Ekero furniture collection, the walnut sideboard with fence design is an awesome piece for both entryway and dinning room. The sleek lines and vertical slab design are the best for urban modern home style. The black metal frame and x-shaped base give itself stability and  It provides an open shelf and 3 cabinets with doors to store dinnerware and serve food, drinks to the people. The two layers on the top are able to display your collections, fabulous dishware, decorative trays and more to expose your lifestyle.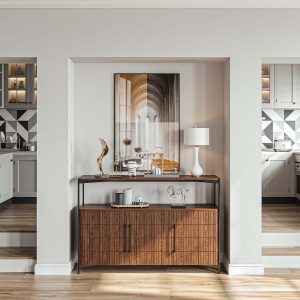 User Review:
Heather
I put this sideboard in the front entrance. I spent a lot of time searching for a sideboard that can match my sofa and I am glad to find this one. The design meets my expectations. I was worried about the colorlooking cheap. But after I assembled them, they look perfectly fine.
This is a classic sideboard, made of multi-layer solid wood, walnut veneer, iron legs and brass metal grid. What's special? The brass grids and handles showcase the mid century and retro vibe. The herringbone patterns are best matches to the walnut doors. Three drawers and two open compartment cabinets make a large storage space to tidy up the dishware.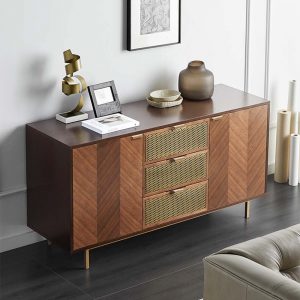 User Review:
Nema
Beautiful and well built sideboard. Exactly what I wanted to store extra cookware. The shelf is adjustable for bulky items. The wood looks nice as well as the golden accent pieces.