Tiny homes are becoming increasingly popular, and plenty of cities hold Tiny House Festivals to display the latest design of such houses. There are 63% of millennials considering to buy a tiny home in a survey. Because the tiny house has the usual facilities of a regular house, and it is in line with the simple, economical lifestyle, many young people tend to prefer. Although it is small, it offers a flexible lifestyle. At the same time, the concept of micro-housing is also being considered to resolve the social problem of homeless people.
Have you ever thought about owning a tiny house? If you have it, how will you make it become your ideal home, and create a both functional and welcoming space for your family? Let's explore the tiny home interior design ideas here.
Where are Most Tiny Houses Located?
Tiny homes are legal in the US so you don't need to worry about the usage. However, some states, like New York, West Virginia, North Dakota, etc. still have strict reviews mechanism of tiny-homes, and even have restrictions of the size, location, design. Please refer to local policies and regulations for more details.
Referring to tinyhousedesign, here are the top 5 popular places to build a tiny home:
California
Texas
Arizona
North Carolina
Florida
Tiny Home Interior Design Ideas
Simplify everything
In a limited space, it is necessary to abandon complex color, design and furnishings. Please simplify various steps and furniture decoration, and make the whole space visually more spacious and neat.
Use white or wood color as the background
Even though you are able to use various colors inside, the white and light wood color are the popular choice since their neutral tone would make the house bigger. Sometimes, it may look like a part of a large house.
Use open storage shelves
Open shelves are great for holding the decorative items and small items, like keys, tissue box, alarm clock and more. Some open racks can be mounted to the wall for displaying and storing, which are space-saving choices.
Create multi-functional corners with small furniture
If you are a reading lover, or a drawing lover, create a space for your hobby. Due to the cramped house, try to design the corner space for multiple uses, e.g.:a mini library, a home office, a relaxing space.
Add personality or maintain connection with nature with wall decor
You cannot only add your personality on the furniture design, but also work with the wall with the fantastic decorative items or your own paintings. The wall also can be the symbol of bringing nature to indoors when you arrange it with flowers and greenery.
Leave space for conversation
The tiny home may get the family closer but you still need to consider a space for conversation or family sharing. Talk with your family or friends about what happens today or what you are going to do in the next day. Bring the comfortable seating cushion or sectionals for the conversation areas.
Make sure adequate lights
The window is still a must in every house to get the natural light inside. Natural light is not only for lightening up the house, but also give you a pleasant mood and hope.
If you can make sure the natural light could come through the windows, add pendant lighting to brighten your home. Some lighting may be featured with fabulous design to add style to the tiny home.
Use the fireplace to decorate and keep warm
Fireplace also combines the functions of decoration and warmth preservation. If your tiny home is located in the countryside, then a fireplace will make it easy for you to spend every cold winter night. To save the space, try to equip it inside the furniture pieces.
Get rid of the frame and choose the floor bed
No matter you set the bedroom space in the attic, or in the first floor, the lowline bed with bulky frame will make your room look bigger. And the floor bed in the attic with low height will won't get you bumped.
Choose versatile furniture and accessories
A versatile piece is better than several pieces together, since it may waste the spaces to bring many pieces with single function inside. A storage sofa bed in the tiny house can used for storing space, seating space, or even sleeping space, which is greater than putting a cabinet, a sofa, a bed together in the narrow home.
How to Pick up Furniture for Tiny Home
No matter you tend to renew your tiny house and prepare a new tiny home, furniture is the most important element to add function and style to the space. Thus picking up furniture for tiny house is also a big problem. Here are some suggestions to select tiny home furniture:
Floating tables and cabinets: Try to bring the wall-mounted furniture to make full use of the vertical space and leave enough walking space.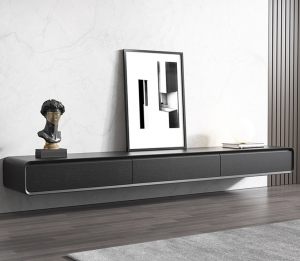 Nesting tables: Nesting design is commonly seen in coffee table set. The lower table can be hidden under the high table to save space but they can stand separately for different side tables to serve drinks and food for more people.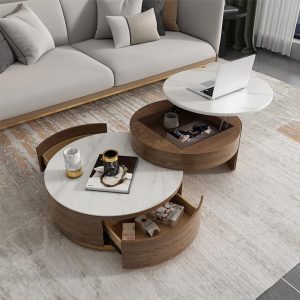 Foldable pieces: Most families would select a dining table with leaf to extend for more people and fold up for less persons. Or the folded chairs also the best options for tiny houses so you are able to provide extra seating for guests. Those pieces are flexible and even easy to move or be borrowed.
Lifting top design of tables: Lift top tables always can provide double or more tabletops for serving coffee, tea and food. Some lift-top design will expose the storage space when the higher top is lifted up, which can save the books, magazines, cups and so on.
Storage bed or trundle bed: As we mentioned before, the floor bed is suggested for tiny homes, but if you still tend to use bed frame or you own a relatively large house, don't miss the mufti-purpose bed or trundle bed to accommodate your guests.
Sectional sofa with storage: A modular sofa can be changeable while the standard sofa cannot. The underneath storage feature must give you a big surprise to satisfy your style and storage needs.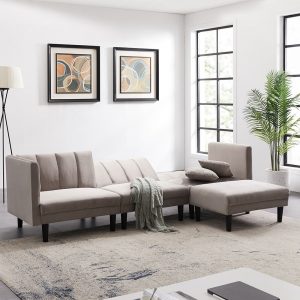 Storage ottoman side table: Still for extra hidden storage space, the ottoman side table with storage function would be more popular for small living spaces.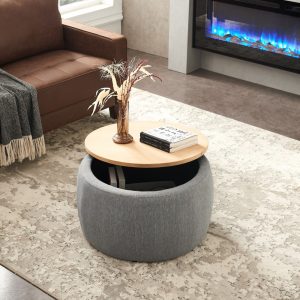 Corner furniture: To make the full use of each inch of the house, some dead spaces would play an important role. Place the corner furniture for the right position to create a private space for yourself.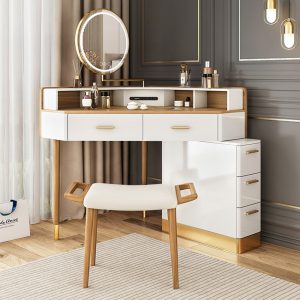 Floor seating cushions: Even though there are limited seats for family or friends, you still are able to prepare the floor cushions as we as the folded chairs in the room.