Things You Should Know When Buying Solid Wood Dining Table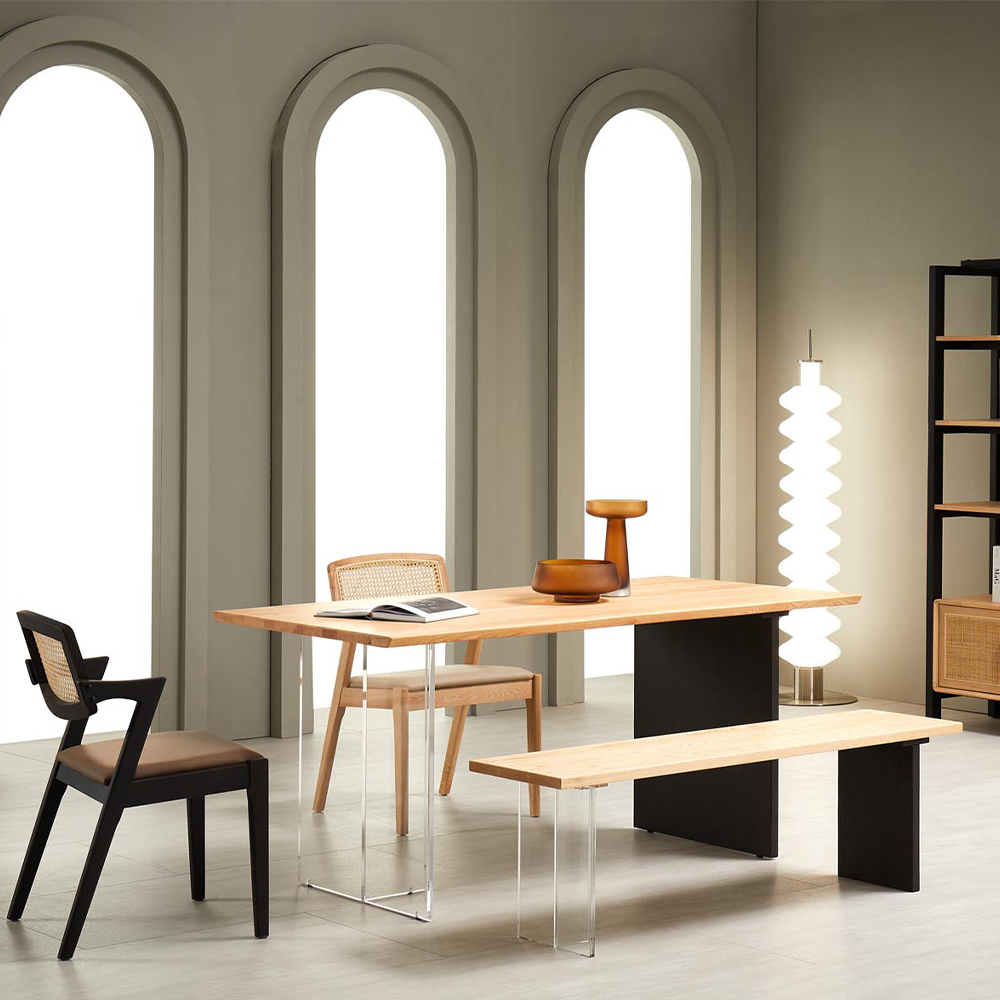 Solid wood furniture pieces are an excellent addition to any home, including the solid wood dining table. Not only are they beautiful and timeless, but they are also durable and can withstand the test of time.
Why People Tend to Pick up A Solid Wood Dining Table?
People tend to pick up a solid wood dining table for home because of its:
Durability: Solid wood dining tables are incredibly durable and can withstand the test of time. They are made from natural materials and can be sanded and refinished if they become scratched or damaged. This means that they can last for generations and still look beautiful.
Beauty: Solid wood dining tables are naturally beautiful and have a warm, inviting feel to them. The natural wood grain and knots make each piece unique and add character to any room. They come in a variety of wood species, including oak, maple, cherry, and walnut, each with their own unique look and feel. Solid wood can fit for mid century, farmhouse, vintage, and even contemporary style.
Versatility: Solid wood dining tables come in a wide range of styles, from traditional to modern, and can be paired with a variety of chairs and accessories. This makes them a versatile choice that can fit into any home décor.
Value: While solid wood dining tables can be more expensive than tables made from composite materials, they are a worthwhile investment. They can last for many years and even become family heirlooms, passing down from generation to generation.
Eco-friendliness: Solid wood dining tables are made from natural materials and are biodegradable. This makes them a more eco-friendly choice compared to tables made from composite materials, which can take hundreds of years to break down in landfills.
The General Wood Types for Dining Table
Different wood species have unique characteristics and appearances, and each one can contribute to the overall style and functionality of your dining space. Here are some of the most popular wood types for dining tables:
Oak: Oak is a popular choice for dining tables because it is durable and has a distinctive grain pattern. It comes in a range of colors, from light tan to deep brown, and can be finished in a variety of ways to bring out its natural beauty.
Maple: Maple is a dense, strong wood that is often used for furniture. It has a fine grain pattern and a light color, which makes it a good choice for modern or minimalist dining rooms. Maple can be stained to achieve a darker color or left natural for a light, bright look.
Cherry: Cherry is a hardwood with a rich, warm color that deepens over time. It has a distinctive grain pattern and a smooth texture that makes it a popular choice for traditional or formal dining spaces.
Walnut: Walnut is a dark, rich wood with a straight grain pattern and a smooth texture. It has a luxurious look and feel that works well in modern or transitional dining rooms.
Mahogany: Mahogany is a tropical hardwood with a reddish-brown color and a straight grain pattern. It is a durable wood that is often used for high-end furniture, including dining tables.
Other popular wood types for dining tables include teak, birch, and ash, which are hardwood with high density to ensure the shape and stability. Each wood species has its own unique characteristics and can be finished in a variety of ways to achieve the desired look and feel.
People Also Read:
Where to Buy Wood Furniture: The Best Places & Solutions
The Best Solid Wood Dining Tables For You
When choosing a solid wood dining table, there are a few things to consider. First, think about the size of your dining room and how many people you typically entertain. You want to choose a table that will comfortably seat everyone without feeling cramped or crowded. Second, consider the style of your home. A rustic farmhouse table may look out of place in a modern condo, for example. Finally, think about the type of wood you prefer. Some popular options include oak, maple, and cherry.
Let's take a look at Povison's top picks of the solid wood table for home.
This whole ash wood dining table set can be featured with 55 inches and 63 inches long, which can be suitable for up to 8 people. The organic patterns on the tabletop and legs showcase the minimalism and the closeness to the nature. The rounded edges and sleek lines meet the top in a rectangular tabletop, giving this silhouette a modern upgrade.
As a focal point in the dining space, the long wooden dining table with herringbone patterns adds mid century, rustic and farmhouse vibe to the interiors. It is perfect for the 6-person daily dining or party time. There is a trestle underneath linking the two large legs to ensure the stability and capacity-bearing. Additionally, it is easy to clean without cleaning dead spots.
This hardwood rectangular dining table with an acrylic leg and a wood leg is a stunning piece that effortlessly combines natural beauty with contemporary design. The table's rectangular top is crafted from high-quality solid ash wood, providing a sturdy and durable surface for dining and entertaining. The wood's natural grain patterns and textures give the table a warm and inviting feel, while the smooth surface provides a comfortable dining experience. The clear acrylic leg would be eye-catching and create a striking contrast with the natural wood.
Such a farmhouse ash wood trestle dining table is a beautiful and functional addition to any home. With its combination of natural wood and classic farmhouse design, it's sure to bring a touch of warmth and charm to your dining space. The trestle design gives the table a classic farmhouse look, with its simple and sturdy construction. It can match well to the dining chairs or benches, offering ample room for seating and a stylish surface for enjoying meals with family and friends.
This wood dining table with patchwork tabletop is a one-of-a-kind piece that exudes creativity and uniqueness. The thick tabletop is expertly crafted from a variety of high-quality ash woods, creating a beautiful and intricate patchwork pattern that is both striking and elegant. In addition, its 63 inch and 71 inch can suite for different families, including multi-generational living.
Extra Tips:
Where to buy solid wood dining table?
If you are looking for solid wood furniture to fit your home style, browse those wood furniture stores firstly.
How to protect solid wood dining table?
It's important to take proper care of wooden dining table to ensure its longevity. Please try those tips to protect your wood table:
Use coasters to prevent water rings and other types of damage caused by moisture.
The placemats can help protect the surface of your table from scratches, heat damage, and spills.
Don't place it under the sunlight which can fade the color of your table over time, as well as exposing to the environment with high-temperatures or humidity.
Applying a protective finish to your table can help to prevent scratches.
See more to maintain the dining table >>
What is difference between solid wood, veneer and laminate?
Solid wood, veneer, and laminate are three types of materials used in furniture and other wood-based products. Here are the differences between them:
Solid wood: Solid wood is made from a single piece of wood. It is the most durable and long-lasting option and has a natural, authentic look. Solid wood is also easier to repair and refinish than other options. However, it is more expensive and can be more susceptible to warping and cracking.
Veneer: Veneer is a thin layer of wood that is glued onto a substrate, which can be made from wood, MDF (medium-density fiberboard), or another material. Veneer allows for more intricate designs than solid wood and is more affordable. However, it is not as durable as solid wood and can be difficult to repair if it becomes damaged.
Laminate: Laminate is made from a high-density fiberboard core that is covered with a printed paper or plastic layer. It is the most affordable option and comes in a wide variety of colors and patterns. However, it is not as durable as solid wood or veneer and you cannot fix it if it becomes damaged.