16 Mother's Day Gift Ideas 2022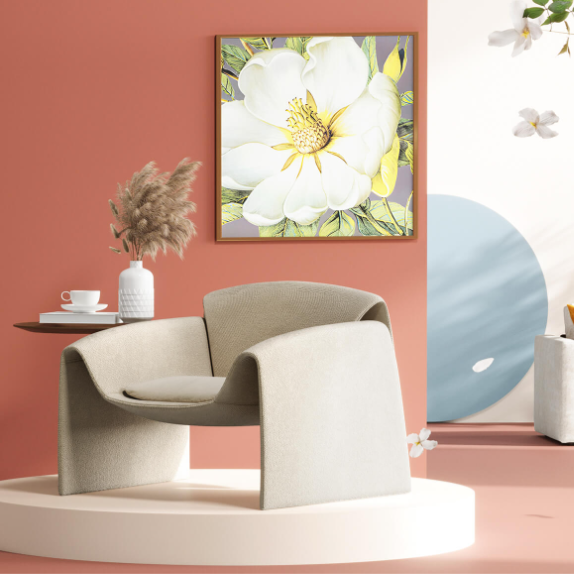 Mother's Day 2022 falls on May 8 this year, the second Sunday of May. How will you spend with your mother and grandma? Have you prepared something special for them? Admittedly, it is touch to pick up a suitable gift. Povison will resolve your big headache and put forward a list of mother's day gift ideas for every mom.
Gifts For the Mom, an Art Lover
Modern Iron Decorative Circular Wall Clock
No matter your mother or you are the art lover, wall art decorative items are the excellent gift for mom's day. Wall canvas, wall decors are the popularly selected items. This handmade ginkgo 3D wall clock in gold and blue combines aesthetics and functionality together. Besides, the silent clock motor will not distract and interrupt your mother's life or work.
Golden Sunburst Wall Mirror
The sunburst wall mirror is the typical wall decorative item in mid century modern house. Hang this golden metal mirror onto the wall to make the space modern and stylish. Your mom with artistic accomplishment must be keen on this sophisticated craftsmanship and appearance.
Karsta Star Accent with Glass Texture
This home decorative ornament with decent design, made of high quality glass is smooth to touch. It is perfect for desktop decorating or cabinet decorating in living room, bedroom and entryway.
Mother's Present For a Coffee Lover
Round lifting-top coffee table with storage
The lifting top design of round coffee table is a great mom gift for mother's day. It is not only perfect for enjoying coffee, tea and other drinks, but also does well for your mom's working and reading. The hidden storage under the upper tabletop can organize the coffee books, cups and more tidily, and the sintered stone tabletop is easy to clean, so it would lessen your mother's workload of cleaning.
Gorgeous Small Coffee Table
This small coffee table is perfect for narrow living space so it is a hunky option if your mom's house is narrow but she needs a space to enjoy coffee or cocktail. Only costing under $1000, your mother will get a very practical and pretty gift.
The exquisite side table is versatile so you can use it as a cocktail table, a side table or even a decoration article. It is featured with trapezoid design and unique patterns. The chic furniture piece will add fashionable and light-luxury vibe to your mom's house.
Mom's Gift for Outdoor Leisure
Outdoor Porch Swing Chair
The freestanding porch swing chair can accompany with your mom to relax in the patio, backyard and garden. The cushion and pillow let your mom sit comfortably. Shop it as a mother's day gift for your mother or grandma for leisure lounge, reading, meditation.
2 Pieces Outdoor Patio Conversation Sets
Similar to the former one, it is the other option for outdoor leisure. The rocking chair with a narrow side table suits for your mom's reading and tea time. The scale of the swing is not so big so you don't need to worry about the safety when your mom sitting on it.
Tips: Opt for a pair of rocking chairs so she can relax with others, including you!
Shop for the Mom, a Reading-lover
Velvet Rocking Chair with Ottoman
The accent chair with ottoman, comfy seat cushion included, fits perfectly for study and recreational area. Imagine that your mother sit on the rocking chair with a book and a cup of coffee. How relaxed she is! Besides, the stylish yellow upholstery activates the interior space to be dynamic.
Modern Bookshelves with Four Floors
If your mother owns lots of books, magazines or newspapers, this 4-floor bookcase will help her organize the books neatly. Moreover, the oval shaped shelf with gold metal frame fits for any room in your home.
When your mom read and write on the desk in the evening, a bright table lamp will be helpful and protect your mother's eyes. This white glass lamp with hollow-out base is a distinctive addition to any aesthetic. What's more, it is also convenient for the elder people to get up in the night to urinate or drink water.
The floor lamp is also a practical choice when reading on the accent chair. The adjustable lamp head design and delicate texture with retro style make your living room look more sophisticated.
For the Chef Mom
Modern Plate with Planting Shape
Green plant represents vitality and vigor. The green plate is made of plastic so it is not so suitable for containing the hot dishes but it can hold some snacks or fruits, or even just decorate the dining table.
3-tier Tempered Glass Kitchen Trolley
After your mom cooks a delicious dessert or meal, this serving bar cart is great for holding the dishes, wine dessert, and fruits. The four casters of the kitchen trolley enable the cart to reach every corner of the bar without making noise. Your mother or grandma may love it to share her delicacy.
Modern Rectangular Sintered Stone Dining Table Set
If your mom has a high requirement of dining environment, a dining table set with chairs should be a valuable gift for her. The black sintered stone tabletop with crescent shaped base adds chic and classy vibe to your house and improves your dining or party experience with it. Moreover, it is stain-proof, scratch-resistant and easy to clean so it is the great alternative for the housewife and those love cooking.
Serving Tray with Marble Pattern
A set of 2 rectangular decorative trays, one large and one small, can be a mom gift for mother's day. They are featured with marble patterns to create delicate appearance and come with handles on the side of the tray for holding a cup of tea or drinks, a dish or some snack food.
Note: Some products are unavailable now but you can browse more here.
Additionally, if you are still confused about shopping for a mother's gift, discover more at POVISON store. Every piece means a lot in such a special Mother's day. It is never too late to shop and express your love for your mom and each gift is never too small, even a gift card.