What you see is what you get. Fandelier or fandelier ceiling fan contains a fan to cool down and even to light up your living spaces. They will create a comfortable and inviting environment for your family and guests. Moreover, most of them are applicable to various home styles and for all year long. Thus, they are very popular in US and can be installed in both indoor and outdoor spaces. Learn to tell the differences between fandelier and ceiling fan and select for your home, which will add aesthetic appeal and functionality.
What is a fandelier?
Fandelier is a chandelier with fans or a downrod ceiling fan shaped as chandelier. Anyway, it is the combination of a chandelier and ceiling fan. The styles are multifarious, including vintage, industrial, glam and modern.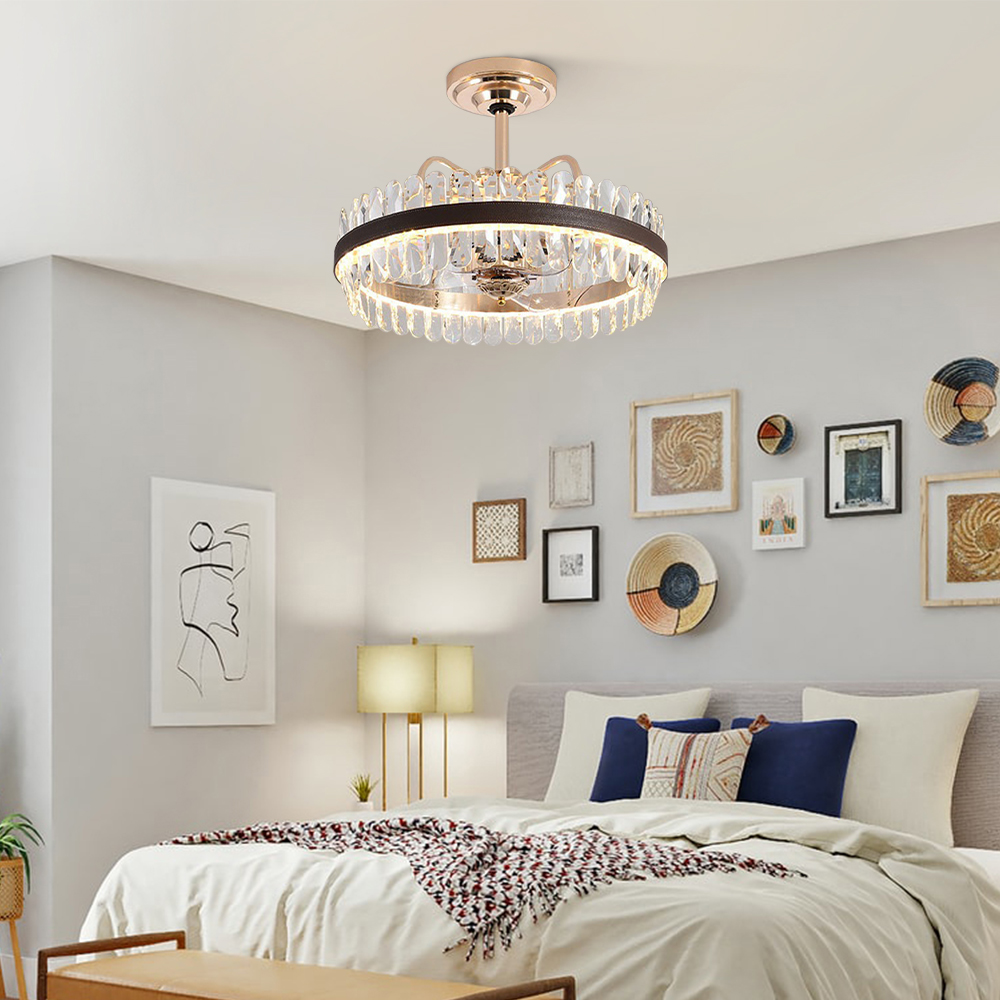 What is a ceiling fan and its types?
Ceiling fan is featured with rotating fans and mounted onto the ceiling in a room or outdoor, which functions to cool the room and circulate air. Even though it is electrically powered, it costs less power than air conditioning systems. Ceiling fans with lights are widely-used due to its versatility. Here are some common types of ceiling fans:
Standard Ceiling Fans
Low Profile Ceiling Fans
Dual-Motor Ceiling Fans
Energy Star Ceiling Fans
Remote Control Ceiling Fans
Outdoor Ceiling Fans
Commercial Ceiling Fansfor Shopping Malls, Farms, Warehouses.
The standard ceiling fan is the traditional ceiling fan in home with 3 to 5 blades under or on top of the motor. Now, the downrod of it can be adjusted to fit different heights in different rooms.
Do fandelier work as well as ceiling fans?
Fandeliers can provide cooling breeze by the rotating blades, like ceiling fans but it can bring style and modernity to your interior space, while the ceiling fan is more tedious. It often goes with beautiful light fixtures to illuminate the room.
When you are facing to pick up a fandelier or ceiling fan with lights, you can follow the rules of selecting chandelier. Consider the dimension to fit for your room. The width and length should fit for the room measurements. As for the height, it should be right for your distance between the ceiling and floor. The next are the style and your preferences.
The Top Picks of Fandelier and Ceiling Fan
To select the best fandelier or ceiling fan option for your living room, bedroom and dining room, take a look of our picks here.
This fandelier ceiling fan needs to be mounted onto the ceiling and the rod is adjustable. The golden rod, ring-shaped design and K9 crystal lampshade add glam and style to your room. The colors of the light can be adjusted in three modes for different scenarios. The ABS rotating blades can run counterclockwise in summer to create the cooling breeze while it also can run clockwise to circulate the interior air in winter.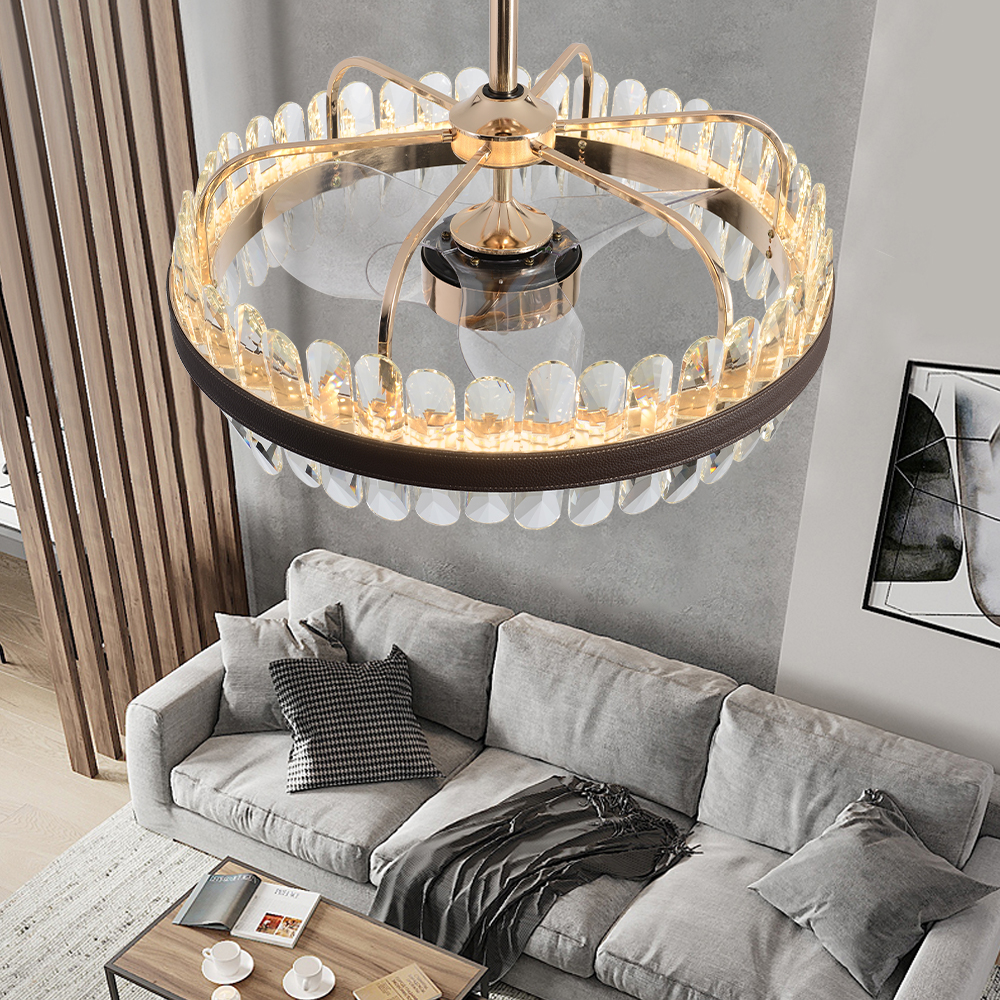 Love this white ceiling fan with LED light? It can fit for most home styles, e.g.: modern, vintage, mid century modern, Mediterranean, boho. 60'' in diameter with 5 blades, 6-mode wind speed and remote control make itself perfect for a large living room and dining room. The height of downrods can be adjusted as 4.6 inches and 9.8 inches, which suits for various usage. What's more, the DC motor is energy-saving and less noisy, so it won't influence your chatting and dining in the room.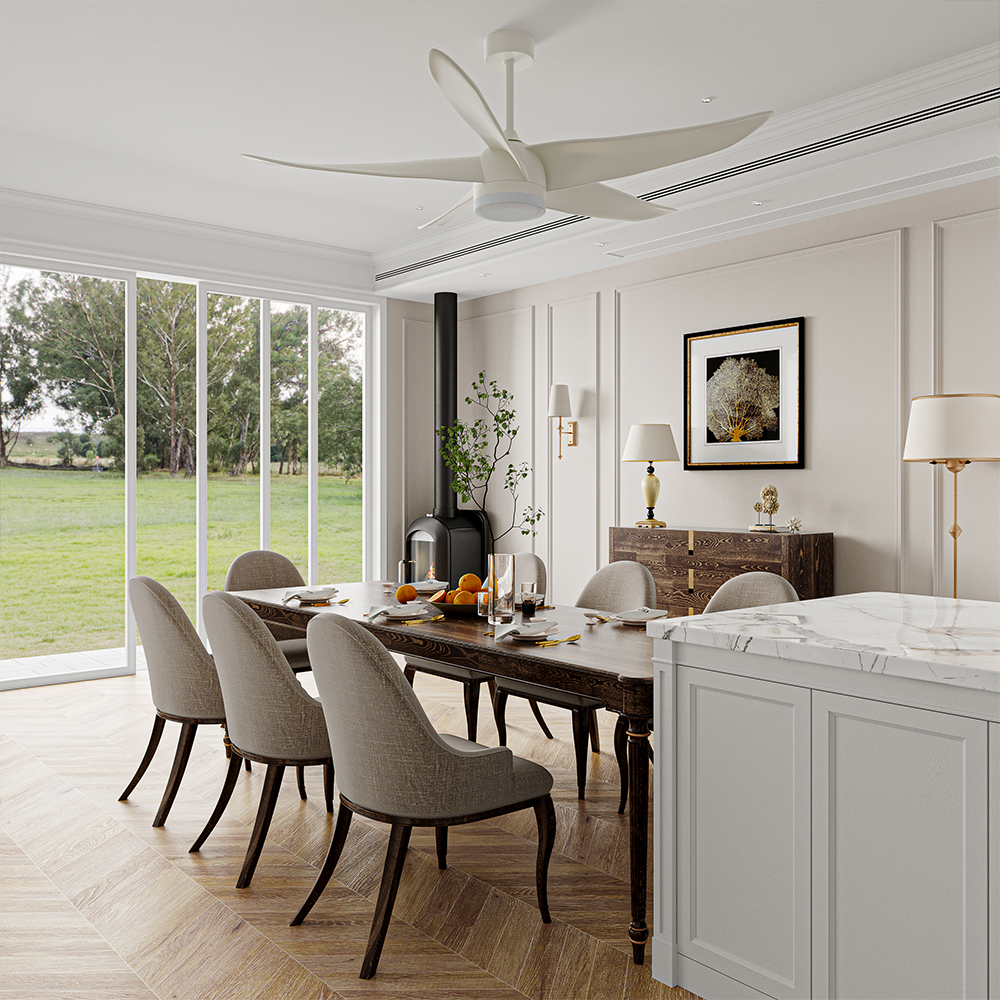 With 52 inch in diameter, this black home ceiling fan with 3 ABS blades is right for living room, dining room and bedroom. There are 3 colors of this minimalist light while the cooling breezes can be adjusted with 6 wine speeds by a remote control. Additionally, the fan can spin in both directions so that you can use it all the year. You are able to control the central light and fan respectively so you don't worry to waste the energy during the day.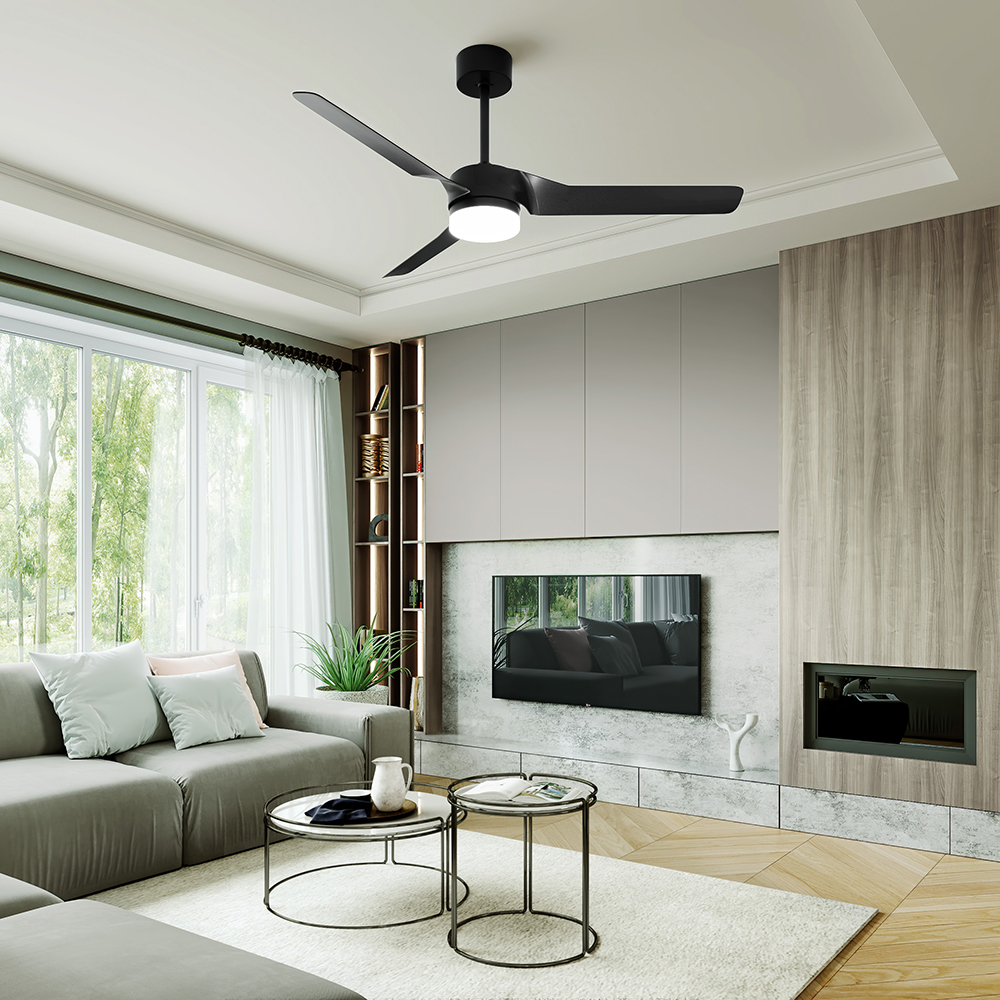 Similar to the third one, this ceiling fan also comes with center LED light and 3 blades but they have different shapes. It is diammable and reversible based on your needs. For example, apply the brighter color temperature for reading while dark light for movie times. This ceiling fan offers black and white color for option and both of them are perfect for modern, farmhouse, retro, industrial interior design. Besides it is also appropriate for an outdoor porch.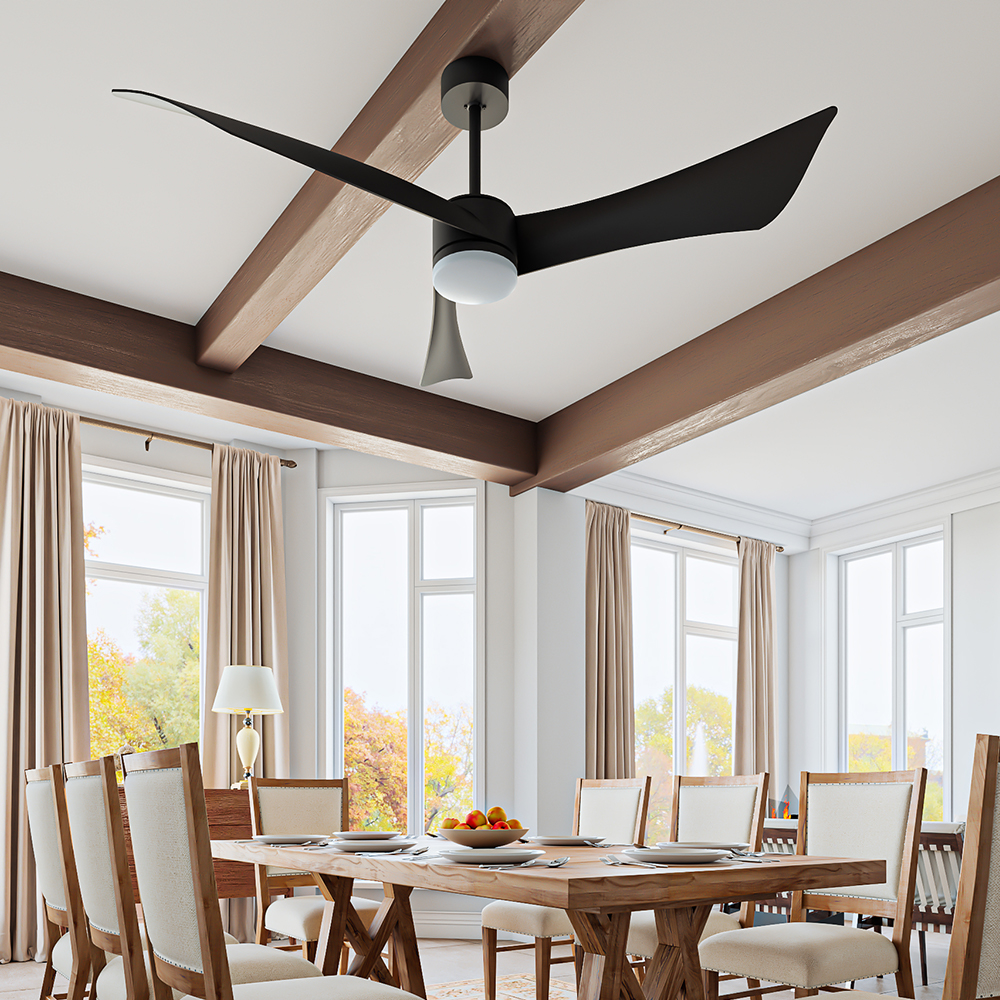 Which fandelier or ceiling fan is your favourite? Is it suitable for your room area and indoor style? Share your ideas with us in the