TV is the centerpiece of the living room, so the media console should be well designed to match to it. A nice media table should come with aesthetic look and storage spaces for entertainment gadgets. Moreover, the black media console is popular among various home styles, especially when it is uncertain that which color is perfect for TV furniture. Let's browse the selection of black entertainment centers and why to decorate with black.
Pros and Cons to Use Black Media Consoles
Pros:
Never goes of out style.
Easily goes with anything or any color, so every home must own more than one piece of black home decor.
Black is full of mystery and adds solidity to the living area.
It will bring sense of contemporary, especially with high gloss finishes
Compared with other colors, black color can enhance the curves and lines. In addition, it will visually enlarge the spaces.
Dark color is able to cover the stains and scratches, which is fit for lazy people.
Cons:
Black color absorbs more heat than other colors
If you use all black tone in a single space, it would be strict, boring and depressing.
Most people think black color is the hardest color to keep clean.
The Best Black Media Consoles for Modern Living Room
Black colored TV console table is the safe choice to decorate your living room. If you are looking for the gorgeous TV tables in black or the alternatives to IKEA black media consoles, don't miss the fantastic options here. Before purchasing, scan to see AR model of the pieces and check whether it is right for your interior spaces.
This TV console coated in black color with metal feet and natural wood grain finish can match perfectly with white, gray, light colored walls. There are four spacious compartments with slatted doors for storing plenty of entertainment gadgets. The dimensions from 70'' to 94'' matches to TVs up to 90 inches.
Bring the black pedestal media cabinet to your living room to increase the sense of poise. It is composed of wood veneered MDF board and solid wood internal structure. And the silent guide rail lets you pull the drawers in and out freely. Without extra decoration and embellishing, the long media console with 4 drawers can be placed anywhere, living room, sitting room or bedroom.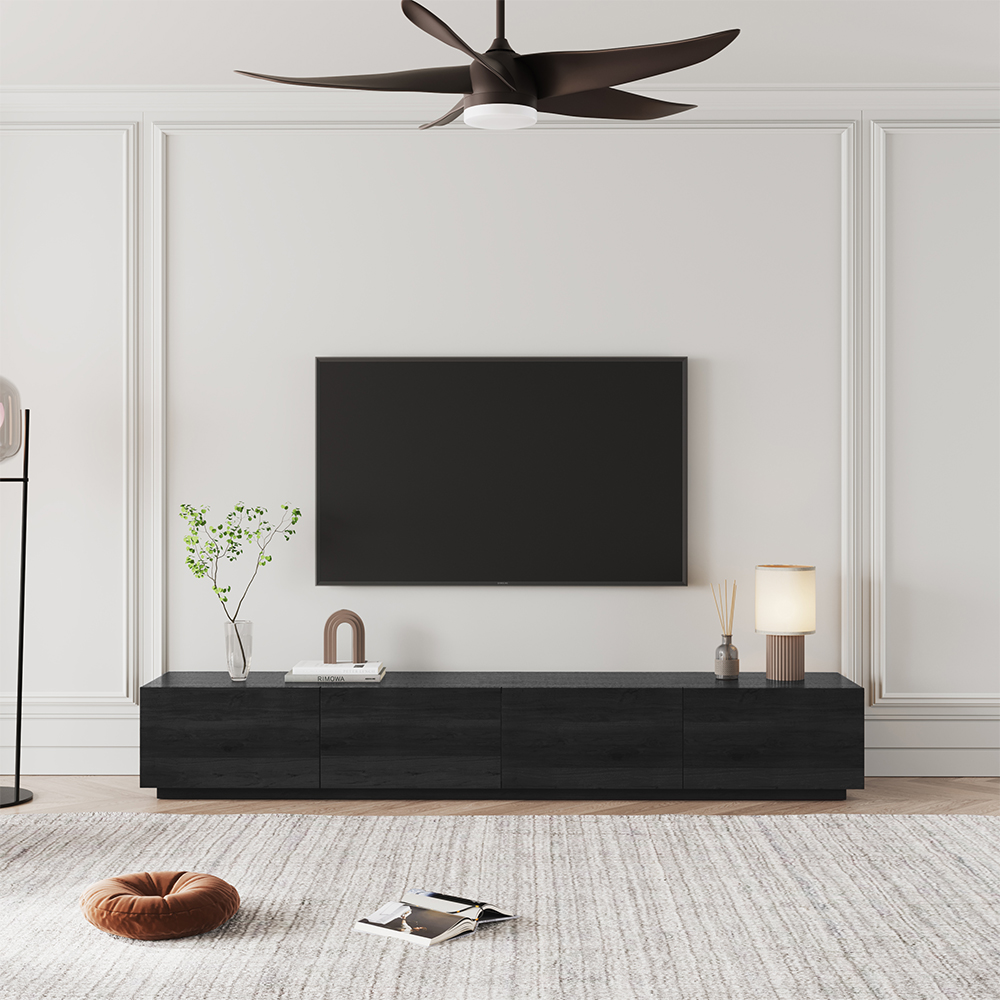 Many small living rooms cannot contain a large TV console so here comes a floating TV stand to free up floor space, which will bring both function and stylish vibe to indoors. For fitting a hanging TV cabinet, the TV should be mounted onto the wall while the stand tabletop allows you to style with decorative items, e.g.: green plants, vase, decorative trays, albums. Thus, the black media stand also become the living room decor to update the look of home.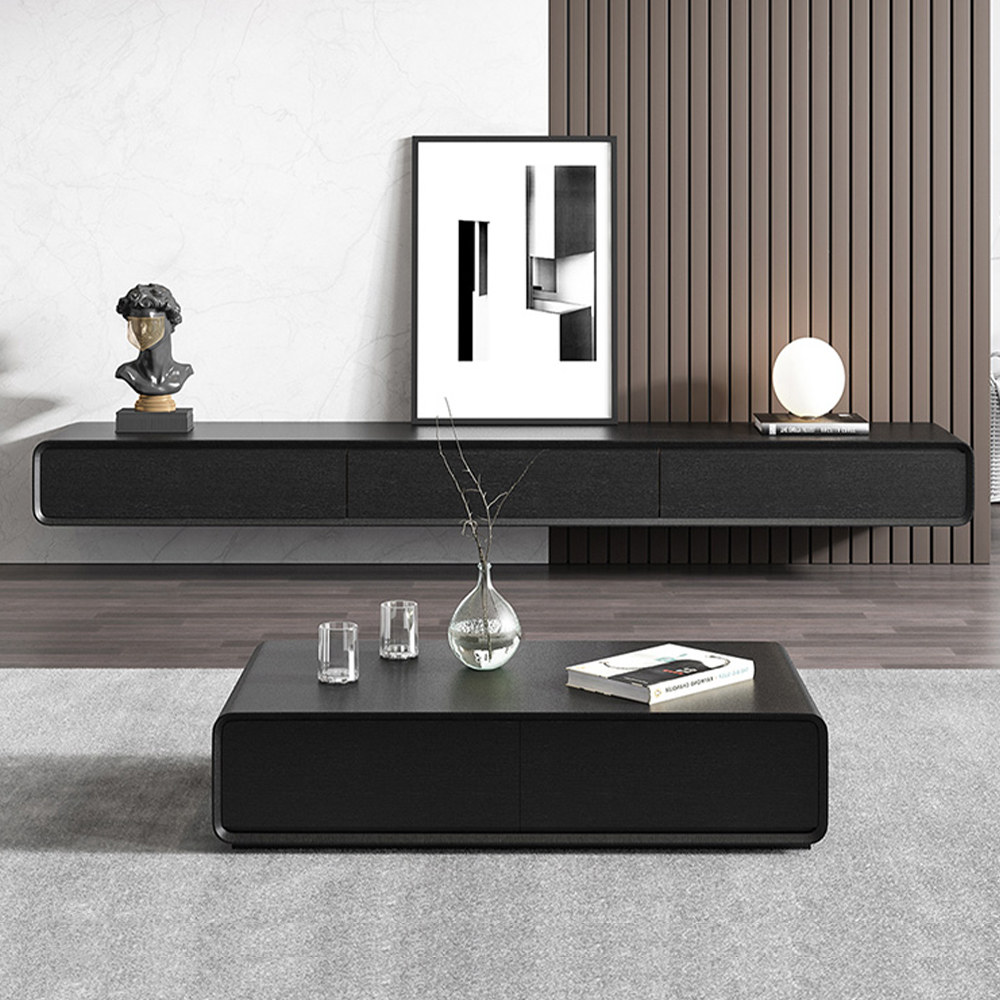 Such a black TV console can create a contemporary yet graceful style to the space. The color combo makes itself not boring and fit for modern, formal, and even farmhouse home style. Featured with reversible pedestal, it is appropriate to different dwelling sizes and layout.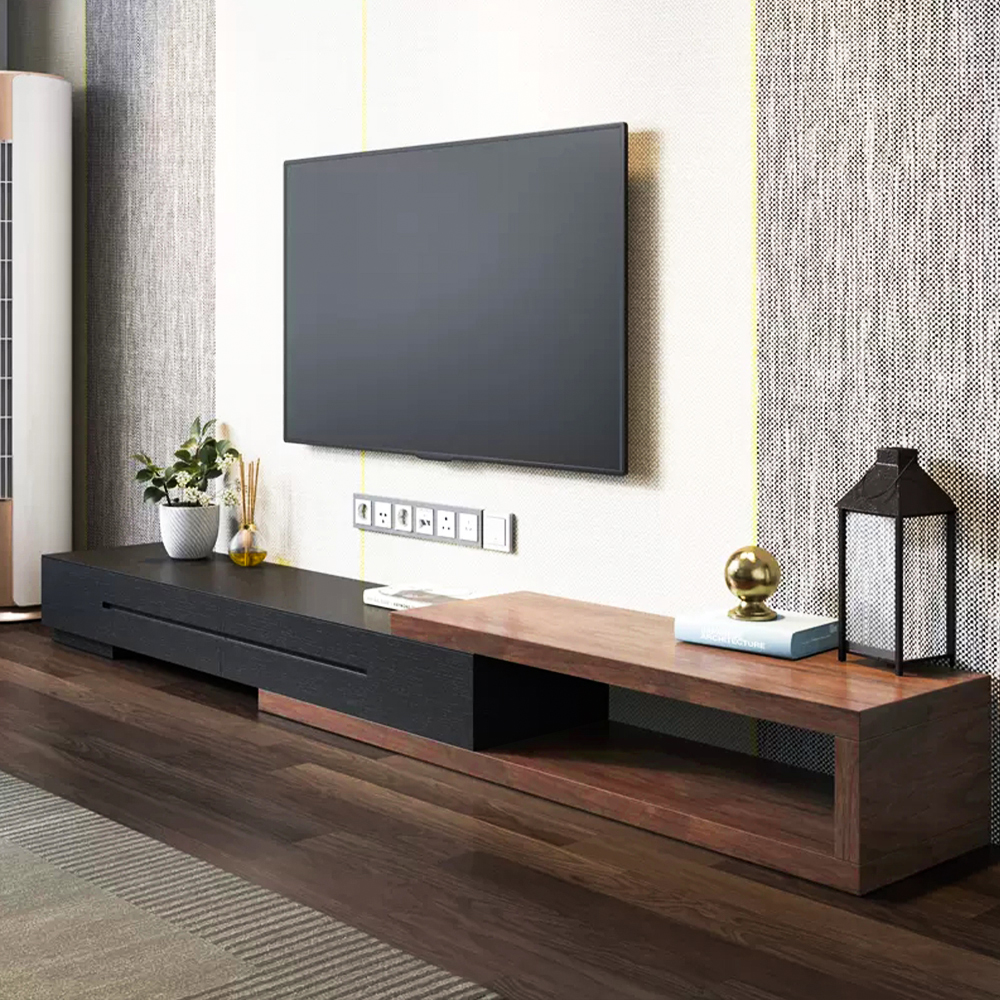 This black projector TV console is a fabulous way to decorate your living room. Its white sintered stone tabletop and golden metal base add warmth and luxury sense to the dark shades. The projector cabinet is retractable and the tray top can be extended to 27.7 inches. It fits for up to over 100 inch screen.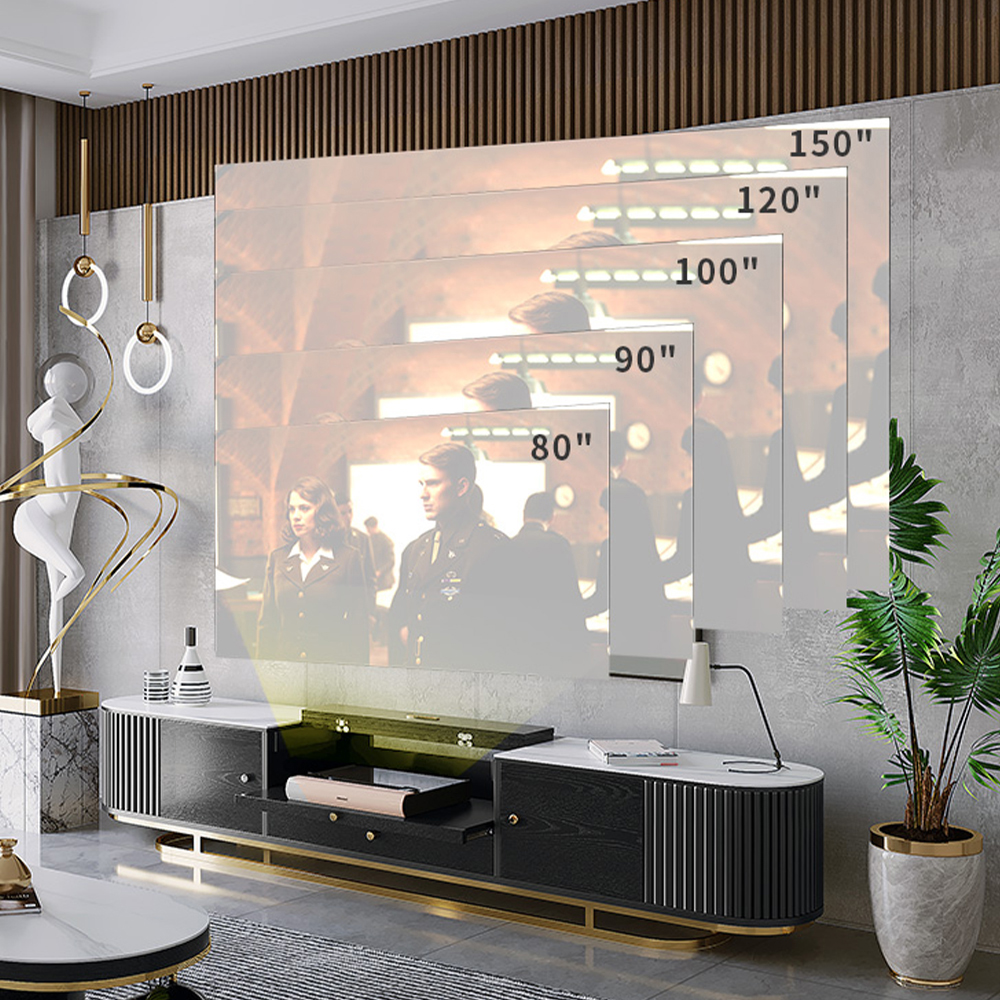 Try to decorate your traditional home with classic black media console here. The hollow-out design of the middle doors of the compartments brings interest and difference to the black stand. Similar to the first one, but it comes with distinct internal layout and the left side is equipped with 2 drawers.
Here comes an elegant entertainment center. The walnut colored and glass doors warm up the black stand. Additionally, the golden metal handles/legs and open shelves add modernity and luxury to the living spaces. Its curved corner and clean lines conform safety and stylish aesthetics.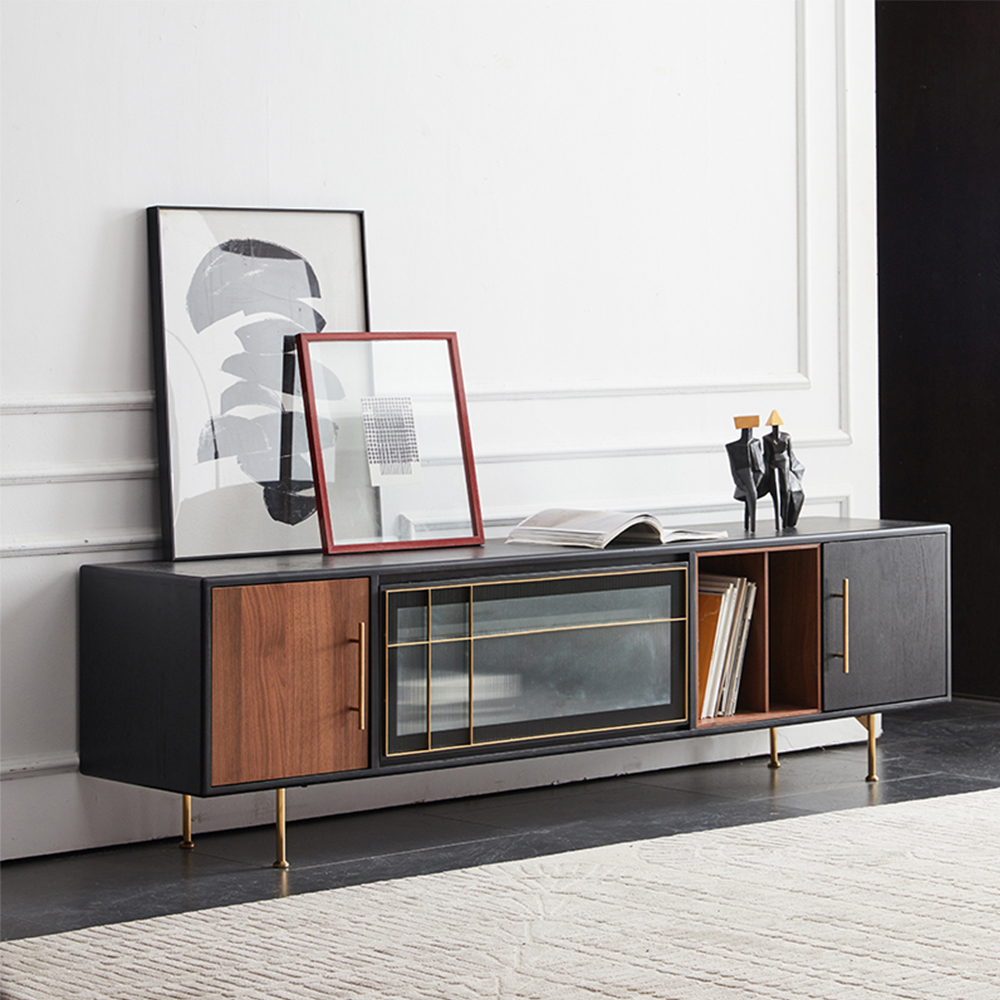 As black can go with any color, will you select a black entertainment center to style your living room or bedroom? Share which color of media console you love with us.