In the post-pandemic period, people are eager to get rid of the dull atmosphere and yearn for growth and harmony. Our expectations for life are becoming more diversified, and most of us tend to warmer, vibrant and more pleasant hues in our working or living space. Povison has picked some of the trending colors and planned 5 color palettes, come and see which scheme you will pick?
Color palette 1: blue, pink, green, brown, yellow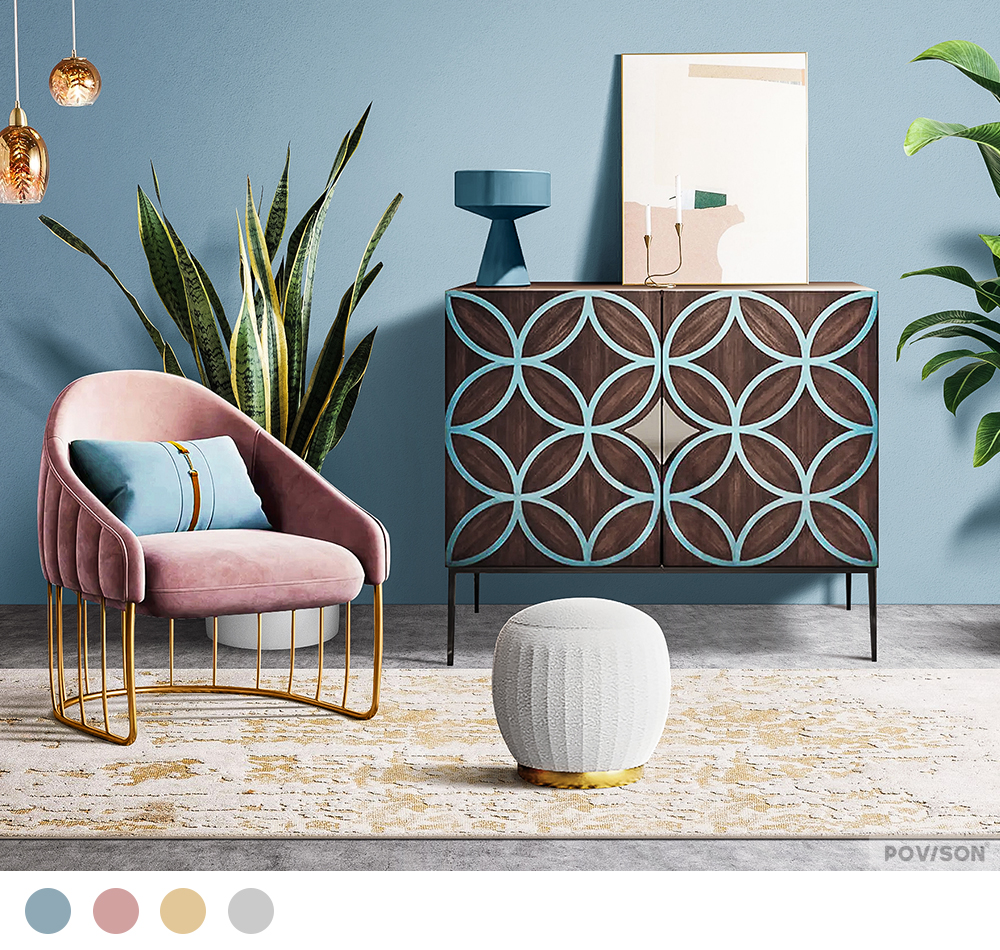 Can you figure out how many times "Blue" has selected as the year color of Pantone? From Aqua Sky(2003), Blue Turquoise(2005) to Blue Iris(2008) to Serenity(2016), Classic Blue(2020), and to Very Peri (2022), blue tones hit Pantone's year color 6 times in about 2 decades. Blue is compatible with the 4 seasons. How to combine blue with other colors? Povison has pink for the complementary to blue, and the pink velvet accent chair adds softness to the scheme. Green plants, brown cabinets with blue circles, yellow (gold ) and white elements go well with the color combination.
Color palette 2: green, beige, white, orange, black
Different from Pantone's color of 2022, Very Peri, other color manufacturer, Sherwin Williams, has green hues, such as Everygreen Fog for the colors of 2022. Green is vibrant and reminds us to find the balance of our life. It also highlights the natural beauty of wood when it is used in furniture. Povison has beige and white to accentuate its soothing atmosphere to living rooms and more. Orange leather side table adds some playful elements while black comes with maturity.
Color palette 3: shades of browns: chocolate brown, caramel, gray, beige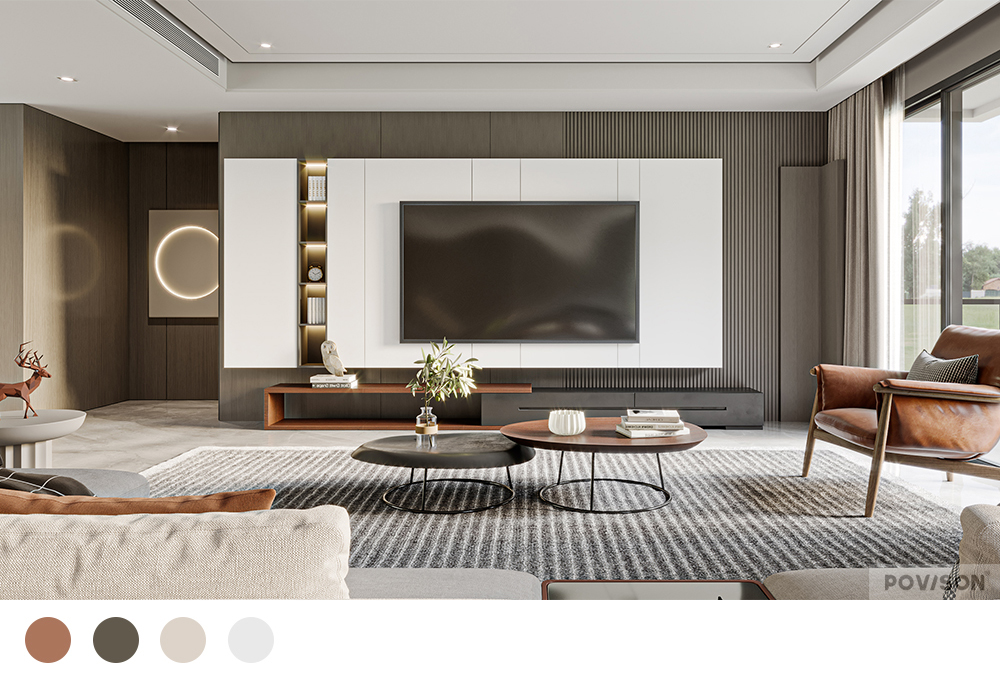 The shades of browns are gaining great popularity in interior design this year. Speaking of shades of browns, beauty enthusiasts might think of earthy tones of eye shadow serial. Believe it or not, this "eye shadow"-like combination goes well with your home decor color. Povison supposes the beige wall paint is the lightest shade to create the neutral base, whereas, caramel and chocolate brown are blended to create an appealing look: the highlight and complementary of the room.
Color palette 4: color block: pink, green yellow, blue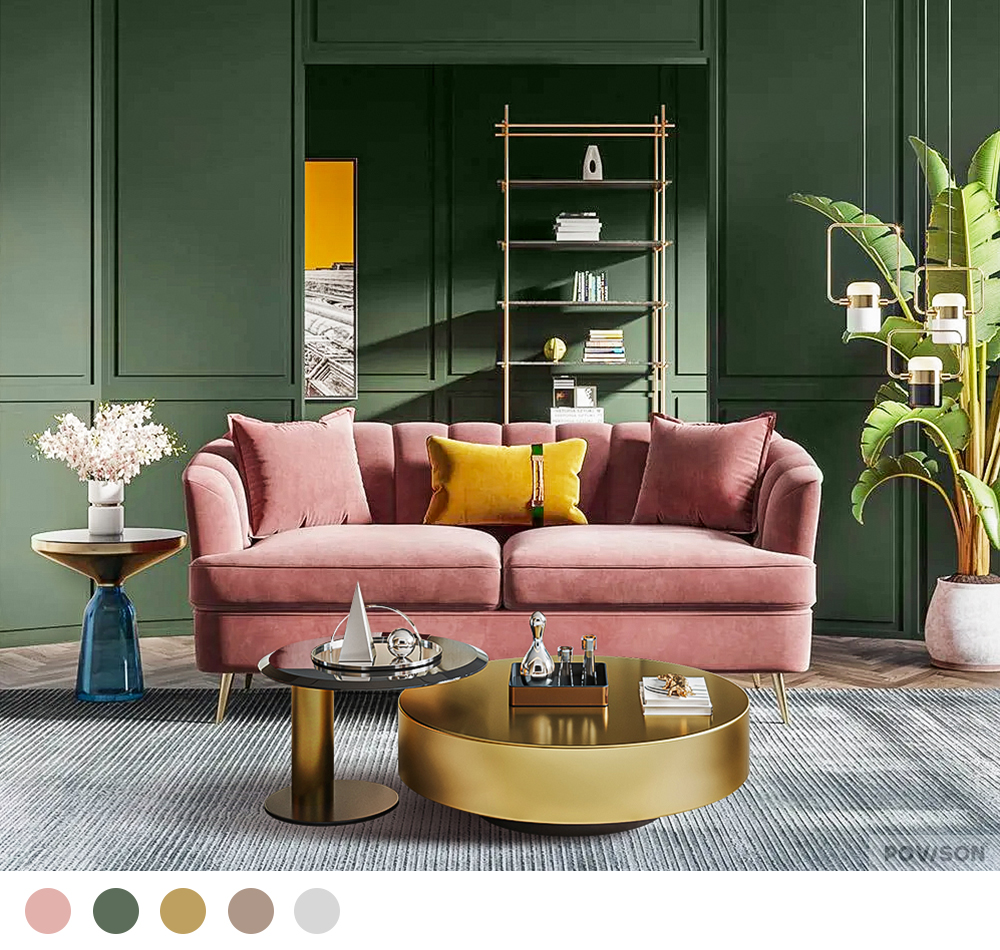 Beautiful color blocks make bold statements from clothing to food, and to room setup. Warm colors are associated with passion, joy and playfulness. People live in cool climate or endure a lockdown experience feel the vibrancy of warm color tones. Povison has pink velvet sofa and green wall as the main color block in this setup. The warmer hues, yellow cushions and gold-plated coffee table, and the blue pedestal, make them stand out from the layout.
Color palette 5: pastel color palette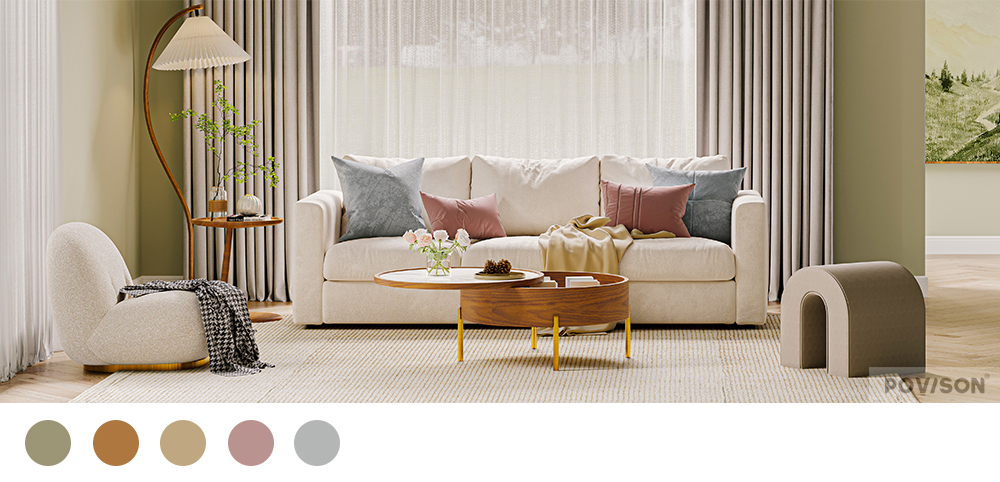 Pastel colors are the shades of color with white tone. The added white tone gives the color a more delicate, feminine and clean feel. Look at this illustration Povison has prepared: pastel green wall and beige curtain set an elegant background of the layout, the beige sofas deliver softness, and the pastel blue, pink, yellow throw blankets and wood coffee table convey delightful elements and great texture to the living room.
Blue and green hues are the darlings of the big names of color manufacturers in 2022 and beyond. Other colors are more likely to be passers-by on the stage of color. Color palettes serve our life and make our life better. Besides the color of the year, we can always find our favorite color palette and that's one of the tasks Povison will continue for the years to come. If you cannot find your color palette, please leave a comment below and let's figure it out.
Reference: PANTONE PAST COLORS OF THE YEAR.https://www.pantone.com/color-of-the-year-archive