From Rustic to Chic: The Ultimate Guide to French Style Home Decor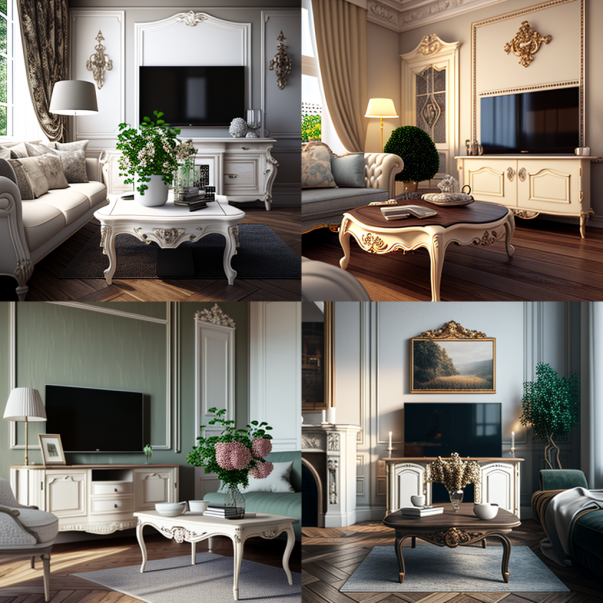 Even though mid century modern interior design becomes the most popular style in the US, French style home decor is still a welcoming style in some cities or regions. The natural materials, romance and traditional charm of French style blends classical and rustic elements. Let's discover what can it bring to your life and how to transform your space with such timeless French style home decor.
People Also Read:
Creating a Timeless Home: Vintage Home Decor Tips
What is French style decor called?
Derived from the France, the French home style has elegant, romantic and retro characteristics, and is often used in the decoration of luxury houses, villas, hotels and other places. It emerged in the US after WWI and still influences the present buildings.
French style decor is often referred to as "French Country" or "French Provincial" style. It is characterized by a mix of rustic and elegant elements, with a focus on natural materials, such as wood, stone, and linen, and a color palette that includes warm earth tones, pastels, and bold accents. French Country decoration often features floral patterns, toile fabrics, and vintage accents, to focus on nature, practical and comfort. Moreover, French Provincial style tends to incorporate more ornate furniture and decorative elements, such as carved wood and gilded accents. It tends to be a bit more delicate and luxury.
Importance of decorating one's home with French style
French home style, is one of the popular interior design styles that has gained a reputation for being elegant, sophisticated, and timeless. Incorporating this style into your home can have several benefits, including:
Creating a warm and inviting atmosphere: Thisstyle often incorporates warm and inviting colors, natural materials, and comfortable furnishings, which can make your home feel cozy and welcoming.
Adding elegance and sophistication: French home style is known for its classic, elegant aesthetic. By incorporating elements like antique furniture, intricate lighting fixtures, and ornate details, you can add a touch of sophistication to your home.
Enhancing the overall aesthetic appeal of your home: The beauty of French home style lies in its attention to detail. From patterned fabrics to ornate mirrors, each element is carefully chosen to create a cohesive and visually appealing look.
Improving functionality: French home style often prioritizes practicality and functionality, with furniture pieces that serve multiple purposes and layouts that maximize space.
Therefore, French home style can create a both functional and stylish space without losing your personality.
Key Elements of French-Inspired Home Decor
For achieving its elegance, sophistication, and attention to detail, here are some key characteristics of French style home decor:
Color Palette: It typically incorporates soft, muted colors such as creams, whites, grays, and pastels. These colors create a calming and elegant atmosphere.
Furniture: French style furniture often features carved wood and curved lines. Pieces may be ornately detailed, but they are always designed to be decorative, functional and comfortable.
Fabrics: Textiles play a big role in French style home decor. Look for luxurious fabrics such as velvet, silk, and linen, as well as classic patterns like toile, stripes, and florals.
Accessories:We can easily find the decorative accessories such as mirrors, chandeliers, and artwork, in a French style house. These items should be carefully chosen to add a touch of glamour and sophistication to the space.
Architecture: Thearchitectural details, such as crown molding, arched doorways, and large windows, add to the elegance and grandeur of the space.
Garden: French style homes often feature beautiful gardens, which are considered an extension of the home. Look for manicured lawns, ornate fountains, and beautiful flower beds to add a touch of French style to your outdoor space.
How to Decorate Your Home for French Style
French style homes tend to use soft, muted colors, such as beige, cream, pale blue, and sage green. You can use these neutral color palette on your walls, upholstery, and accents.
Choose furniture pieces with curved lines and ornate details. Look for pieces that are elegant and refined, but also comfortable and practical. You are able to pick up the French provincial furniture or French country furniture for your home, based on the original architectural design.
Use natural materials, such as linen, cotton, and wool, for your upholstery, draperies, and bedding. These materials will add texture and warmth to your space.
French style homes tend to have lots of accessories, such as mirrors, chandeliers, and decorative plates. Choose items that have a vintage or antique feel, and mix and match different styles to create an eclectic look.
Look for art pieces that have a romantic or nostalgic feel. For examples, landscapes, portraits, and still life paintings.
Lighting: Choose lighting fixtures that are ornate and elegant, such as chandeliers, sconces, and table lamps. These fixtures will add ambiance and warmth to your space.
Flooring: Use hardwood floors, stone or tile, with a natural finish or a distressed look. These materials will add texture and character to your space.
Note: If you don't know where to start styling, try to begin with the large pieces, such as the long vintage sofa, a large cabinet, etc.
Must-Have Tips for Creating a French Style Home Decor
Emphasis on quality over quantity
Creating an inviting atmosphere
Mixing modern and traditional elements
Being mindful of proportions
Keeping it simple and elegant