Everyone tends to find out the most comfortable couch for his/her home, but the "most comfortable" depends on personal physical characteristics and needs. Are you ready to redefine comfort in 2023? As we settle into the new year, the quest for the ultimate lounging experience takes center stage. Your home deserves nothing but the coziest, most stylish seating, and that's where we come in. In this guide, we'll embark on a journey to discover the most comfortable couch with ottoman for 2023. From luxurious designs to innovative features, we'll explore the top contenders that promise to transform your living space into a haven of relaxation and sophistication.
People Also Read:
Can we say couch with ottoman is sectional sofa?
The term "sectional sofa" and "couch with ottoman" may be often used interchangeably, but they do have distinct differences.
A sectional sofa typically consists of multiple connected pieces, or "sections," that can be configured in various ways. These sections often include a combination of loveseats, sofas, chaise lounges, and corner pieces. The primary characteristic of a sectional is its modular design, allowing for flexibility in arrangement to fit different room layouts. Sectionals can come with or without ottomans.
On the other hand, a couch with ottoman refers to a standard sofa paired with a separate ottoman. The ottoman is typically used as a footrest, extra seating, or even a coffee table when paired with a tray. Unlike sectionals, couches with ottomans are not modular and consist of two distinct pieces.
In summary, while a couch with an ottoman is not a sectional sofa in the traditional sense, or we can consider it is a kind of sectional sofas, it can offer some of the same benefits, such as versatility in seating and comfort. The choice between the two depends on your room layout and personal preferences.
Where can I buy the most comfortable sectional couch with ottoman?
Finding the most comfortable couch with an ottoman requires careful consideration and the right shopping destination. Here are some popular places to explore:
1. Furniture Retail Stores:
Visit well-known furniture retailers like POVISON furniture store. They offer a wide range of couches and ottomans in various styles and price ranges.
Local furniture stores often carry unique and high-quality options. Explore your area for boutique furniture shops.
2. Online Furniture Retailers:
Platforms like Wayfair, and Amazon, provide a vast selection of couches with ottomans. Read customer reviews and compare prices easily.
Custom furniture makers on websites can create personalized couches and ottomans to meet your specific comfort and style preferences.
3. Outlet Stores:
Furniture outlet stores offer discounts on brand-name furniture. Check out outlets associated with major furniture retailers for deals on comfortable couches with ottomans.
4. Local Classifieds and Marketplaces:
Explore local classified ads, such as Facebook Marketplace, for secondhand couches and ottomans. You may find well-maintained and comfortable options at affordable prices.
5. Furniture Expos and Shows:
Attend furniture expos and shows in your area to view a wide range of couches and ottomans from different manufacturers. You can often test the comfort firsthand.
6. Custom Furniture Designers:
Consider working with a local or online custom furniture designer. They can create a couch with an ottoman tailored to your comfort preferences and design aesthetics.
The best 3 couches with ottoman for 2023
From the large sectional to the small space sofa with ottoman, we've covered in this part. Take a detailed tour to our best options of the couches with ottoman in 2023.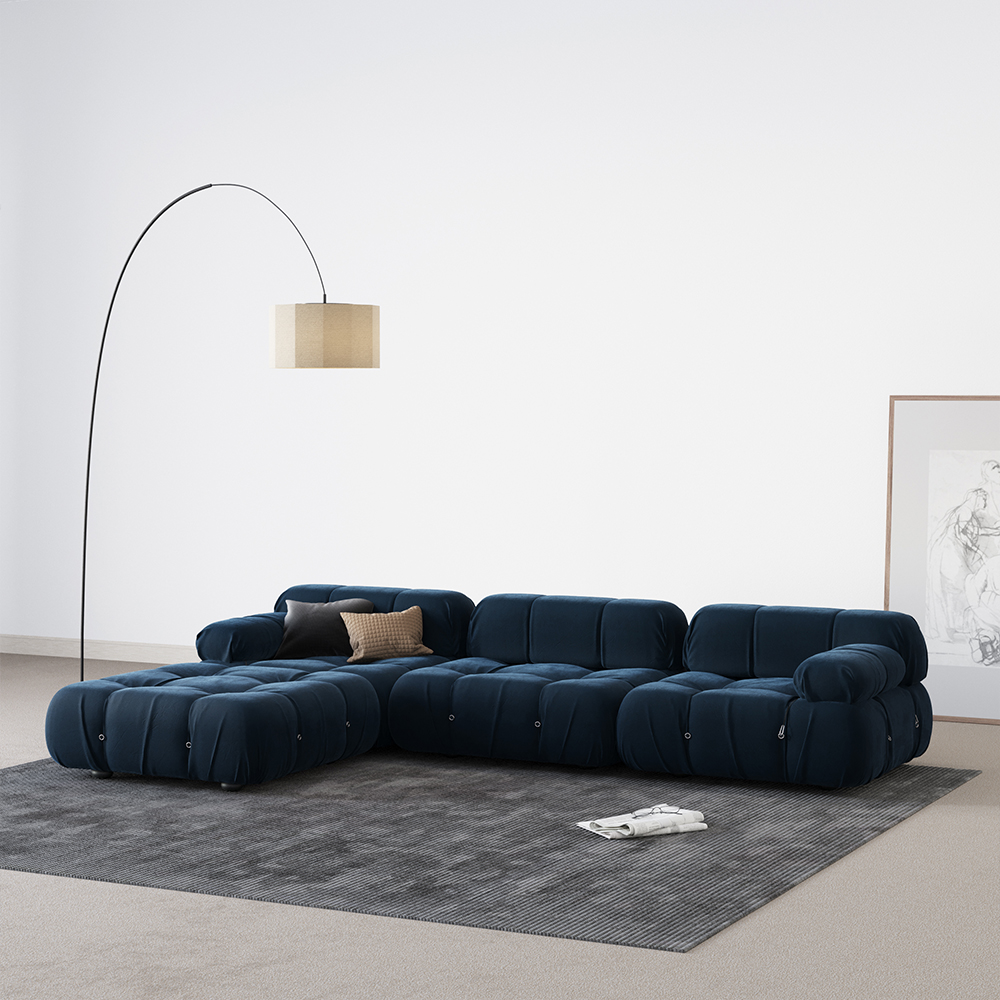 Transform your living space with our spacious L-shaped suede fabric sofa, complete with an ottoman and rolled pillow top arms. The ottoman can moved flexibly on the right or the left side to fit your living room design. The blue, dark gray and beige color can suit for different interior styles. Just pick up the right one for your wall and rug colors.
Pros:
The large size is the best choice for single family house and townhomes, which is in contemporary, luxe, formal, vintage style.
Ample seating for family and guests, while the ottoman adds versatility for relaxation.
The rolled pillow top arms offer extra comfort and style.
Cons:
Its large size may not be suitable for smaller rooms.
Suede fabric can require special care to maintain its pristine appearance.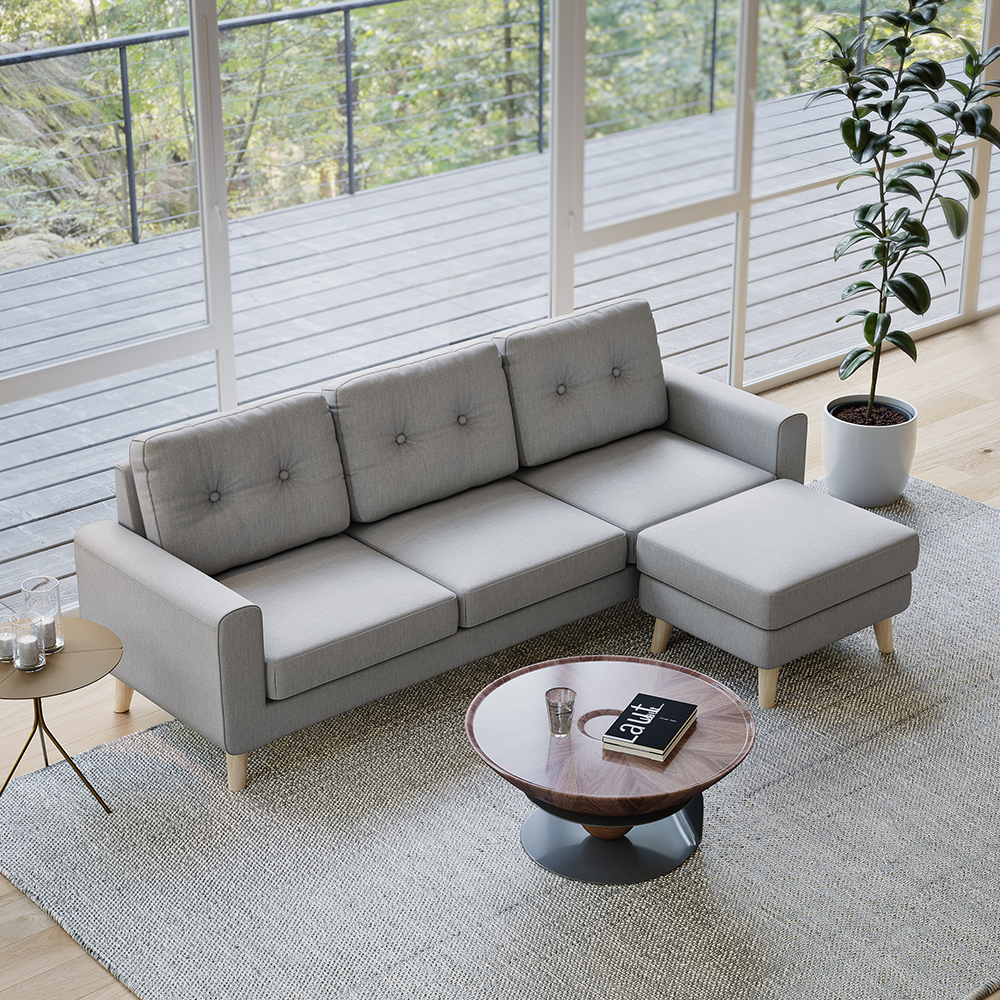 Discover the perfect seating solution for small spaces with our compact yet stylish gray sectional sofa. There are less sectionals suitable for small living room, while this 75.9 inch 3 seater couch with a movable ottoman will meet your need. It never compromises the style and comfort, which is featured with minimalist design and comfortable cushions with high density sponge.
Pros:
Its space-saving design is ideal for cozy apartments or compact living rooms.
The included ottoman offers a footrest for added convenience.
Solid wood legs provide stability and durability.
Cons:
Its compact size may not be suitable for larger rooms.
Light gray may require more maintenance to keep looking pristine.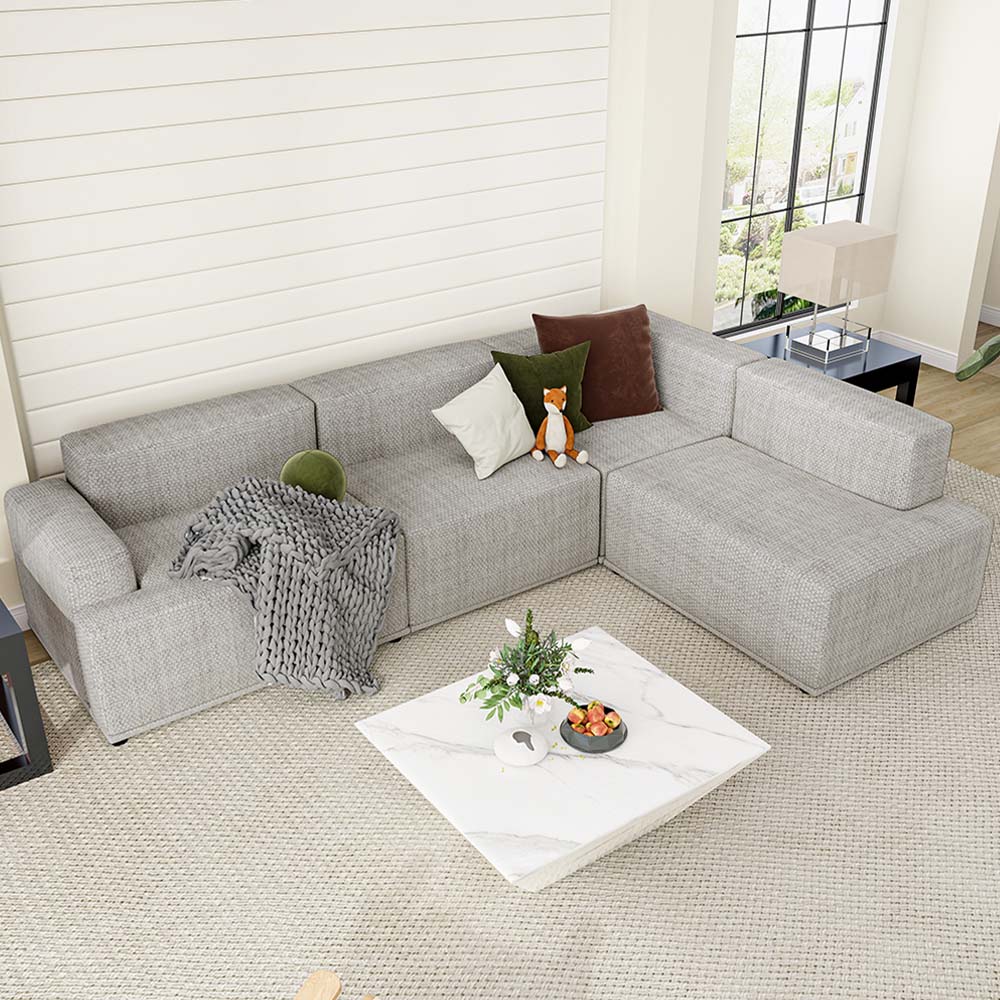 Elevate your living space with our modern deep couch, thoughtfully designed for your comfort. The 119'' long modular couch is made of cotton and linen upholstery, solid wood frame and high-density foam. Experience both style and comfort with this chic addition to your home.
Pros:
This sleek piece include spacious seating for four, ideal for entertaining or cozy family gatherings.
The included ottoman adds versatility to your lounging experience.
Recessed track arms provide a contemporary touch and maximize seating space.
The wooden frame is FSC certified, which ensures sustainability and durability.
Cons:
Its substantial size may not suit smaller rooms
Partial Assembly Required
Should ottoman match sofa?
The decision of whether an ottoman should match the sofa largely depends on your design preferences and the overall aesthetic you want to achieve in your living space. Here are some considerations:
Matching Ottoman:
Coordinated Look: Matching the ottoman with the sofa creates a cohesive and coordinated appearance in the room. This can be especially appealing in formal or traditional design styles.
Visual Continuity: It provides visual continuity, making the ottoman look like an extension of the sofa. This can make the room feel more put-together and structured.
Simplicity: A matching ottoman simplifies the decision-making process and ensures a harmonious look without much effort.
Contrasting Ottoman:
Design Contrast: Opting for a contrasting ottoman can add an interesting design element to the room. It breaks up the monotony of a matching set and can serve as a focal point.
Color Pop: A contrasting ottoman in a bold color or pattern can introduce a pop of color or texture to an otherwise neutral room, adding vibrancy and personality.
Flexibility: A contrasting ottoman can be more versatile, as it can easily be moved to other parts of the house or serve as a statement piece in different settings.
Personal Expression: It allows for more personal expression in your decor choices, letting you play with different styles and colors to reflect your unique taste.
Ultimately, whether the ottoman should match the sofa or not depends on your individual preferences and the overall design vision for your living space. Both options can be aesthetically pleasing and functional, so choose the one that aligns with your style and creates the ambiance you desire.
What color ottoman with grey couch?
Someone left his question about choosing ottoman color for grey couch. The answers may be varied. There are some common choices for the gray couch:
Contrasting Colors: To create a visually striking and dynamic look, opt for a contrasting color like deep navy blue, emerald green, or rich burgundy. These bold hues can add a pop of vibrancy to the room and make the ottoman a focal point.
Neutral Shades: If you prefer a more subdued and harmonious color palette, stick with neutral shades like beige, cream, or taupe for the ottoman. Neutrals complement grey beautifully and create a balanced and timeless look.
Monochromatic Grey: For a sleek and minimalist design, choose an ottoman in a shade of grey that closely matches the couch. This creates a cohesive and seamless appearance, emphasizing the elegance of the monochromatic scheme.
Patterned or Textured Ottomans: Consider ottomans with patterns or textures that incorporate various shades of grey along with other colors. This can add depth and interest to the room while maintaining a connection with the grey couch.
Accent Color: If you have accent colors in your room's decor, such as in throw pillows, artwork, or curtains, select an ottoman that complements or matches those accent colors. This will tie the room's color scheme together cohesively.
Conclusion
As we venture into 2023, your pursuit of the perfect couch with ottoman unveils a world of comfort and style. With a range of luxurious options and innovative features, you have the power to transform your living space into the ultimate haven for relaxation. Whether you prioritize plush cushions, modern designs, or versatile functionality, the most comfortable couch with ottoman for 2023 awaits your selection. Elevate your lounging experience, embrace the trends, and make your home a sanctuary of comfort and sophistication this year.