When you live in a small apartment or house, you must find it restraint to add any new furniture to the spaces.  However, that is not all. Some stylish and suitable sized furniture, like an accent chair can bring extra seating and style to your home.
People Also Read:
What is An Accent Chair?
An accent chair is a piece of furniture that is designed to add a stylish and decorative touch to a room. Unlike traditional chairs, accent chairs are often more visually striking, with unique shapes, bold colors, and eye-catching patterns.
These chairs can be used to bring a pop of color or texture to a neutral space, or to complement the existing decor in a room. Accent chairs are also versatile, and can be used in a variety of settings, from a living room or bedroom to a home office or even a dining room. They are a great way to add personality and character to any space, and can be easily swapped out to change the look and feel of a room.
Importance of Accent Chair in Small Spaces
Accent chairs can be an essential piece of furniture in small spaces. Here are some reasons why:
Adds personality and style: In small spaces, every piece of furniture counts, and an accent chair can make a big difference in adding personality and style to the room. The right accent chair can give a small space a pop of color, texture, or pattern that can make the space feel more lively and interesting.
Provides additional seating: Small spaces often have limited seating options, and an accent chair can provide an extra seat without taking up too much space. This can be especially helpful when you have guests over.
Creates visual interest and depth: An accent chair can create visual interest and depth in a small space by breaking up the monotony of the room's design. It can also create a focal point or anchor for the room.
Versatile use: An accent chair can be used for a variety of purposes in a small space. It can be used as a reading nook, a spot to put on shoes, a place to relax and unwind, or even as a small desk chair.
Factors to Consider When Choosing Accent Chairs for Small Spaces
There are several factors to consider when choosing accent chairs for a small space.
The first and foremost consideration is to measure the area to ensure that the chair fits comfortably without taking up too much room. Additionally, it is important to consider the chair's style and whether it complements or clashes with the existing decor. The chair's color is also significant as it can blend in or add a contrasting pop of color to the room.
Functionality is another critical factor to consider. Will the chair be primarily decorative, or will it be used as a seating option? If it is the latter, comfort level, durability, and ease of maintenance are essential factors to keep in mind. The materials used to make the chair are also crucial. While leather chairs may look sleek and stylish, they can be challenging to maintain in the long run. On the other hand, synthetic materials may be more comfortable to maintain, but they may not have the same level of elegance as natural materials.
Finally, it is important to consider the chair's overall design and how it fits into the room's aesthetic. Chairs with intricate designs or bold patterns may add an interesting touch to the space, but they may not necessarily fit in with a minimalist or modern style. Ultimately, the ideal chair is one that fits comfortably in the space while also enhancing its overall charm and appeal.
Types of Accent Chairs Suitable for Small Spaces
When it comes to small spaces, it's important to choose accent chairs that not only add style to your décor but also fit within the limited space. Here are a few types of accent chairs that are suitable for small spaces:
Armless Accent Chairs: Armless accent chairs are a great option for small spaces as they take up less visual and physical space. They can be easily tucked into a corner or under a table when not in use.
Slipper Chairs: Slipper chairs are another type of armless accent chair that is perfect for small spaces. They have a low profile and take up minimal floor space, making them a popular choice for small living rooms, bedrooms, and entryways.
Barrel Chairs: Barrel chairs have a curved back and are often upholstered in plush fabrics, making them comfortable and stylish. They are a great option for small spaces as they have a small footprint and can be used in a variety of rooms.
Folding Chairs: Folding chairs are a practical option for small spaces as they can be easily stored away when not in use. They come in a variety of styles and can be used for additional seating when guests are over.
Swivel Chairs: Swivel chairs are a great option for small spaces as they can easily rotate and face different areas of the room. They are often used as accent chairs in small living rooms or as desk chairs in small home offices.
The Best Accent Chairs for Small Homes
Drum-Style Accent Chair with Solid Wood Frame
The chenille accent chair with cushion is a stylish and comfortable addition to any living space. The chair features a drum-style design, made with solid ash wood and upholstered in a soft beige Chenille fabric. The chair's modern design and neutral color make it easy to incorporate into any decor style, and it's perfect for lounging or reading a book in style.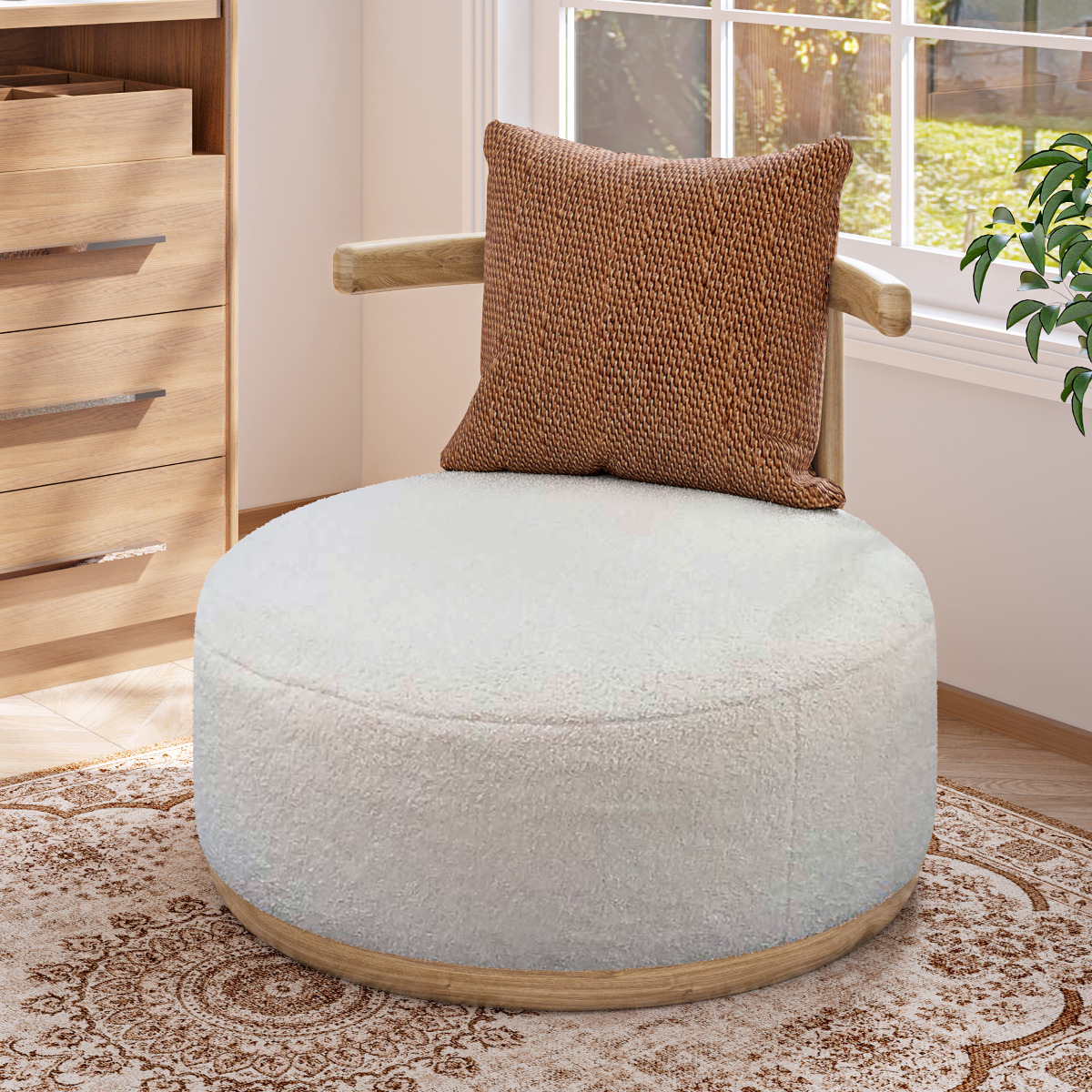 Armless Accent Chair with Golden Base
This gray lowline accent chair without arms with golden pedestal can fit for most home styles. Its armless design can save some space for the living room or bedroom. The sturdy metal base increases the longevity and load-bearing capacity.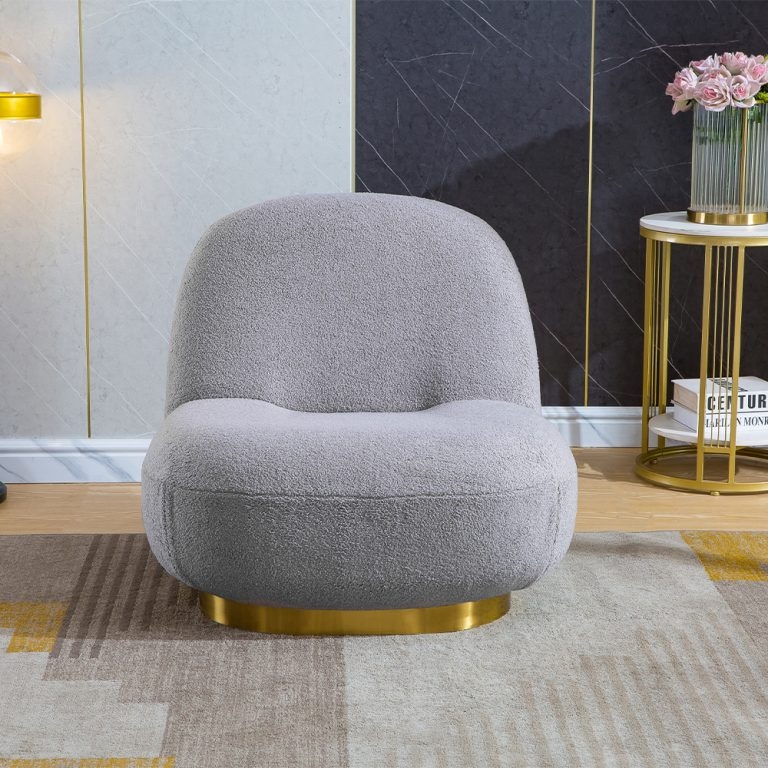 Swivel Accent Chair with Teddy Bear Shape
This chair is a unique piece of furniture that adds a touch of whimsy to any room. The velvet armchair is both functional and stylish, with a soft and plush velvet material that provides comfort and luxury. The chair features a swivel base, allowing for easy rotation and versatility. The Teddy Bear shape adds a playful element to the chair, making it a fun and inviting addition to any living space.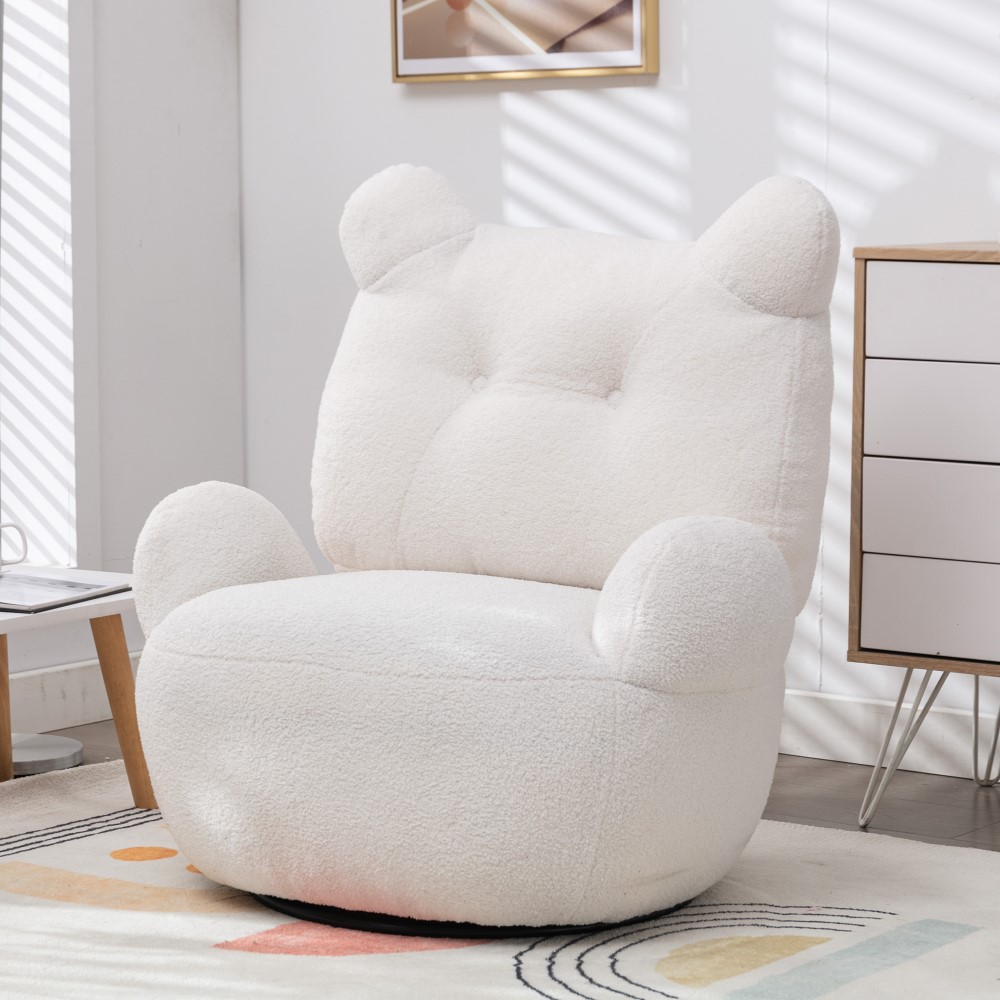 Modern Upholstered Ottoman with Lamb Fleece
The modern upholstered ottoman is the space-saving piece of furniture that combines a sleek modern design with the softness and warmth of lamb fleece. It is perfect for adding a cozy touch to any living space and can work as a footrest or extra seating. Additionally, it can be moved anywhere in the small space for reading, playing games, enjoying coffee, etc.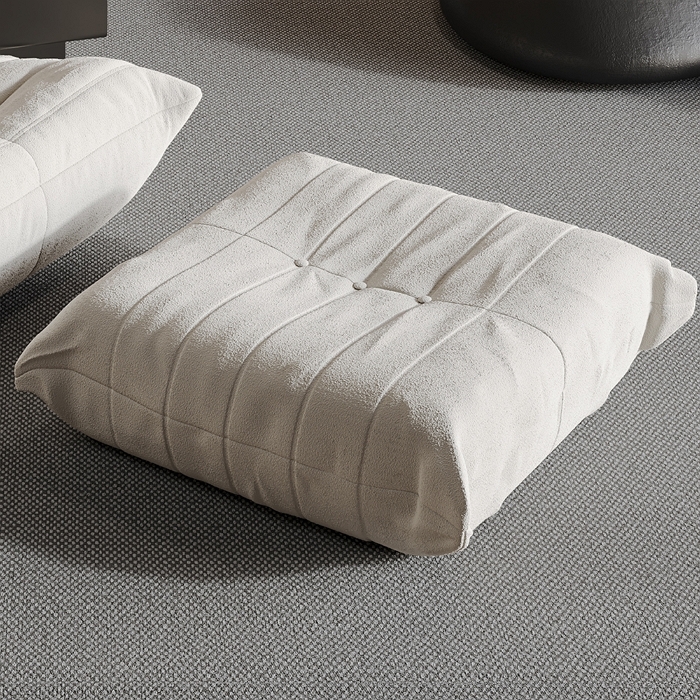 Kids Decorative Animal Sofa Stool
It seems just a toy for the kids but it is a playful and functional furniture piece designed for both children and adults. It features a whimsical animal design and is made of soft, durable materials for comfortable seating. This stool adds a fun touch to any kids' room or play area.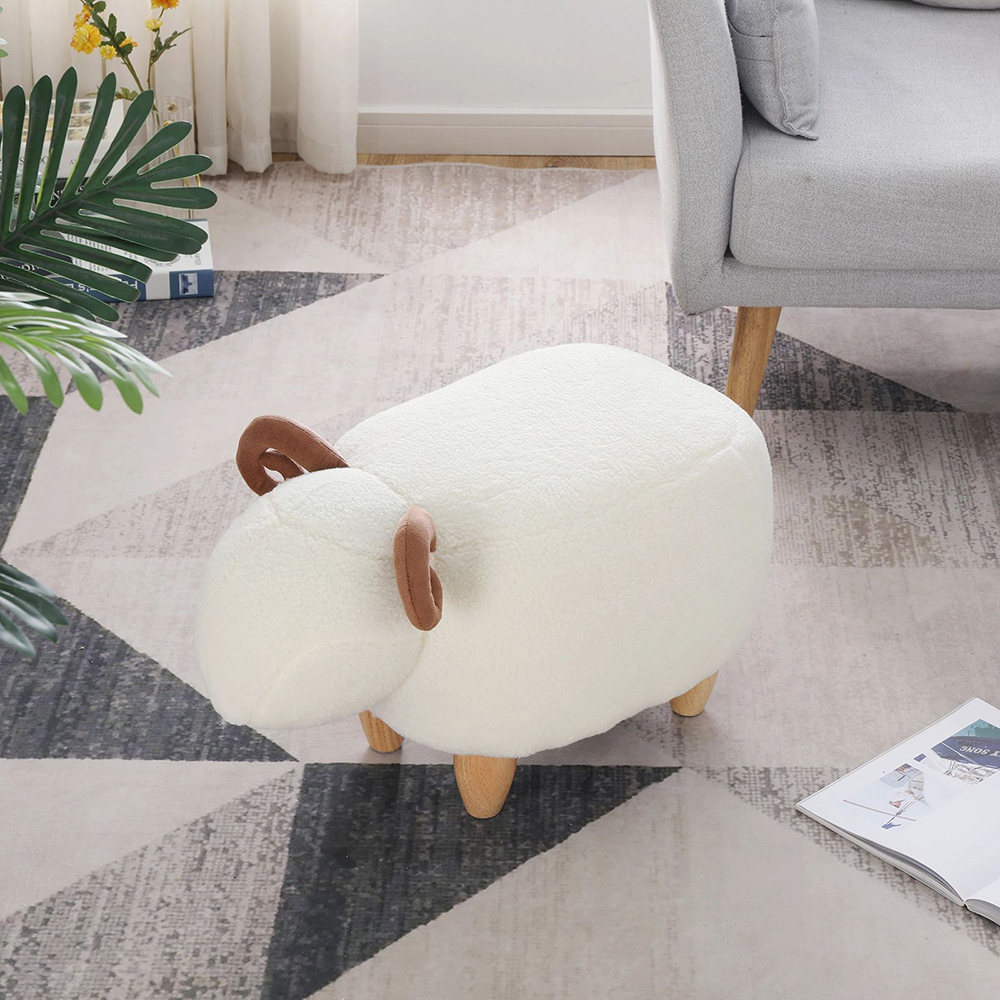 Tips: Maintenance and Cleaning Tips for Accent Chairs in Small Spaces
In order to keep them looking their best, it's important to maintain and clean them regularly. Here are some tips for maintaining and cleaning your accent chairs in a small space:
Vacuum or dust regularly: Use a soft brush attachment on your vacuum or a soft cloth to gently dust the chair on a regular basis. This will prevent dirt and dust from building up and will help keep your chair looking clean.
Use a fabric cleaner: If your accent chair has a fabric cover, use a fabric cleaner to spot clean any stains or spills. Follow the instructions on the cleaner and test it on a small, inconspicuous area first to make sure it doesn't damage the fabric.
Clean leather chairs with a leather cleaner: If your accent chair comes with leather, use a leather cleaner to clean and condition the leather. Again, follow the instructions on the cleaner and test it on a small area first to make sure it doesn't damage the leather.
Use a lint roller: If you have pets, use a lint roller to remove any pet hair from your accent chair. This is an easy and quick way to keep your chair looking clean.
Rotate cushions: If your accent chair has removable cushions, rotate them on a regular basis to prevent them from wearing out too quickly in one spot.
Avoid placing in direct sunlight: If possible, avoid placing your accent chair in direct sunlight as this can cause the fabric or leather to fade or crack over time.
With these maintenance tips, you are able to keep your accent chair looking its best in a small space.