Couples will consider a lot of things to buy a bed frame for their bedroom, especially for the newly-weds. From size to construction to style, there are many factors to consider when choosing a bed frame for couples. In this article, we'll explore the best bed frames on the market in 2023 and help you find the perfect one for your needs.
Types of Bed Frames
There are some of the most common types of bed frames in the following list:
Platform beds: Platform beds have a solid or slatted surface that serves as its foundation instead of the traditional box spring or foundation. This platform is typically constructed of wood or metal slats that provide support for the mattress. Platform beds are often lower to the ground than traditional bed frames, which can save space in a small bedroom.
Upholstered beds: Upholstered beds have a soft, padded surface that is covered in fabric or leather. Upholstered beds are often very comfortable and inviting, and they can add a touch of luxury to any bedroom.
Bunk beds: Bunk beds are a great option for families with children or for people who are short on space. Bunk beds can be a great way to maximize space in a small bedroom, and they can also be a lot of fun for kids.
Trundle beds: Trundle beds are a great option for people who need extra sleeping space. Trundle beds are typically hidden underneath a regular bed, and they can be pulled out when needed.
Frame-only beds: Frame-only beds are just the frame of a bed, without a headboard or footboard. Frame-only beds are often very affordable, and they can be a good option for people who are looking for a simple and minimalist bed frame.
Storage beds: These bed frames have built-in drawers or shelves underneath the mattress for extra storage space.
Canopy beds: These bed frames feature four posts with a frame connecting them at the top, allowing for curtains or drapes to be hung for added privacy.
Sleigh beds: These bed frames have a curved headboard and footboard, resembling a sleigh.
Four-poster beds: These bed frames have four vertical posts, often with ornate detailing, and can also be used with curtains or drapes for added privacy.
The Best 5 Bed Frames for Couples
Top 1. Modern Platform Bed Frame with Headboard
This modern platform bed frame comes with cat scratch skin, solid wood slats and carbon steel frame. The elegant headboard features cat-scratch fabric and premium sponge to ensure style and comfort.
Pros:
Stylish Design: The modern design of this bed frame with a headboard and cat scratch skin offers a stylish and chic look to the bedroom decor.
Comfortable: Made of high-quality materials, it makes itself comfortable to sleep on and ensures a peaceful sleep.
Durable: The sturdy construction of the bed frame ensures that it is durable and can withstand wear and tear for a longer period.
Cons:
Assembly Required: The bed frame requires assembly, which can be time-consuming and challenging for some people.
Limited Color Options: The bed frame is available in only one color: light khaki.
This khaki platform bed frame is a good investment for those who are looking for a stylish and comfortable bed frame with a unique feature of cat scratch skin. The queen size and king size are available for couples, even though you are fat or want more space to stretch out.
Top 2. Minimalist Bed Frame with Wingback Headboard
Here comes a gray bed frame with wingback headboard, which can be adjusted for suitable height. The gray upholstered headboard does not only add modern vibe to the bedroom, but also provide comfortable space to rely upon.
Pros:
Modern and minimalist design
Made of high-quality cotton and linen
Durable and long-lasting
Easy to assemble
Affordable price
Cons:
Some assembly required
Headboard may be too high for some people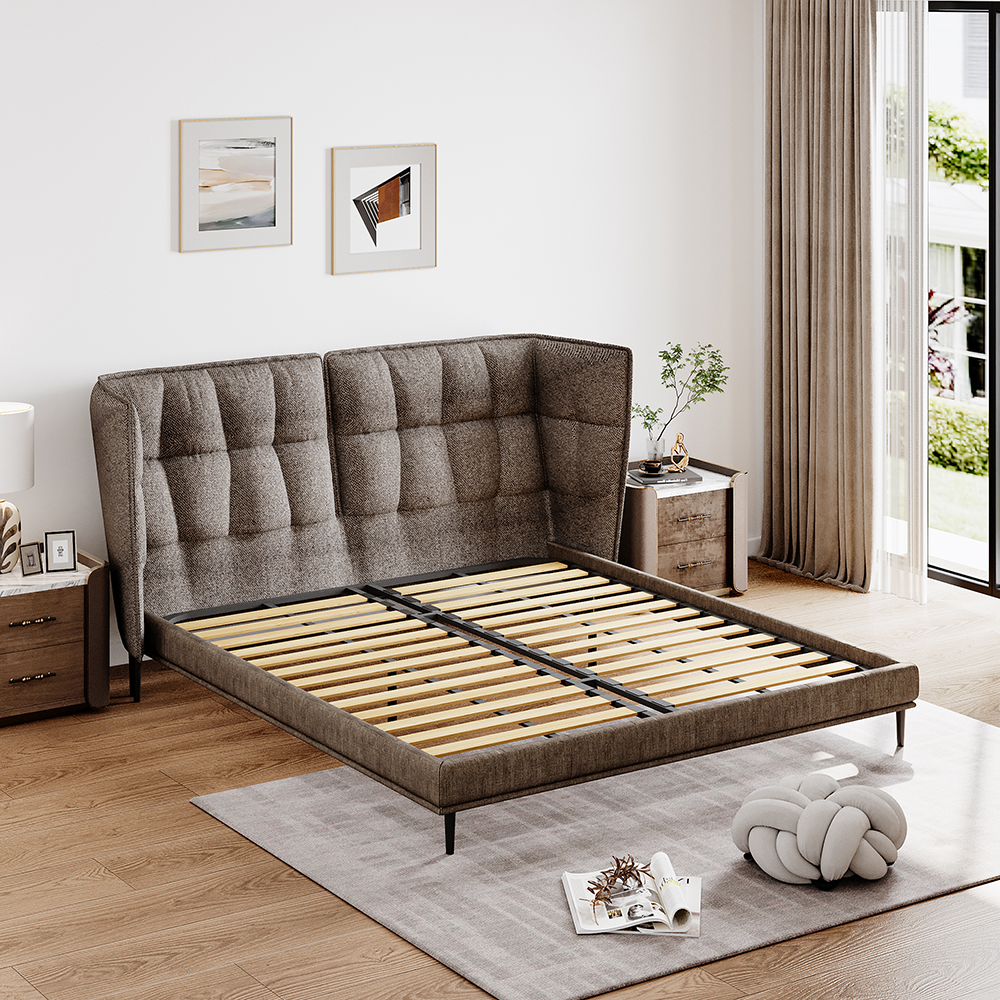 Top 3. Chic Beige Tufted Bed Frames for Couples
Made of high-quality frosted velvet cloth, the tufted headboard is soft and comfortable to the touch. Coming with queen and king size, this chic bed frame can fit any bedroom. The bed frame is constructed from high-quality larch wood, ensuring that it can handle even the heaviest of loads without compromising on its even distribution of weight.
Pros:
Chic designfor most female's room.
High-quality frosted velvet clothand solid wood frame ensure soft and comfortable touch and sturdiness.
Easy to assemble
Cons:
Not suitable for all mattress types
Beige color may not be suitable for all bedrooms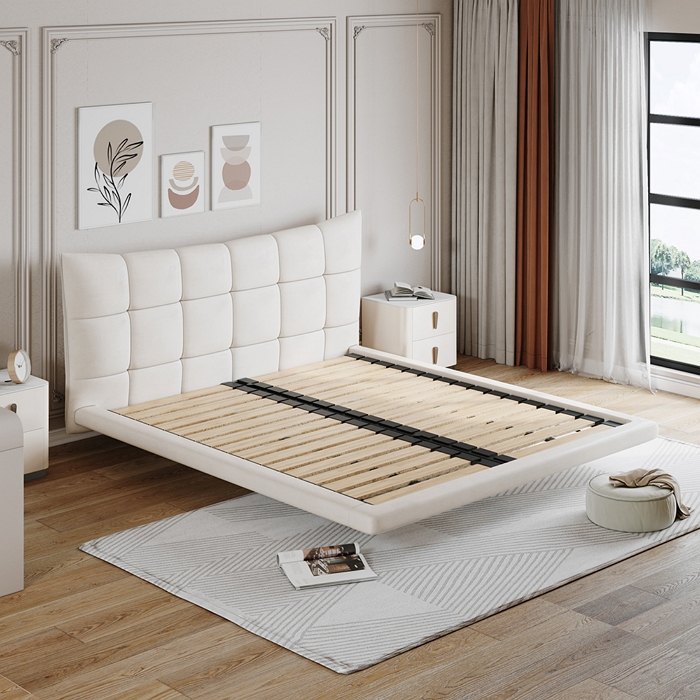 Top 4. Cloud Bed Frame with Tufted Headboard
The cloud bed frame with tufted headboard is charming for most couples. You cannot wait for sleeping on it with your partner or pet right now. The swelling visual and soft touch will improve the comfortable experience.
Pros:
Unique Design: The cloud-shaped design of this bed frame with a headboard offers a unique and creative look to the bedroom decor.
Comfortable: The bed frame is made of high-quality frosted flannel material, which makes it comfortable to sleep on and ensures a peaceful sleep.
Long lifespan: The combination of solid wood slats and carbon steel frame makes it corrosion-resistant, sturdy, and able to withstand wear and tear.
Cons:
Expensive: The bed frame with a unique design and high-quality material can be expensive compared to other bed frames in the market, making it less affordable for some customers.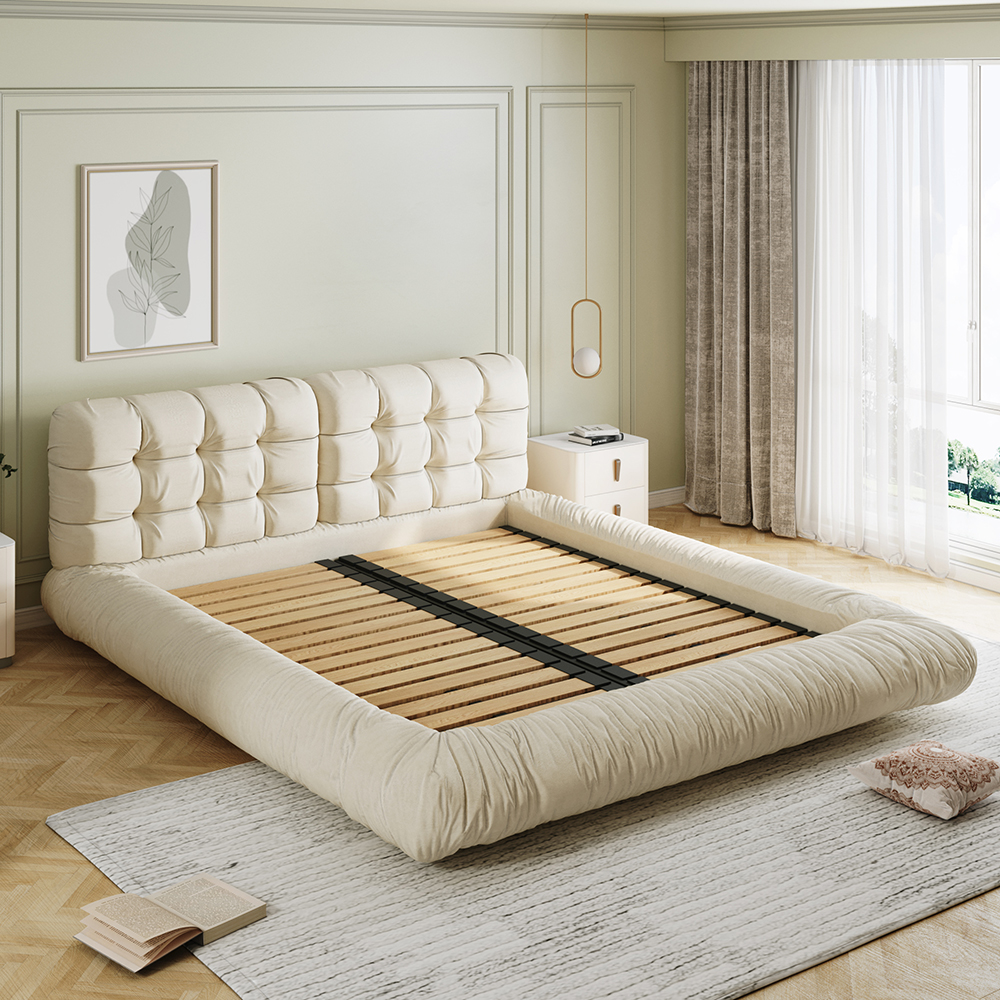 Top 5. Minimalist Gray Bed Frames for Couples
The simple bed frame is right for a master's room or guest room, which offers 91.33W x 78.74"D x 44.48″H and 91.33W x 62.99"D x 44.48″H for selection. The strong weight-bearing capacity can well support couples or even couples with kids at the bed.
Pros:
Strong weight capacity: up to 800 LBS
Space-saving: Without complicated headboard and footboard, it won't take up too much area in the bedroom.
Easy to match: The gray color can match well for most wall and floor colors.
Cons:
Assemble required but the couples participating in the installation together can make the bond stronger.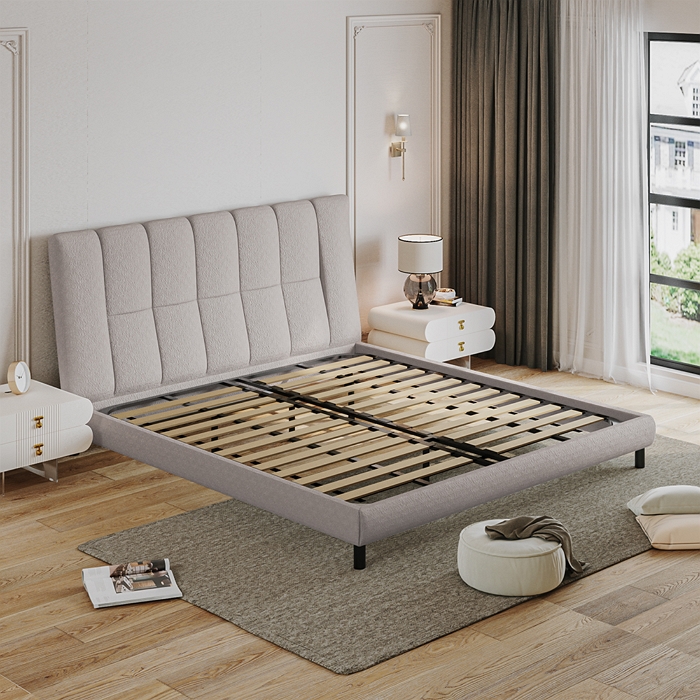 Factors That Couples Should Consider When Choosing Bed Frames for Couples
Size: Couples should consider the size of their room and their personal space preferences when selecting a bed frame. Queen and king size beds are popular choices for couples, providing ample room to move around during sleep.
Materials and construction: Bed frames can be made from a variety of materials, including wood, metal, and upholstered fabrics. Couples should consider the durability, stability, and quality of the materials used in the construction of the bed frame.
Design and style: Bed frames come in a variety of designs and styles, ranging from minimalist to ornate. Couples should choose a bed frame that complements their personal style and the decor of their bedroom.
Weight capacity: Couples should consider the weight capacity of the bed frame to ensure it can support their combined weight, as well as any additional weight from children or pets who may join them in bed.
Noise level: Some bed frames may produce creaking or squeaking noises during use, which can disrupt sleep. Couples should consider bed frames with sturdy construction and noise-reducing features to minimize disturbances.
Features: Some bed frames come with additional features, such as storage drawers, headboards, or footboards. These features can add both style and functionality to your bedroom. If you are looking for a bed frame with storage, you may want to consider a platform bed or a bed frame with drawers. If you want a headboard to lean against or a footboard to rest your feet on, you may want to consider a bed frame with these features.
Price: Bed frames range in price from a few hundred dollars to several thousand dollars. The price of a bed frame will depend on the size, style, material, and features of the frame. When choosing a bed frame, it is important to set a budget and stick to it.
Since the bed frame is for the couples, you should spend some time in choosing the bed with your spouse. The common opinion is important to pick up the suitable bed frame for bedroom. Thus this can best meet the requirements of both parties and lessen the possibility of frequent bed changes.