Are you ready to usher in the cozy charm of autumn into your living space? With the changing leaves and crisp air, it's the perfect time to embrace the season's warmth and elegance through modern fall decor. In this comprehensive guide, we'll walk you through the best modern fall decor ideas that will effortlessly transform your home. From sleek living room arrangements to inviting bedroom setups, we've got you covered. Let's dive into these creative and inspiring ideas that will infuse your home with the spirit of fall.
When should I start putting up fall decorations?
Fall decorations typically start going up in early to mid-September. This timing aligns with the official beginning of the fall season in many regions. However, the exact timing can vary depending on personal preference and local climate. Some people like to start decorating as soon as September 1st, while others prefer to wait until the autumn equinox around September 21st.
According to Google Trends, the peak time of searching "fall decor" keyword generally would occur during Sept.5 to Sept. 25. Thus, there is no doubt that September is the best time to decorate your home with autumn vibes.
Consider the weather and your own schedule when deciding. Starting early allows you to enjoy the autumn ambiance for a longer period, but be mindful not to rush past other holidays if you decorate too early.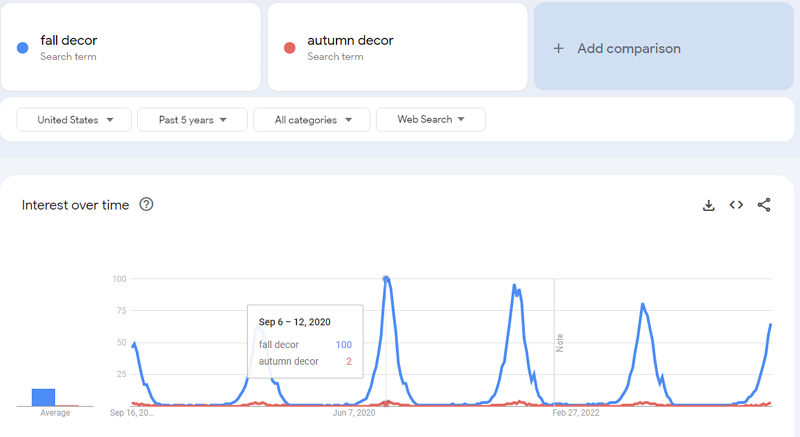 Modern Fall Decor Ideas: How can I decorate my house for autumn?
Whether you're a seasoned decorator or new to the art of seasonal styling, there are countless ways to infuse your living space with the warmth and beauty of autumn. In this section, we'll guide you through the essential steps to create a home that captures the essence of this cozy season. So, roll up your sleeves, gather your creative spirit, and let's embark on a journey to transform your every room into a fall haven.
Fall Porch Decor Ideas
Transforming your porch for fall can create a warm and inviting entrance to your home. Here's how:
Fall Wreath: Start with a fall-themed wreath on your front door. Use vibrant autumn colors and seasonal elements like leaves and acorns.
Pumpkin Display: Arrange pumpkins and gourds of various sizes on the steps or porch. Consider painting them in unique designs or colors for a modern twist.
Seasonal Plants: Incorporate potted mums, ornamental kale, or colorful pansies for a burst of fall hues.
Cozy Seating: If space allows, add a small seating area with cozy cushions and blankets, perfect for enjoying the crisp fall evenings.
Warm Lighting: Install string lights or lanterns to create a warm and inviting atmosphere.
Fall Doormat: Swap out your doormat for one with autumn motifs or welcoming fall messages.
Cornstalks and Hay Bales: For a rustic touch, use cornstalks and hay bales as decor elements.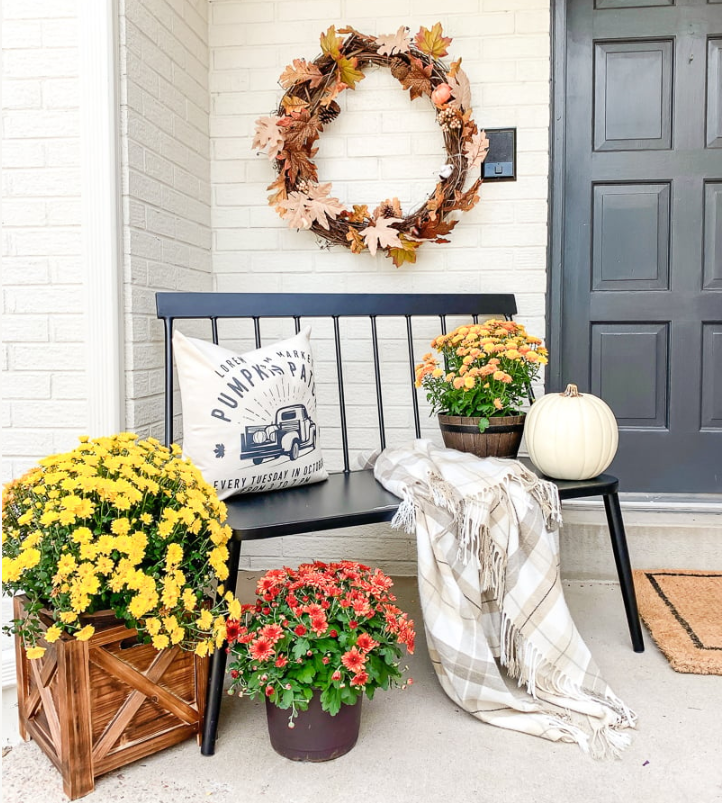 Fall Living Room Decor Ideas
Your living room can become a cozy haven for the fall season with these ideas:
Warm Color Palette: Choose a modern fall color scheme with shades like deep burgundy, olive green, and burnt orange for your walls, furniture, and decor accents.
Velvet Furniture: Incorporate plush velvet furniture, such as a velvet sofa or armchair, in rich, autumnal colors to add both comfort and sophistication.
Geometric Patterns: Opt for contemporary, geometric patterns in your throw pillows, area rugs, and curtains to give your living room a modern edge.
Statement Wall Art: Hang large, modern art pieces that incorporate fall colors or abstract representations of autumn scenes to create a focal point.
Sleek Fireplace Design: If you have a fireplace, update its design with clean lines and minimalist decor to maintain a modern aesthetic while staying cozy.
Layered Textures: Mix and match textures like faux fur, wool, and leather in your decor elements to create visual interest and a cozy atmosphere.
Metallic Accents: Introduce metallic accents, such as brass or copper coffee tables, side tables, or decorative pieces, to add a touch of luxury.
Floating Shelves: Install floating shelves to display contemporary fall decor, including sleek metallic pumpkins, modern vases, and artful sculptures.
Sleek Lighting Fixtures: Replace traditional lighting with modern pendant lights, floor lamps, or sleek chandeliers that complement your fall color palette.
Minimalist Mantel Decor: If you have a mantel, keep the decor minimalistic with a few carefully selected fall items like metallic candleholders and modern autumn foliage.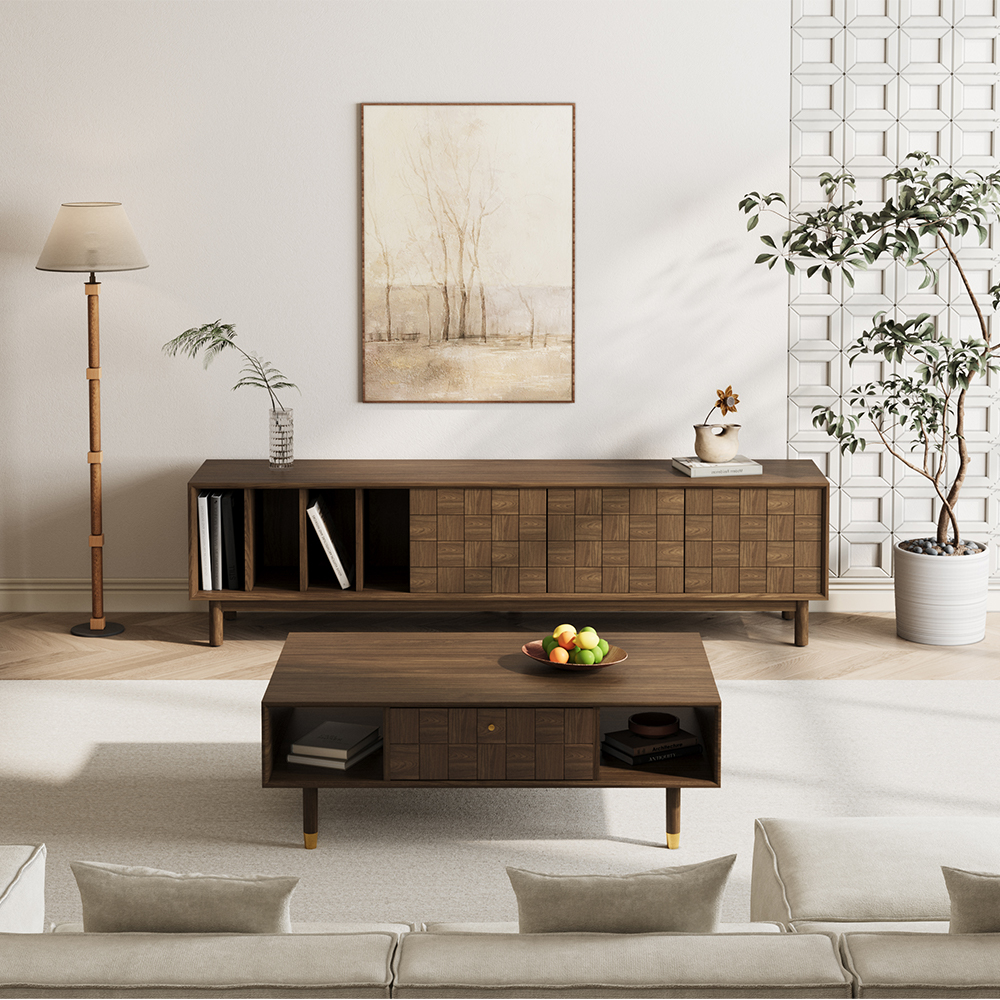 Fall Bedroom Decor Ideas
Infuse your bedroom with the cozy vibes of fall with these decorating tips:
Layered Bedding: Start by layering your bed with textured blankets, quilts, and plush pillows in warm fall colors like deep burgundy, mustard yellow, or forest green.
Autumnal Wallpaper: Consider adding removable wallpaper with modern fall-inspired patterns like geometric leaves or abstract woodland designs as an accent wall behind your bed.
Velvet Throw Pillows: Incorporate velvet throw pillows in rich jewel tones to add a touch of luxury and warmth to your bedroom decor.
Rustic Wood Accents: Introduce rustic wooden elements, such as a reclaimed wood headboard or bedside tables, to infuse your space with natural warmth.
Cozy Lighting: Upgrade your lighting with modern pendant lights or wall sconces that emit warm, soft light to create a soothing ambiance.
Faux Fur Throws: Drape faux fur throws at the foot of your bed for an indulgent and tactile experience that's perfect for fall snuggling.
Metallic Details: Add a touch of modern glamour with metallic accents like bronze or gold bedside lamps, picture frames, or mirror frames.
Fall-Inspired Artwork: Hang contemporary artwork featuring fall scenes or abstract representations of autumn's colors to tie the theme together.
Scented Candles: Place scented candles with autumn fragrances on your nightstands to evoke the cozy scents of the season. Such as cinnamon, vanilla, or spiced apple.
Warm Area Rug: Lay down a plush, warm-colored area rug under your bed to anchor the room and provide comfort for your feet during the colder months.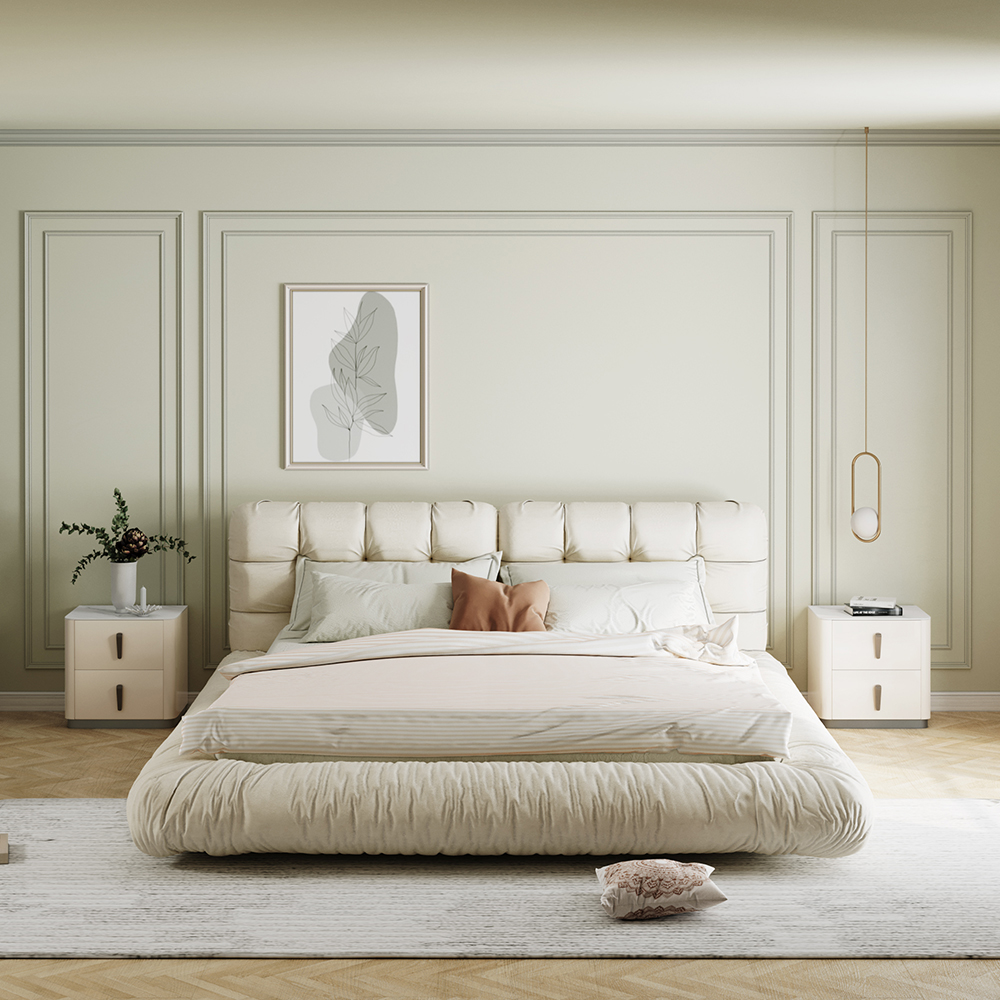 Fall Dining Room Decor Ideas
Elevate your dining room for fall gatherings with these decor ideas:
Seasonal Centerpiece: Create a striking centerpiece using a wooden tray filled with mini pumpkins, gourds, and pinecones. Add a few candles in metallic holders for a touch of elegance.
Autumn Table Runner: Lay a chic, autumn-themed table runner down the center of your dining table. Choose one with modern patterns and rich fall colors.
Mismatched Tableware: Opt for a trendy look by using mismatched dinnerware in complementary autumn shades. Mix and match plates, bowls, and glasses for a stylish and eclectic table setting.
Velvet Dining Chairs: Swap out your usual dining chairs for plush velvet ones in deep jewel tones like emerald green or ruby red. These luxurious chairs will add a touch of opulence to your dining area.
Copper Accents: Incorporate copper accents through tableware, candle-holders, or utensils. Copper's warm glow pairs beautifully with fall's earthy palette.
Nature-Inspired Decor: Bring the outdoors in with natural elements like wooden chargers, woven placemats, and twig-inspired napkin rings. These textures add depth to your table setting.
Fall Foliage Runner: Create a unique table runner by using faux fall foliage intertwined with fairy lights. This adds a whimsical and enchanting touch to your dining experience.
Personalized Place Cards: Craft elegant place cards with personalized messages for each guest. These not only add a personal touch but also serve as stylish decor.
Chic Minimalism: Embrace a modern, minimalist approach by keeping the dining table uncluttered. Focus on a single statement piece, like a large glass vase filled with autumn branches.
Floating Shelves: Install floating shelves on one wall and adorn them with contemporary fall decor. Such as sleek metallic pumpkins, geometric candleholders, and modern art pieces.
The fall season, also called autumn, is one of the four seasons that occurs in temperate regions of the world. It is characterized by several distinct features and changes, like cooler temperatures, changing leaves, harvest season, shorter day, and more. Thus, decorating your house by season can keep your home feeling fresh and vibrant throughout the year. Those ideas above are base on the fall-element items so people tend to use them commonly decorating your home for fall. Let's evoke the essence of the season following those practical modern fall decor ideas.