Povison announced the new EKERO furniture collection and insists on providing pretty and sustainable furniture and home decors to every family.
Why POVISON partnership with CONO studio team?
Povison always aims to provide sustainable, aesthetic, functional products to all users. To develop the products, it had made a lot of attempts, including optimizing the logistics system and improving the user experience, enrich the product designs, etc. Then, Povison decided to cooperate with different designers to create various modern and durable furniture pieces.
So Povison had announced the partnership with designers from Cono studio in May, 2022, which is strategic design consultancy firm based in Milan, Italy. Cono Studio has obtained several international recognition and awards, e.g.: Runner-up at the James Dyson Awards, and exhibit in major museums like La Triennale in Milan or Maxxi Museum in Rome.
Today the studio is focused on designing tailor-made projects for European and international clients with the aim of creating new meanings by merging experiences with aesthetic.
How the designers are inspired to create such a fabulous furniture collection?
The EKERO collection 2022, including TV stand, coffee table, dining table and sideboards, is a fabulous new variety of furniture items in an artistic style to spruce up household space, which takes its design inspiration from the harmonious proportion and rhythmic curves of the human body that bridge "art and life".  The collection is also an inspiration for a journey between the past and the future in order to create timeless interiors that embrace modern living habits.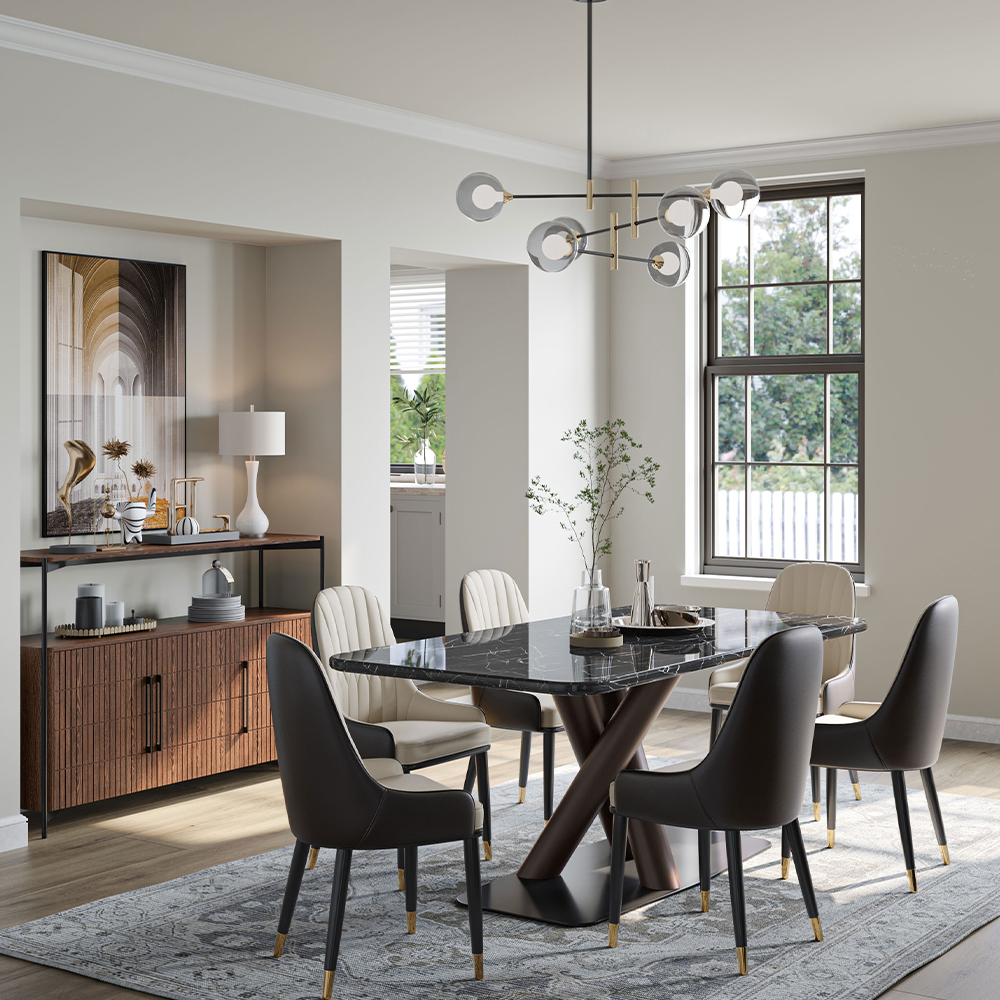 What's new with EKERO furniture collection 2022?
This new series mainly focuses on the living room and dining room, so here come a TV stand, a coffee table, a dining table and a sideboard. Furthermore, it will bring more awesome modern furniture pieces to the customers.
For Living Room
Dark Wood TV Stand with Drawers
As one of the EKERO collection, this TV stand grounds your living space with clean lines, minimalist silhouette and an expansive profile.
Large compartments: 4 doors & 2 drawersfor storing. Additionally, the left and right doors have movable laminates and threading holes, and the upper and lower drawers have ventilation holes in the middle
Long lifespan: Made of solid wood multi-layer boardand sintered stone tabletop, stainless steel legs, which ensure stability and durability without deformation. Moreover, the top is covered with 6mm pure black slate, which is anti-fouling and wear-resistant.
Best for TV and media console: 70.87-inch-long table can fit for TV up to 85''and collect the media gadgets. It is featured with 3 cutout openings at the back for cord management.
Fit for mid century, industrial and modern interior design: It can pair with most home style due to its neutral and conservative colors. Its timeless and minimalist design would be the transition between the vintage to modern, from rustic to urban.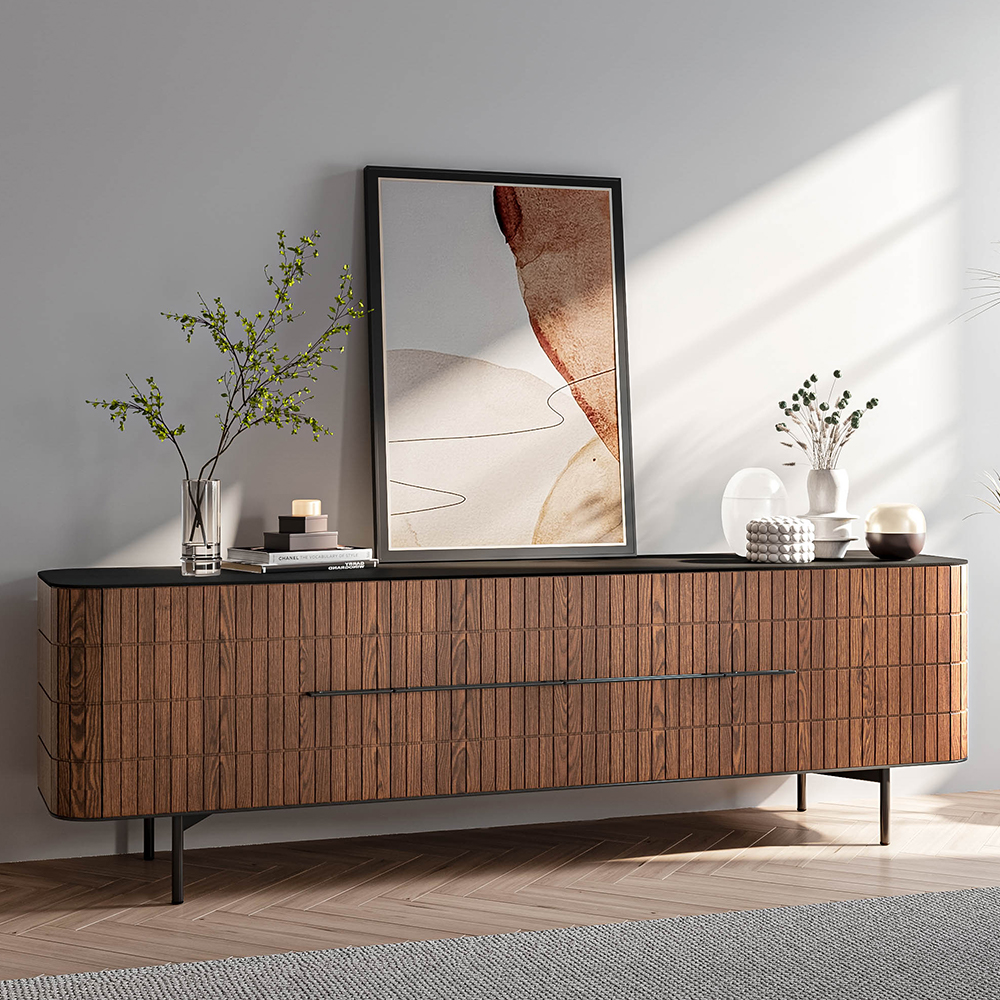 Round Coffee Table with Swivel Top
The round coffee table effectively increases the high practicability of the furniture in addition to the beautiful design.
The sintered stone tabletop with 360-degree rotation design, the CNC finishing and manual polishing,not only retains the fine texture of the surface solid wood veneer but also has a comfortable feel.
Hidden storage space can make your space organized. And the swivel design won't influence the usage of the tabletop when picking up items inside.
Additionally, the stainless-steel base ensures large weight capacity, up to 250 lbs.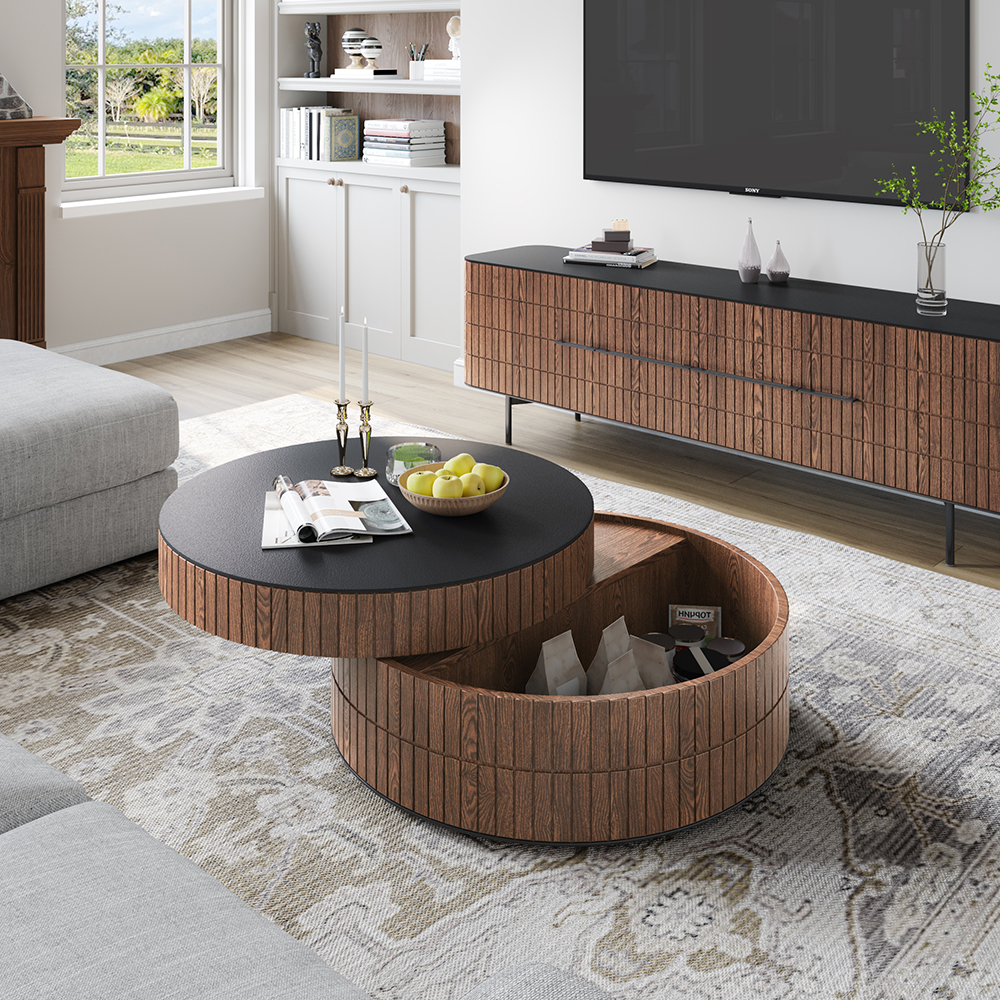 For Dining Room:
Rectangular Black Dining Table
With 70.87 inches, this rectangular dining table can accommodate 6 to 8 persons and it would be a centerpiece for your home. As it comes with the same color as the living room furniture, it creates continuity and harmonious look between room and room.
The x-shaped legs and base continue the inspiration of asymmetric design. The complex technology ensures the stability of the base while realizing the solid wood structure.
Black tabletop with natural marble patterns has been manufactured for stain and scratch resistance.
Safe and comfortable curved edge : With a curved-edge corners design, the table is smooth to the touch and safe to protect your family from bumping. Additionally, it can soften the home design to create a gentle urban modern dining room.
3-Door Sideboard with Open Shelf
Perfect for a urban modern dining room, this sideboard is featured with wood lath texture on the surface to update the look of your space.
With a three-door asymmetric design, the sideboard has a movable shelf and a solid wood multilayer cabinet, which is stable and deformation resistant.
The black stainless steel frame, gives itself strength, a stable structure and durability.
The top shelf breaks through the stereotype of the cabinet, and also greatly improves the practicability of the product.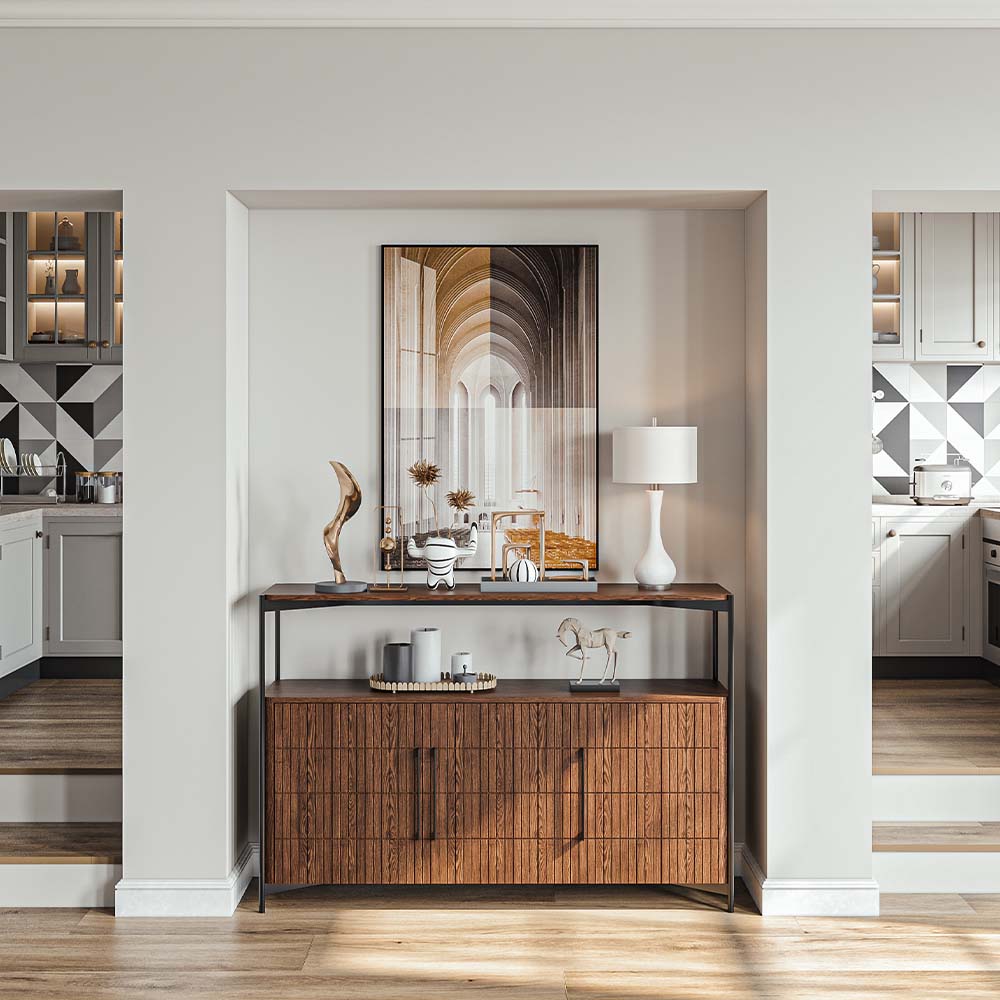 How to match the EKERO furniture to other pieces?
This collection is suitable for contemporary, industrial, urban modern style. They can also easily pair with other furniture pieces and wall colors if you don't tend to pick all of them for your house. Even though they come with dark colors (black and dark wood), they won't make your home dark. On the contrary, as they stand in a room with white/gray wall or sofa, rugs, the living room or dining room will be brighter and non-monotonous.
In addition, the premium materials of sintered stone, multilayer solid wood, stainless steel are durable and Eco-friendly. They would always go with your timeless home style.
With EKERO furniture collection, your home would never make a compromise in style.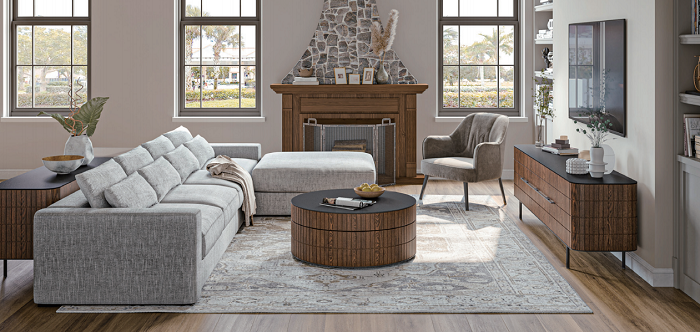 Explore the news of this new furniture collection: